Ask the experts
Here is a selection of Q&As from Your South Wales Wedding magazine. If you would like your question answered by our experts, please email it to editor@yoursouthwales.wedding.
To view more Q&A's on a different topic, please select one from the list below.
Hot topic: Summer weddings
Our experts advise on how to make the most of the season – even when things don't go to plan!
---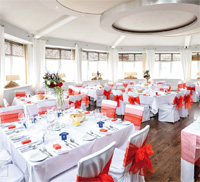 All we have to do is theme
Q. My hubby-to-be and I are stuck on choosing a theme for our summer wedding. How important do you think one is, and what would you suggest?
A. Katie Richards says: Your wedding is a celebration of your personal style as a couple, so a theme helps you make a statement, along with your personal touches. Themes can be expressed through colour, styling or location. The venue will be a big influence so it's vital to choose somewhere that allows you to express yourselves and work with your ideas, rather than dictate on how to run your day.

A theme makes the overall design of your wedding simpler and cohesive. Begin brainstorming common interests and what's important to you both, maybe there's something individual you can incorporate? Pinterest is perfect (and slightly addictive!) to see which styles you're drawn to.

Celebrity weddings are bringing simple, sophisticated glamour back into fashion. There's a fresh take on formality, with grand venues and lavish details, but far from old-fashioned. Vintage is one of the most popular themes, with sequins set to be the new take on the trend. A new rustic style is emerging, mixing gemstone tones and fairylights to create a twilight vibe, while still keeping the rustic touches.

Whichever you choose, make sure that you can easily describe your vision, so all of your suppliers can help create your vision.
---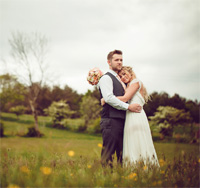 Come rain or shine
Q. Our big day is booked for August as my fiancé and I are hoping for lots of stunning al fresco shots for our wedding album, but we're worried that rain may stop this. What would you advise we do if the weather isn't on our side?
A. Leon Davies says: Unfortunately, we all know too well what the British weather can be like, and although August will give you a lovely long day of light there will always be the worry of rain on your big day.

Be prepared: wellies and umbrellas are always first on the list but the Internet, particularly Pinterest is full of great ideas. Ask your photographer's advice on the venue and opportunities for pictures inside. Chances are, if they're a UK-based photographer they'll have done a few wet weddings themselves.

I had the pleasure of photographing a lovely couple's big day not long ago and to cut a long story short, the day was a washout. Typically, the next day was stunning and I texted the bride and they ended up meeting me in a field in Brecon and we got the shots they wanted. Maybe this is an option for you if you don't get the shots you wanted on the day. It's something I'd definitely do again for a bride and groom.
---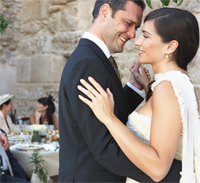 Good vibrations
Q. We can't decide on our first dance – any suggestions for a feel good summer vibe?
A. Aaron Gilpin says: For me the first dance is one of those moments like cutting the cake, making speeches and greeting your guests – it's one of the times in the day where you're sharing something special. Some couples have a song that reminds them of when they met, a tune from their first date movie, or a mutual love of an artist or band, and some couples like a bespoke medley of songs to display their moves and dancing prowess.

It's also a first chance for the DJ to engage with your audience. If a bride and groom have asked me to provide a track I always ask a few questions to make an informed choice, perhaps offering a YouTube or Spotify link to a playlist which they can choose from. Remember that this is your moment together – if the song is special to you, then it's right regardless of the opinions or influence of others. There's no right or wrong choice – it's your time together and most of all enjoy it!
---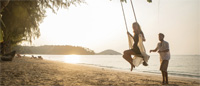 Hot holidays
Q. We're tying the knot this August but won't be able to go on honeymoon until the winter. However, we have no idea where in the world can guarantee us sunny climes at this time of year. Can you help?
A. Demelza Rayner says: You certainly won't be short of fabulous weather if you honeymoon in November. It's a great time of year to explore Morocco, a country known for its culture, rugged landscape and mouth-watering cuisine.

Its fourth largest city, Marrakech, makes a great mini-moon destination, or arrange a tour into the Atlas Mountains before heading onto Fez, Casablanca or Essaouira. A little further afield, yet still under seven hours away by plane, Dubai boasts consistently good weather, sandy beaches and superb shopping. It's often twinned with Sri Lanka or the Maldives for a memorable long-haul getaway. Indeed, the Indian Ocean islands are incredibly popular at this time of year, particularly Mauritius with its spectacular scenery, incredible five-star resorts and a raft of exciting activities to satisfy the inner adventurer.
---
Contact our experts...

Aaron Gilpin
Photographer

Demelza Rayner
Travel editor

Katie Richards
Wedding coordinator

Leon Davies
Wedding photographer
---