Ask the experts
Here is a selection of Q&As from Your South Wales Wedding magazine. If you would like your question answered by our experts, please email it to editor@yoursouthwales.wedding.
To view more Q&A's on a different topic, please select one from the list below.
Hot topic: Luxe be a lady
We take inspiration from last issue's cover couple, Carly and Christian Malcolm's wedding, and ask our experts how to get a luxe look on their big day
---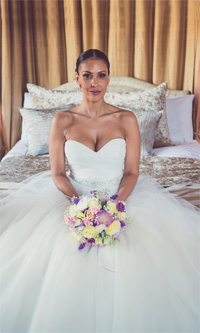 All in the detail
Q. I'm planning a large wedding with a theme that focuses on luxury. I want my photographer to fully capture the details of the day while also taking some shots of the wedding party decked out in all our glamorous attire. What kind of photographer will I have to look for who can cover all of these elements?
A. Nick Murray says: What a great question! It's always important, I think, to make sure that things like the finer details of the day are captured, as a lot of time and energy goes into choosing or making them. Images of these elements serve as important reminders of the atmosphere and setting of your wedding. This could be the flowers at your venue, table centres, or even something as simple as how your guests' drinks were laid out whilst they relaxed outside. Ultimately, it's the photographer's job to make sure that these elements are there in the shots to help the bride and groom remember the full scope of the day. They're all key parts of the story.

The best way to choose your photographer for this reason is to ask to see their finished albums when you meet for a coffee, and be sure to have a good chat with them at your pre-wedding meeting before booking. That way, you'll gauge how skilled they are, taking notice of all the details that matter, and you'll be sure to have a W-day album that'll spark memories of the best day of your life for years to come!
---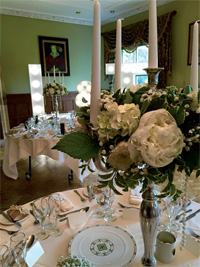 Floral fancy
Q. I really want to create some wow-factor with the floral arrangements on our big day. I've allocated a large portion of the wedding budget on the so would love a bouquet and centrepieces that scream 'luxe'. What would you suggest?
A. Kerry Decaux says: If you're looking to create wow-factor at your wedding then one of the most dramatic ways to do this is with your floral displays, and repetition is key to creating this. Grouped blooms always make a big statement, and although the flowers themselves may not be expensive, grouping them together is a wonderful way to create an impact from the start. Using flora in this way has the power to transform the simplest of weddings into something extraordinary.

Tall centrepiece arrangements instantly lift and add glamour to a venue whilst making a bold statement. High vases or elegant candelabra filled with masses of foliage and large blooms such as hydrangeas add an extra special touch to dreamy flowers like orchids or the stunning stephanotis, and they offer a luxe appeal. Here's a handy tip too; try using foliage rather than flower-heavy designs as this is also a good way of making the most of your budget without compromising on style.

Consider beautifully scented blooms like David Austin roses or, when in season, stunning peonies. Add these into your bouquet or centrepieces and just imagine the aroma they give off as you glide down the aisle or walk into your reception venue.
---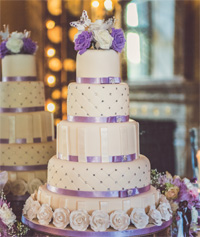 Bake off
Q. I want my wedding cake to look impressive but without it costing a small fortune and wondered if you could give me some tips on keeping the cost down?
A. Francesca Price says: The first thing I'd recommend is to be honest with your cake maker about your budget! Knowing what you have to spend means that we can concentrate on creating a design suited to your needs.

When it comes to wedding cakes, what adds to the cost is the amount of detail added. Specifics like flowers or ruffles can easily make a cake go up by a couple of hundred pounds, but that doesn't mean that you have to have a plain cake as there are always cheaper alternatives.

For example, if you were looking for a floral design you could have one beautiful large statement flower like a peony or lily. If you'd like to incorporate lace you could add a lace ribbon instead of intricate (and expensive) hand piping. Having a cake on a stand will also give your bake extra height without having to add more tiers. You can hire some stunning modern tall stands from most companies for a small fee. Also, don't forget that the cake is meant to be eaten, so you can cut costs by making it your dessert. Most experts offer many delicious flavours that you can choose from!
---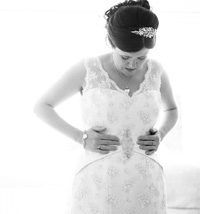 Made to perfection
Q. As we're opting for a bespoke, beautiful and big-budget glam wedding, I want my bridal gown to be as special as possible. How do you suggest I achieve this?
A. Victoria Griffith-Price says: A fantastic way to make your big day as unique as possible is opting for a 'bespoke' wedding gown. Having a hand in designing your dream dress is a fabulous way to ensure that no one else is going to be walking down the aisle wearing the same dress as you.

Designing your own dress may seem like a daunting task, but in the hands of a talented dress designer even the most nervous design novices can create their own individual look. Choose a trusted designer/maker, meet them and start to build a rapport – after all, they'll be the one helping you realise your bridal vision.

If that sounds a bit too scary, most of the best British design houses, such as Augusta Jones Couture, offer the ability to make custom changes to their gorgeous selection of gowns. So you can express your creativity by adding a longer sleeve, changing a neckline or even adding more buttons to ensure you step out in a fully fabulous, customised gown that is totally you!
---
Contact our experts...

Francesca Price
Cake maker

Kerry Decaux
Florist

Nick Murray
Photographer

Victoria Griffith-Price
Bridal boutique owner
---