Ask the experts
Here is a selection of Q&As from Your South Wales Wedding magazine. If you would like your question answered by our experts, please email it to editor@yoursouthwales.wedding.
To view more Q&A's on a different topic, please select one from the list below.
Hot topic: Summer styling
If you're tying the knot in the warmer months, our experts are here to answer your questions
---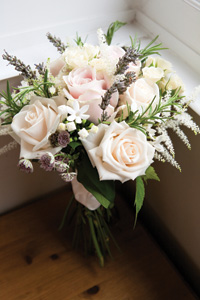 Simple blooms for summer
Q. I really want to create a natural floral look for our big day but I have no idea what flowers to choose. What would you suggest that might be suitable for a summer wedding?
A. Nicholas Ward says: To create the most natural look you can, I would suggest opting for seasonal summer flowers. For inspiration, look at what is growing in family or friends' gardens, or buy some gardening books and magazines for ideas. Your florist should also be able to advise on what will be in season.
A few of my personal favourites include classic roses, scented stocks, delphinium, bouvardia, anemones and hydrangeas. All these blooms are available in a wide choice of colours and tones. My advice for a simple look when putting together your bouquet and flower displays is to keep the varieties to a minimum. Using too many different types of flower can make it look fussy.

Image courtesy of Claire Evans Photography
---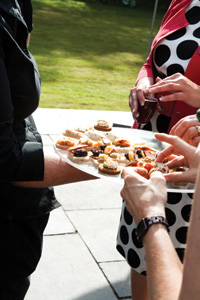 Perfect party nibbles
Q. We are planning an al fresco drinks reception and would love some summer-inspired canape ideas. We'd also like a seasonal alternative to champagne if possible. What can you suggest?
A. Emma Jenkins says: The most obvious summer alternative to champagne for me has to be a classic Pimm's. Personally, I like mine with fresh mint sprigs, long cucumber slices and slices of fresh green apple. Champagne cocktails are also incredibly popular at the moment. Try a Fresita, made with fresh strawberry puree, or a Bellini which is made with peach puree, both are delicious.
In terms of summer canapes, asparagus dipped in hollandaise sauce is always a winner. Another popular choice is roasted sweet cherry vine tomatoes marinated in Bloody Mary. A tasty meat option would be good quality buffalo mozzarella cut into cubes, wrapped in Parma ham and drizzled with truffle oil at the last minute. These flavours will take you and your guests straight into a summer's afternoon in Tuscany. For more ideas to tickle your tastebuds, visit local caterers websites and have a peek at their menus.

Image courtesy of Claire Evans Photography
---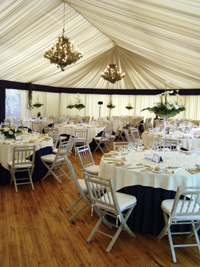 A wow-factor reception
Q. We are having a marquee reception next August but neither of us is creative creative and I'm worried it will look plain and drab. Do you have any simple ideas of how we can make it look more inviting for guests?
A. Ruth Hunter says: A marquee is much like a gallery - a blank canvas for couples to create their own impact. It's important to draw the eye through the space and you can do this in a number of ways. Firstly, think about how you can pull the space together. Consider using coloured or pattered drapes or panels against the ivory ceiling to add a dramatic splash of colour or, alternatively, use a colour-coordinating swag around the edges of the walls.
Secondly, adding height to your tables will again help to bring the space together. Use tall vases or candelabras for your centrepieces to achieve this. I would also suggest that you use coloured table linen, be it brightly coloured tablecloths or just coloured table runners and napkins.
My favourite way of transforming a marquee, however, is through the use of lighting. Ask the marquee company or the venue to add up-lighters underneath the lining so as the sun fades, the coloured lighting appears and completely transforms your daytime reception into an evening party.
---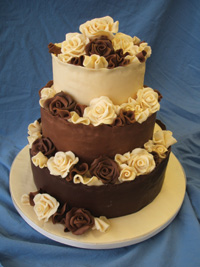 A chocolatey treat for him
Q. My husband-to-be is a total chocoholic and he really wants an elaborate chocolate creation for our wedding cake. However, we are getting married in July and I'm concerned that something like this will be too heavy for our guests to eat as a dessert, and could even melt in the heat. Should we choose something else?
A. Heather Parry says: As the groom doesn't often have much input into the smaller details of the wedding, I think it would be nice for you to go with what he would like as much as possible. Firstly, speak to staff at the venue and ask if they have had experience with chocolate cakes in hot weather before, and see what they advise. If you do opt for a chocolate design, you could add a summer feel to the dessert by serving it will strawberries and cream.
If the venue advises against a chocolate cake, come to a compromise with an iced chocolate sponge. This would give you the option to alternative the tiers too.
To satisfy your fiance's cravings you could finish the meal with some lovely handmade chocolates and coffee.
---
Contact our experts...

Emma Jenkins
Catering director

Heather Parry
Cake designer

Nicholas Ward
Florist
Ruth Hunter
Wedding Planning
---