Ask the experts
Here is a selection of Q&As from Your South Wales Wedding magazine. If you would like your question answered by our experts, please email it to editor@yoursouthwales.wedding.
To view more Q&A's on a different topic, please select one from the list below.
Hot topic: Wedding themes
Our experts solve your problems
---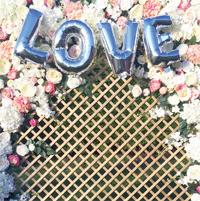 Summer blooms
Q. We love flower walls and are thinking of having one at our wedding. We're having a summer theme but are struggling to decide on a set colour scheme. Do you have any suggestions of how we can tie our theme into the flowers?
A. Gemma Thomas says: Ever since Kim Kardashian and Kayne West took their vows in front of a wall of flowers, they've become a big trend. It's a great way of bringing the outside indoors while creating a spectacular focal point.

- Go neutral – I believe that any event can benefit from the wow factor and a floral backdrop can do just that. When a colour scheme is undecided I'd always recommend you go neutral with a white wall. It will complement any colour scheme you eventually choose and will add a touch of luxury to your venue.

- Set the scene – Flower walls are often considered an alternative to photobooths, so why not create a selfie station? Add a wicker basket full of summer-themed props that your guests will enjoy and have fun!

- Design your own – For a premium, some flower wall companies would be willing to create a custom design to match your theme. This is an alternative option but having a bespoke build would be an amazing showstopper.

- I recommend – Hydrangeas, peonies and roses woven through a freestanding trellis wall to give your venue a lavish overgrown garden feel.
---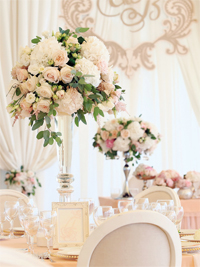 Red-carpet ready
Q. We're having a glitz and glamourthemed wedding but are on a tight budget. Do you have any suggestions?
A. Lisa Parsons says: Here are some suggestions for your big day:

- Embrace white or very pale coloured florals. Nothing says 'glamorous' like white or blush as your colour scheme. Adding foliage is also a great option as it keeps the cost down and works well with metallic and glitter.

- Go for a cluster-style centrepiece. Using a variety of small trinkets, tea light holders and vases is on-trend and can be pulled together by a simple mirrored base. Remember that reflective surfaces are the epitome of glamour.

- Add a sequin table runner. Adding runners can provide just the right amount of glitter to your day without having to hire sequin tablecloths for every table, which is perfect if you're on a budget. Consider hiring just one tablecloth for your cake table to pull the entire look together.

- Try adding balloons. Keep it classy with oversized white or clear confetti balloons as accent pieces. These can be used to surround your cake table or top table if you choose to have one. A great alternative to an expensive flower arch is a cluster balloon arch, which incorporates a mixture of different sized balloons and flowers.
---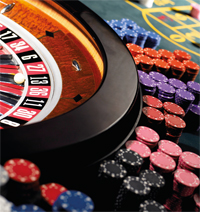 Feeling lucky
Q. Me and my hubby-to-be have just started planning our casino-themed wedding and I'm getting overwhelmed trying to incorporate everything into our big day. Do you have any suggestions?
A. Vanessa Taylor says: When a couple book me for their wedding I'll ask for your itinerary as most casino tables provide entertainment for three continuous hours – keep this in mind when you're organising your bigday schedule.

If I haven't been to the venue, then I'll arrange to meet the couple there and look over the room and make suggestions. Keep in mind that tables and any backdrop props you want to hire take up a lot of space and are not always suited for every venue.

I'd also suggest you go to local wedding fairs as companies often have their props setup so you can see for yourself what they'll look like.
---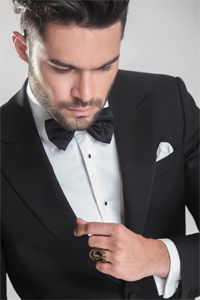 Affordable fashion
Q. We're on the hunt for a groom's suit that will reflect our luxurious theme but it's proving difficult to find something within our budget. What would you suggest?
A. Danielle Harvey says: Unlike brides, the choice for grooms is not as extensive and finding the perfect suit to complement a theme while watching the pennies can be like finding a needle in a haystack.

Try and choose a luxe fabric that fits well and add personal touches such as his initials stitched on the inside, or having a pocket square made to match the lining.

The accessories are important – add a silk cravat or scarf to complete the look. Alternatively, a swanky pair of cufflinks and even a pocket watch will add wow factor.

Look to celebrities during the award season to channel their style for the big day. If you're tying the knot in the late afternoon or evening, you can't get more luxurious than a tuxedo.
---
Contact our experts...
Danielle Harvey
Features editor

Gemma Thomas
Floral backdrops

Lisa Parsons
Venue stylist

Vanessa Taylor
Casino specialist
---