Ask the experts
Here is a selection of Q&As from Your South Wales Wedding magazine. If you would like your question answered by our experts, please email it to editor@yoursouthwales.wedding.
To view more Q&A's on a different topic, please select one from the list below.
Hot topic: Plan your wedding to perfection
Our experts solve your problems
---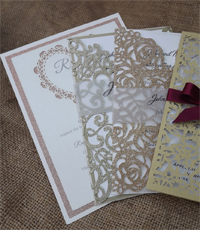 Upcoming trends
Q. We haven't decided on our theme yet and are trying to choose what wedding stationery to have – what styles and designs are set to be popular in 2018? Are there any big trends we should watch out for?
A. Anna Carter says: When planning your big day there's a lot of factors you need to take into consideration including the time of year, the venue and the atmosphere you'd like to create.

- Laser-cut invitations are going to be very popular with a wider range of options becoming available including vintage lace and natural leaf designs.

- The latest developments are pocket-fold invitations and acrylic glitter cuts.

- Gold is going to be the next big colour scheme.
---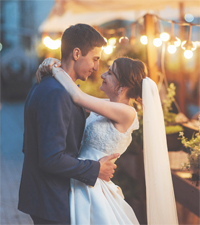 Organisation is key
Q. My fiancé recently proposed and I don't know where to start with the planning. What's the first thing I need to book and the best things to think about after that?
A. Lucinda Lingwood-Rix says: The first thing I'd do is agree on a budget so you have an idea of how much you want to spend.

- Choose a date and a venue that suits you and get that booked first.

- The next big decision is choosing who you want to be in your bridal party.

- After you've decided and you've made the necessary arrangements it's time to start thinking about your dress, transport, florist and entertainment.

- If you want a stress-free day then I suggest you get in contact with a wedding planner who will help you every step of the way with expert advice and support.
---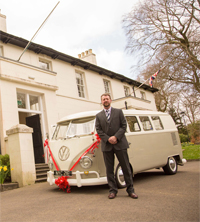 Fit for a princess
Q. We're tying the knot in February and are having a fairytale celebration. What type of transport do you suggest for the epitome of romance?
A. Emily Stoneman says: If you want to create a truly magical celebration that every bride deserves I suggest you look at classic cars. A 1967 Volkswagen Campervan is perfect for any princess, it will make an unusual addition to the photographs and it's spacious enough to fit all of the bridal party. The complimentary champagne hampers mean everyone can relax in luxury and it can be decorated to suit any style or colour scheme.
---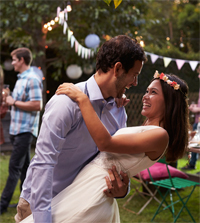 Now that's entertainment
Q. My hubby-to-be and I would love to hire a band for our big day, however we're a little dubious about booking someone online. How can we make the best choice?
A. Martin Goddard says: Live music is one of the most enjoyable and interactive ways of getting your guests up and dancing.

- Most wedding bands play a variety of songs, some lean more towards what's in the charts while others specialise in a specific genre.

- Spend a bit of time getting to know the performers you're interested in. It's not always possible to see them play before your big day as the popular ones rarely get a chance to do public shows so I suggest you base your decision on the strength of their videos, playlists, biographies and references from other customers.

- Don't panic if your music knowledge isn't great let your supplier know what sort of atmosphere you want to create and they will organise a playlist to suit.

- Here at Music HQ we understand your concern of booking a band you've never seen live before. To try and put you at ease we make our videos as true a representation as possible.
---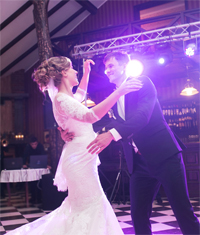 An outdoor celebration
Q. After the ceremony, the rest of the day is taking place in the venue's grounds – weather permitting – and we'd really like our band to perform outside, what things should we take into consideration?
A. Rhiannon Stundon says: Having your band perform outside can bring a festival-inspired atmosphere to your nuptials especially in the warmer months.

- Rain and electricity pose a serious risk to you and your guests, so no matter how confident you are about the weather forecast it's important the band are staged in an area under cover with electricity provided by a professional. I suggest you hire a marquee, which will come equipped with the required generator, IP44 cabling and safety junction boxes.

- Your chosen supplier will need to have their speakers set up on an even surface and the drummer cannot play on grass as the drums will sink into the ground.

- Another thing worth considering is the dancefloor, it can be difficult to dance on grass especially if you're wearing heels. You can rectify this by placing your performers on a concrete area, this will also make the music sound better and louder.

- A final consideration is timing, although we can play for three hours most bands only play for two so if you want music throughout the day it might be worth hiring two performers.
---
Contact our experts...
Emily Stoneman
Wedding transport
Lucinda Lingwood-Rix
Wedding Planning and Events
Rhiannon Stundon
Wedding band member
---