Ask the experts
Here is a selection of Q&As from Your South Wales Wedding magazine. If you would like your question answered by our experts, please email it to editor@yoursouthwales.wedding.
To view more Q&A's on a different topic, please select one from the list below.
Hot topic: Get fit, get organised, get planning
Our experts solve your problems
---
Keeping fit
Q. I really want to be in amazing shape for my big day but I don't want to use any surgical or invasive treatments. Do you have any suggestions?
A. Rabia Maskeen says: Here at Body Shape Clinic we help reduce your stubborn areas of fat without any surgery. We provide fat freezing and instant inch loss treatments that are perfect for helping you get into shape for you big day.
---
Summer loving
Q. I'm set to tie the knot next summer and I'd love to include some of the season's most beautiful flowers in my bouquet and venue décor. Do you have any suggestions of what I should look for?
A. Laura Bowyer Sansom says: Some of the most gorgeous flowers are available throughout the warmer months so there's sure to be something to suit your nuptials. - Choose blousy peonies, striking stock and sweet peas for your décor, not only will these look great but they'll also create an amazing aroma throughout the venue. - Cornflower, delphinium, larkspur, ranunculus and Sweet Williams are ideal for a more wild and rustic arrangement. - If you want to create a bright and bold look then I suggest you go for sunflowers, bird of paradise, protea and red hot pokers – these are sure to make your big-day blooms stand out.
---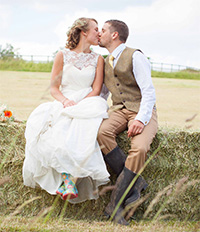 Preparation is key
Q. I'm set to tie the knot next summer and I'm worried that I won't be able to look natural in the photographs and they'll look staged. What should I do?
A. Sarah Elvin says: A good photographer will be able to capture the natural emotion of the day without you having to pose for long periods of time. Don't worry you'll soon relax and enjoy the process, try not to think about the outcome of the photo, just enjoy the day and let your photographer worry about the rest.
---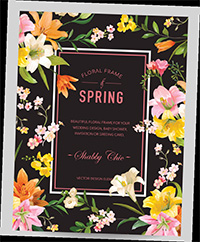 Bloomin' wonderful
Q. We're having a summer-themed wedding and want to incorporate the season's colours into our stationery. Do you have any suggestions on how we can achieve this?
A. Abi Lewis says: Flowers are the perfect starting point when it comes to wedding stationery. Ask a florist what blooms they'll have readily available around the date of your nuptials.

Once you've chosen your favourites ask your supplier to incorporate the floral colours into your stationery.

Remember try not to go overboard with your theme, keep it simple with a minimalist design to create a more striking effect.
---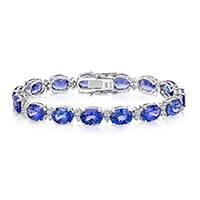 Something blue
Q. We're having a blue colour scheme and I want to incorporate it into my jewellery. Do you have any advice on what I should be looking for?
A. Katie Keefe says: Bridal jewellery can be a great way of incorporating your chosen colour scheme.

- A pendant is the perfect accessory for dresses with a low neckline. This stunning cluster drop pendant features an oval sapphire surrounded by glistening round brilliant-cut diamonds.

- If you're thinking of styling your hair in an up do then a pair of sparkling earrings is a great way of finishing your look. These blue sapphire earrings will incorporate your theme perfectly and the halo of diamonds really helps emphasise the colour.

- A gorgeous tanzanite bracelet will look stunning in those all-important photographs. This luxurious piece has 15 oval-cut tanzanite's interspersed with diamonds to embrace the gemstone.
---
Contact our experts...
Katie Keefe
Diamond manager
Laura Bowyer Sansom
Florist
---