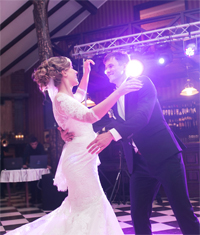 An outdoor celebration
Q. After the ceremony, the rest of the day is taking place in the venue's grounds – weather permitting – and we'd really like our band to perform outside, what things should we take into consideration?
A. Rhiannon Stundon says: Having your band perform outside can bring a festival-inspired atmosphere to your nuptials especially in the warmer months.

- Rain and electricity pose a serious risk to you and your guests, so no matter how confident you are about the weather forecast it's important the band are staged in an area under cover with electricity provided by a professional. I suggest you hire a marquee, which will come equipped with the required generator, IP44 cabling and safety junction boxes.

- Your chosen supplier will need to have their speakers set up on an even surface and the drummer cannot play on grass as the drums will sink into the ground.

- Another thing worth considering is the dancefloor, it can be difficult to dance on grass especially if you're wearing heels. You can rectify this by placing your performers on a concrete area, this will also make the music sound better and louder.

- A final consideration is timing, although we can play for three hours most bands only play for two so if you want music throughout the day it might be worth hiring two performers.