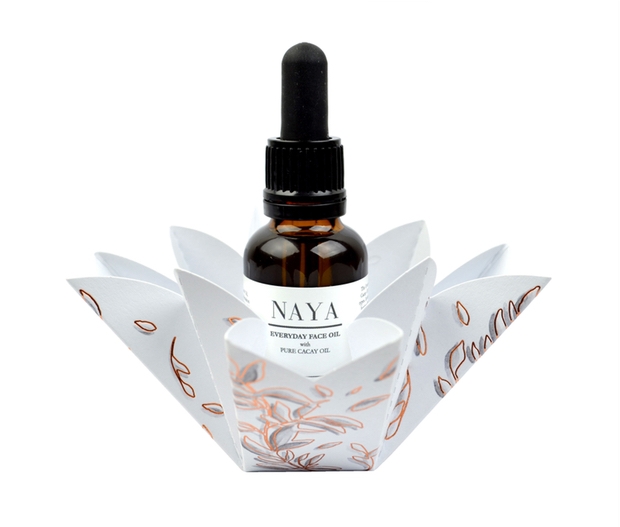 German skincare brand Naya Glow who has recently launched their flagship product Naya Everyday Face Oil in the UK.

Their face oil encompasses the brand's philosophy of luxurious, minimalist products with potent bioactive ingredients.

Naya was founded by German native Sarah Zimmer who is meticulous and thorough about where her ingredients are sourced from both a quality and supply chain perspective.

After much research, Sarah chose to use a uniquely sourced bioactive ingredient from South America in her range. Her objective is to reinvest a percentage of profits back into the communities with whom she collaborates to increase the conservation area where the cacay tree naturally grows. Naya is on a mission to create benefits for all stakeholders and not just shareholders.

Sustainability is at the heart of all Naya's doing and the brand only works with farmers who properly care for the environment. It's formulated with natural oils to protect and repair the skin nourishing from within and bringing back the skin's natural glow.

Naya Everyday Face Oil, £45
Naya's star ingredient is Cacay Oil which is great for stimulating cellular turnover and slows collagen breakdown. It also contains grapeseed oil which is excellent emollient known for its ability to soften and re-condition the skin and meadowfoam oil which fights radicals and protects the skin's natural barrier by locking in moisture.


Key benefits of Naya skincare:
Made safely working with a lab with over 30 years of industry experience
A minimalistic range that is packed with proven and potent bioactives
Use patented complexes that have been scientifically tested
Ethical on all fronts, from seed to skin
Suitable for all skin types, as we address the cause, not the symptom
Cruelty-free, vegan beauty and our packaging is 100% recyclable
Check out
www.nayaglow.com

SILKUP has launched its first product; the Luna, a silk hair wrap that protects hair while sleeping!