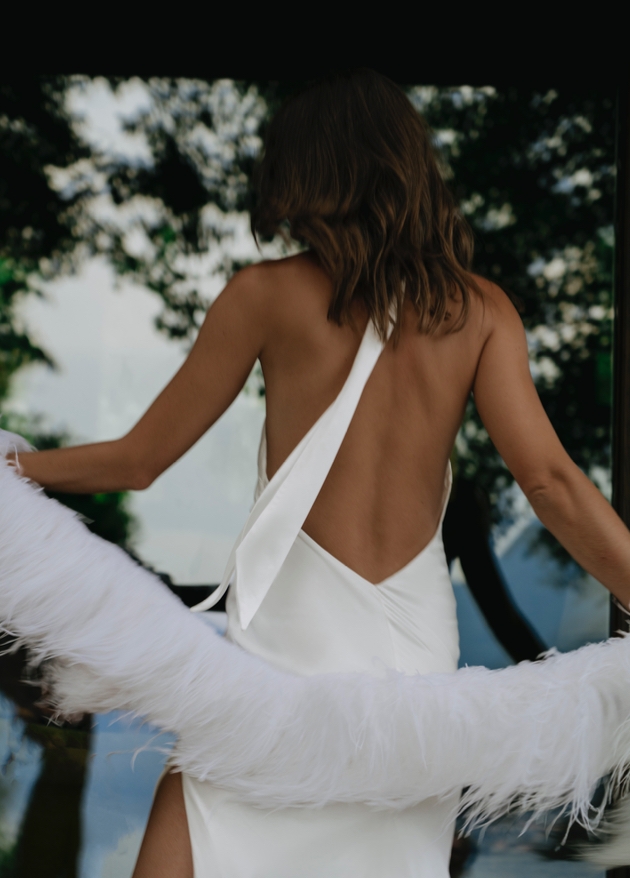 Grace Loves Lace has launched its Memoirs Of Her collection for 2023 of eight made-to-order and ready-to-wear gowns priced between £1,200 and £2,500 plus two intricately embroidered veils. It features silhouettes made with a new 100% recycled eco lace, exclusive to the Australian based-brand are committed to ethical and sustainable manufacturing with all gowns made in Australia. Always pushing boundaries, the brand has launched the first-ever wedding dress using lycra swimsuit material to hug and shape the body. Megan adds, "We wanted to introduce a completely unpredictable fabric in this collection that makes a statement. The Zsa Zsa dress is hand-crafted from beautiful and highly visual stretch lycra. Think of a dress that makes you feel supported all over, creates the most beautiful curves and accents the body. For the fun and adventurous bride, you can even swim in it at the end of the night."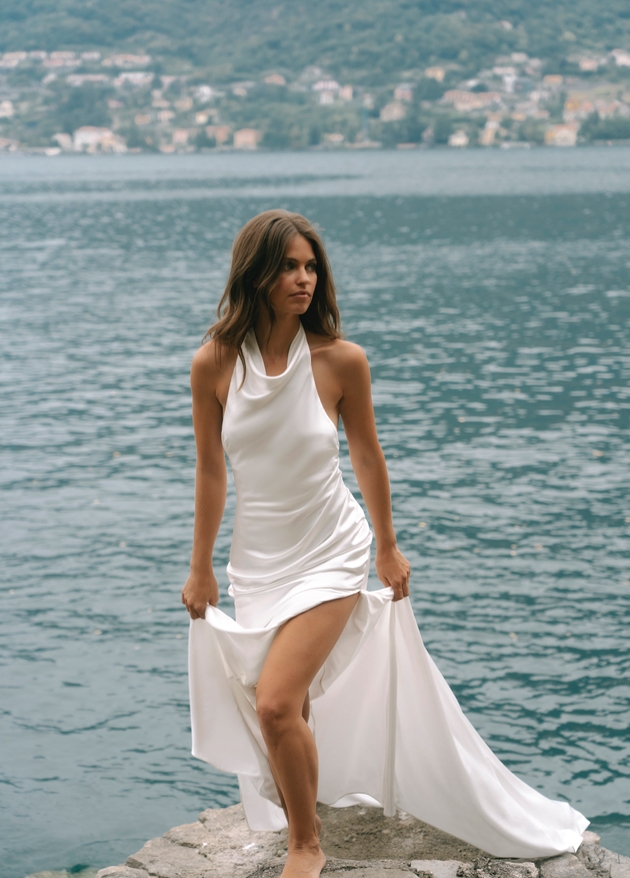 Goldie dress shown here from the front and back by https://graceloveslace.co.uk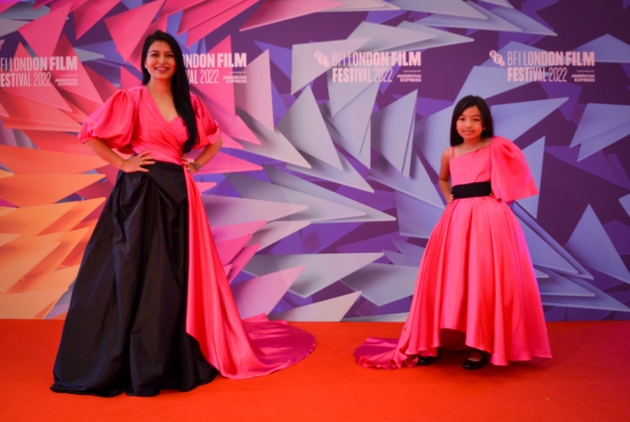 Designer Sanyukta Shrestha (seen here on the red carpet with her daughter, Ameya at the recent world premiere of Guillermo Del Toro's Pinocchio) is one of the UK's leading sustainable wedding dress designers with a conscience being among the first to introduce sustainability to the bridal industry with the launch of her sustainable bridal collection in 2011. In 2022 came her Ready to Wed 2022 collection of ethical, vegan wedding dresses. Each one was handmade by highly skilled artisans in Nepal from hand-spun and hand-loomed 100% Fairtrade bamboo; 100% organic cotton; a luxe floaty vegan eco-fibre made from the cellulose of wood pulp which is 100% biodegradable and compostable, and also recycled fibres. One of the Nepalese-born designer's bridal creations is preserved in the Fashion Museum, Bath. A London College of Fashion graduate, Sanyukta's evening wear has been worn by celebrities including Victoria's Secret supermodel Candice Swanepoel; classically trained soprano Natalie Coyle and English actress and singer Amy Nuttall to name a few.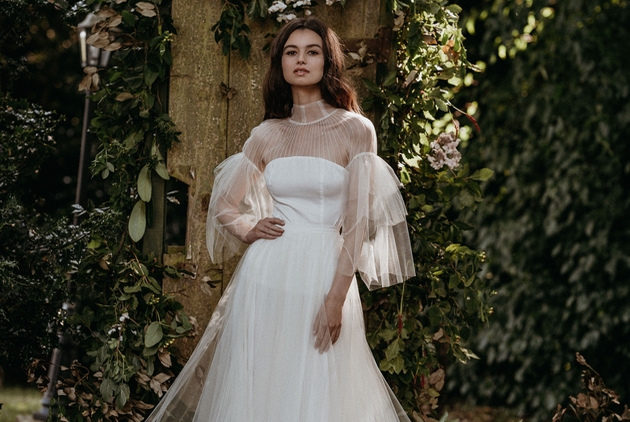 This Emeth two-piece dress was part of the vegan-inspired Ready to Wed 2022 collection by https://www.sanyuktashrestha.com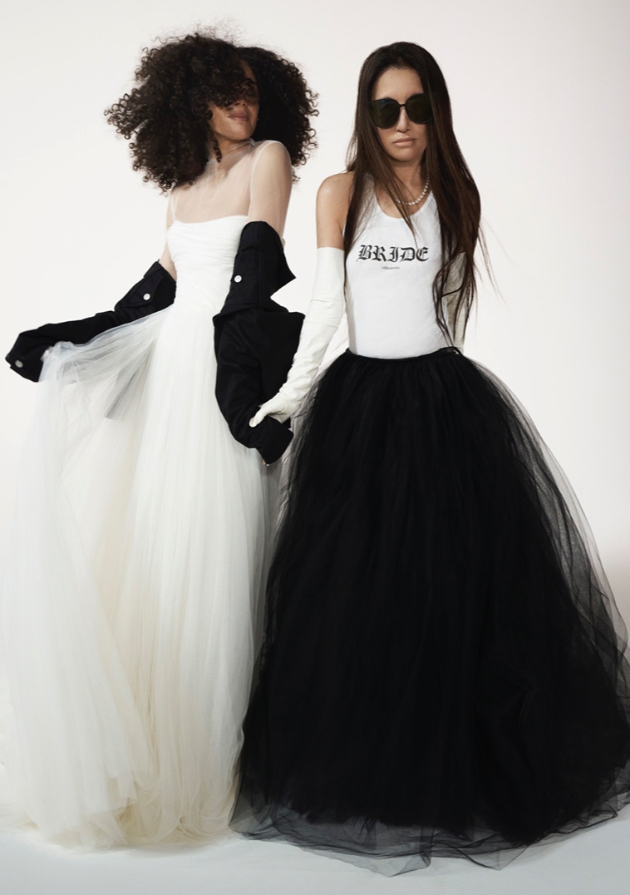 Vera Wang Bride, the high fashion, luxury brand that forms part of Pronovias Group which is on track to reach its goal of a 40% sustainability component in all its dresses by 2025, launches its new collection for 2023. From charming, reworked classical silhouettes to edgier fashion-forward statements, these 54 dresses and accessories all have the hallmarks of Vera Wang's fashion language. Hi-lo and bustled skirts, clean bandeau tops, and deconstructed ball gowns mixed with debutante design details such as belted ties with lace peplums are some of the highlights along with corseted bustiers with see-through panels and cross-your-heart drapes are modest, but also put a deliberate focus on the décolleté. In line with the Pronovias Group's inclusivity policy that applies to all the brands in its portfolio, all the Vera Wang Bride 2023 dresses are available in a range of sizes from 32 to 64 (from 0 to 32).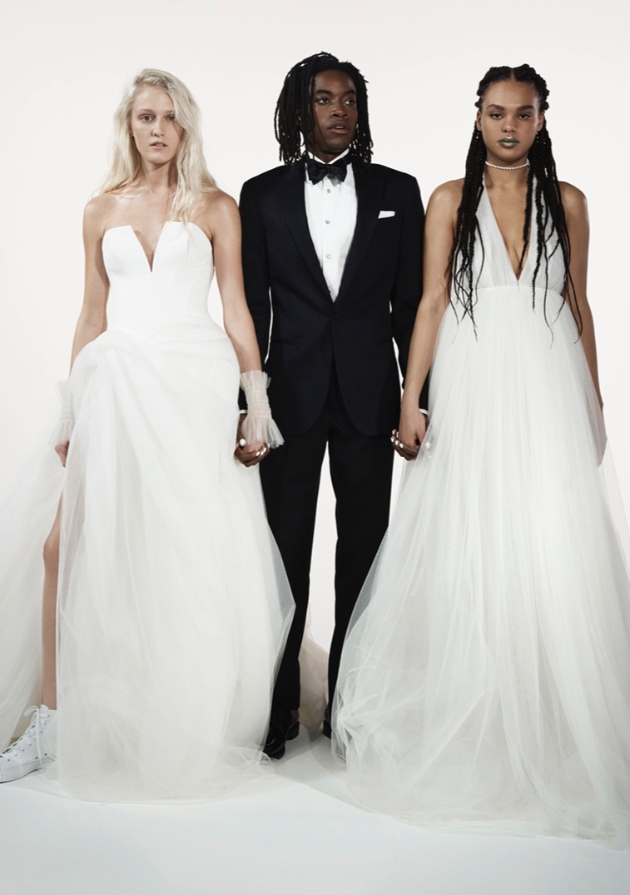 Isabelina and Juana bridal dresses from the latest collection by www.verawangbride.com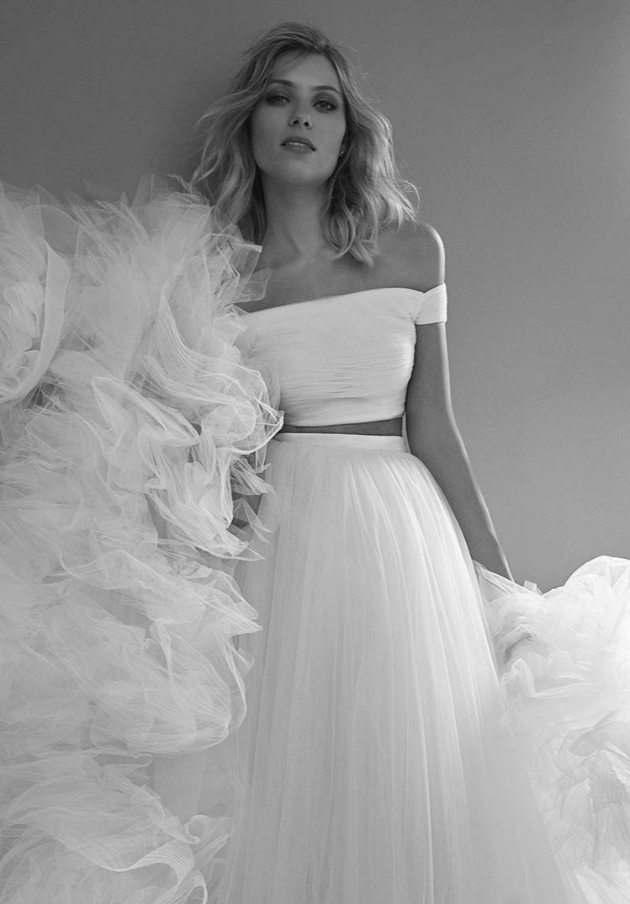 Pronovias are sharing their love for the planet with #WeDoEco which is a pledge they have taken to make the world a greener and happier place by dressing the bride's dreams sustainably. It's their deep commitment to finding solutions that reduce the impact on a fragile planet. It's a promise kept to offer beautiful, eco-friendly wedding gowns. #WeDoEco touches everything in the lifecycle of a dream dress, from design to making, fitting to delivery. It's a circle of love that the Pronovias Group invite customers to enter, a never-ending love story that they can be part of.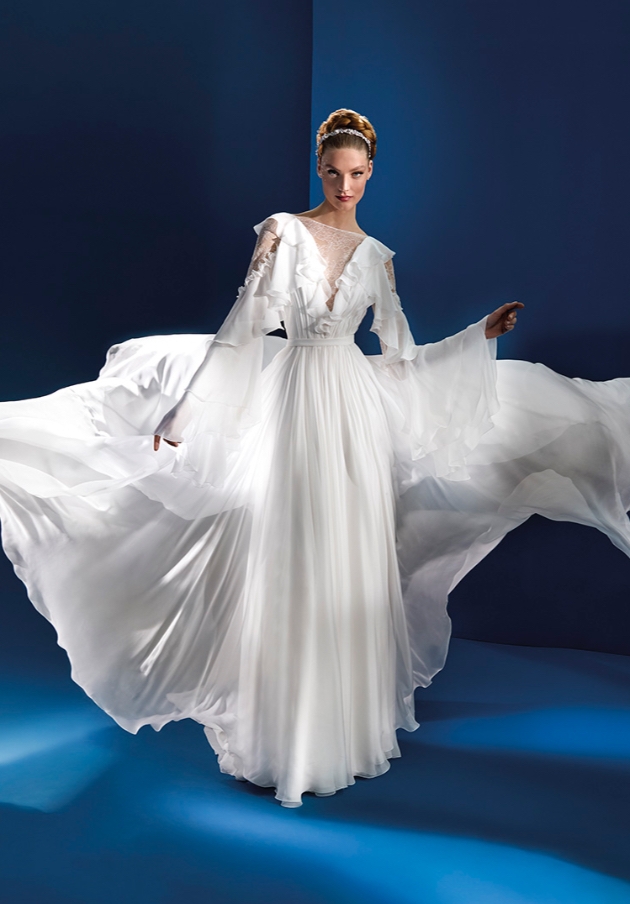 Antoinette sustainable wedding dress from https://www.pronovias.com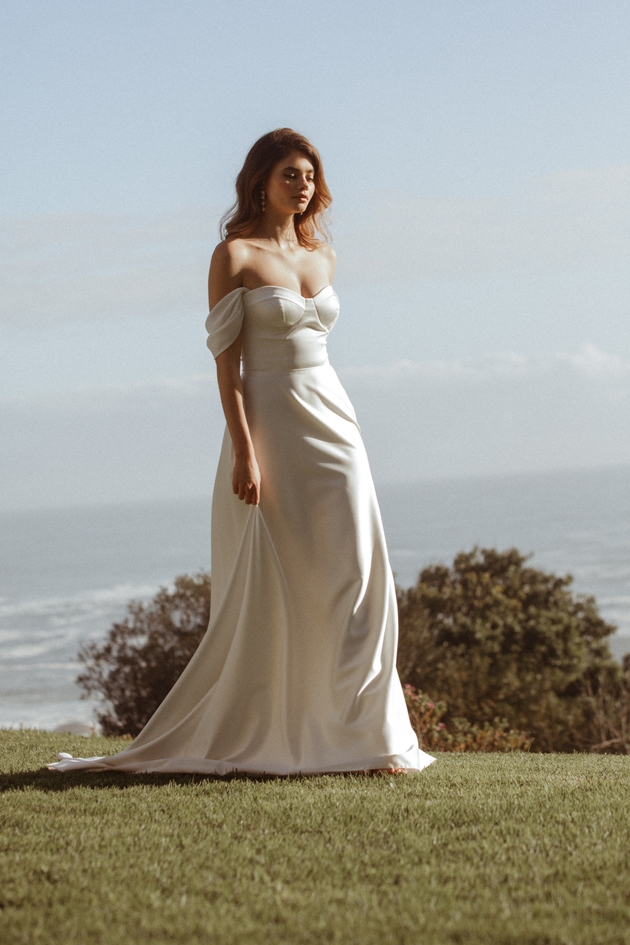 Bo & Luca couture gowns are made, hand-beaded and hand-dyed in their Indian-based atelier. Using an ancient Indian technique known as Tambour, each bead is carefully hand-sewn onto the finest silk by local master craftsmen and women over a three to six-month process. The entire process celebrates the feminine and carefree romanticism which only delicate hand-beading, embroidery, and hand-dyeing can emulate. Incorporating this age-old technique into each design produces a finer, more intricate, and higher quality result than machine beading, which is a more favoured method in modern garment manufacturing. Bo & Luca encourages handmade creations and intertwines this value into each gown created under their diffusion brand, Temple. Whilst many Temple gowns are created in their Indian ateliers, the recent partnership with their European atelier has allowed them to diversify their offering into commercially viable gowns which appeal to their bohemian-loving brides with a reduced budget. Temple allows inclusivity and ensures that more brides can make the dream of being a Bo & Luca bride a reality.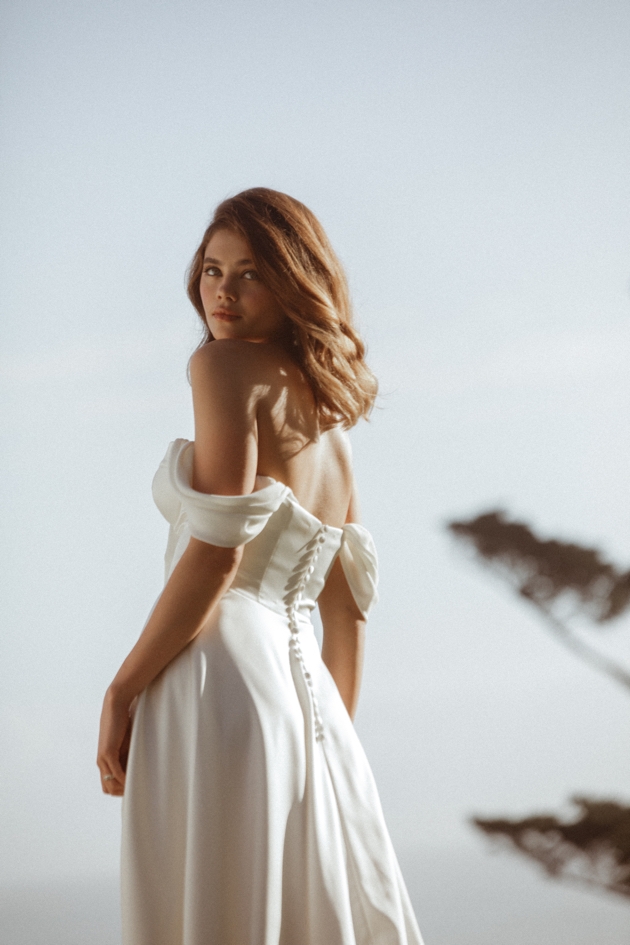 Camelia bridal dress by www.boandluca.com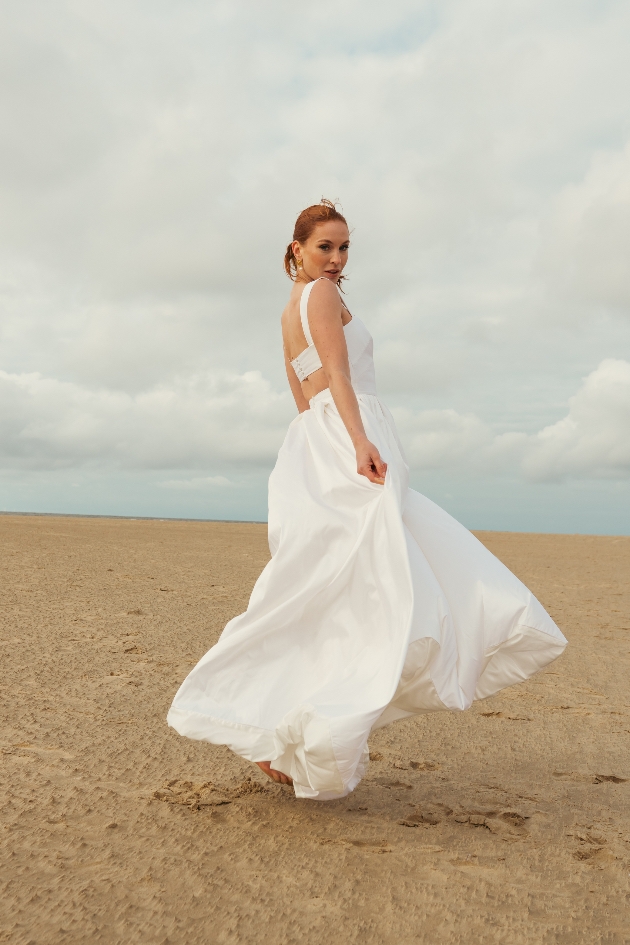 British bridal designer Andrea Hawkes. Has introduced her Amaryllis 2023 collection named after the Amaryllis flower which stands the tallest of all winter blooms and symbolises pride, strength and determination which has been Andrea's creative inspiration. Sustainability has always been at the heart of Andrea's brand ethos working exclusively in natural silks including dress linings. All lace is sourced and produced from French mills with ethical working practices. The London studio enables Andrea to work closely with brides across made-to-measure and bespoke designs and a recently launched post-wedding alteration service offers brides the opportunity to re-purpose their dress by the in-house team creating luxury wardrobe staples that can be re-worn for years to come.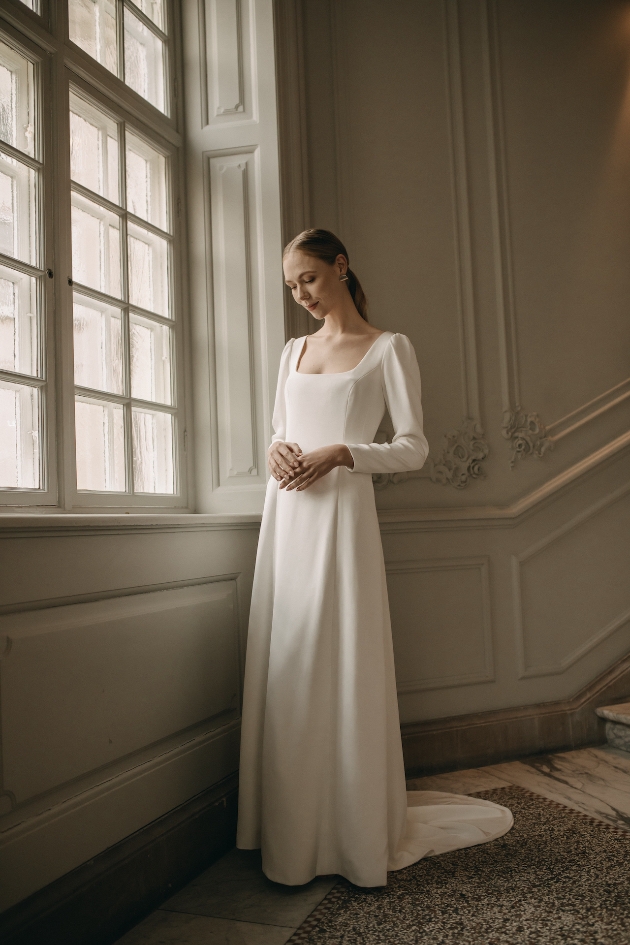 A sustainable style from the latest collection for 2023 by www.andreahawkes.co.uk