Jessica and Joe's celebration took place at the Coed-Y-Mwstwr Hotel
Jessica and Joe met in the most modern of ways – Tinder! "I downloaded the app and Joe was one of my first matches," says Jessica. "We bonded over our love of peanut butter and exercise but soon realised we had so much more in common. After we matched, we spoke every day, and our friendship and feelings grew. I finally agreed to meet him in 2015, and we knew right away that we had something special. I tried to put him off as I was moving to New Zealand later that year but he very stubborn and wouldn't take no for an answer. We became an official couple and kept the relationship going over Skype until finally, in August 2016, I moved back home to Wales."

Joe popped the question one year after they moved in together. "It came as a total surprise," shares the bride. "It seemed like an ordinary date night but ended up being one of the most special nights of our lives. We went to the cinema and dinner, and afterwards, Joe suggested we go for a walk. This was very out of character, so I should have known something was up. We walked to the side of the cliff where he got down on one knee and asked me to marry him. I could barely see him, but of course, I said "yes!"

Here she shares some of her favourite moments from their big day...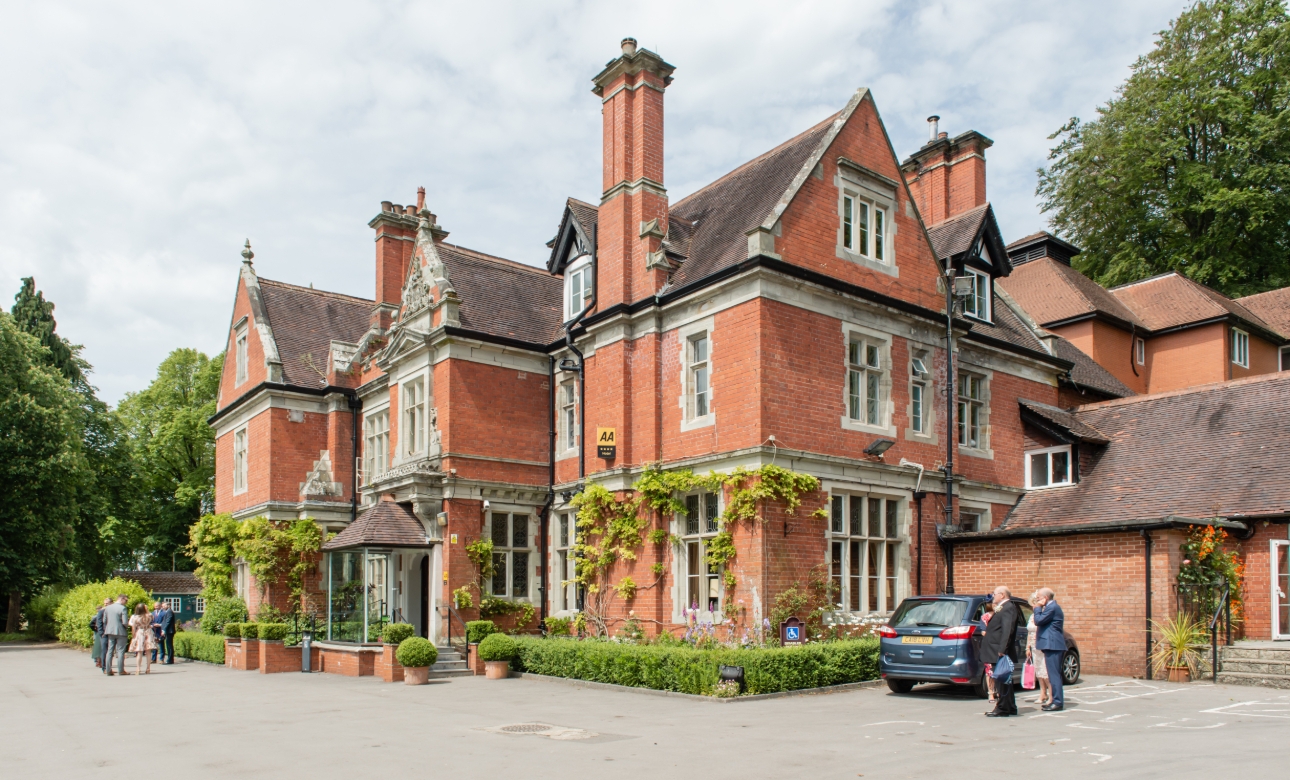 We were initially attracted to Coed-Y-Mwstwr Hotel because of its location.The driveway was impressive and felt very secluded, which was something we wanted. From the outside, the gorgeous red brick manor took our breath away, but once we saw the ceremony space we were truly sold! It was everything we were looking for and more.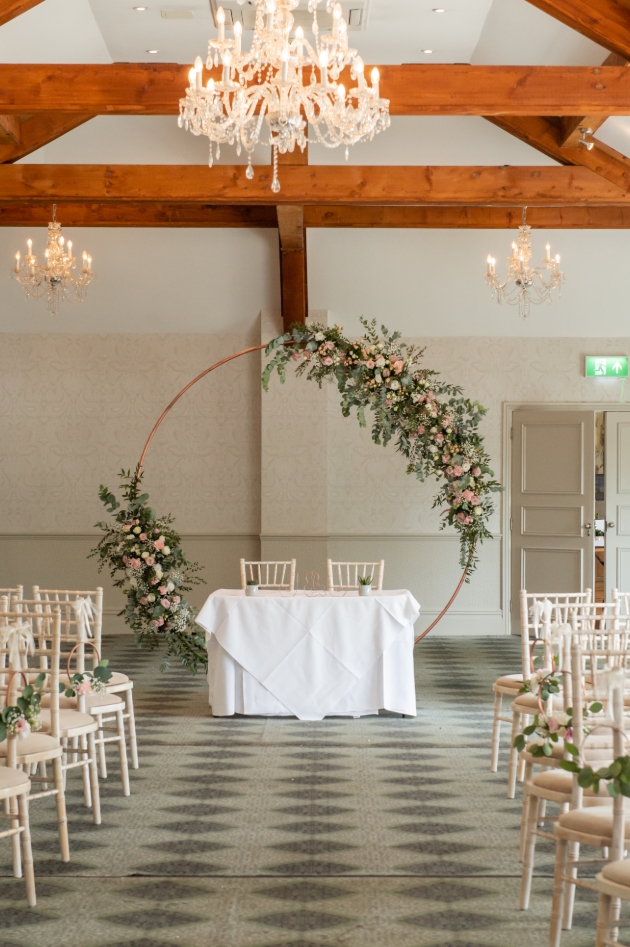 The flowers were one of my favourite things from the day.They were stunning and smelt amazing. I wanted soft, neutral colours with lots of greenery and foliage. We opted for pink and ivory astilbes, veronicas, gypsophila, eucalyptus and dusty millers.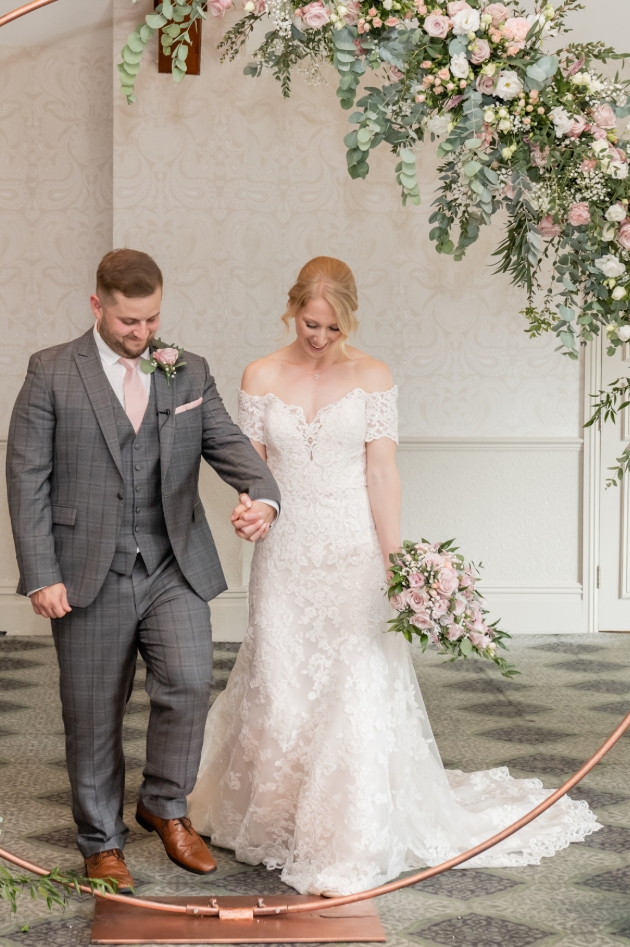 Stepping through the moon gate as husband and wife after the ceremony was an amazing feeling that I'll always treasure.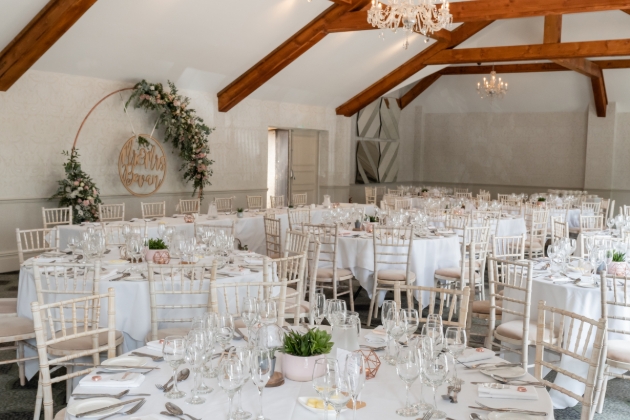 I made the centrepieces and sourced most of the items from Ikea. I chose succulents in pink pots, mini cactusesin glass domes and acrylic photo holders. I also bought geometric tea light holders from Tesco that I sprayed copper to match our colour scheme.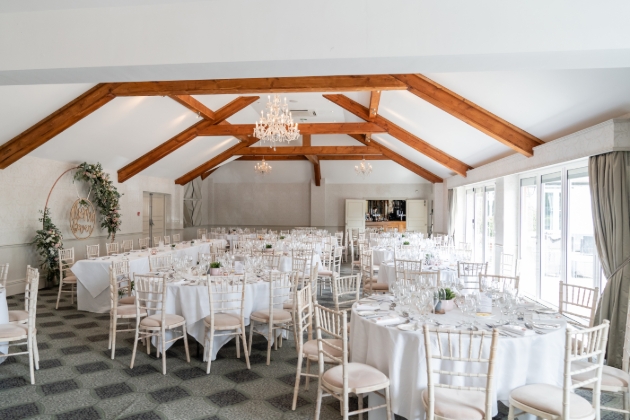 Our decorations looked great, especially our lovely moon gate.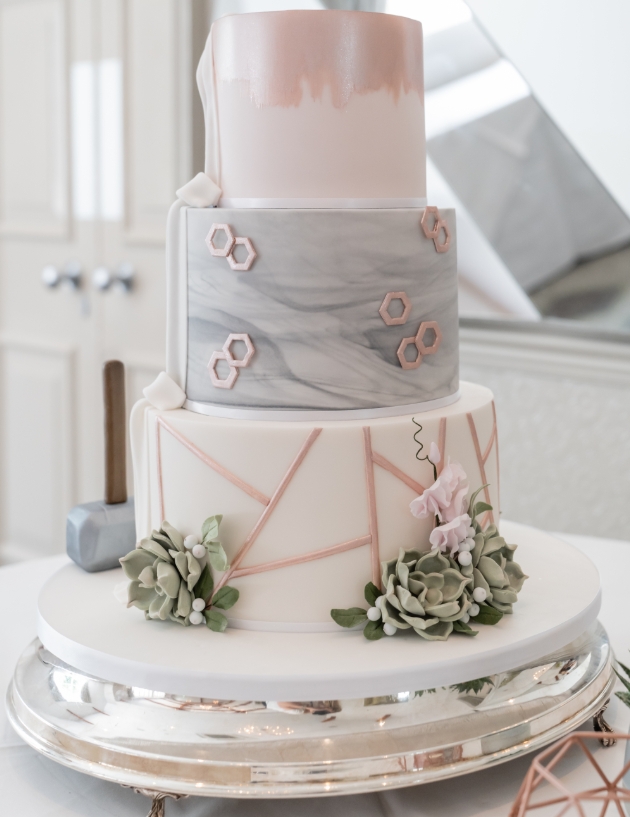 Our cake was really unusual. Before we got engaged, I promise Joe hecould have a Marvel-themed reveal cake.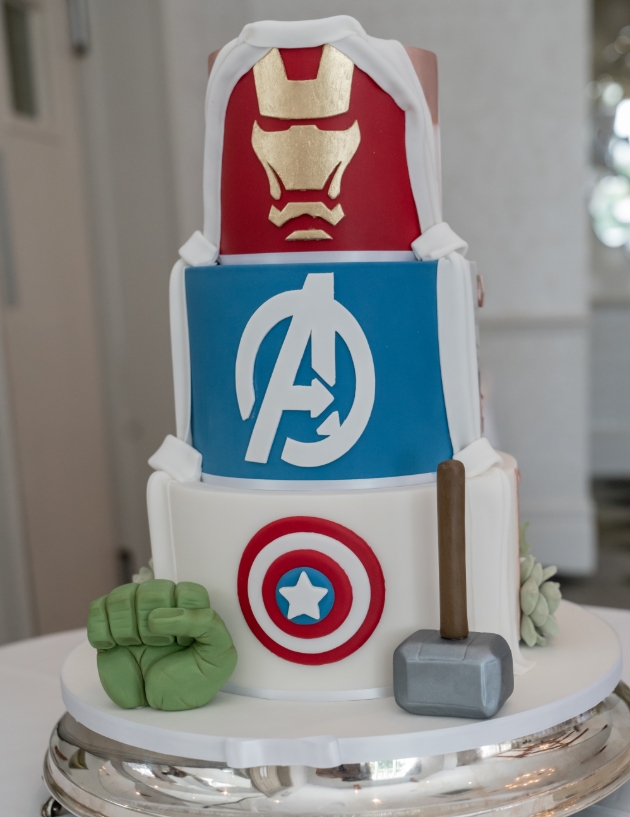 We found DeVoli Cakes andasked them to create a traditional cake with a fun twist to it. We had threedifferent flavours, lemon drizzle, salted caramel and Victoria sponge.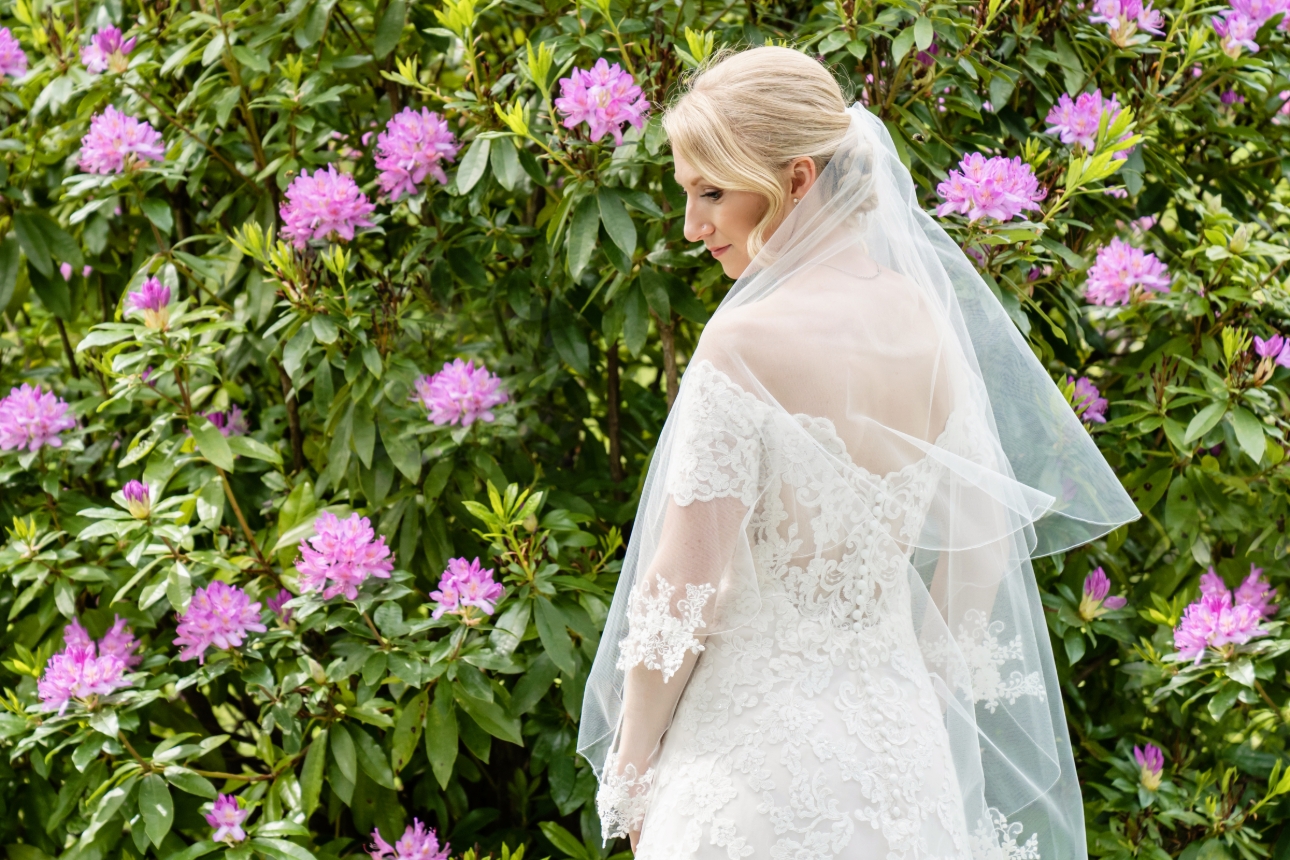 I found it difficult finding the perfect dress. I went to 12 different shops and tried on more than 130 designs before I finally found the one at the Cardiff Bridal Centre. I chose a Morilee gown called Linda. The amazing shop assistant chose it for me, and I fell in love with it right away.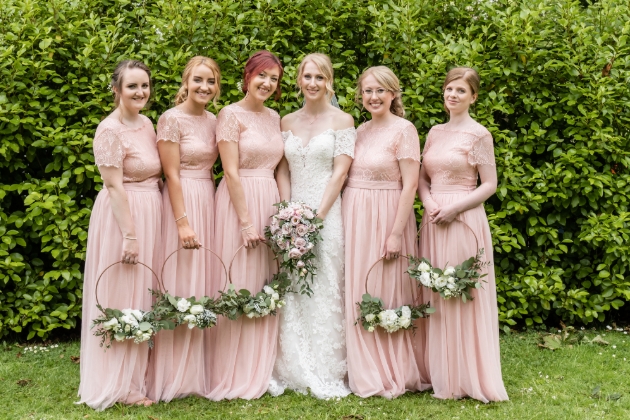 The bridesmaids chose soft pink gowns from Little Mistress, and the flowergirls had ivory dresses from Debenhams. Both styles complemented each other and suited all the girls.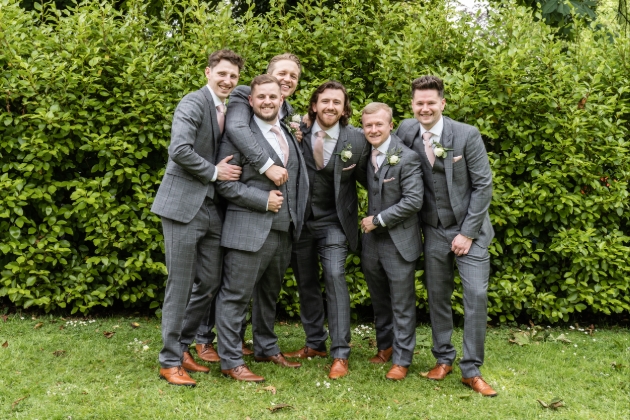 Joe and the groomsmen wore the same grey check suit from Dyfed Menswear. To make Joe stand out, he opted for a pink rose, while his friends wore white versions. The page boys wore waistcoats and a bow tie, and their flowers were made from Marvel Comics.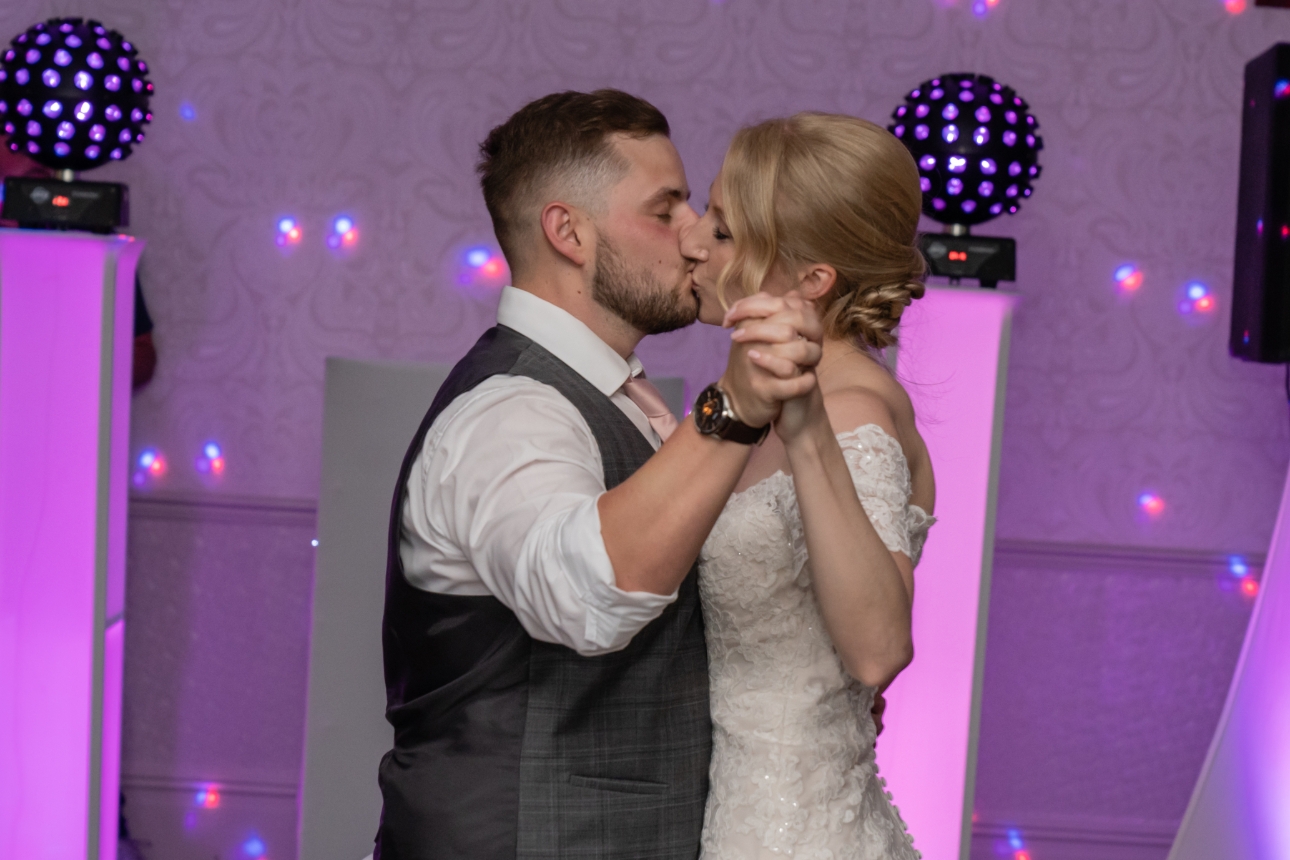 We had a photo booth in the evening, which was a great hit with our guests. The photos are hilarious, and we placed a copy of each in our guest book.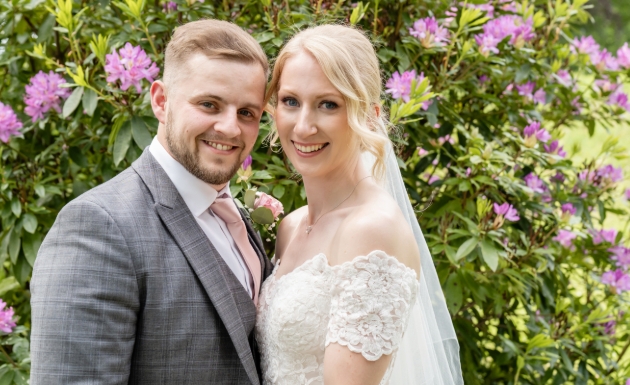 I felt surprisingly calm and relaxed while getting ready. I remember having an overwhelming feeling of happiness and my cheeks hurt the next day from smiling so much.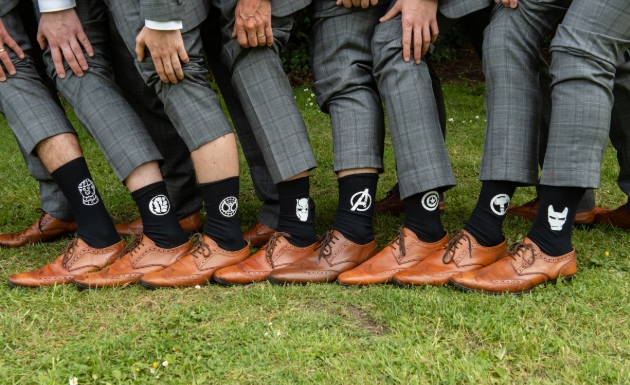 Our good friends, Tor and Jack, bought us personalised superhero capes as a wedding present that we put on during our wedding photos.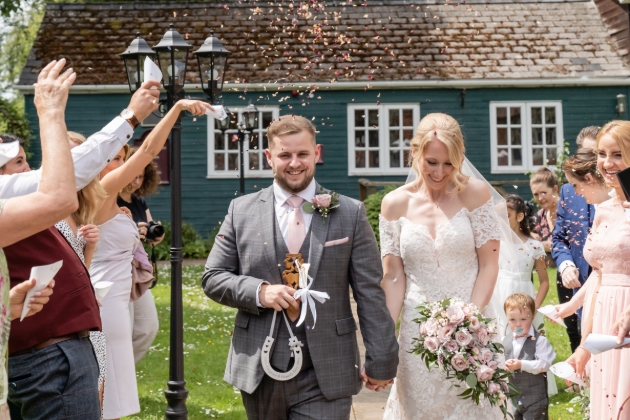 Having all of our friends and family with us was an amazing feeling. Especially as some of our loved ones had travelled to be with us.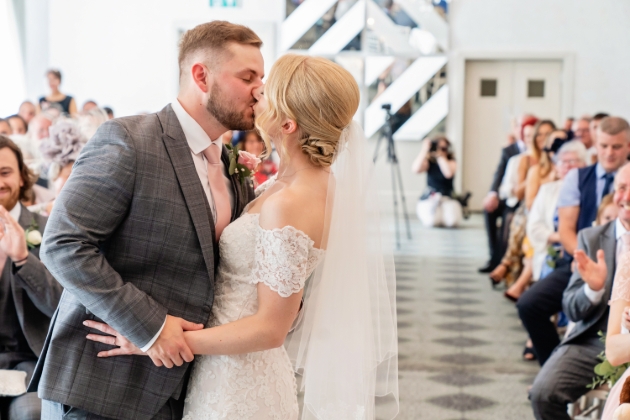 My top tip for any bride or groom-to-be is to enjoy it! Remember organisation is key. I kept a list of everything in a spreadsheet on Google Docs so I could access it from anywhere.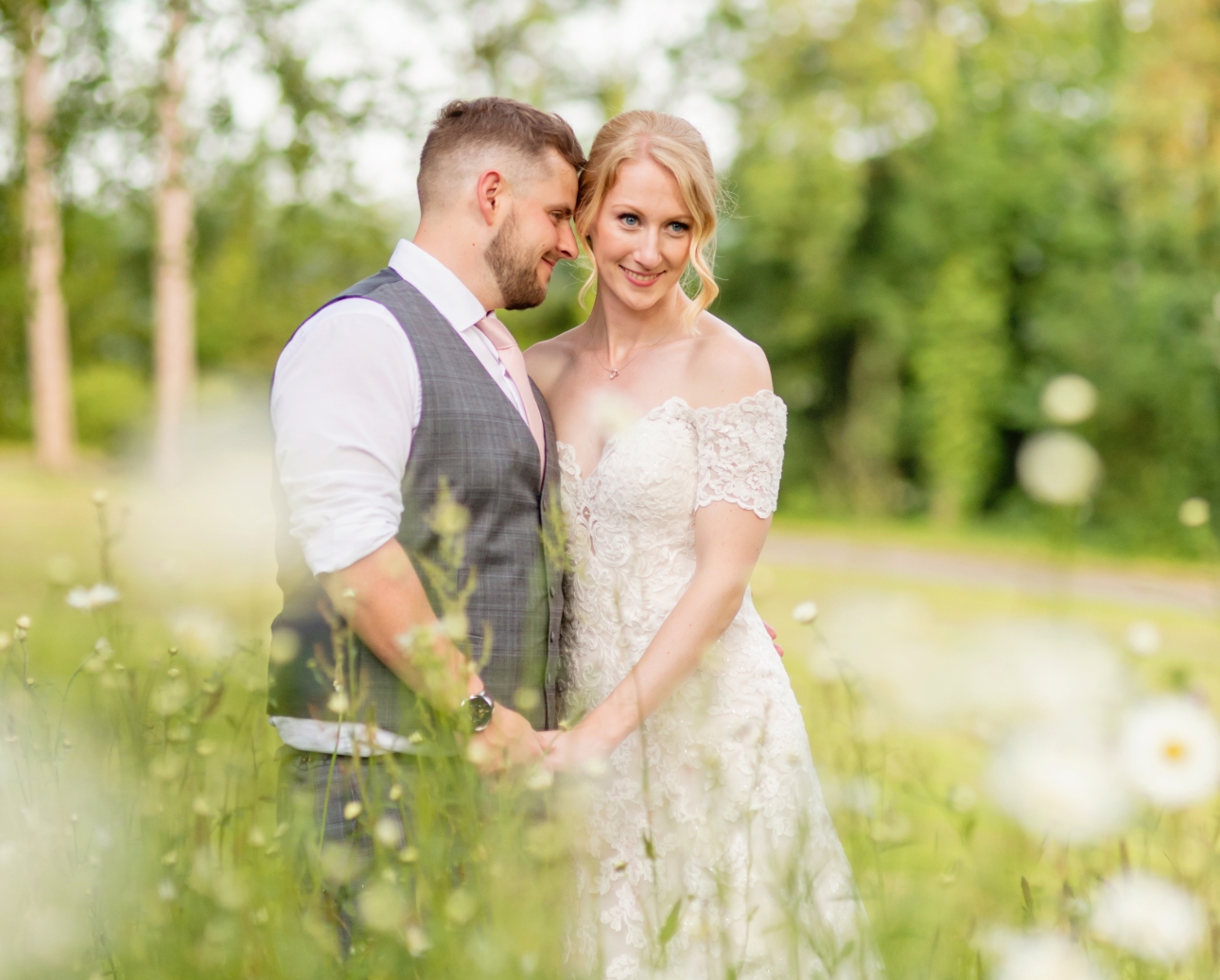 For our honeymoon, we went to Seychelles and spent two weeks island hopping. It was nice having some time together and relaxing after the craziness of wedding planning. We booked it through Audley who took away a lot of the stress and did everything for us.
Jessica and Joe's contact book