Harriet and Jacob met at a rugby game in their last year of primary school. "Over the years our friendship grew, and we've been inseparable since we were 15," says Harriet. "Jacob proposed to me on our 10th anniversary. We decided to have a weekend away at De Vere Tortworth Court in Gloucester to celebrate. We were walking through the grounds when Jacob gave me an anniversary card. By the time I'd finished reading it, he'd got down on one knee and presented me with a beautiful ring. We were over the moon and couldn't have been happier."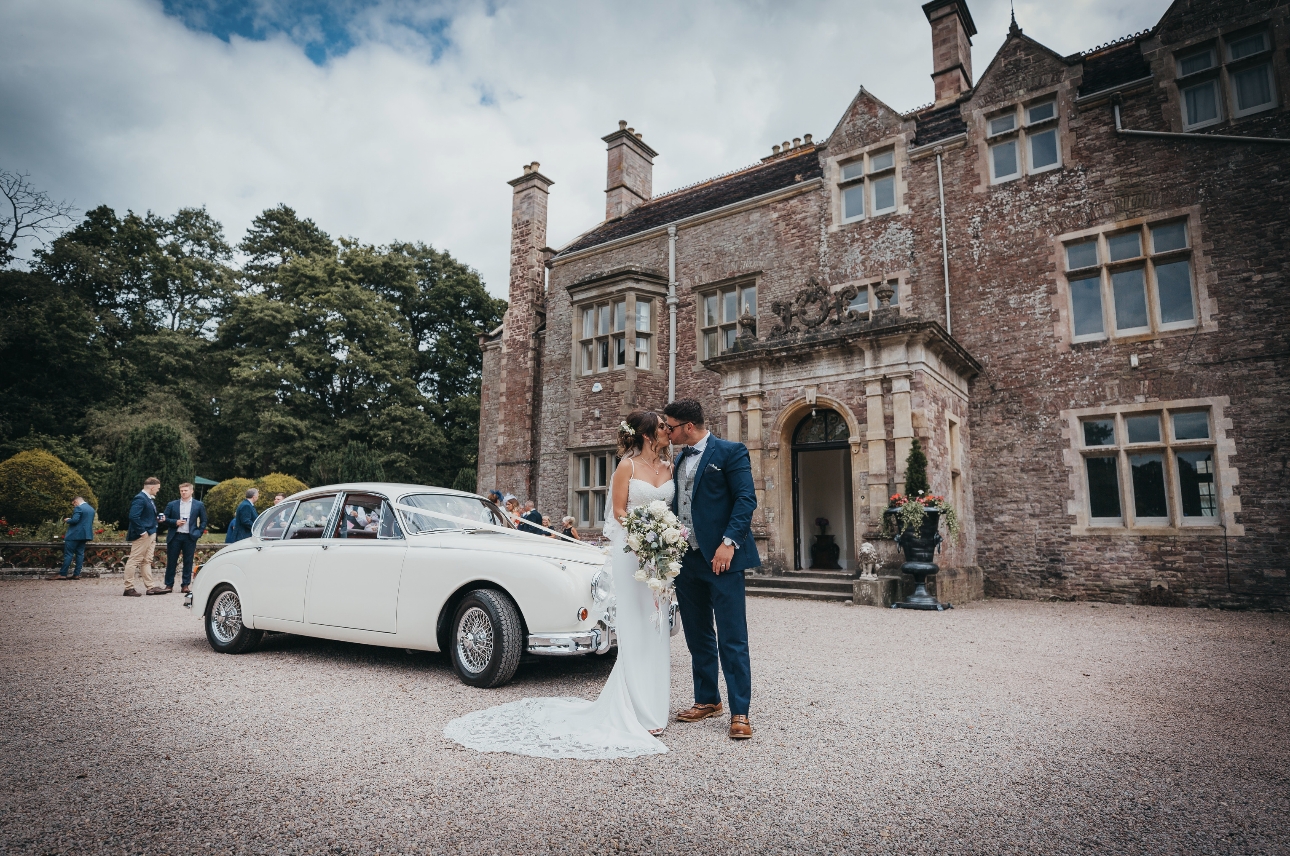 "We wanted a wedding venue that we could make our own," shares the bride. "We visited so many that offered corporate packages and since we wanted to decorate it ourselves, have outside caterers and exclusive use, we decided that wasn't for us. When we came across our reception venue, Cefn Tilla Court, we couldn't believe our luck. We had access to the property in the week leading up to the wedding, which took some of the stress away. The staff were so flexible, and the hotel had so many beautiful rooms for our families to stay in. We also had the most amazing bridal suite with a free-standing bath, but as our wedding party was so big, it wasn't large enough to accommodate everyone. Rob, the owner, was so helpful and let us hire a third-party company to pitch 11 luxury bell tents in the grounds to allow for 60 extra guests to stay. We couldn't recommend Cefn Tilla Court enough. The team were so accommodating, and there was nothing they wouldn't do to help."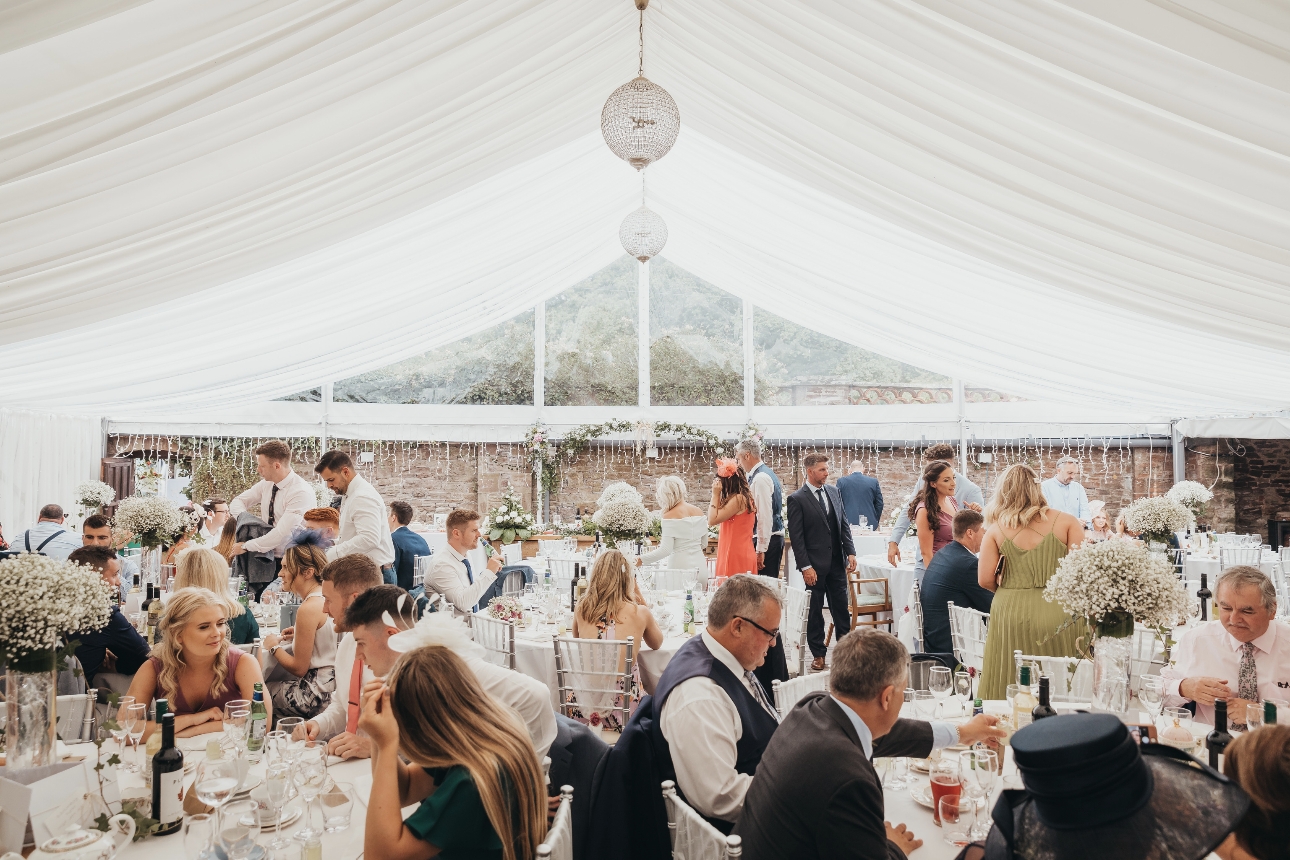 The happy couple decided to give their guests engraved glasses as favours. "These were designed by Siân Ellis Wright," adds the bride. "The glasses were filled with limoncello from an Italian restaurant that we love in Marlborough, and everyone took a shot as we entered the marquee."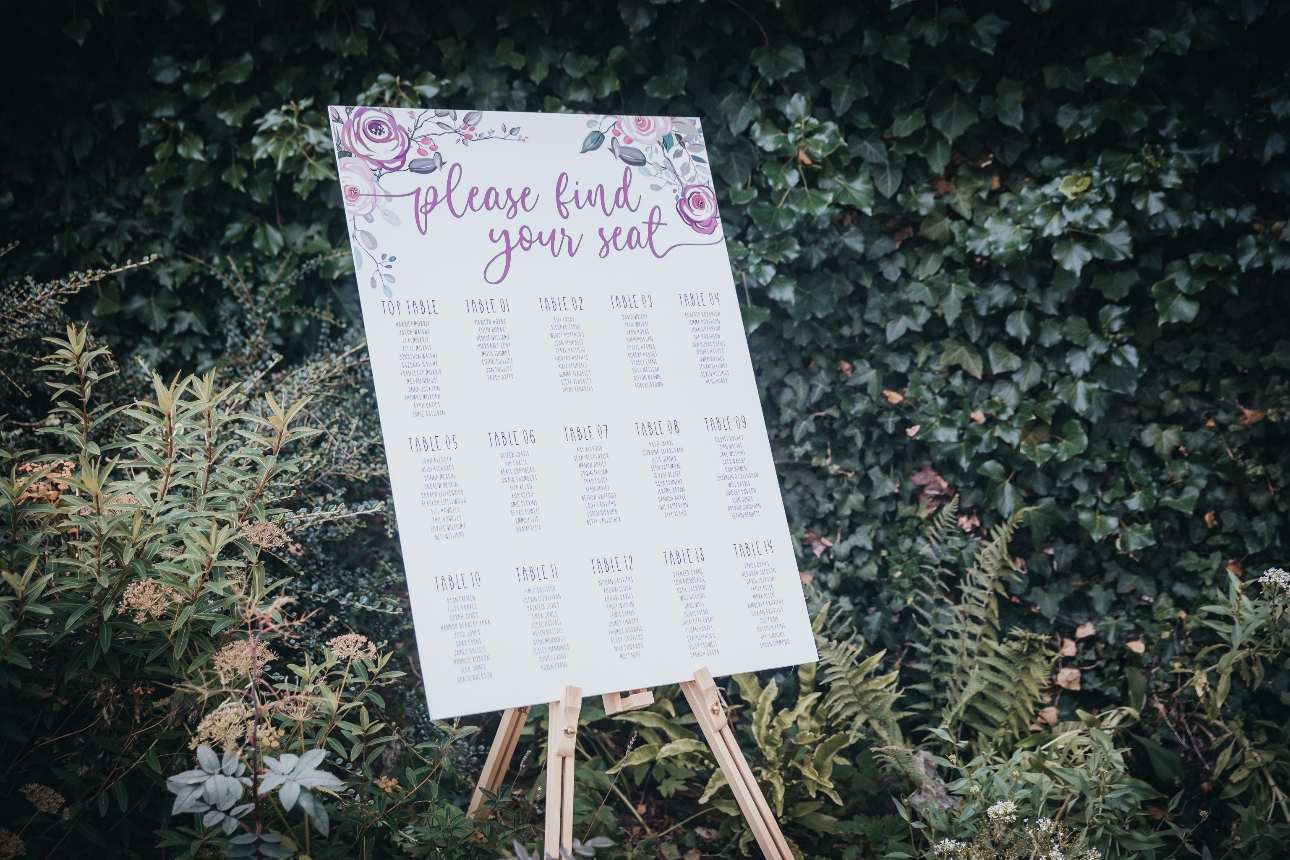 "Our table plan and welcome sign were also designed by Siân," says Harriet. "We didn't have a theme, so we used numbers."

"We hired a gorgeous car from Holyoake Classic Car Hire to transport us to the venue," shares Harriet. "The rest of our wedding party travelled in a vintage bus."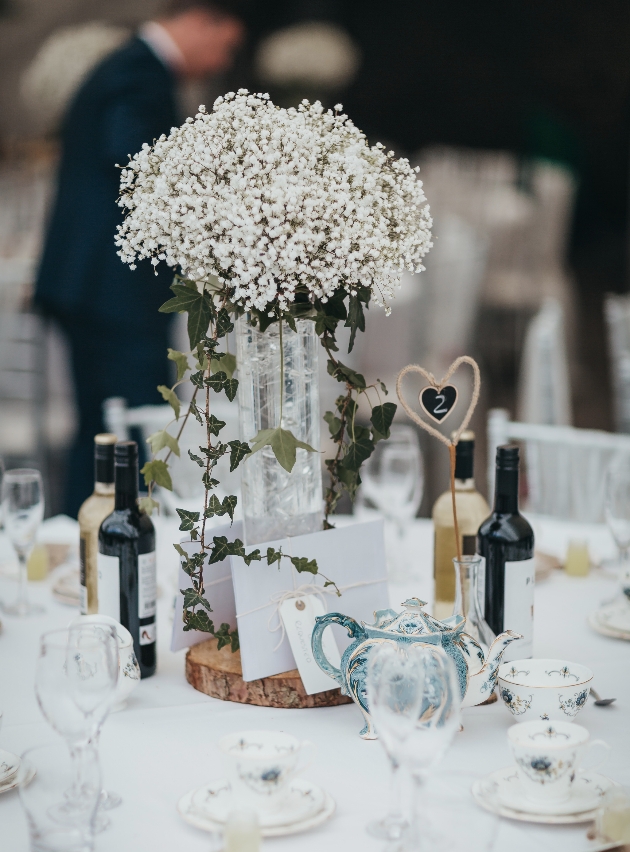 For their flowers, the couple turned to a family friend.


"Ceri took me to the Cardiff Flower Market a few weeks before the wedding to discuss ideas," explains the bride. "As I wanted quite a plain dress, I decided to go for a draping bouquet with lots of colours. Ceri ran a masterclass the day before the wedding for all of my bridesmaids to help them make their own posies while we enjoyed pizza and prosecco. Ceri also helped make our centrepieces, she filled vases with cellophane and water, which made it look like they were coated in ice."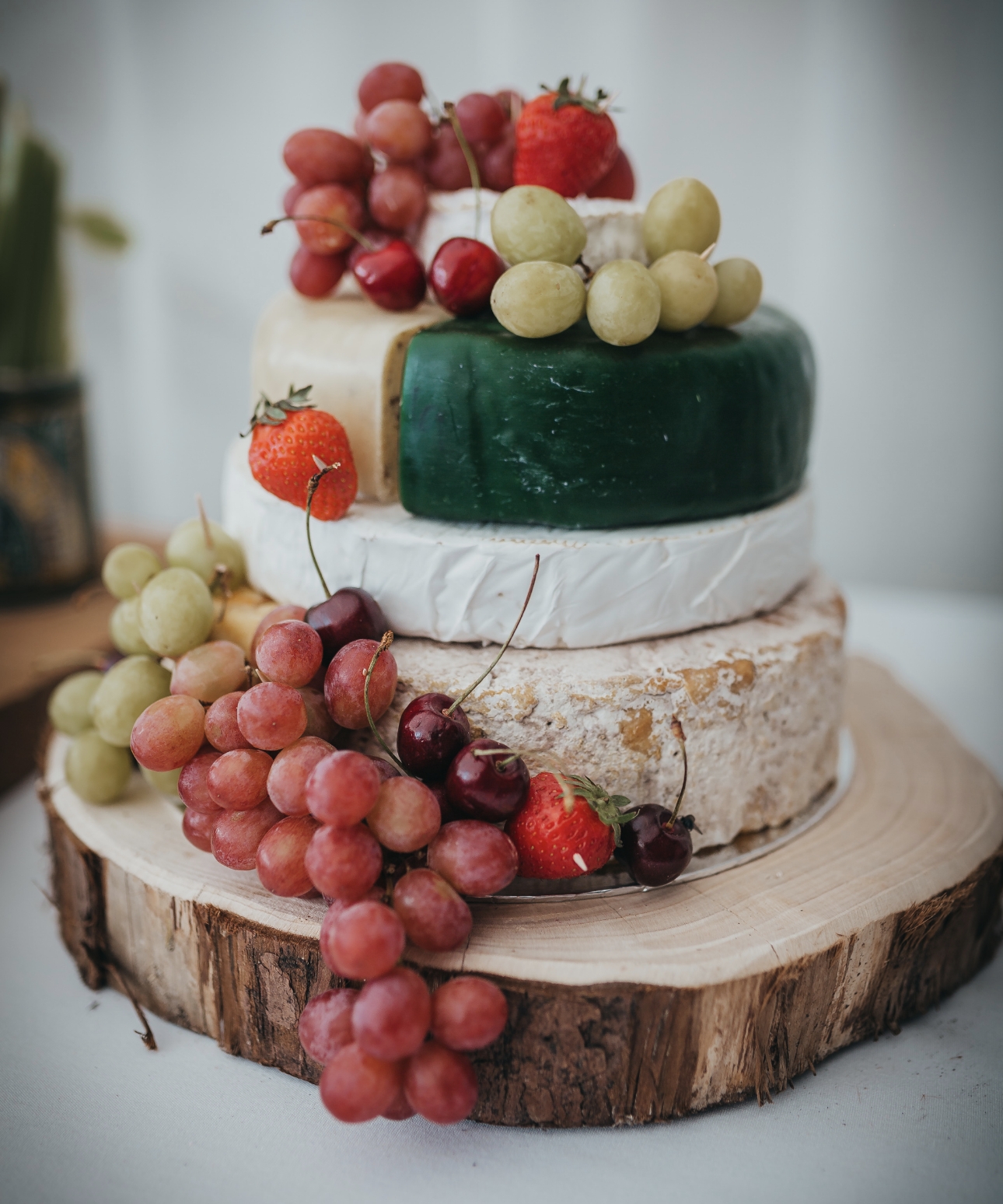 Harriet and Jacon decided against a traditional cake. "We don't really have a sweet tooth," says Harriet. "So we opted for blocks of cheese instead."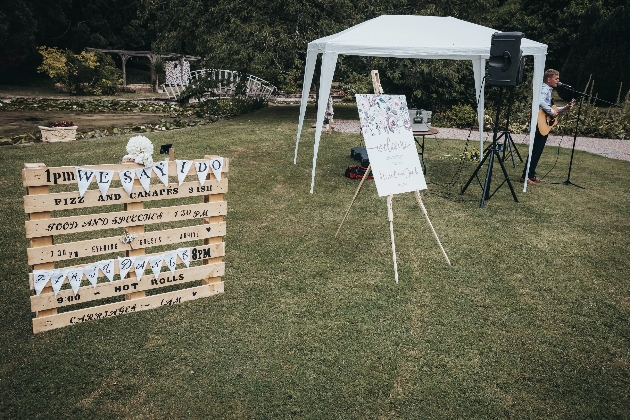 To finish the décor, the lovebirds made a flower wall and purchased an order-of-the-day wooden pallet from The White Pallet Co. "My mum dried out flowers to use as confetti and Karen Evans, a family friend, put the packages together," shares the bride. "Rob from Cefn Tilla Court sourced hay bails for us from a local farm to spread across the grounds so everyone could relax and enjoy themselves."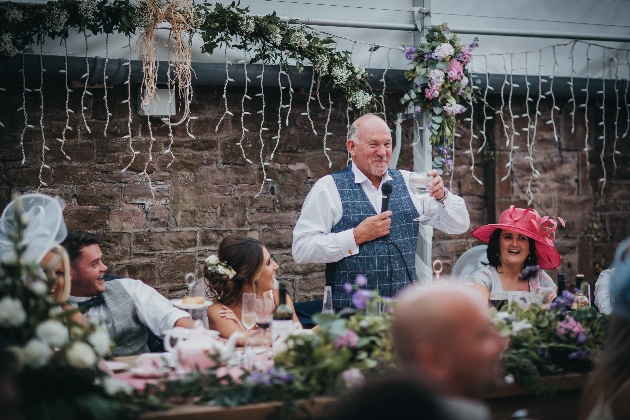 For the wedding breakfast, the couple decided against a three-course meal. "We went to a wedding around six years ago where Sara from Glyn Gwyn Baking Co did the food, and it was amazing," explains Harriet. "We loved it so much that we asked if we could have the same. We opted for a savoury afternoon tea for the main meal and warm rolls with various meats for the evening."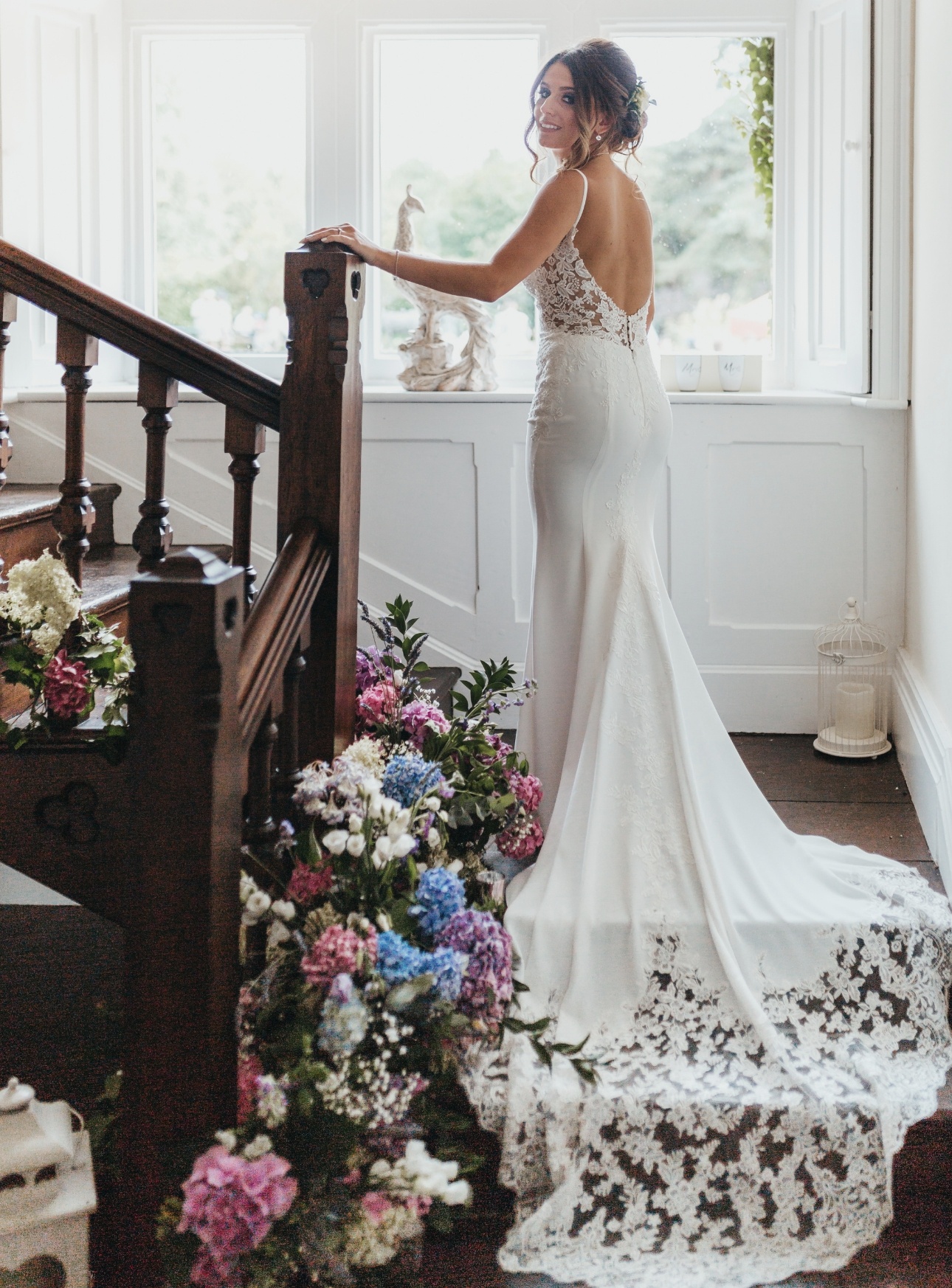 Harriet chose to have her dress altered to create a bespoke look. "A family friend offered to customise it for me," shares Harriet. "She's extremely talented, and was kind enough to help. I accessorised with Dune London shoes, a bracelet, necklace and earrings."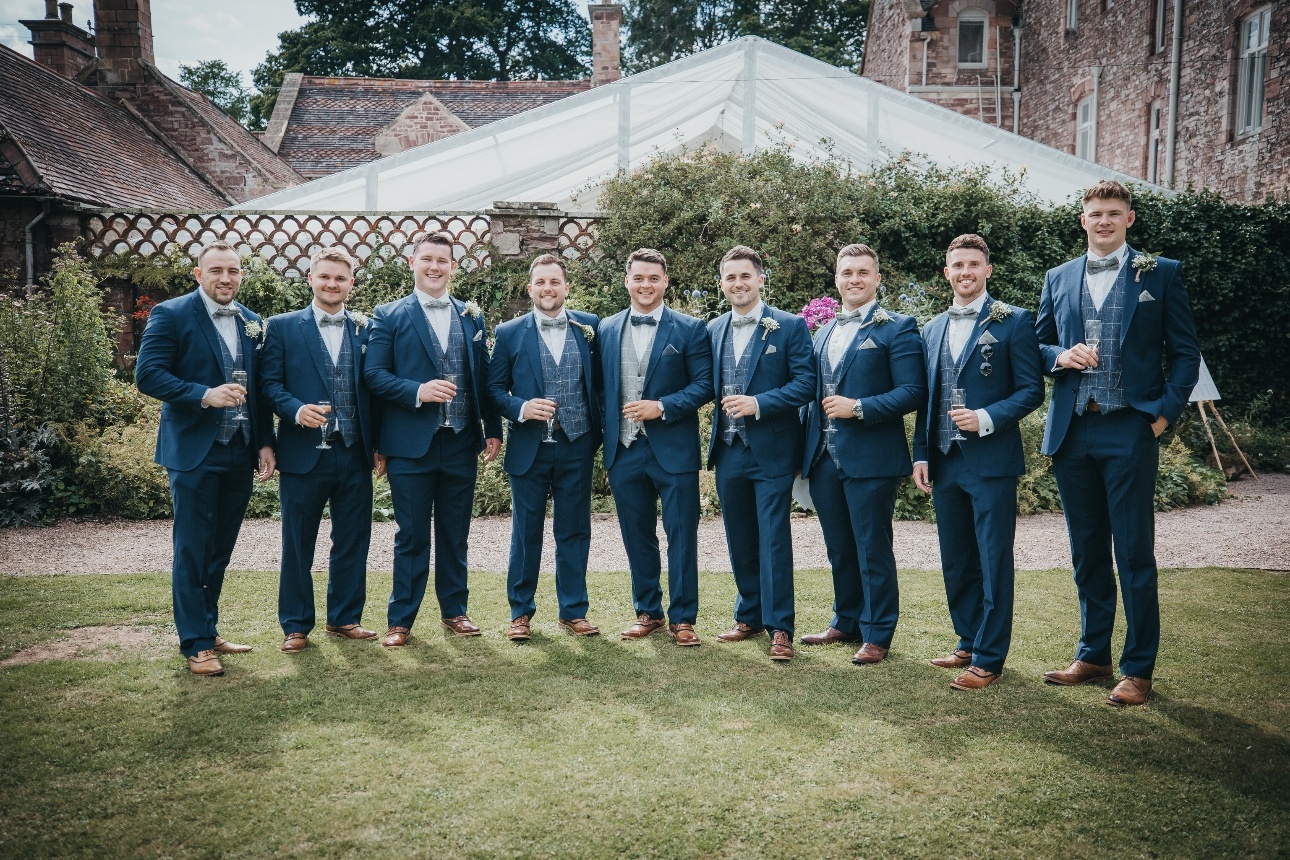 Jacob opted for a stylish suit from Slater Menswear. "To make him stand out from the groomsmen he wore a bowtie and waistcoat," explains the bride. "Everyone looked great on the day."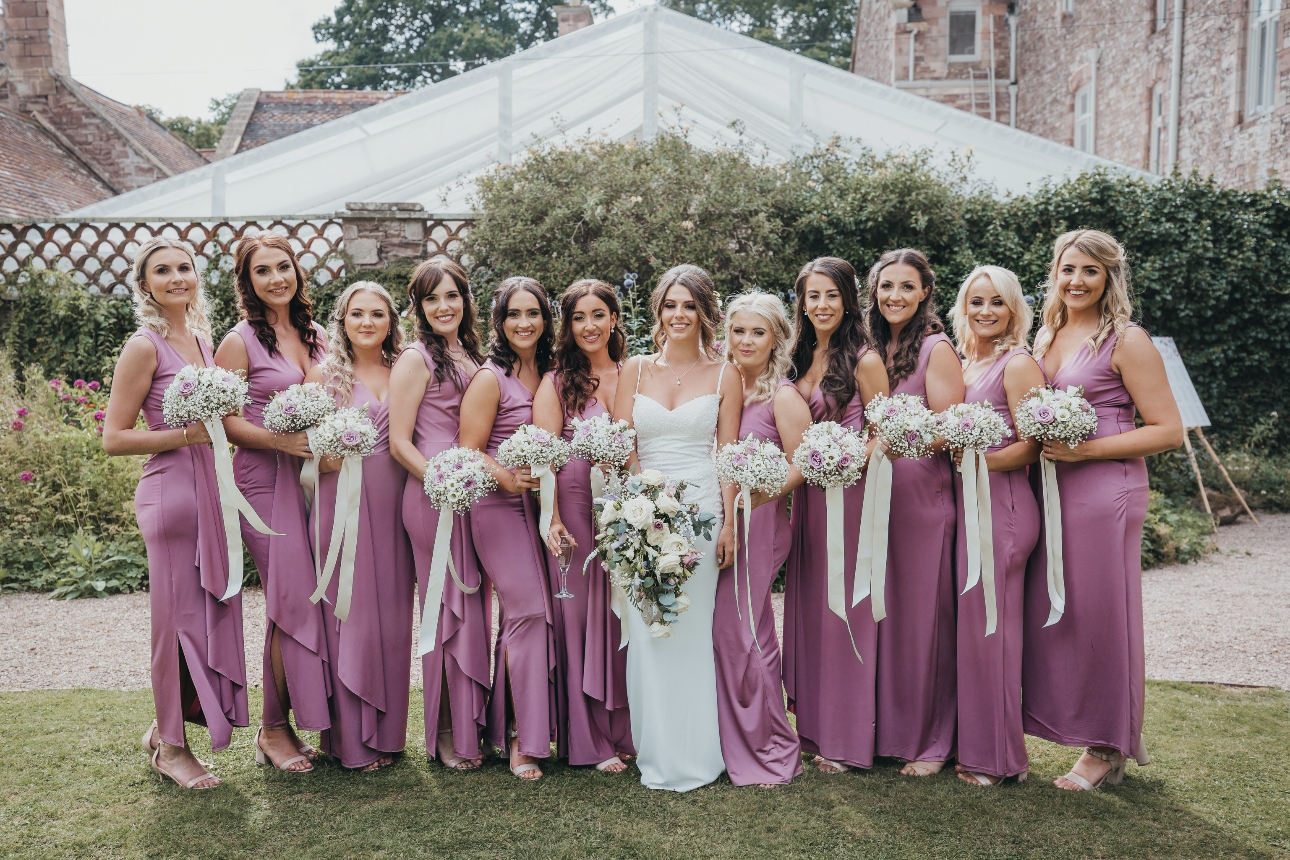 The bridesmaids wore purple dresses from House of Fraser. "I loved the colour," Harriett adds. "A few of the girls are tall, so we went for a style that had a split leg."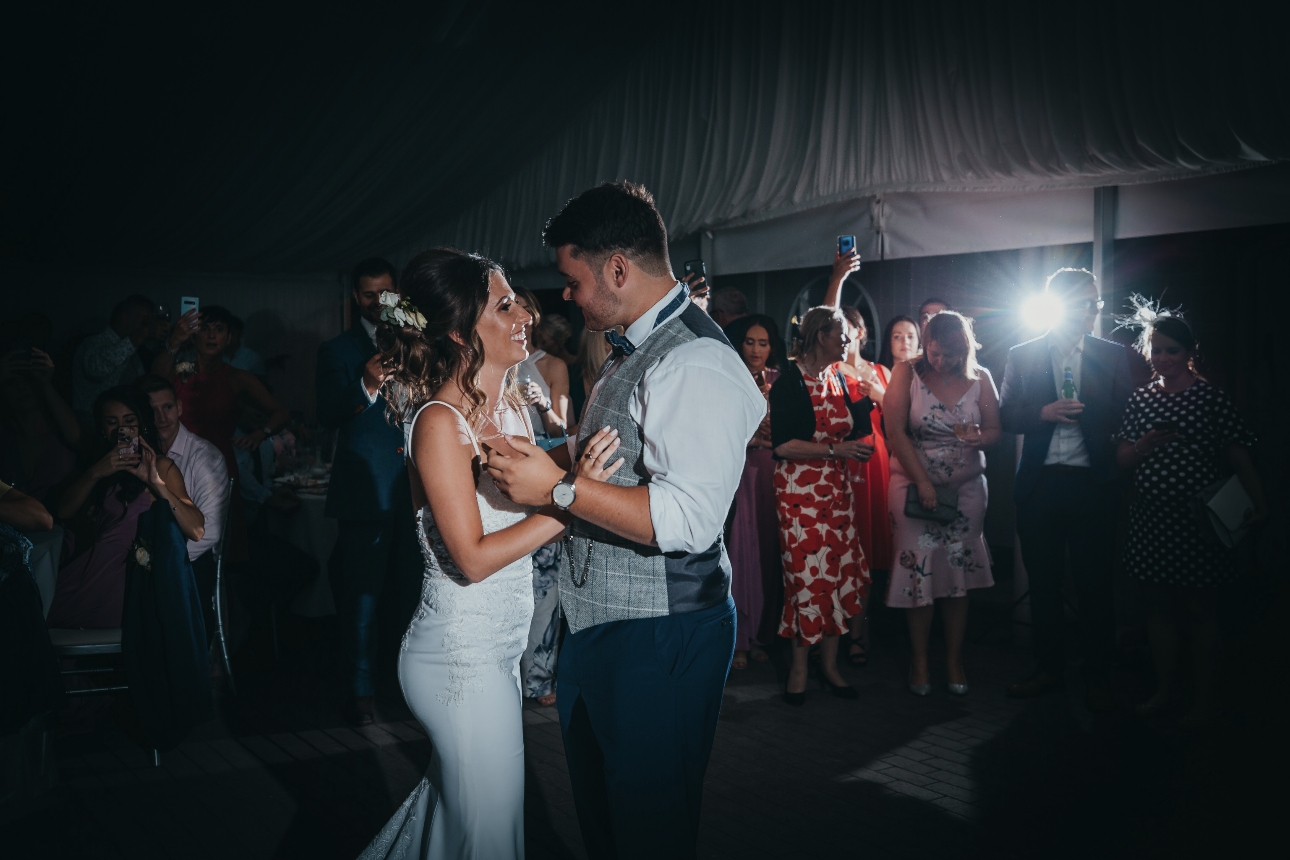 "To keep everyone entertained, we hired Kieran Marsh Wedding Singer to perform during the welcome drinks," says Harriett. "He was amazing and had everyone of all ages up and dancing. In the evening, we had Jeris Music play. They created a great atmosphere and kept the partygoing throughout the night."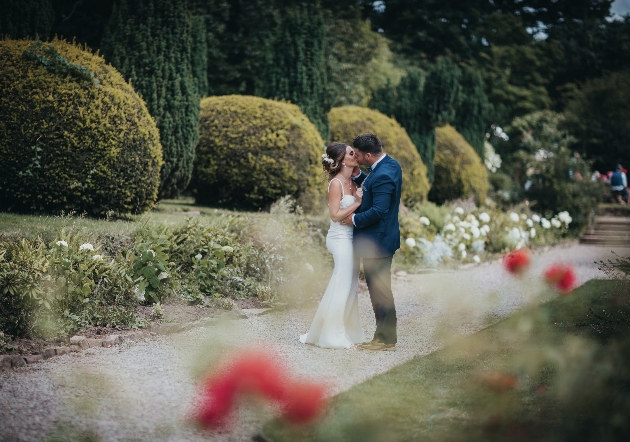 "The day was perfect," shares the bride. "We didn't feel nervous and loved every minute of it. The timings were all off so I didn't throw my bouquet or cut the cake but we didn't mind as everyone was so happy and relaxed." The couple were thrilled with the speeches. "Our dads were amazing," explains Harriet. "One of the best men's speech was complete with props which left everyone in fits of laughter."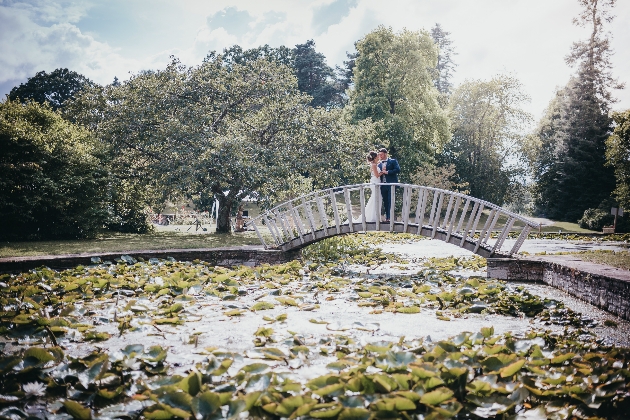 Harriet and Jacob's nuptials were anything but conventional. "We wanted things to be a bit different," adds Harriet. "The bridal party got ready in our local village hall, which we rented for the weekend, and during the church hymns, the bridesmaids played the tambourine. Our local vicar, Dean, was fantastic. He carried out an amazing service, and we've since received so many compliments about him."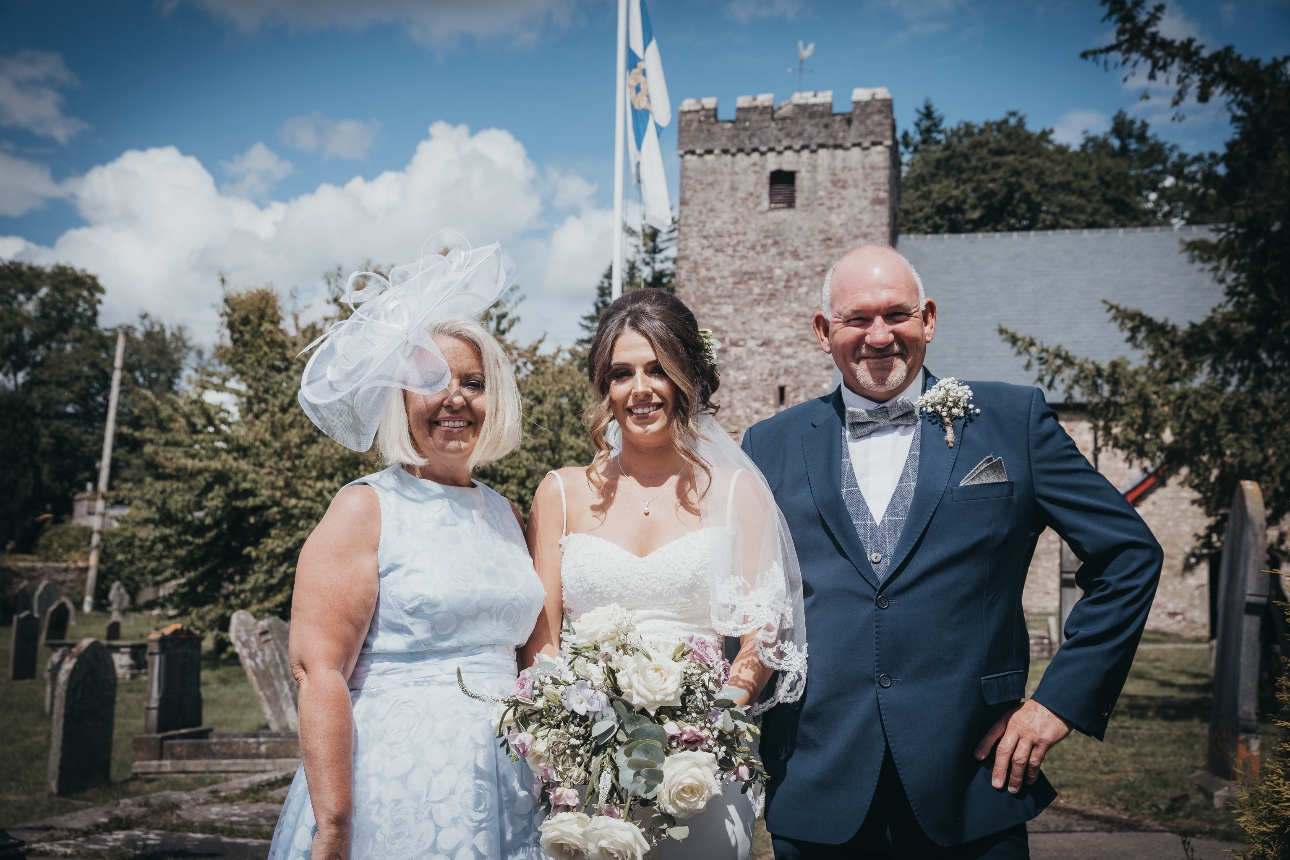 Their big day wouldn't have been as special without the help of their amazing suppliers and friends. "Our mothers, Ceri and Suzanne, held the whole wedding together and helped us so much," says the bride. "We had so many amazing helpers, including our florist, Ceri, and Jacob's father, Jon, who organised for a printing company to create personalised beer cans for our welcome drinks."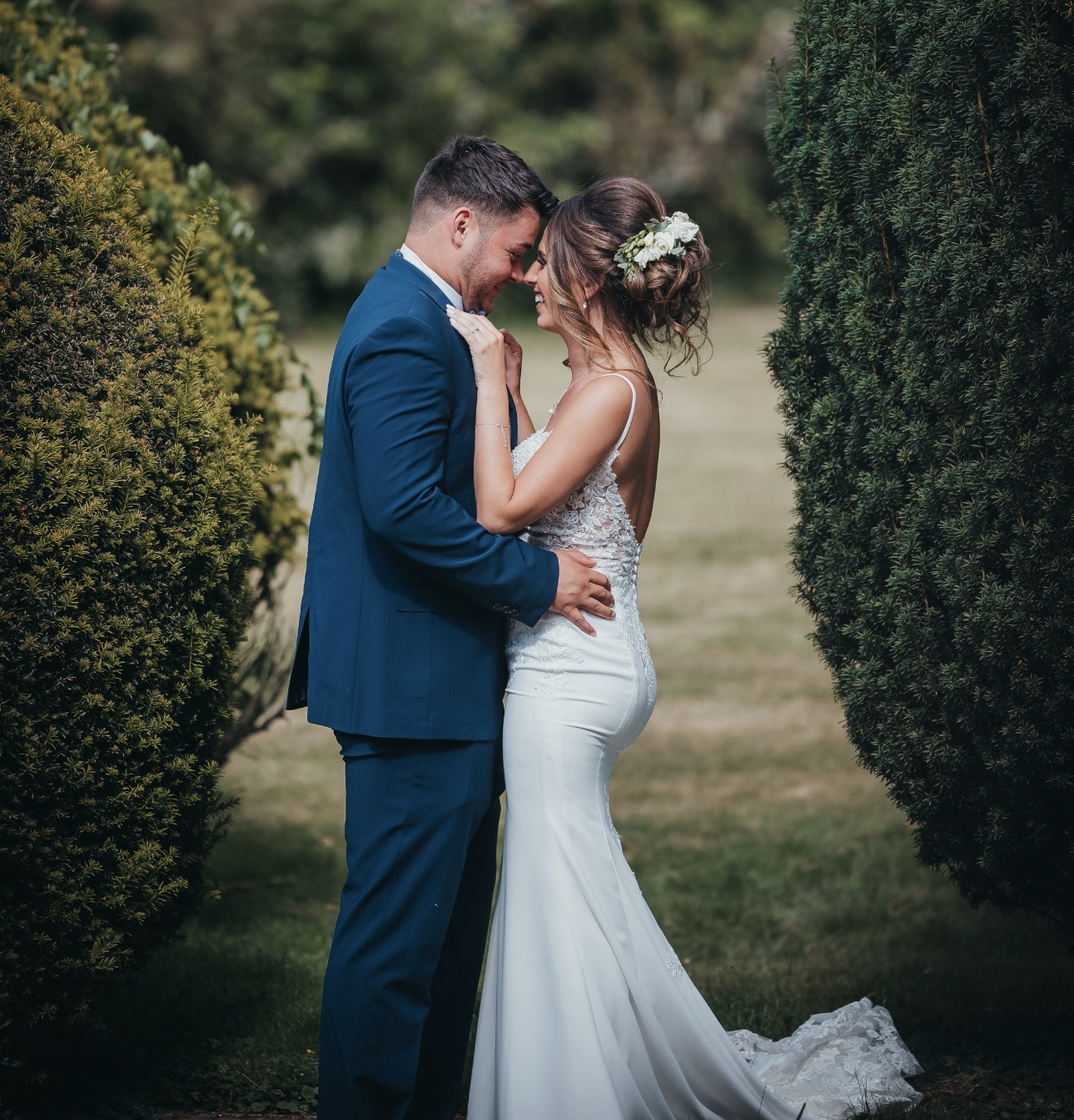 "We decided to go to Cape Town and Mauritius for two weeks," shares Harriet. "We loved everything about our trip and were so glad we went two days after the wedding. It gave us just enough time to open our gifts and enjoy Sunday lunch with our families before packing."
Harriet and Jacob's contact book