Chris was studying geography, and Rhian was focusing on English literature when they first met. "We were living in different flats in our first year at Aberystwyth University," says Rhian. "One night, during Fresher's week, a group of us took a spontaneous midnight stroll near Constitution Hill. We met at the top and started talking about our love of standup comedy. We got to know each other more over the years and found we had lots in common and always made each other laugh."
To remember the night they first met, Chris proposed on Constitution Hill in Aberystwyth. "The plan had been to pop the question as the sun set, but there was a storm blowing, so it was a bit wet and windy," explains the bride. "Chris nearly got blown over as he tried to get down on one knee! It was a surprise, but I did get a little suspicious when he was so adamant that we had to find the exact spot that we met.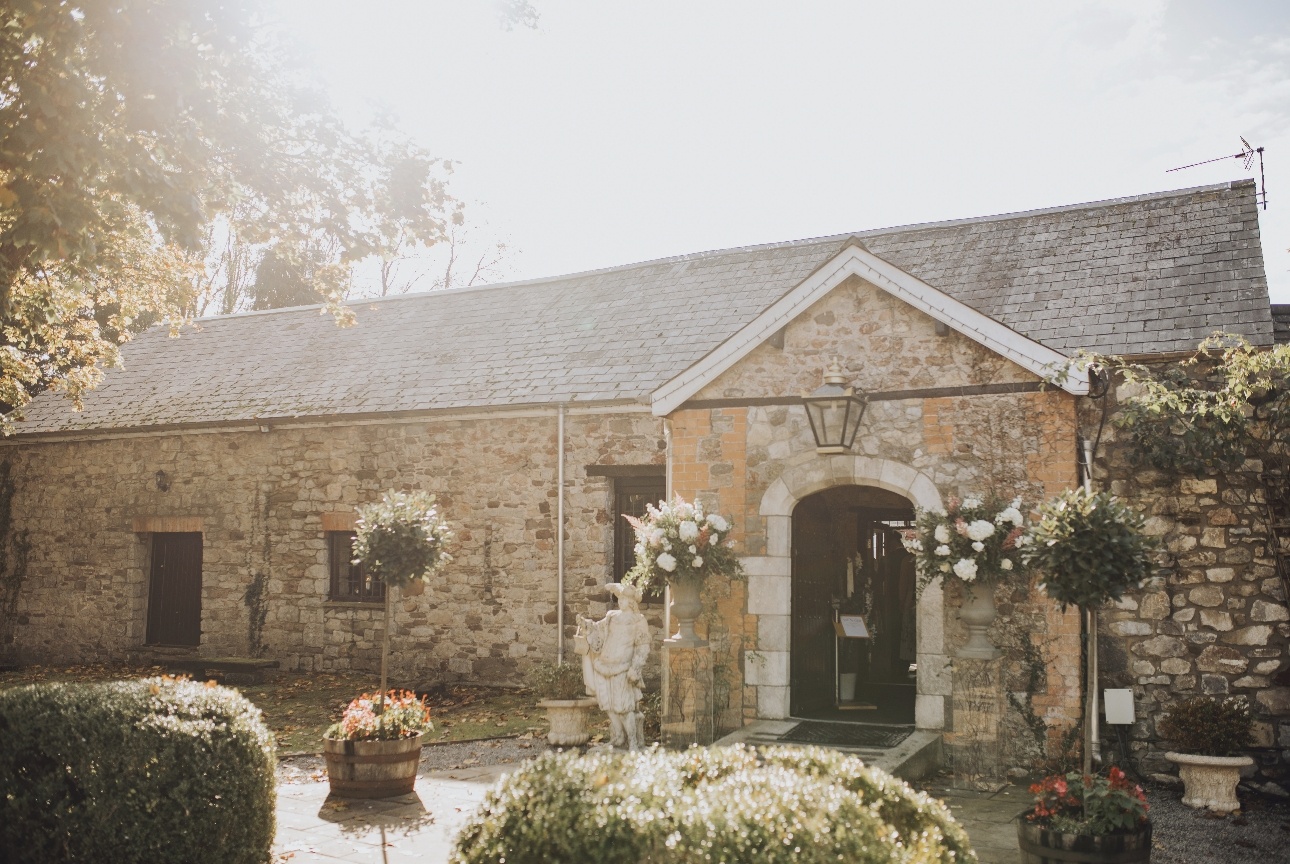 "We knew we wanted to get married in South Wales," shares the bride. "We were looking for somewhere that felt cosy and intimate but with enough space for people to spread out and sit outside if it was a nice day. Pencoed House Estate was the only venue we saw in person, and it ticked all the boxes. The team know their stuff which was reassuring and it felt like we could make the day our own with their help."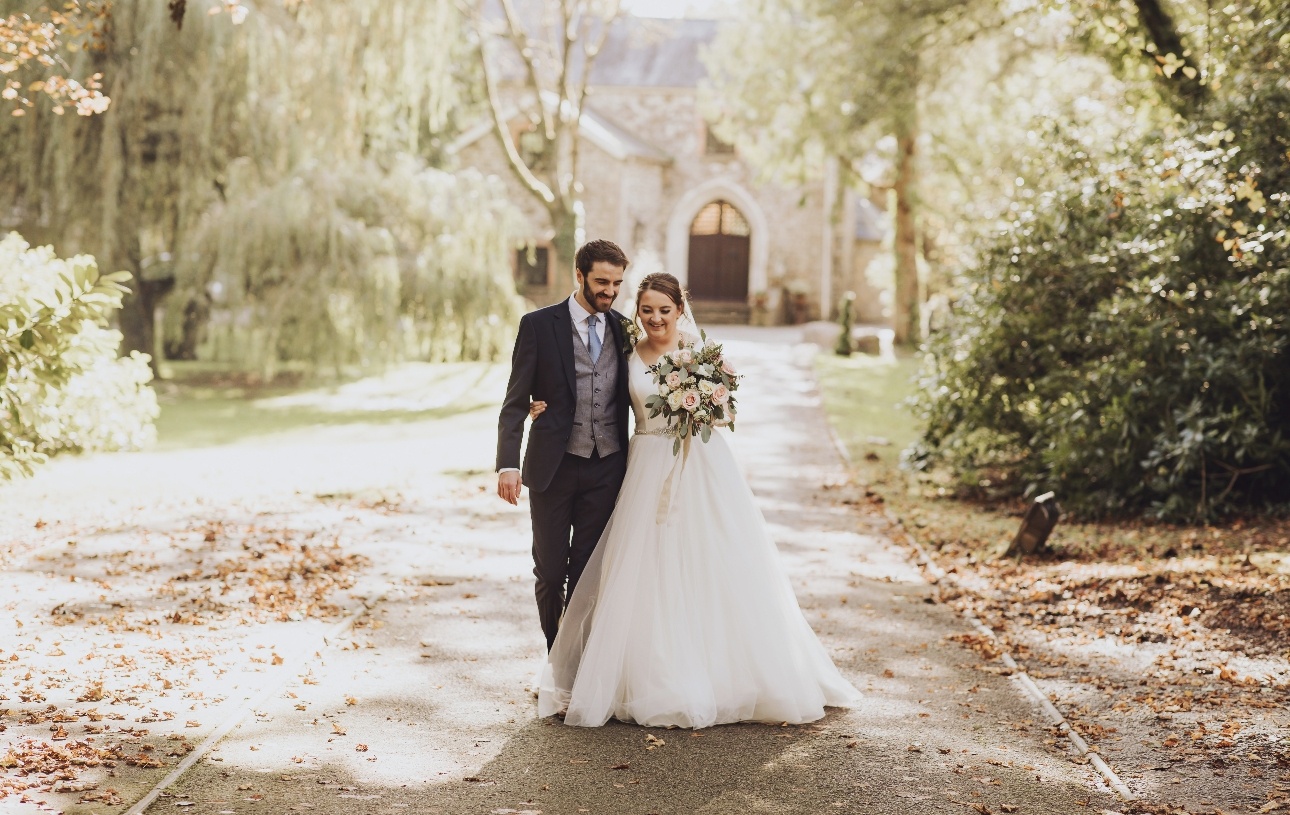 The happy couple decided to give their guests treats from Fabulous Welshcakes in Cardiff as favours. "We chose three different flavours that were all delicious," adds the bride. "We tied the bags with navy and gold ribbons to tie in with our colour scheme, and at the end of the evening, we brought out handmade chocolates courtesy of Chocolate Craft."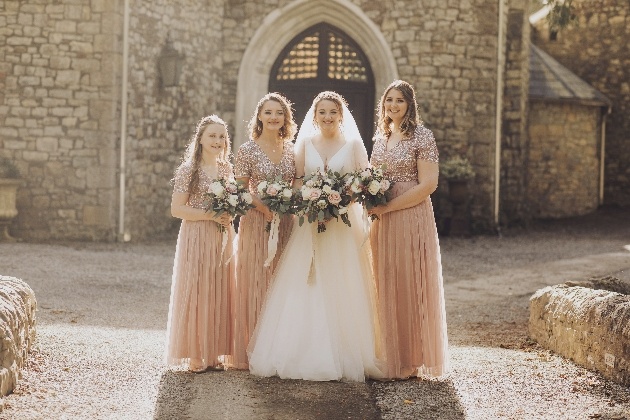 "We decided to incorporate our woodland theme into our table plan," says Rhian. "We bought a gold tree with bare branches and hung pieces of card from it. Each table was named after a year we'd spent together with a photo from that time."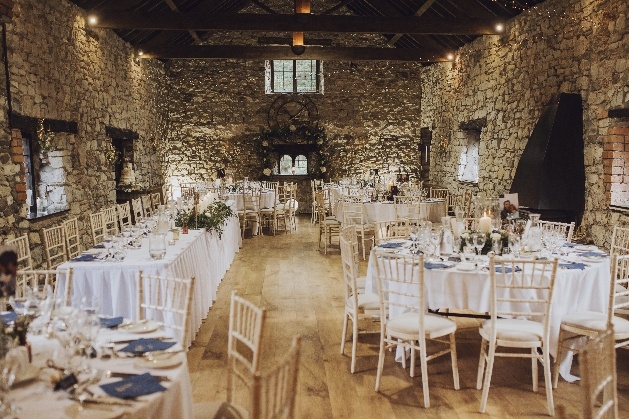 For their big-day blooms, the couple hired Sara Caroline Floral Design. "The bouquets were made up of cream and pink roses, white ranunculus, sprigs of heather, blueberries and eucalyptus," explains the bride. "Outside the doors to the old hall, we had Greek urns overflowing with cream hydrangeas and heather."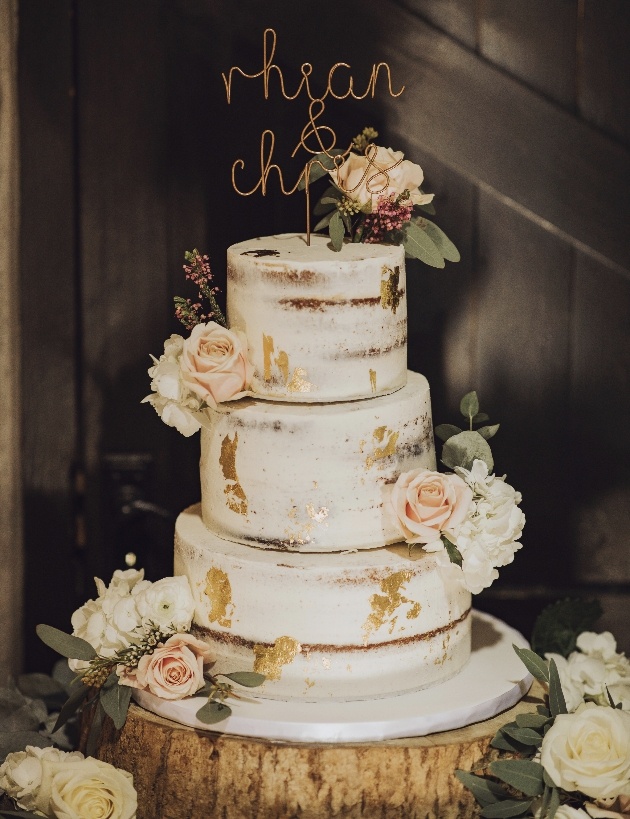 Rhian and Chris decided to have a three-tier semi-naked bake from Cakes by Kimberley. "Each tier was a different flavour, we chose lemon and blueberry, chocolate and salted caramel," says Rhian, "It was decorated with flowers and scatterings of gold leaf and was very popular with our guests."

The decorations tied in with the couple's theme. "The front of the aisle had two tall copper lanterns, and we also had confetti from Shropshire Petals scattered along the walkway," shares the bride. "The hall had hooks along the wall, so we used these to place gold hoops lit with fairylights and eucalyptus."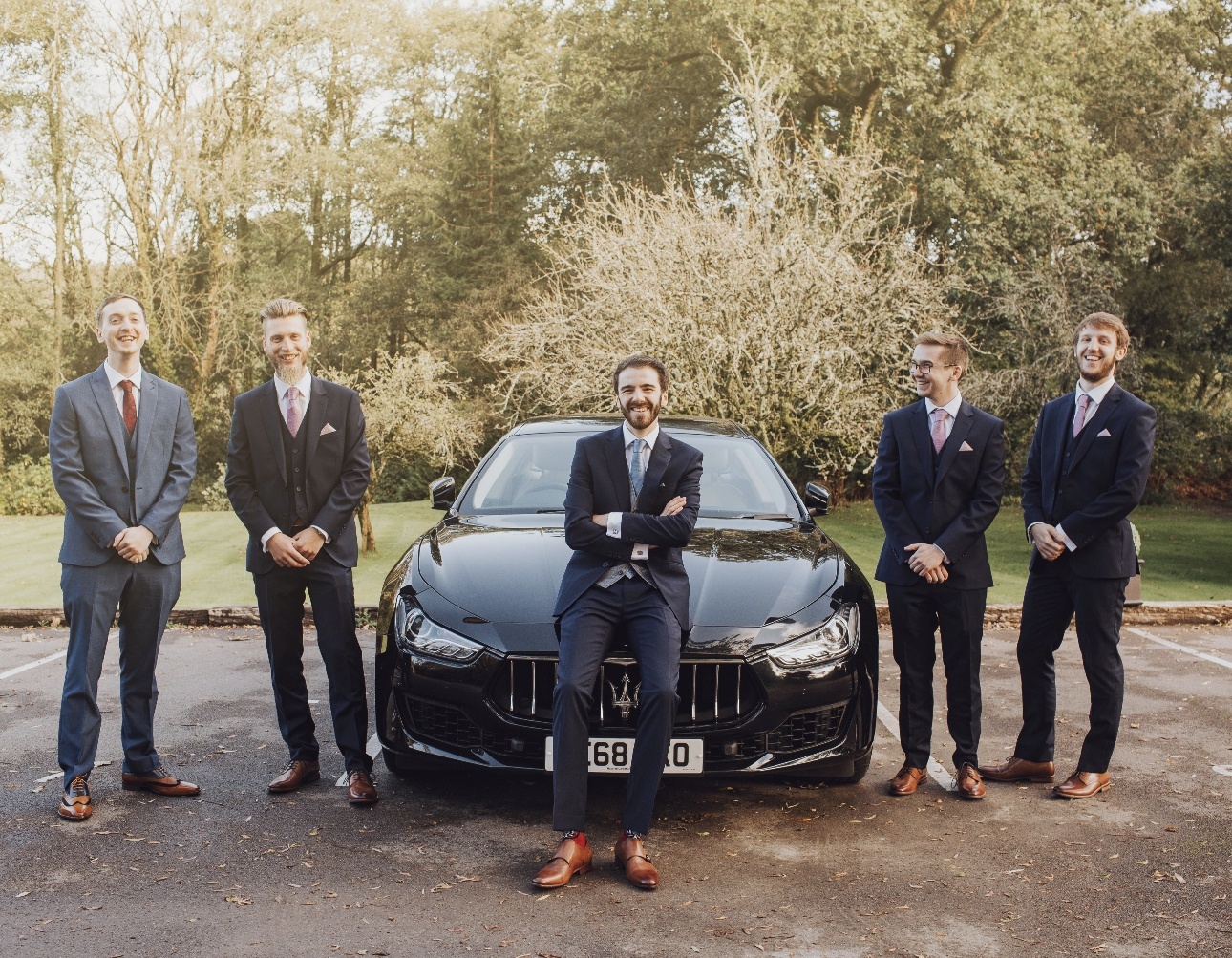 Rhian and her bridal party were transported to the venue in two Volkswagen Campervans. "Chris drove the groomsmen in a rented Maserati Ghibli," adds Rhian. "It was black and looked great in the photographs."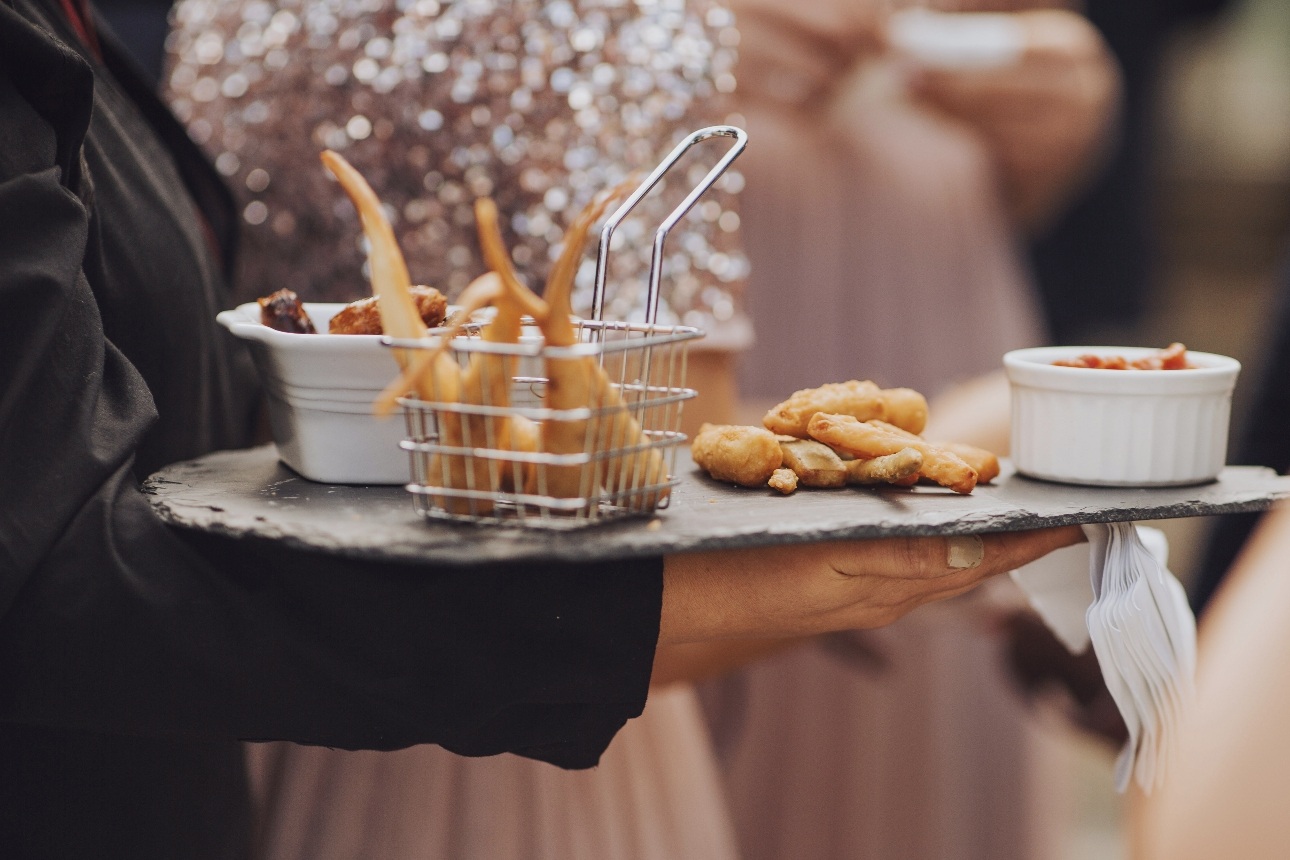 "The food was provided by Cresta Caterers who regularly work at Pencoed House Estate," explains the bride. "They provided a delicious trio of canapés, beef for the main and an autumnal apple pie to finish. In the evening, they provided a classic paella which was well received by our friends and family."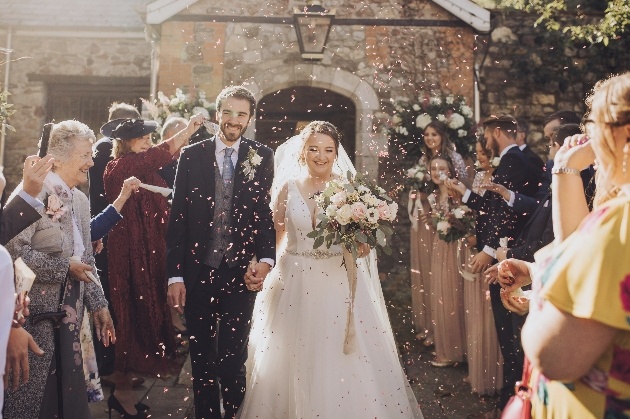 Rhian chose an A-line Stella York gown from Laura May Bridal. "It had a satin bodice, tulle skirt and jewelled belt," shares Rhian. "It looked elegant but with a lower neckline and split sides to give it a more modern look. The staff were all friendly, helpful and genuinely seemed to love helping brides find the perfect dress. I accessorised with a full-length veil and a pearl and crystal bracelet that my dad bought me as a gift. I also had my nails painted champagne gold with our initials painted onto my ring finger. Becky from Magenta Health & Beauty did an amazing job of bringing this fiddly idea to life."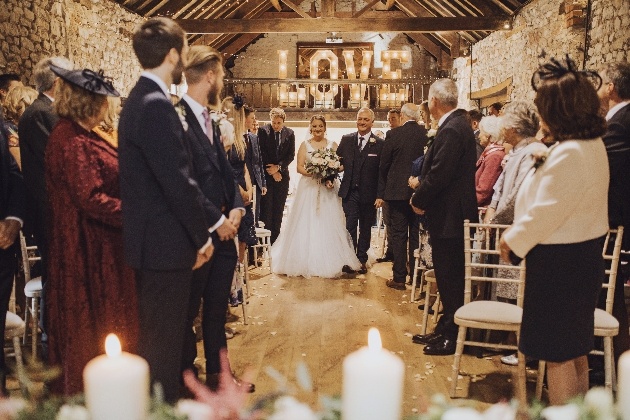 Chris opted for a Ted Baker suit from Slater Menswear. "The groomsmen wore the same but with navy waistcoats and dark pink ties to match the bridesmaids' dresses," explains the bride. "He borrowed gold cufflinks from his dad, and wore a pair of Guardians of the Galaxy socks."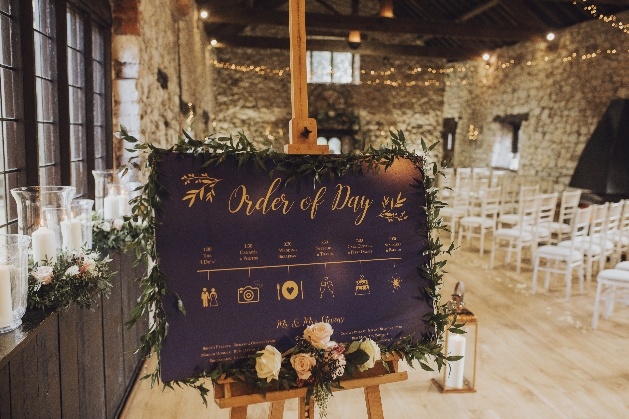 The bridesmaids chose lilac sequin dresses from Next. "The colour changed in different lights and looked wonderful," adds Rhian. "Next offered a wide range of sizes which meant I could easily find something to suit my tall maid-of-honour and her 13-year-old daughter."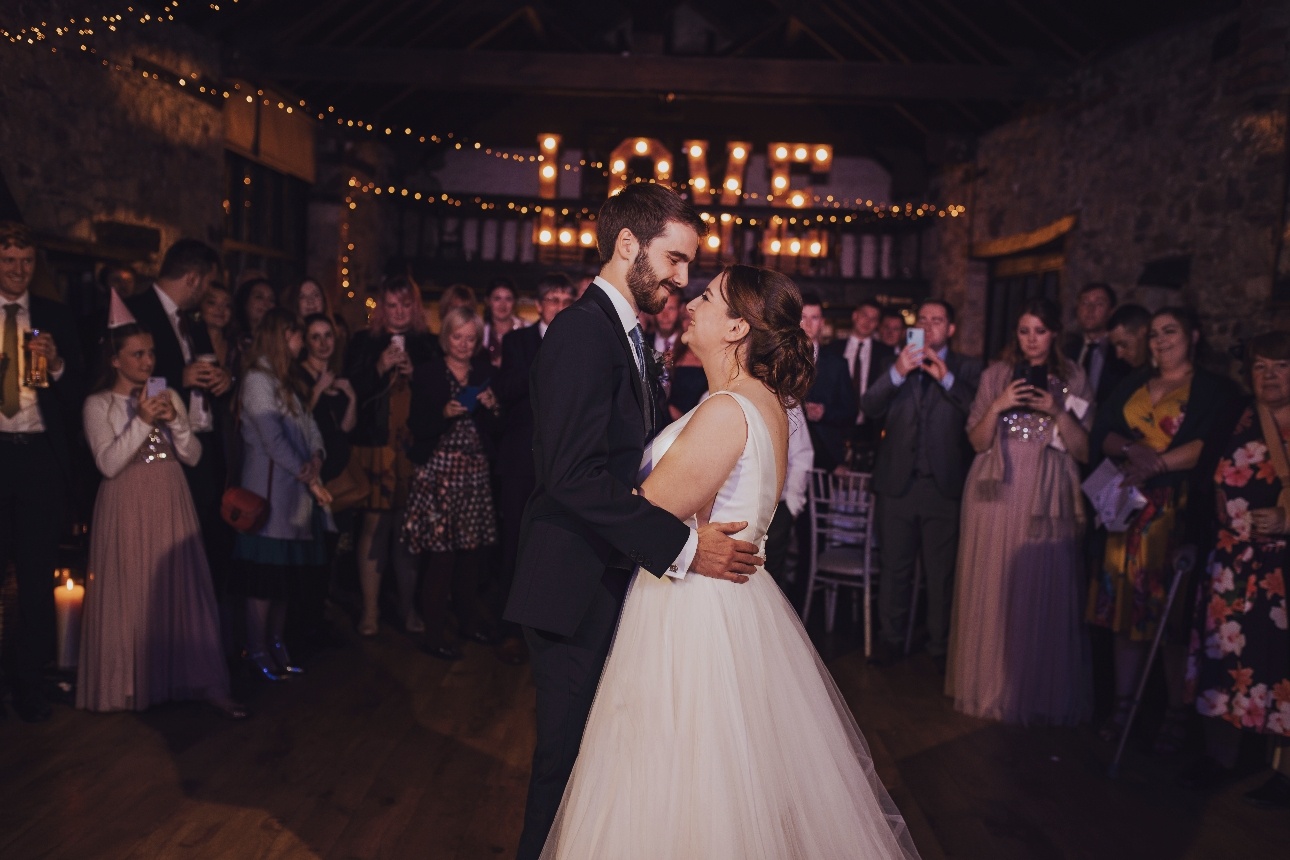 As the guests arrived for the ceremony, we set up a few games in the marquee to keep everyone entertained," says Rhian. "After the vows, we hired Timothy Tate – Classic Guitarist to perform. He played a range of songs from David Bowie to Louis Armstrong. In the evening, the house DJ kept everyone on the dancefloor. He even created an hour of songs that we had loved in our teenage years."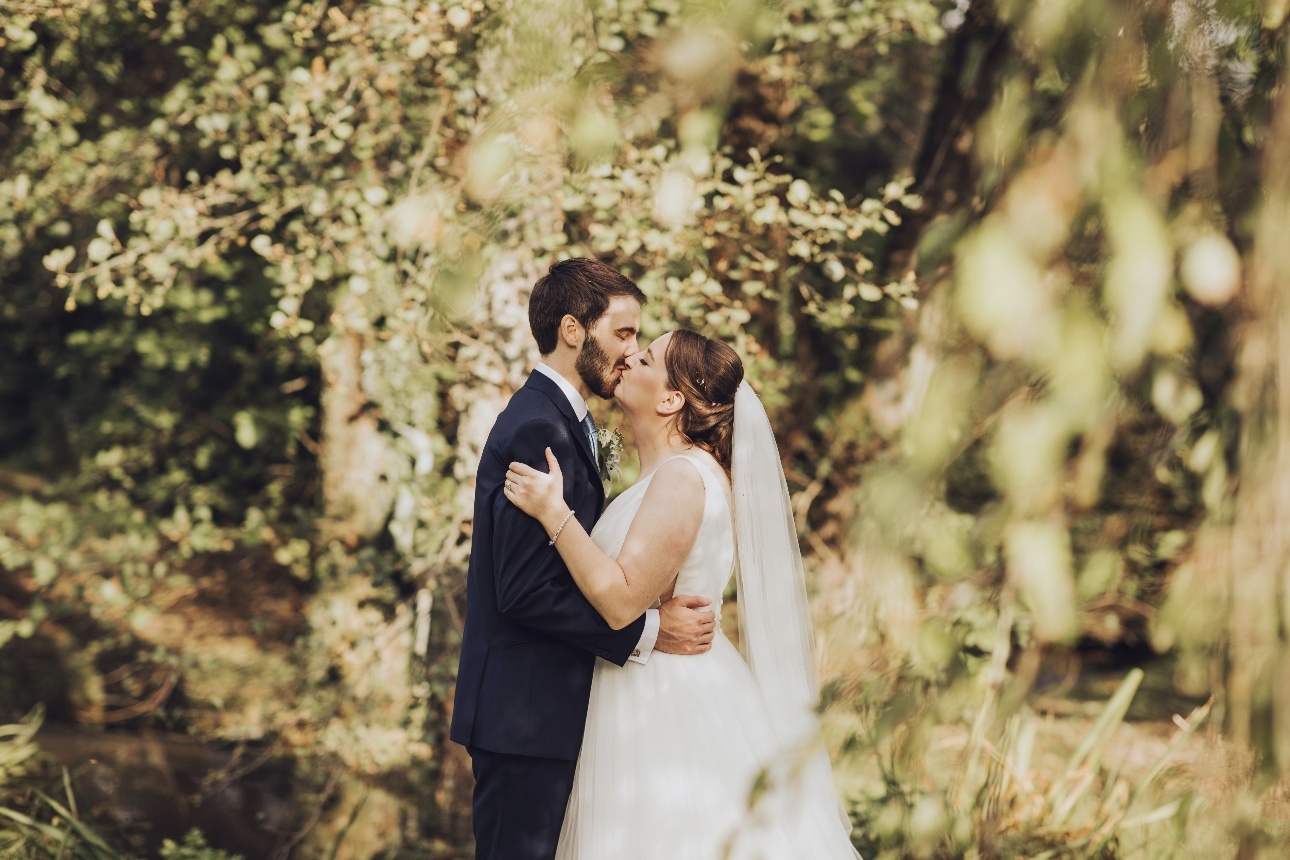 "Several suppliers and guests commented on how calm we both were," explains the bride. "I found there wasn't much time to get nervous with so much going on, but Chris found time to have a leisurely McDonald's breakfast with his groomsmen! We were so happy that the sun came out and gave us the golden light we were hoping for. We laughed a lot and had fun doing our photographs and Chris' face already hurt from smiling time the ceremony started."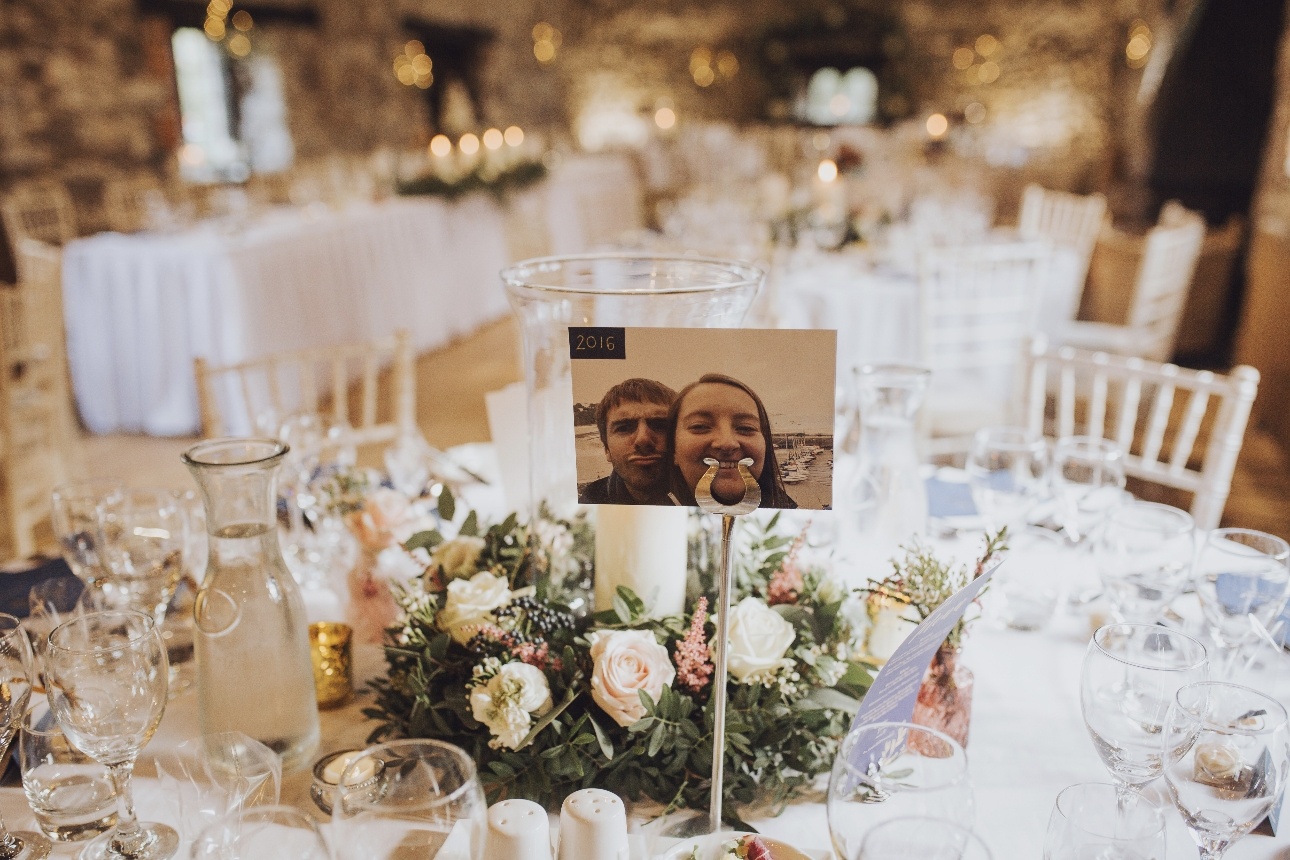 The couple loved the speeches. "My dad had my mum and sister in tears," shares Rhian. "Chris, on the other hand, got everyone laughing with his anecdotes about why he loves me."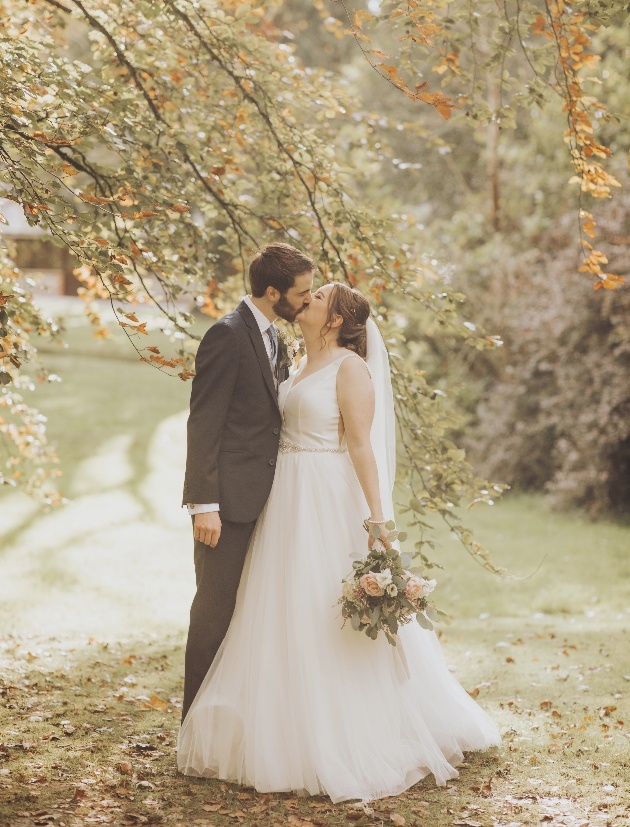 "All of our suppliers were wonderful and professional," says the bride. "Our photographer, Natasha from Honeydew Moments, was so helpful and shared the things she'd learnt from doing so many weddings. She gave us some great advice about timings on the day and helped us find the perfect spots for our photographs. Lots of family members got involved in the final week with the last minute details. My auntie, Ceri, provided beautiful calligraphy and my auntie, Mary, helped add eucalyptus to the hoops despite having her arm in a sling! My granny ran the assembly line for adding ribbons to the favours, and I couldn't be more thankful for their help."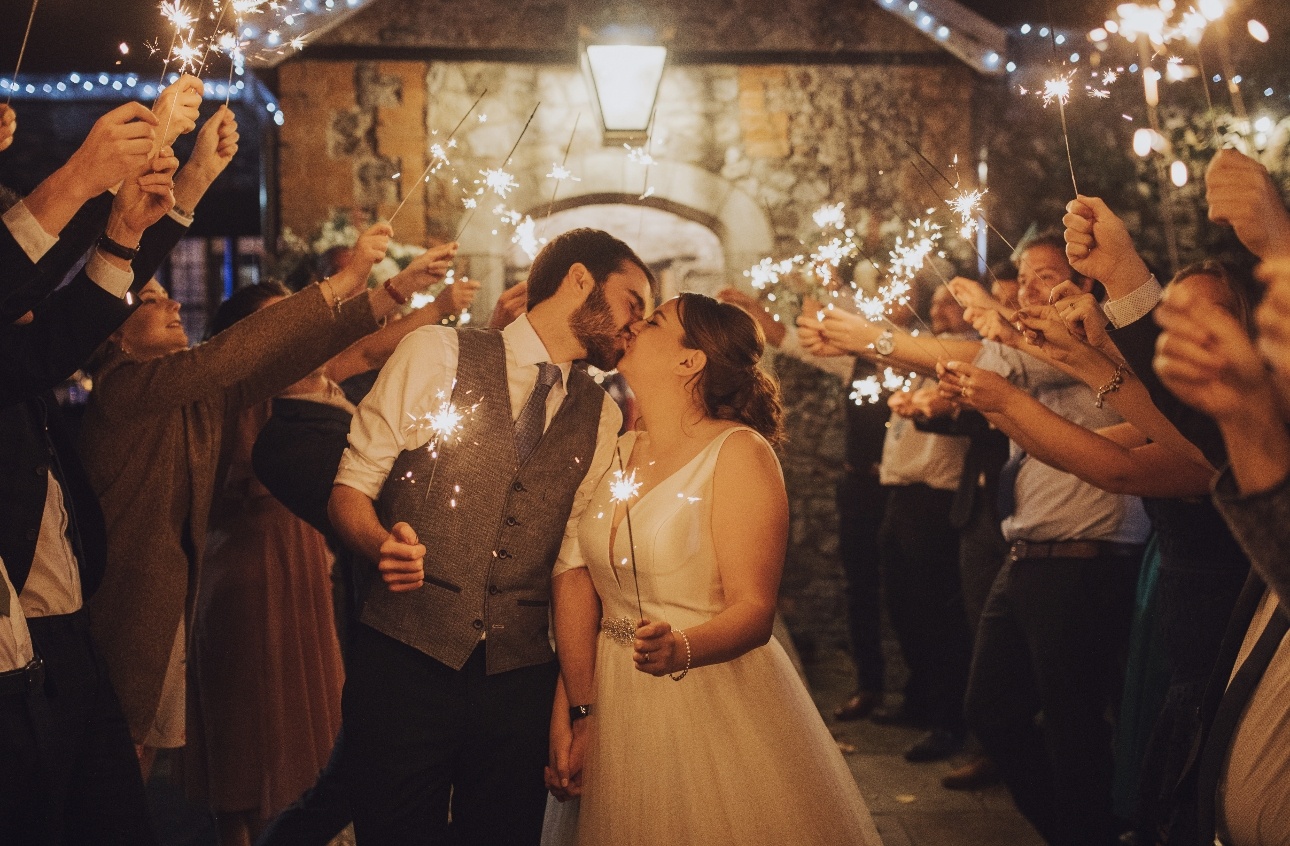 "We had booked to go to New Zealand for three weeks, however due to COVID-19, this had to be delayed," shares Rhian. "We're still planning to go and are very much looking forward to it! Trailfinders helped us plan the trip, which was so helpful as we had so much else on our minds. We did manage to get away on a mini-moon to Dartmoor, where we drank champagne in a hot tub and relaxed."
Chris and Rhian's contact book