Claire and Samuel met while studying music at Cardiff University. "We bonded over our mutual love of musical theatre and folk music," says Samuel. "I accompanied Claire to a lunchtime concert series, and we became good friends. We quickly fell for each other without even realising it." Samuel popped the question on New Year's Eve in front of Claire's family. "We looked at rings together earlier in December, but Claire didn't know when the proposal would be," shares the groom. "It was also a surprise for the rest of our friends and family."
"Having the wedding in Cardiff meant we were halfway between my family in Ireland and Sam's in Southampton and the Isle of Wight," shares the bride. "It's a special city as it's where we spent our formative years. The Royal Welsh College of Music & Drama is not only a gorgeous venue, but it's also suited to the type of music we wanted on the day. The wedding team helped two musicians feel at home being married on a stage."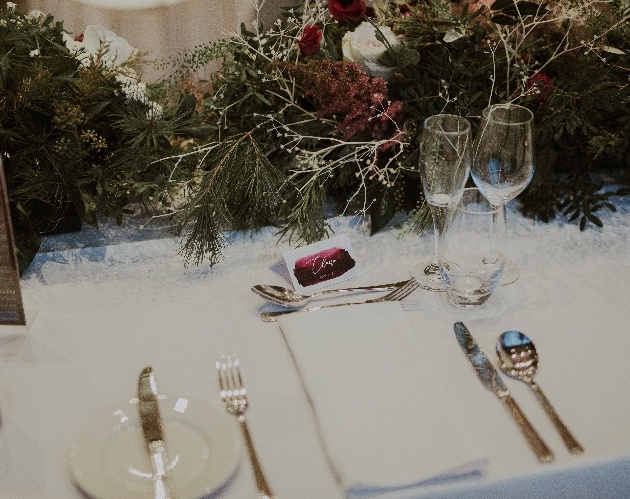 Instead of favours, the couple decided to donate to the Alzheimer's Society and Muscular Dystrophy Research in memory of Claire and Samuel's grandfathers.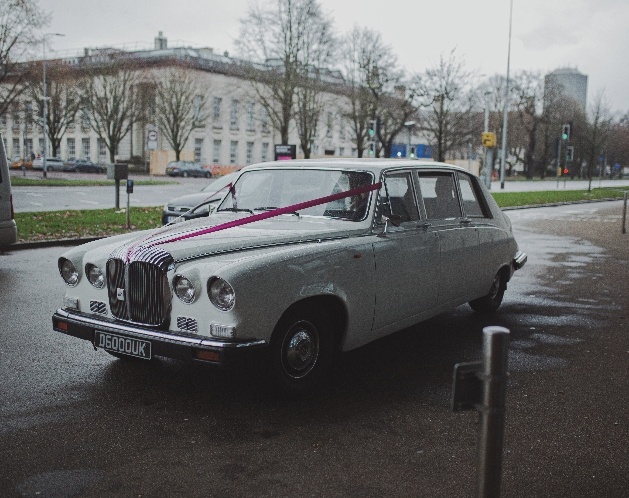 "Our table plan was printed by a local shop in Bath called Digiprint," adds the bride. "We chose a burgundy watercolour design which we also incorporated into our menus and table numbers."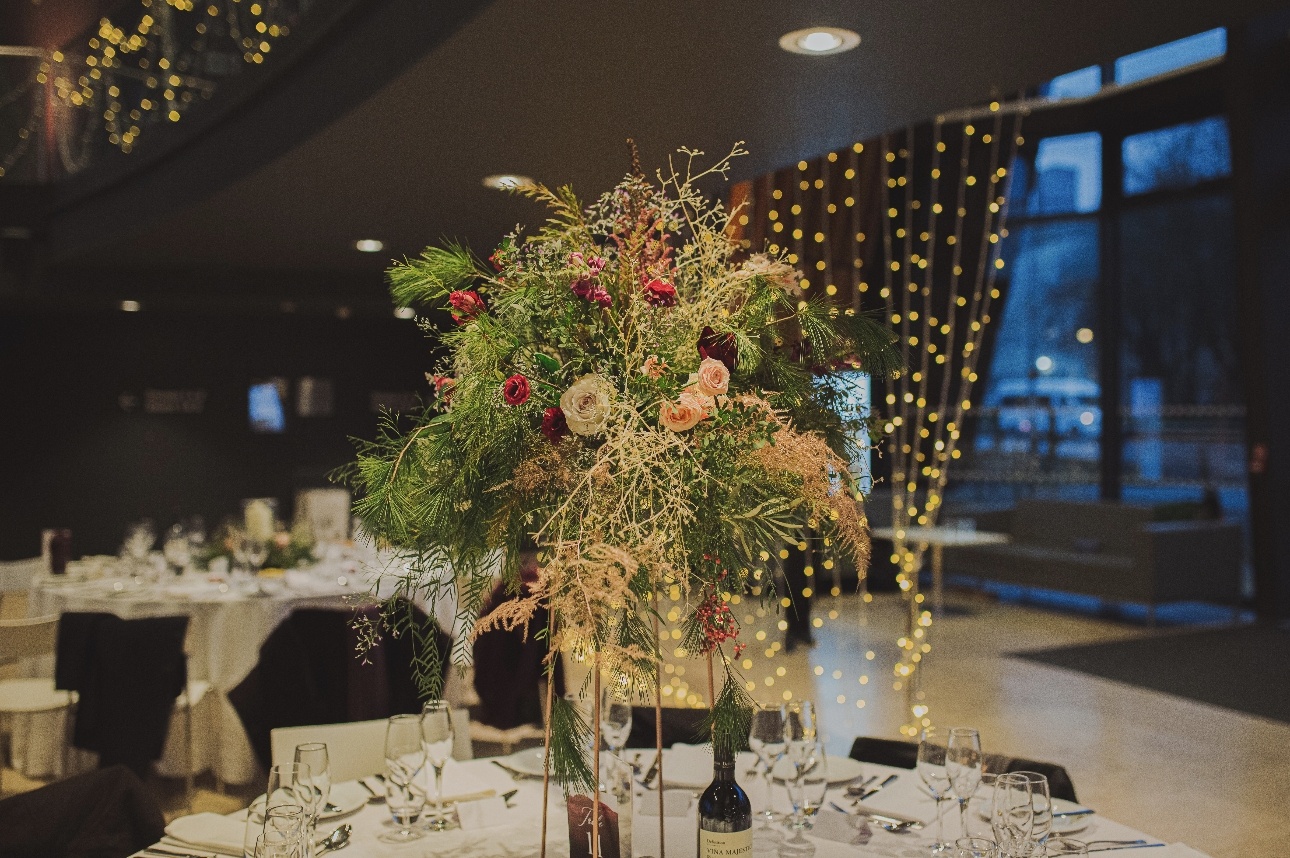 For their big-day blooms, the couple hired Forbesfield. "We opted for tall dramatic centrepieces surrounded by candles," says Claire. "The team also provided my bouquet, the buttonholes and arrangements for the registrar table and top table."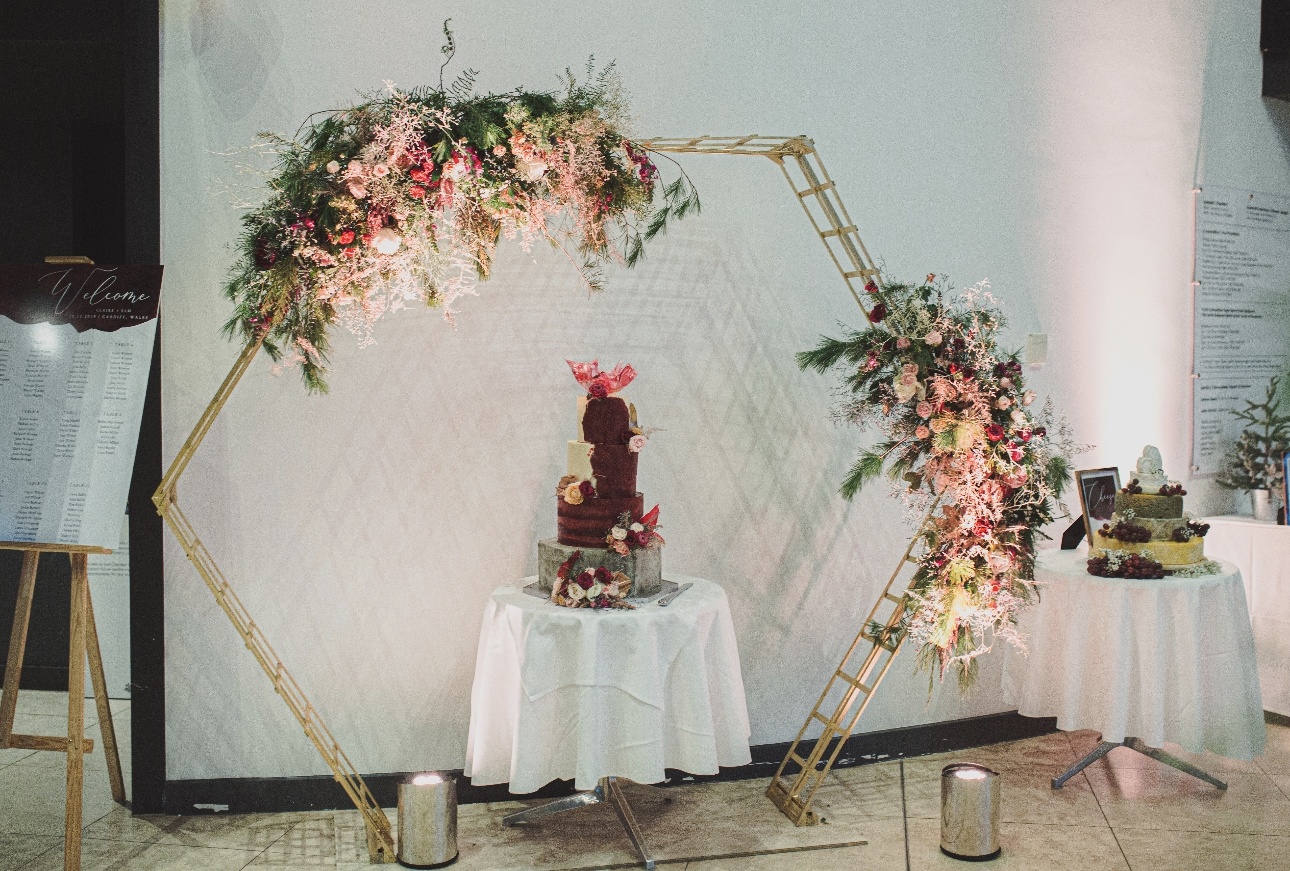 Claire and Samuel decided to have a four-tier cake from The Vale Cake Boutique. "We chose a lemon, blueberry, vanilla, salted caramel, red velvet and chocolate orange filling," explains the bride. "The bottom tier was shaped like a giant's causeway stone and iced in a marble style. The other three had cream and burgundy icing, mirroring the watermark style on the table plan, menus and place cards. It was topped with a pink isomalt bowl and decorated with flowers by Forbesfield. We also had a cheese tower with crackers, chutney, grapes and foliage that were sourced by my parents and served by the team at the Royal Welsh College of Music & Drama."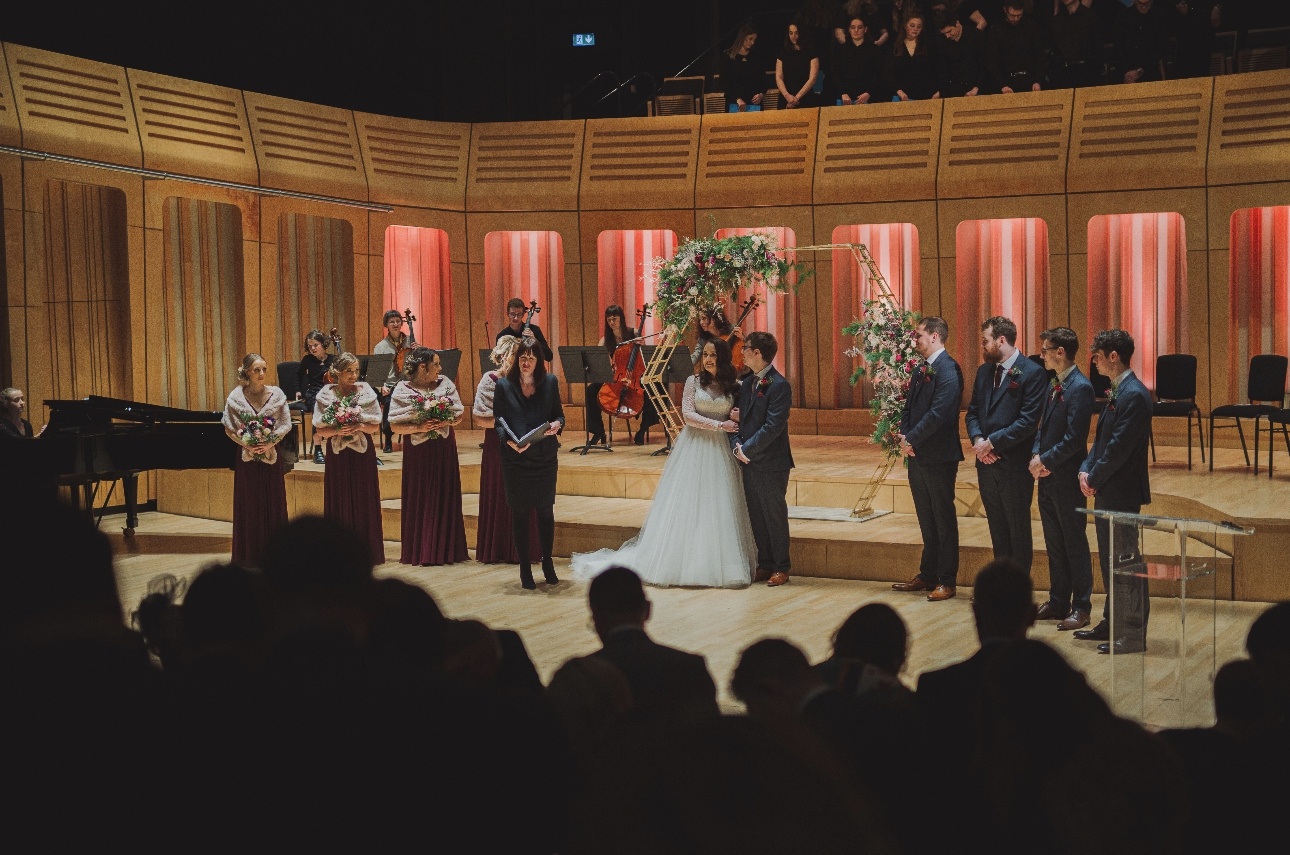 The lovebirds chose beautiful decorations. "Sam and I used a gold hexagonal-shaped arch built by Sam's dad," says Claire. "We also had blush pink uplighters provided by the venue and a wall projection designed by my bridesmaid, Catherine McCartney."

Claire was transported to the venue in a white Daimler DS420 limousine from Premier Carriage.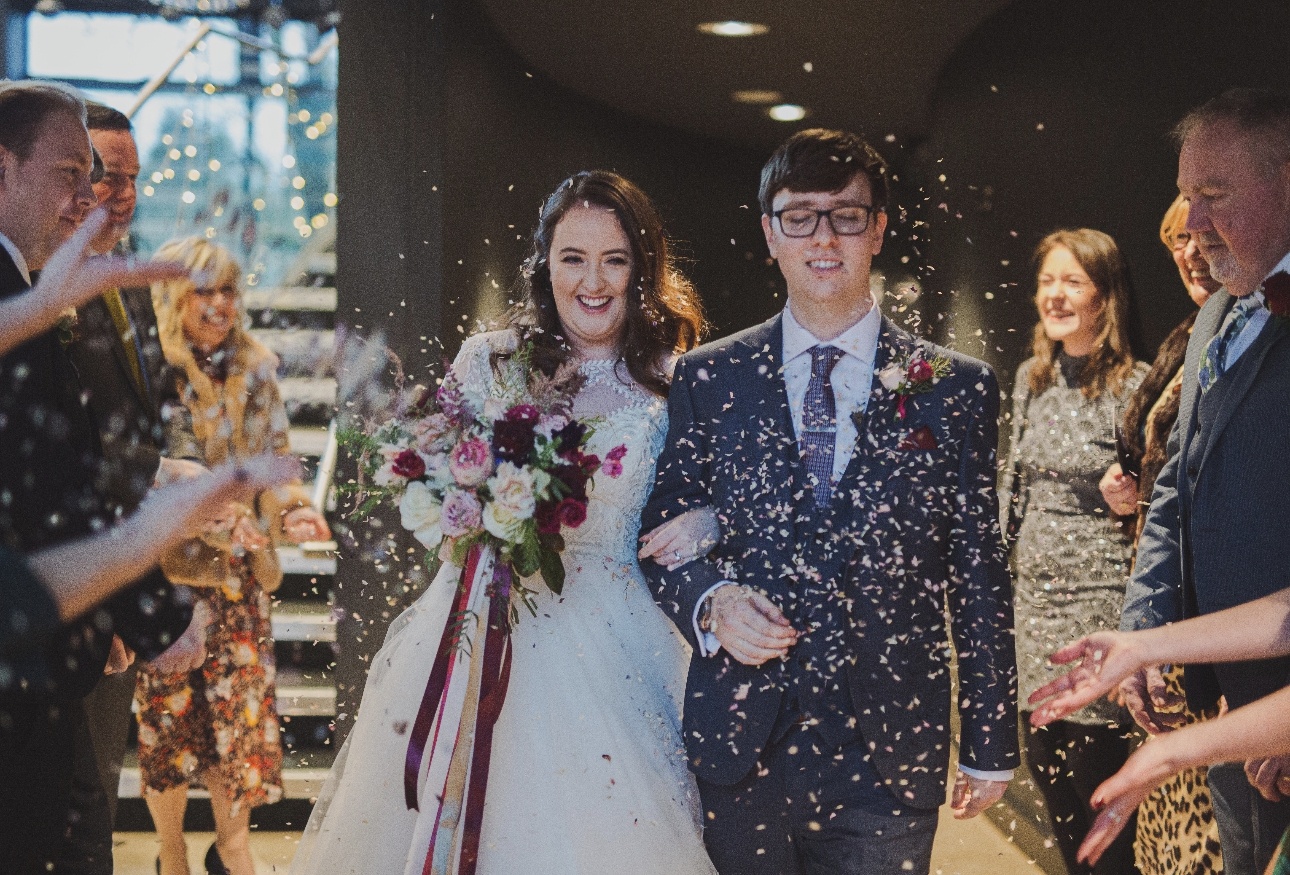 "For the drinks reception we had winter Pimms, a personalised drink with blackberries and a sprig of rosemary," shares the bride. "We also offered tea, coffee, mini mince pies and heart-shaped Welsh cakes."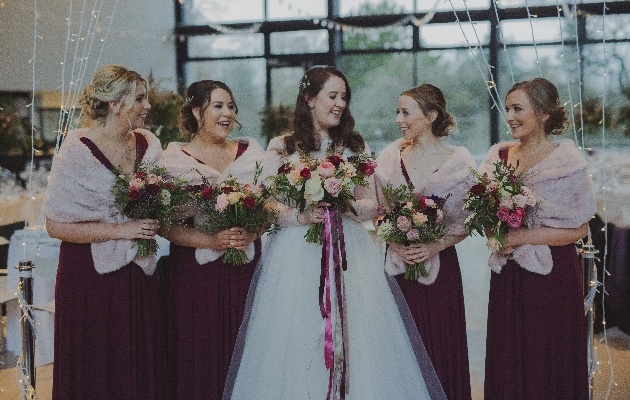 Claire chose an A-line gown called Freyja. "It had a sweetheart neckline, an embroidered illusion chest and back, sheer sleeves and a super soft tulle skirt," shares Claire. "I accessorised with celestial hairpins designed and made by a family friend at White Designs, a Swarovski necklace, a silver bangle bracelet, ear cuffs, white point-toed shoes and a simple tulle veil."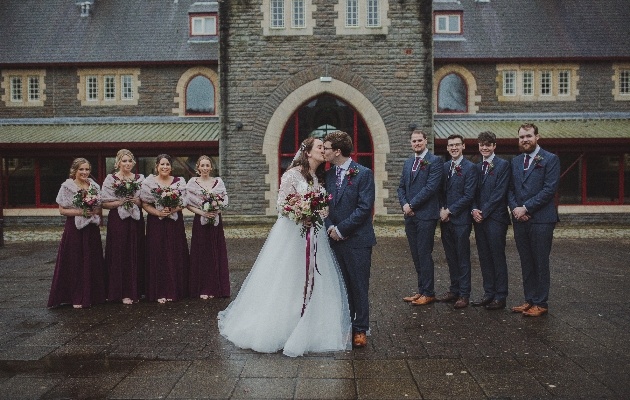 Samuel opted for a dark blue tweed suit from Next. "He wore a different patterned tie and buttonhole flower to help him stand out from the groomsmen," explains the bride. "I gave him personalised cufflinks, one said our wedding date and the other said 'priodas hapus', which is Welsh for 'happy wedding'."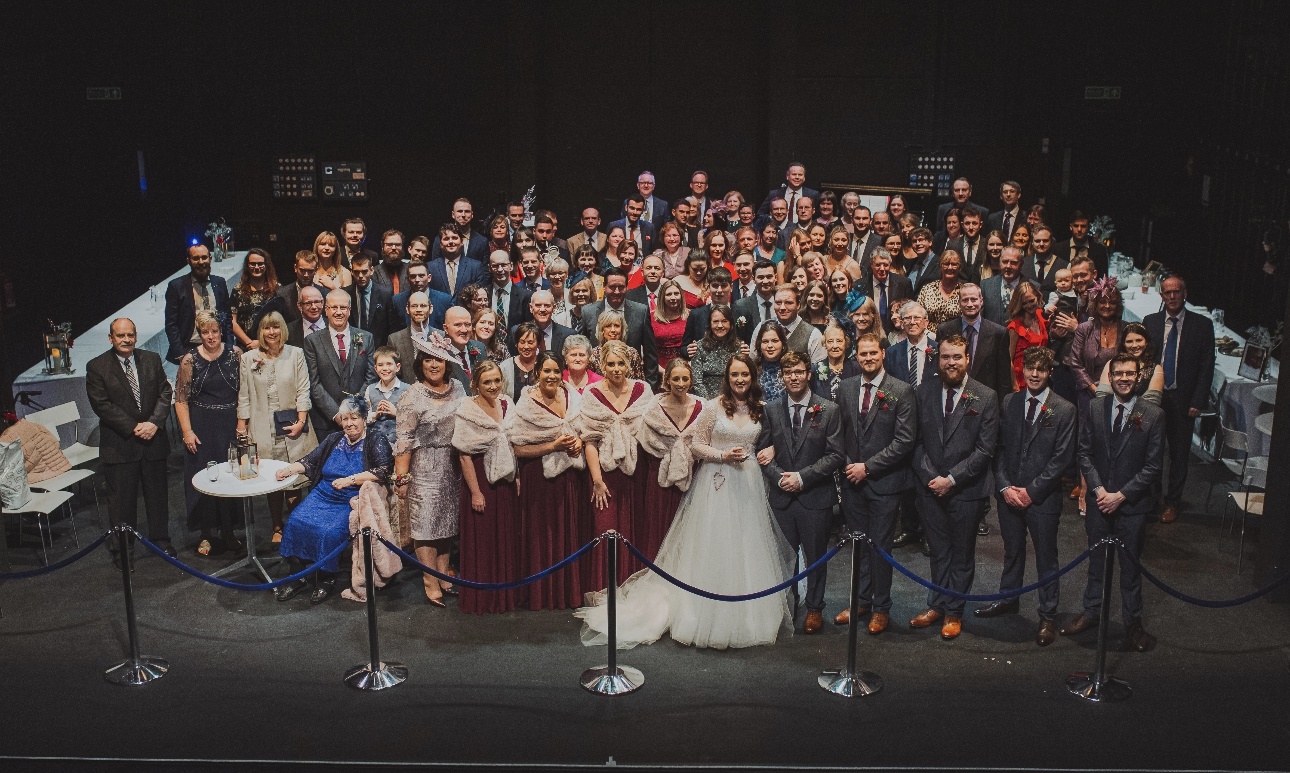 The bridesmaids chose burgundy dresses from Phase Eight. "The gowns had a low neckline and short sleeves," adds Claire. "The girls accessorised with blush pink faux fur shawls, small bouquets and hairpins from Claire's Accessories."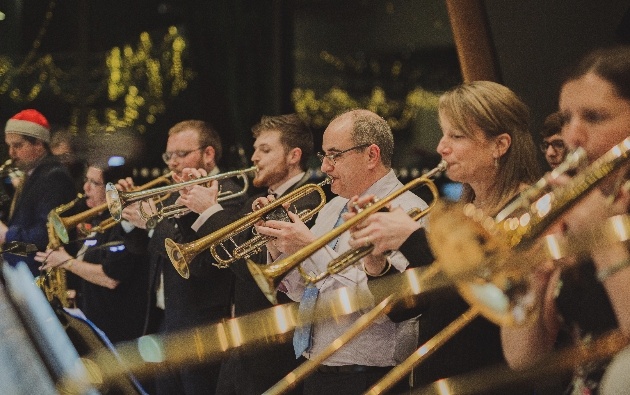 "The ceremony featured a cello quintet of Sam's past teachers and current pupils, a choir and a pianist," says Claire. "As classical musicians, this was a highlight of the day for us. All the cello pieces were arranged by Sam and the cellists and choir members met and rehearsed for the first time on the morning of the wedding. The register signing was accompanied by a piece from Northern Irish singer-songwriter, Foy Vance that was arranged for the cello quintet and piano.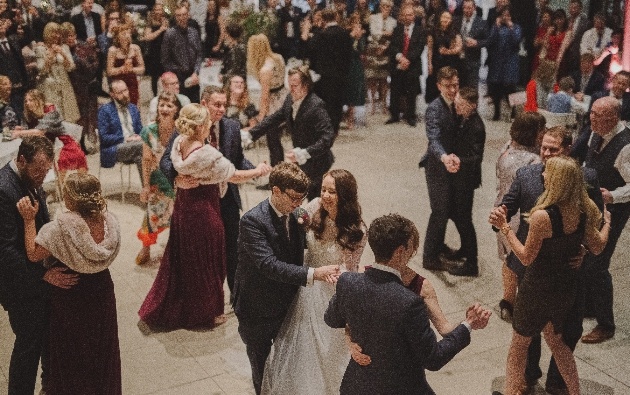 Possibly the biggest highlight of the day then followed as I was surprised in the form of a flash mob performance of Auld Lang Syne, where nearly every guest played their own instrument or one of the 120 ukuleles Sam and his groomsmen had brought along. The on-stage musicians then closed the ceremony with a special joint cello and voice arrangement of Lauridsen's setting of O Magnum Mysterium, a long time favourite of ours."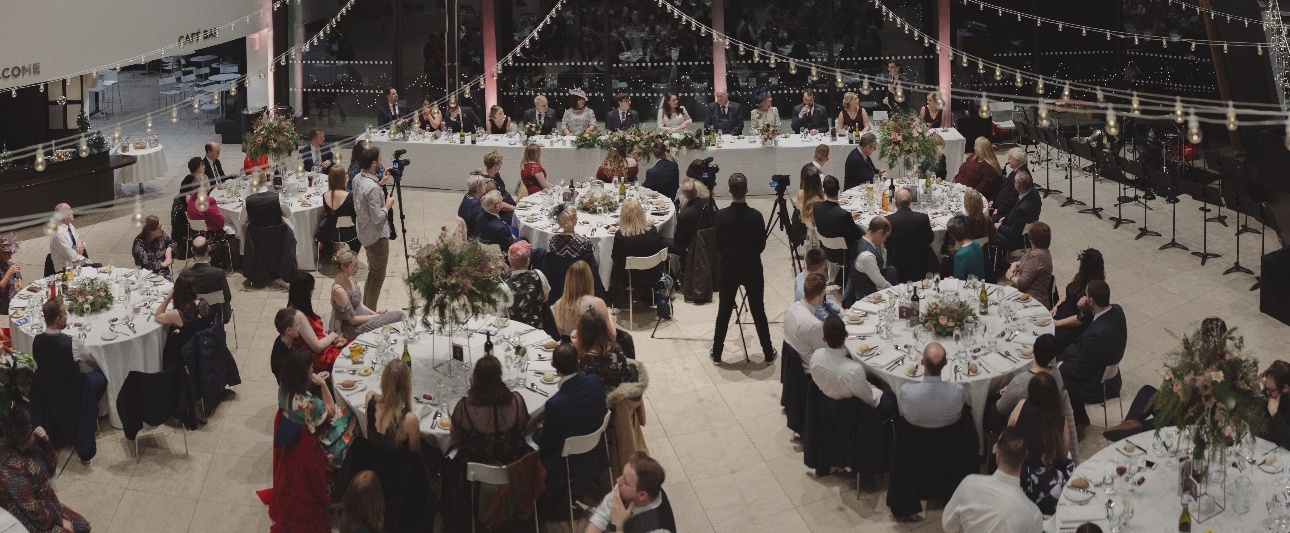 During the drinks reception, Samuel asked one of his students to play the piano as background music. "He played some jazzy Christmas tunes to entertain the guests and accompany the winter-themed drinks," shares the bride. "The evening band were a big hit with guests. Sam joined in alongside his best man and 10 of our friends playing his own jazz style arrangements of well-known pop tunes. These spanned a wide range of eras, meaning there was something for all our friends and family to dance and sing along to. We received so many compliments about the entertainment after the day, and lots of people said they've never seen a dancefloor so busy!"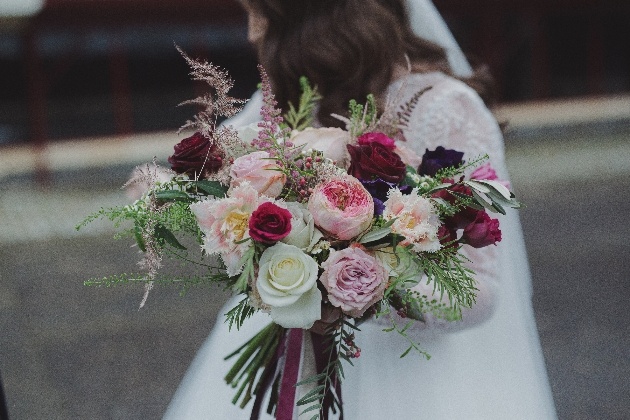 "We felt overwhelmed, loved and gloriously happy on the morning of the wedding," explains the bride. "I adored the flash mob and somehow didn't notice the 120 ukuleles being stored in our spare room the week before the wedding!"

All of the couples friends and suppliers made their day special. "The best man wrote a song for his speech and our wedding coordinator, Cerys, was a dream to work with," says Claire. "She was attentive and supportive, and the venue tech team were so friendly and helpful. I realised just before exiting the ceremony that we hadn't sent the team our exit song, but the moment it crossed my mind, music started playing. They were incredible."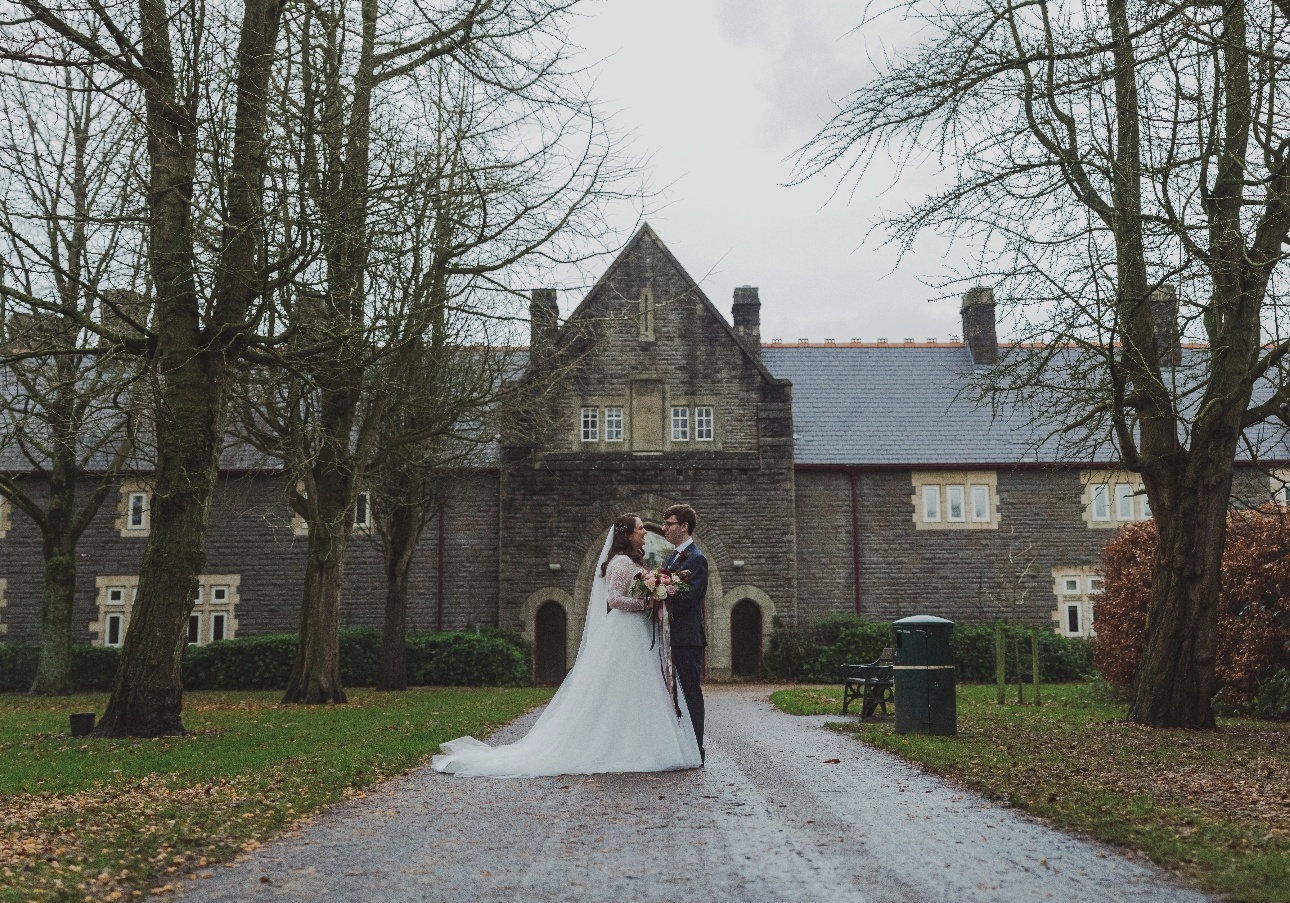 "We spent Christmas and New Year's Eve in New York," explains Claire. "We stayed in a cosy apartment in Manhattan near lots of excellent restaurants, cafes and bars. We planned everything together and had the most memorable trip of a lifetime."
Claire and Samuel's contact book