Chelsea and Huw met in the most unexpected way. "We were in a Tesco car park when he accidentally knocked my wing mirror while reversing out of the space next to me," says Chelsea. "He waited until I returned to my car to make sure there was no damage. For his sake, luckily there wasn't, but he gave me his number just in case, and the rest is history."
Huw proposed on his birthday in 2019. "We went to Edinburgh on a midweek break to celebrate as Huw is a huge scotch and whisky lover," shares the bride. "He managed to hide the ring in a pair of socks in his hand luggage. On the second day, we had a tour of Edinburgh Castle booked and while we were at the very top, enjoying the view, he tried to get down on one knee. As I'm quite shy, I asked him to get up as there was a huge group of students passing by! Two minutes later, the castle cannon was fired, and it felt as though it was meant for us. I was sort of expecting a proposal but never thought he would do it on his birthday! He told me I was the best birthday present he could have ever wished for."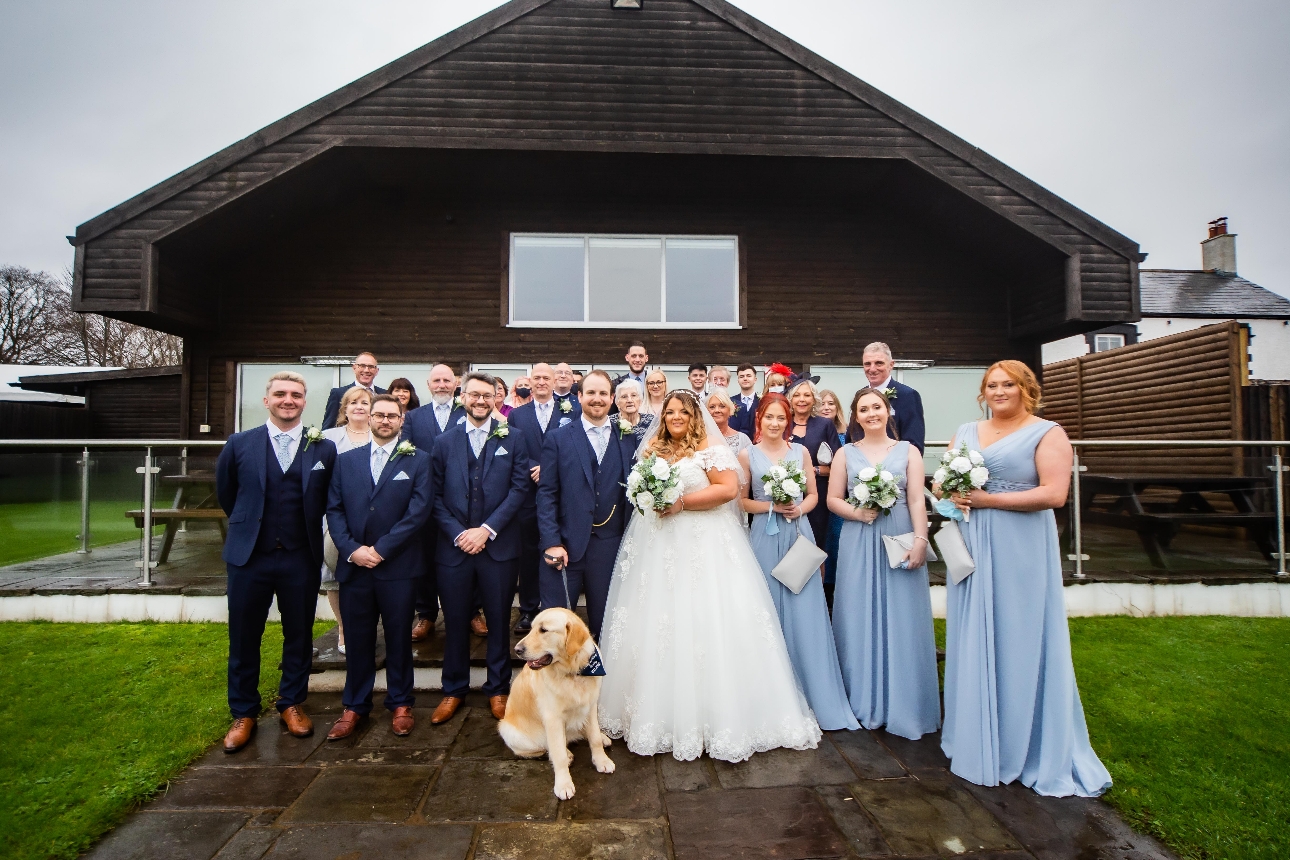 "Llanerch Vineyard was the first venue we viewed," explains Chelsea. "It was always on my dream board and we viewed it the day after a wedding, so nothing was set up, but the place was so beautiful that we could see its potential. From the gorgeous grounds and vines to the Calon Lodge and Woodland Marquee, it couldn't have been more perfect. The fairylights and candles made it look so romantic, and even though we had planned for 100 guests, having 30 of our nearest and dearest made it all the more special. The team are so amazing at what they do, and we can't thank them enough."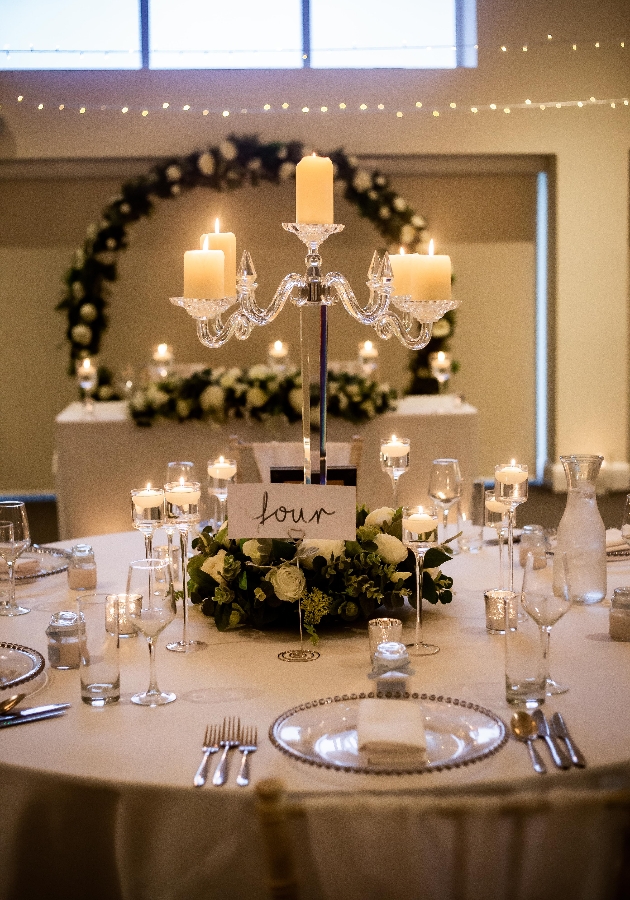 For their favours, the couple opted for personalised glass jar candles tied with blue ribbons.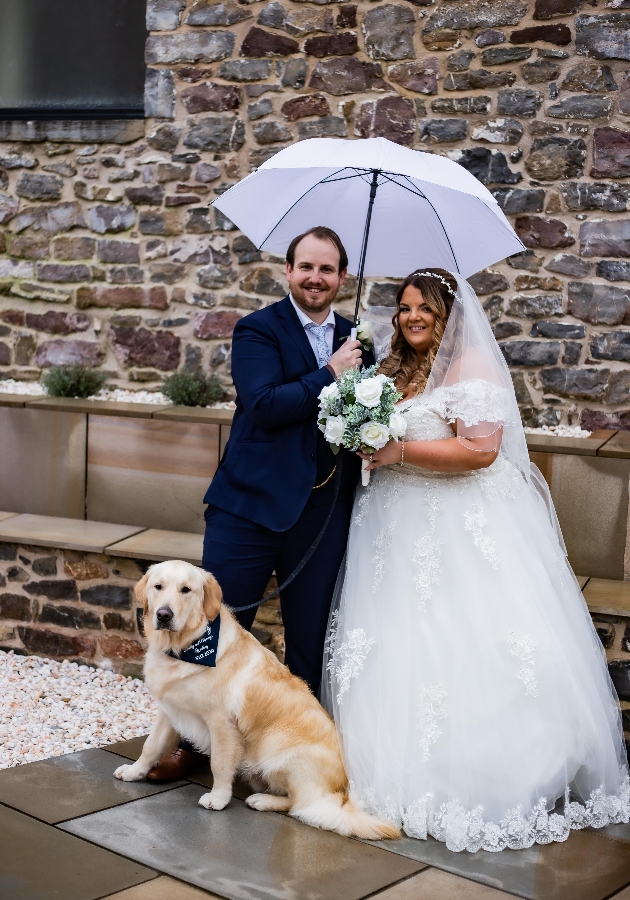 "Our flowers were wreaths and dome centrepieces with winter foliage, acorns and white roses from Best Buds by Samara," reveals the bride. "For our place names, we chose glass hanging hearts that our guests could hang from their Christmas trees."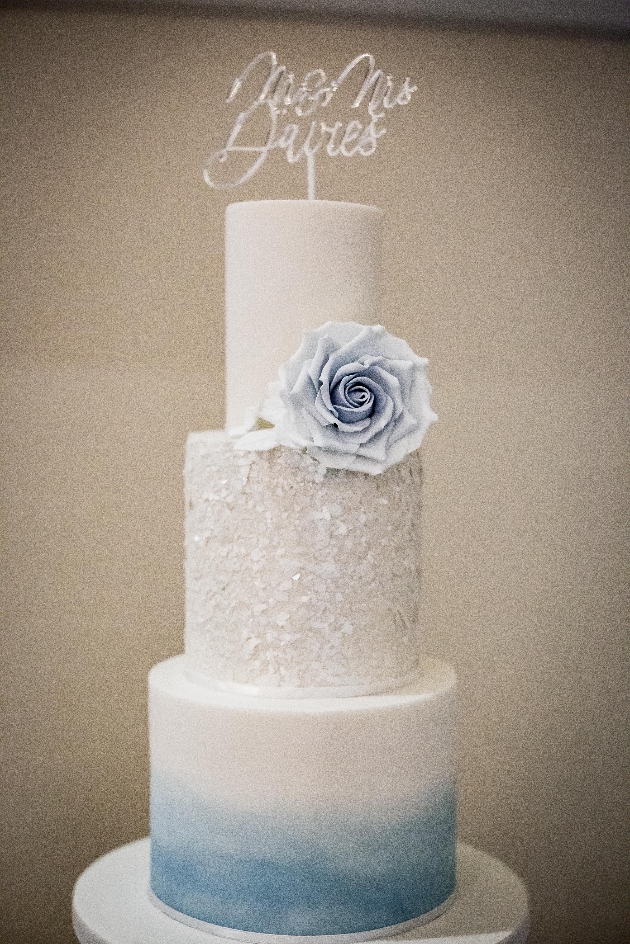 Their big-day bake was made by The Cake Cwtch. "It was lemon, Nutella, champagne and strawberry flavour," Chelsea adds. "It was decorated in keeping with our dusky blue, white and rose colour scheme."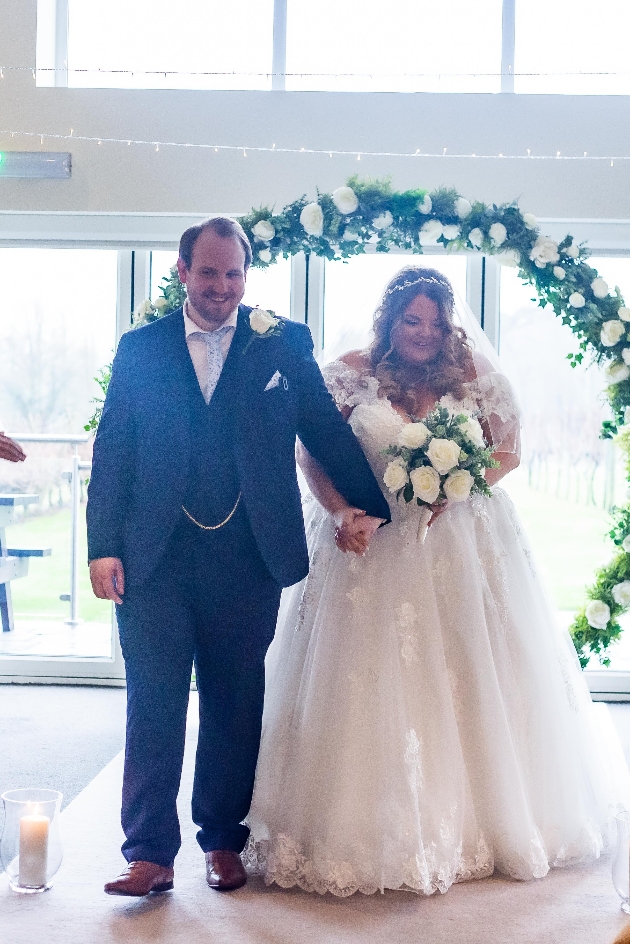 "My dad's partner surprised us with a beautiful vehicle from Singletons Executive Cars," says the bride. "We had no idea, and when it turned up with a blue bow, I said to my dad that its blue to match the wedding, and he said no she asked for blue to represent Cardiff City F.C.!"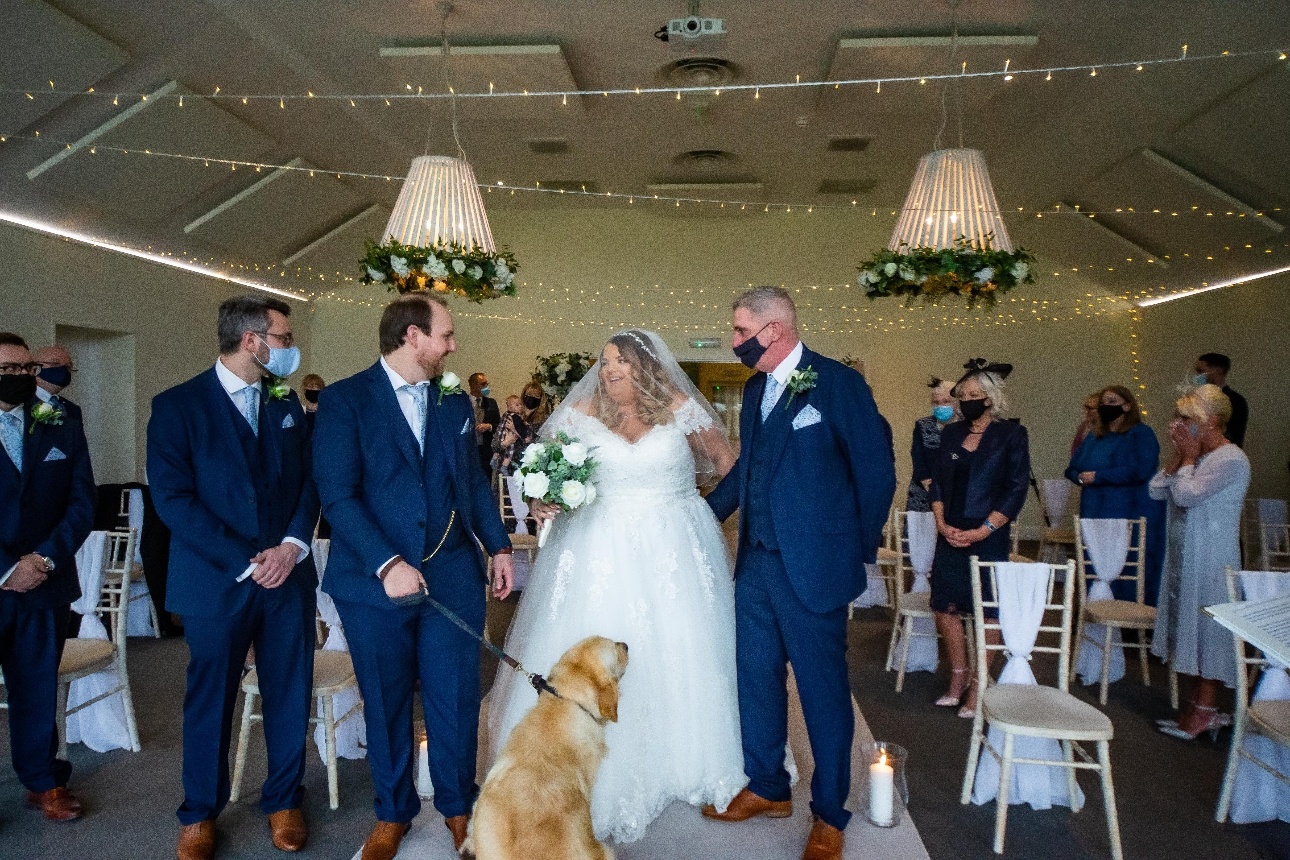 Chelsea purchased her stunning Morilee gown from All About Eve Bridal. "As a plus-size bride, I was secretly dreading dress shopping after hearing so many horror stories," shares Chelsea. "I had seen the gown, Pamela, online and as soon as I saw it, I knew it was the one. I managed to find a stockist, and I fell in love right away. The sparkly lace just won me over. The boutique had so many options, and I really enjoyed my shopping experience."Huw opted for a navy three-piece suit from Skopes Menswear. "He accessorised with brown shoes and a belt," recalls the bride. "All the men looked super smart, and Huw's dad lent him his great grandfather's pocket watch to help him stand out."The three bridesmaids chose Grecian-style blue dresses from Samantha K's.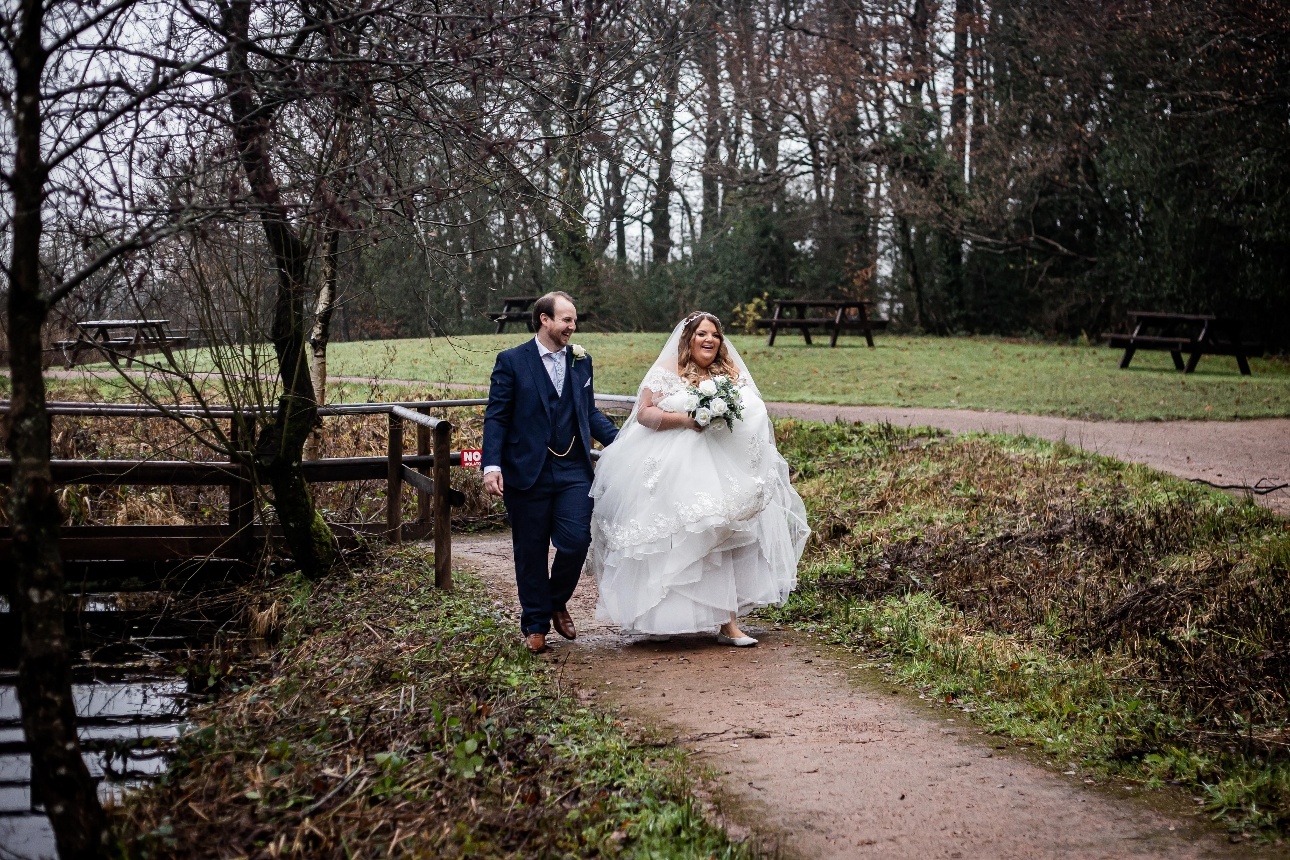 "We originally had lots of entertainment booked for our wedding day, but due to COVID-19, we had to cancel most of it," Chelsea explains. "Luckily, we were still able to have the amazing cellist, Nerys Clark. We ended up asking her to perform at our ceremony and wedding breakfast. All of our guests loved her, and we had so many lovely comments about her. She honestly helped make our day, she exceeded all our expectations, and there was something to suit everyone."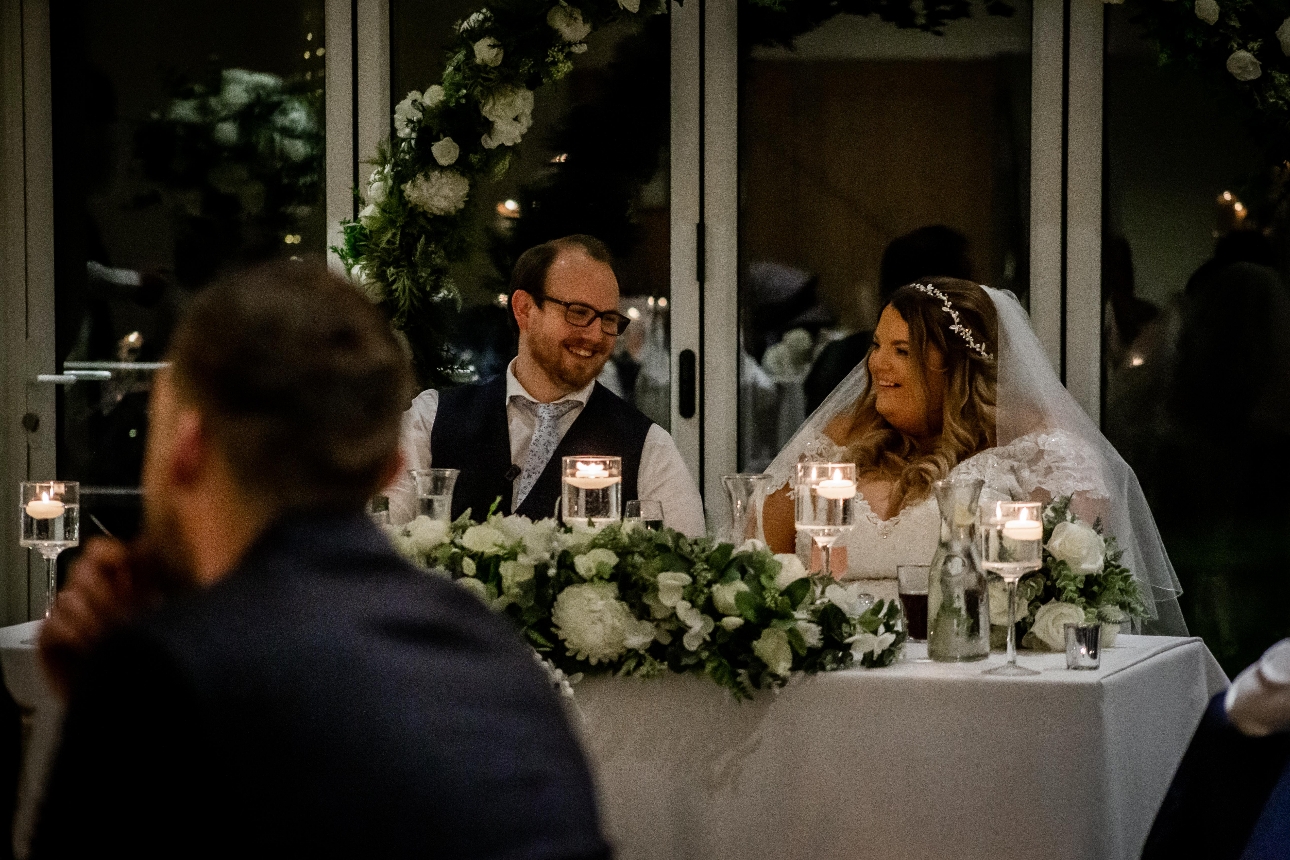 "I was surprisingly calm on the morning of the wedding and just wanted to enjoy every moment," says Chelsea. "Huw, on the other hand, was super nervous, but as soon as he saw me, he was filled with excitement. We had our beautiful golden retriever, Marley, as our best dog. He was well behaved, and it was so special to be able to have him there."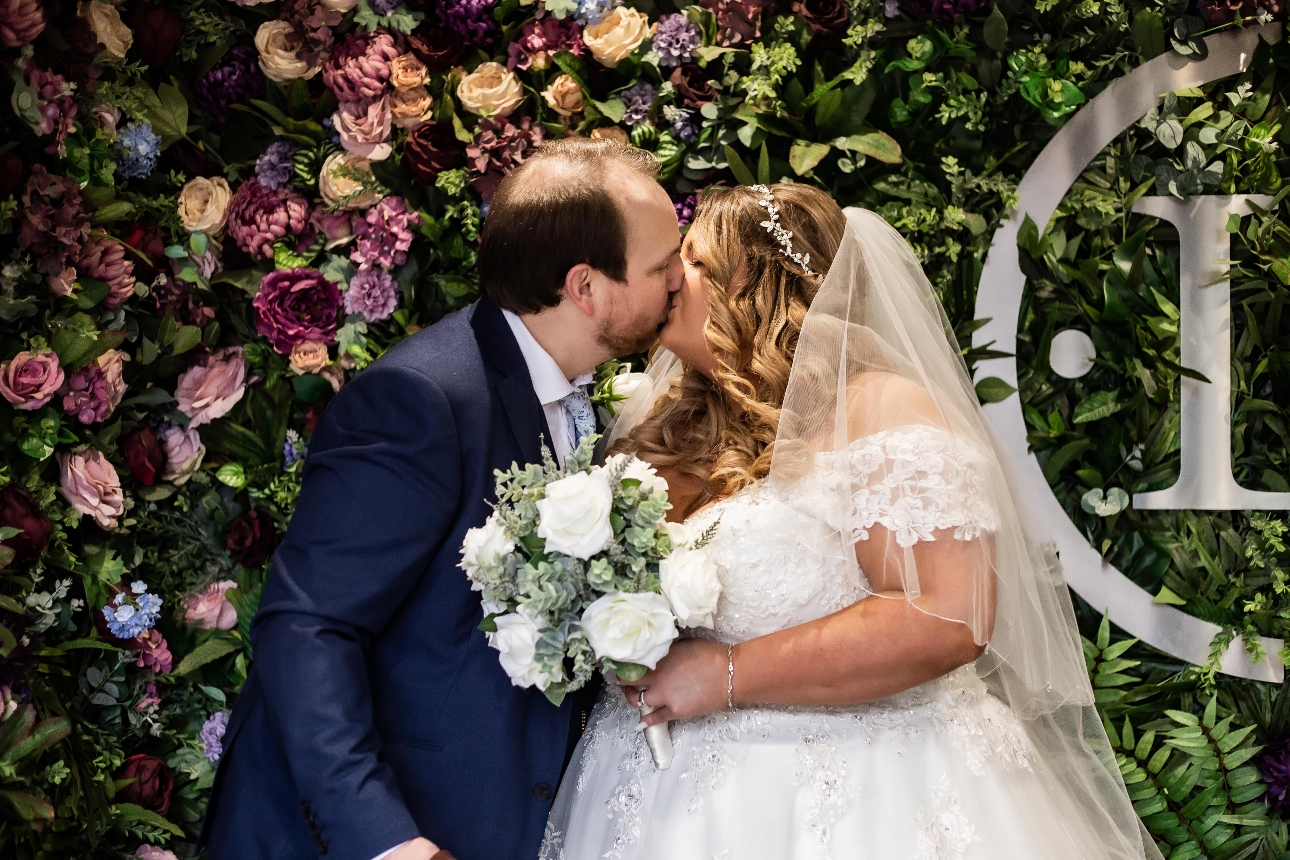 The couple's suppliers and guests made their day extra special. "With everything going on in the world right now, we're just grateful that we got to have our wedding day, and every single person involved was amazing," shares the bride. "My beautiful nan, Iona, made the bouquets from artificial flowers, which was such a lovely touch and now we will get to keep them forever. During the week leading up to the wedding, I had two hairdressers cancel because of COVID-19. I found Taryns Freelance-Hair two days before the wedding and messaged her on Facebook in a right state, and she saved the day. She was amazing, and we couldn't have asked for better, as they say, everything happens for a reason! Lastly, my dad, David, made his speech and powered through his nerves, but as soon as he sat back down, he realised that he had missed out an entire page."
Chelsea and Huw's contact book