Annabel and Gavin met at work 10 years ago. "We were in different departments, but Gavin asked me out on a date," says Annabel. "I wasn't sure at first about dating a coworker, but I decided to give him a chance and accepted the offer." Gavin proposed in September 2018. "We were enjoying a staycation in Bideford, Devon, with our beloved rescue dog," shares the bride. "On the final day, we walked the coastal path to Clovelly, and when we arrived at a beautiful beach called Mouthmill, he got down on one knee and asked me to marry him. It was perfect."
"We made a list of requirements that our venue had to have, and St Tewdrics House ticked all the boxes," Annabel recalls. "It was the only property we visited, and we booked it the same day! We didn't want to be restricted by caterers, drinks packages and partner suppliers, so the flexibility they offered was really appealing. We also loved the exclusively, on-site accommodation and that it was dog friendly."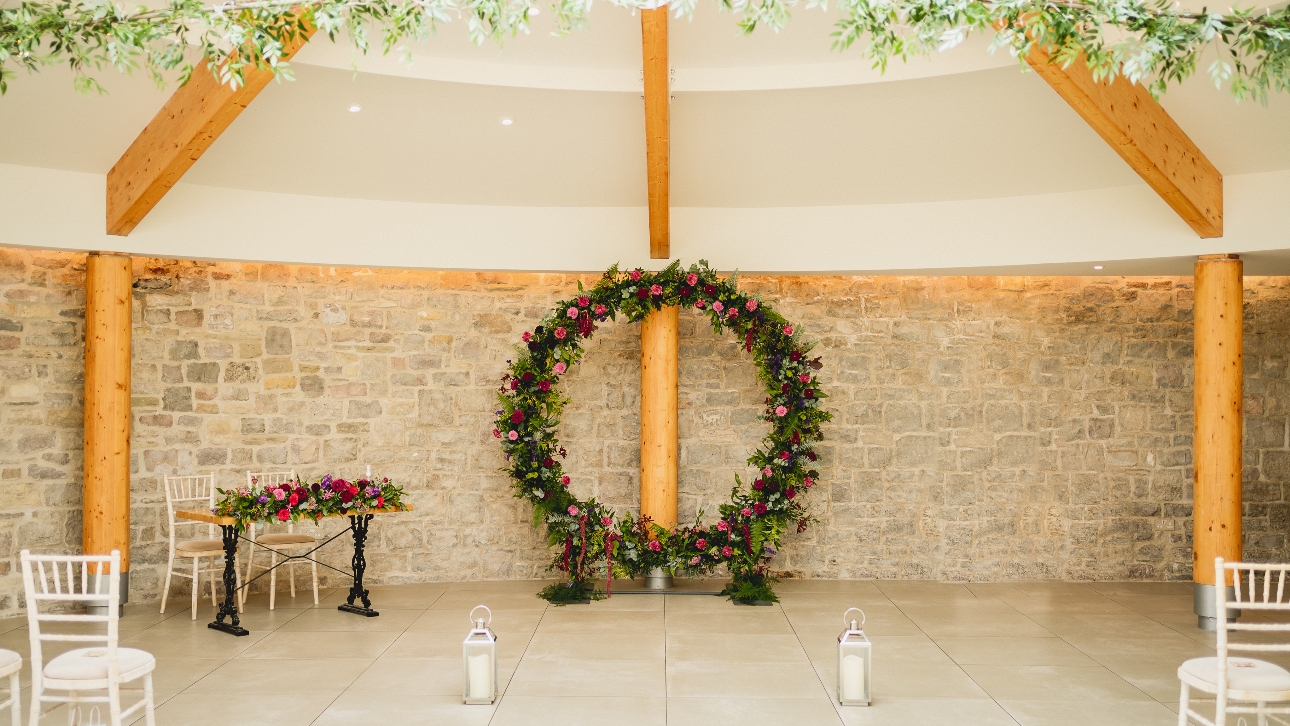 "Catherine Gray Flowers was super helpful," Annabel adds. "I took a swatch of the bridesmaids' dresses to her workshop and some vague colour ideas. She then designed idea boards and produced something absolutely perfect. I knew I wanted colourful blooms, and we were so happy with them. She also accommodated our last minute order increase."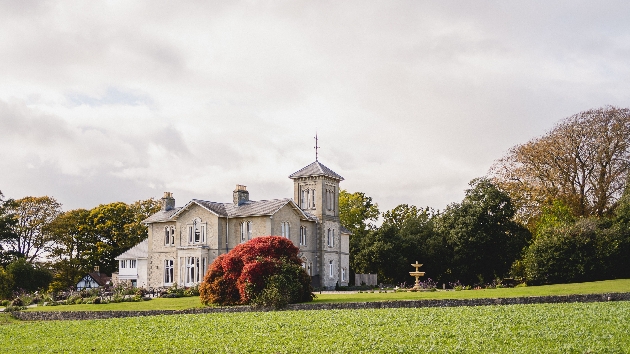 Annabel and Gavin purchased their big-day bake from DeVoli Cakes. "We found them at an event at St Tewdrics House," says the bride. "Her designs were showstopping, and we were drawn to her amazing sugar flowers! She designed our cake during the lockdown with limited input from us, but it was exactly what we wanted. Since our reception was cancelled, we had it delivered and set up in our kitchen instead."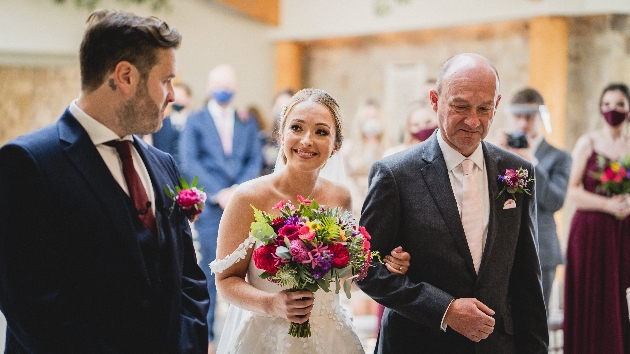 "We'd been admiring the work of Lumi Event and booked them right away," shares Annabel. "Unfortunately, we weren't able to have all the finishing touches we wanted, but they were incredibly flexible and understanding and worked with our adjusted plans. The lighting was so romantic and our 'wish you were here' board featuring photos of all the guests who couldn't come was a meaningful touch."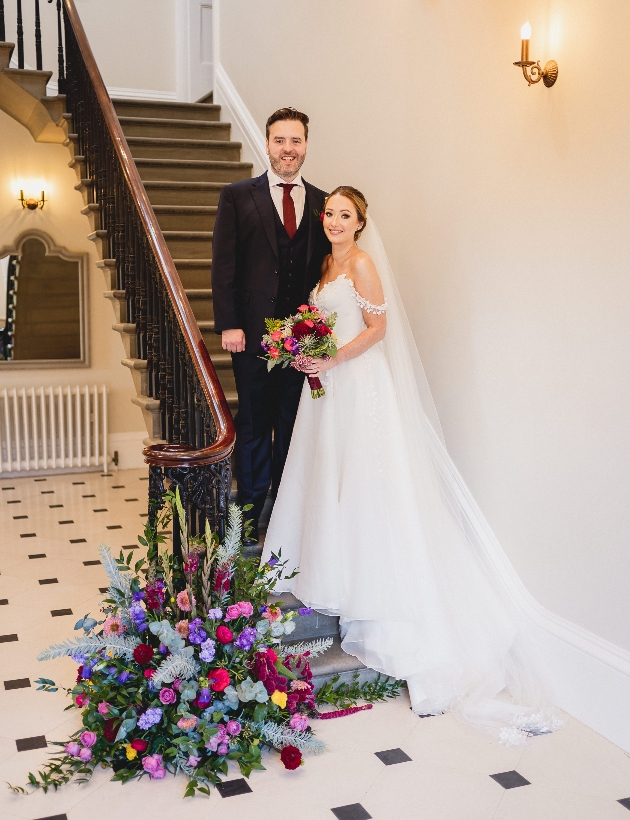 "My dress was called Georgia from Stephanie Allin Couture," Annabel recalls. "From the moment I saw her designs, I knew I was going to get my gown from her. Her dresses are incredible quality, simple but unique and fit to perfection. I didn't originally want a ballgown, but it was really light, and I felt like the best version of me in it! I was also very keen to get a dress from a British/Welsh designer as I wanted to support local companies where possible. I accessorised with a matching veil by Helen Martin. I didn't intend to get a long veil, but the pandemic caused chaos to the rest of our plans, and since my accessories were a decision totally within my control, I went for it! Stephanie also added a custom foldaway lapel that I could pin my MBE insignia to for the ceremony. My hairpiece was a bespoke design from Rachel Sokha. Rachel worked with me to create something that perfectly complimented my dress and veil. It featured subtle gold leaves and white flowers with pearl centres and was breathtaking. I borrowed earrings from my nan, who was unable to attend as she was shielding. It was special to me to be able to wear them – they were beautiful but also made me feel like she was with me on the day."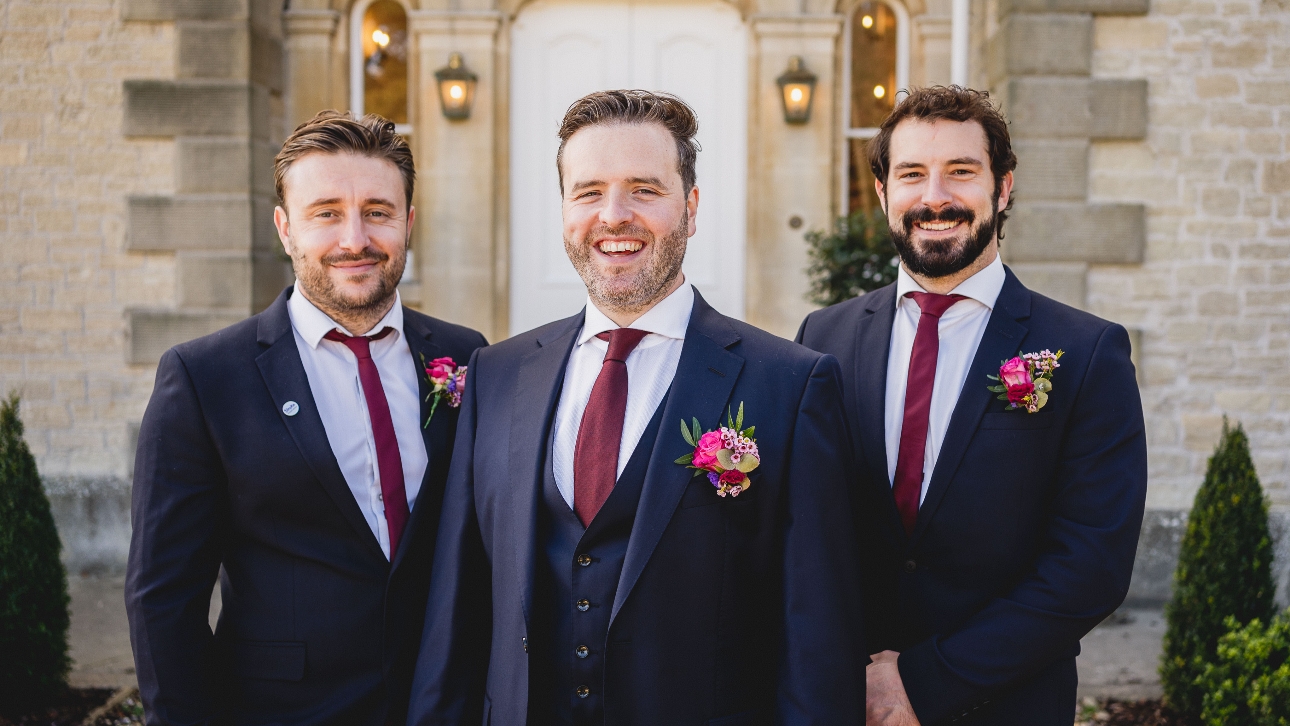 Gavin chose a tailored suit from Hugo Boss in Cardiff. "The team helped him pick it and coordinated his tie with the bridesmaids' dresses," explains the bride. "They were fantastic and made the most classic and flattering design that we will treasure for years to come. The best man and groomsmen wore two-piece suits and ties from ASOS in the same shade."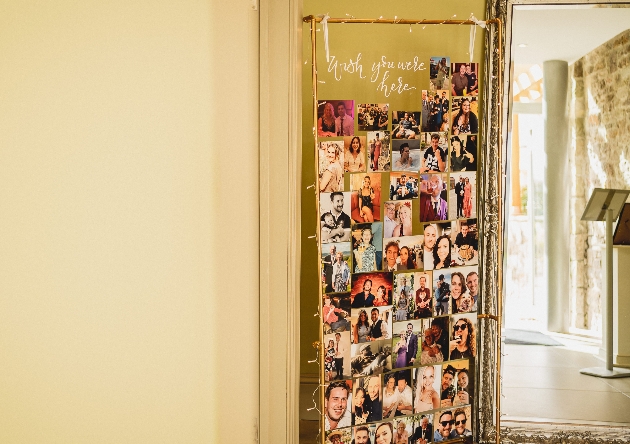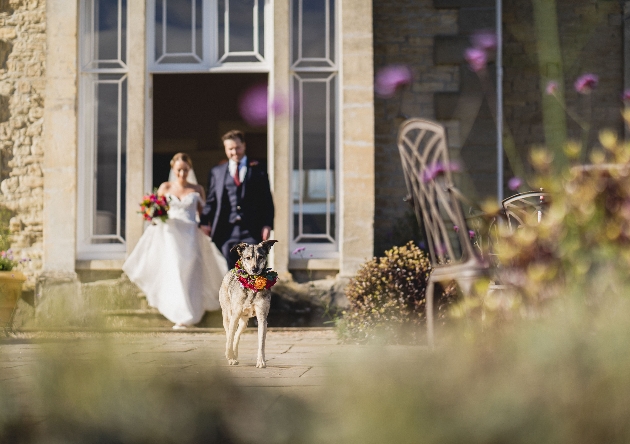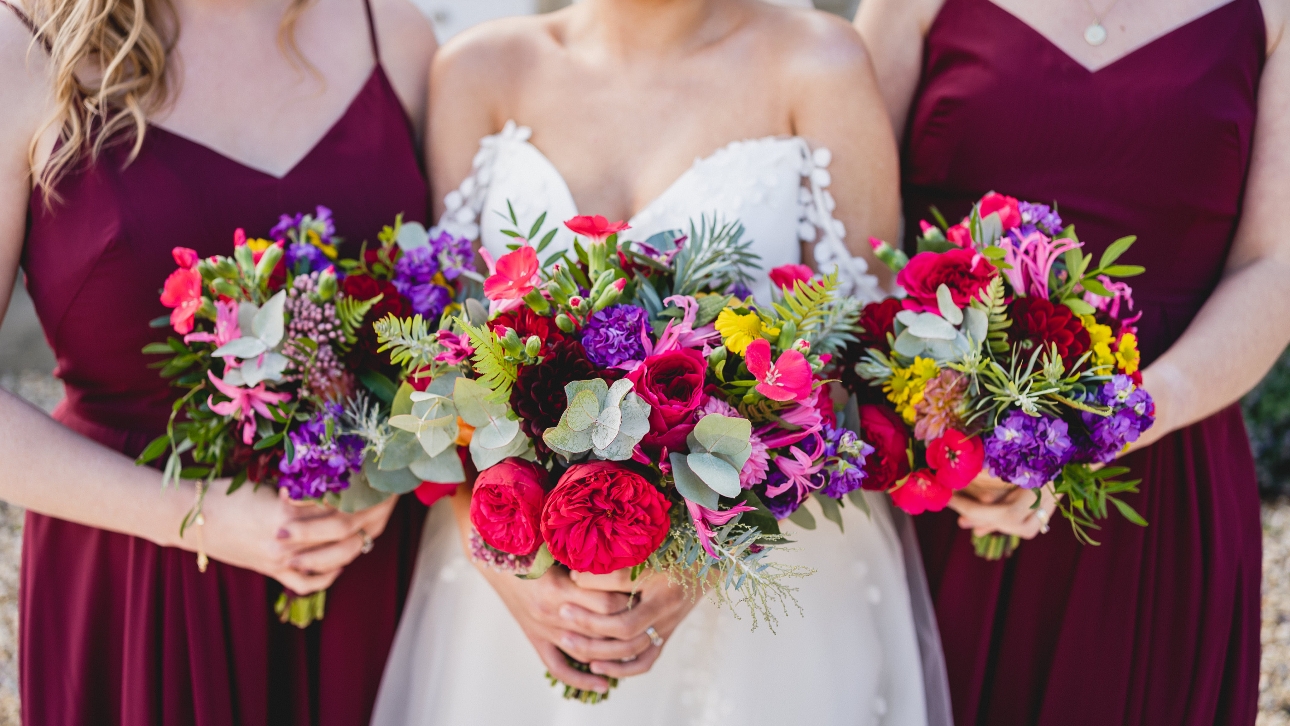 "The bridesmaids opted for a gown called Edie by TH&TH," adds Annabel. "We had to shop for the dresses during the lockdown, so it was a challenge, but the team were so helpful. The sweetheart neckline and flowing skirt matched my dress perfectly. It was universally flattering and excellent quality."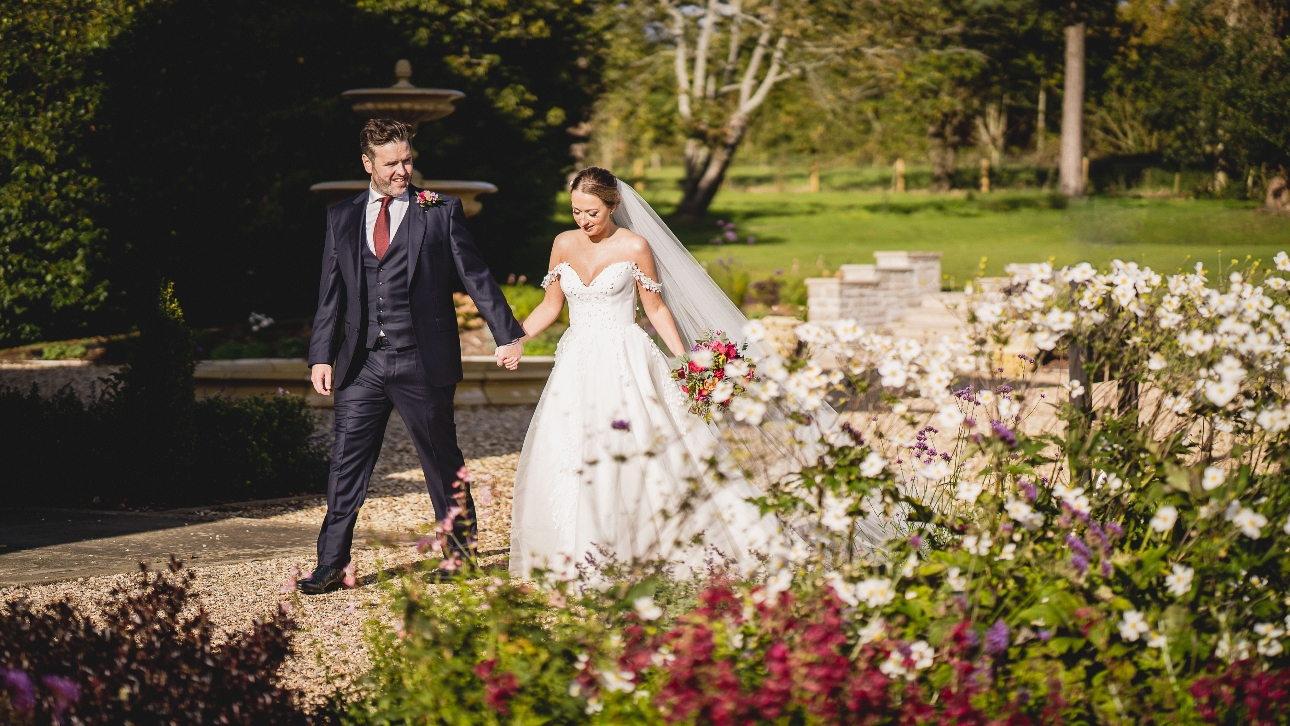 "After the ceremony, we were lucky enough to have a few hours of glorious weather for our photos," says the bride. "After this, everyone headed home, and we set up our online reception. This included speeches, toasts and the first dance in our kitchen! We were determined to do as much as possible to celebrate our day, and we certainly did."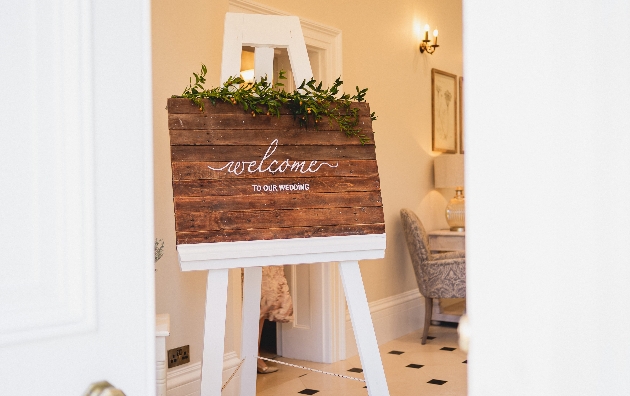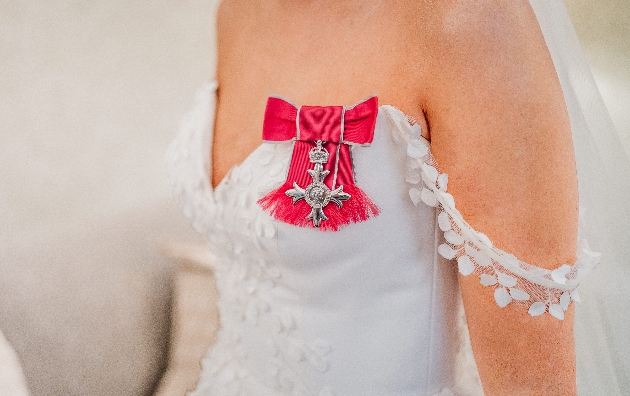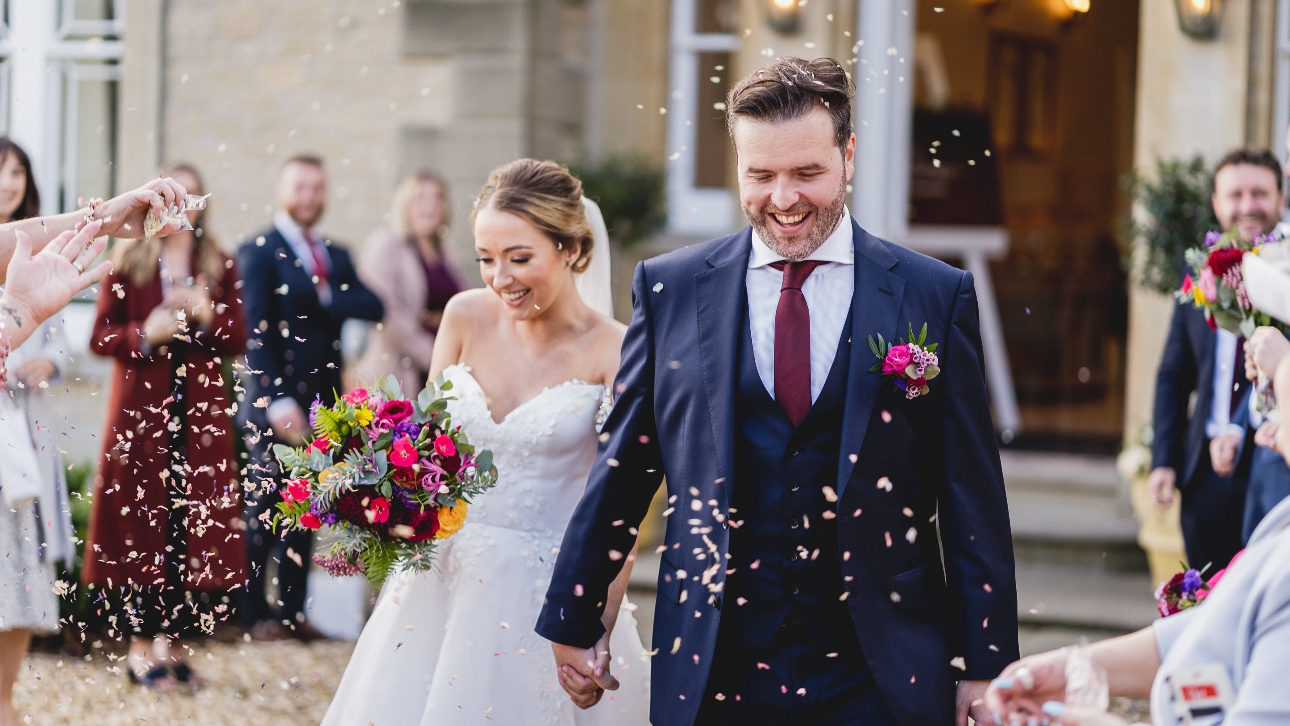 The happy couple were full of nerves and excitement on the morning of the wedding. "It was the most blissful day, but it was somewhat bittersweet as so many people couldn't be with us," shares Annabel. "Gavin also felt the pressure of having to manage the online streams of our ceremony and reception! By the time we were enjoying our first dance, we both felt relieved that we'd managed to get married and have the best possible day. There were moments in the weeks leading up to the wedding that made us wonder whether we'd be able to do it at all, so we were incredibly thankful to have been able to get married on the day."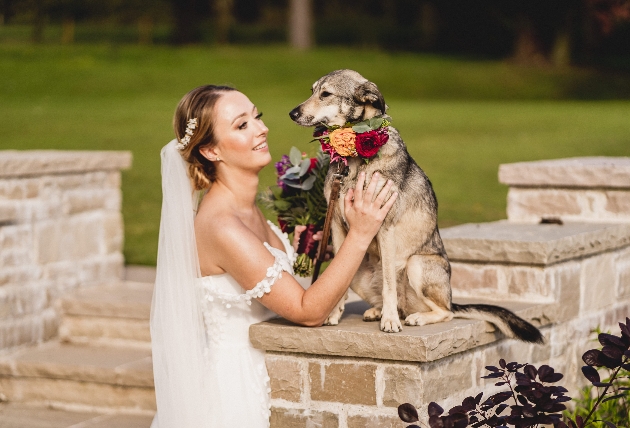 "One of our favourite moments was when our rescue dog, Sissy Sock, carried the rings during the ceremony," Annabel recalls. "She wore a collar of fresh flowers from our florist and stole the show! We also loved dancing to Metallica in our kitchen – a far cry from our original vision but every bit as special."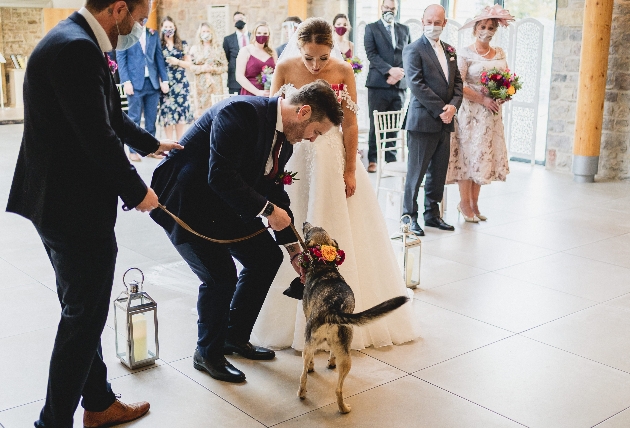 Annabel and the bridesmaids purchased bespoke face masks for the day. "The girls had one-off designs in the same fabric as their dresses, and I had a mask that was made by my dress designer," explains the bride. " We also commissioned 30 face masks for our guests – there were four different designs in our wedding colours, embroidered with our initials and wedding date. It was the perfect memento of a pandemic wedding!"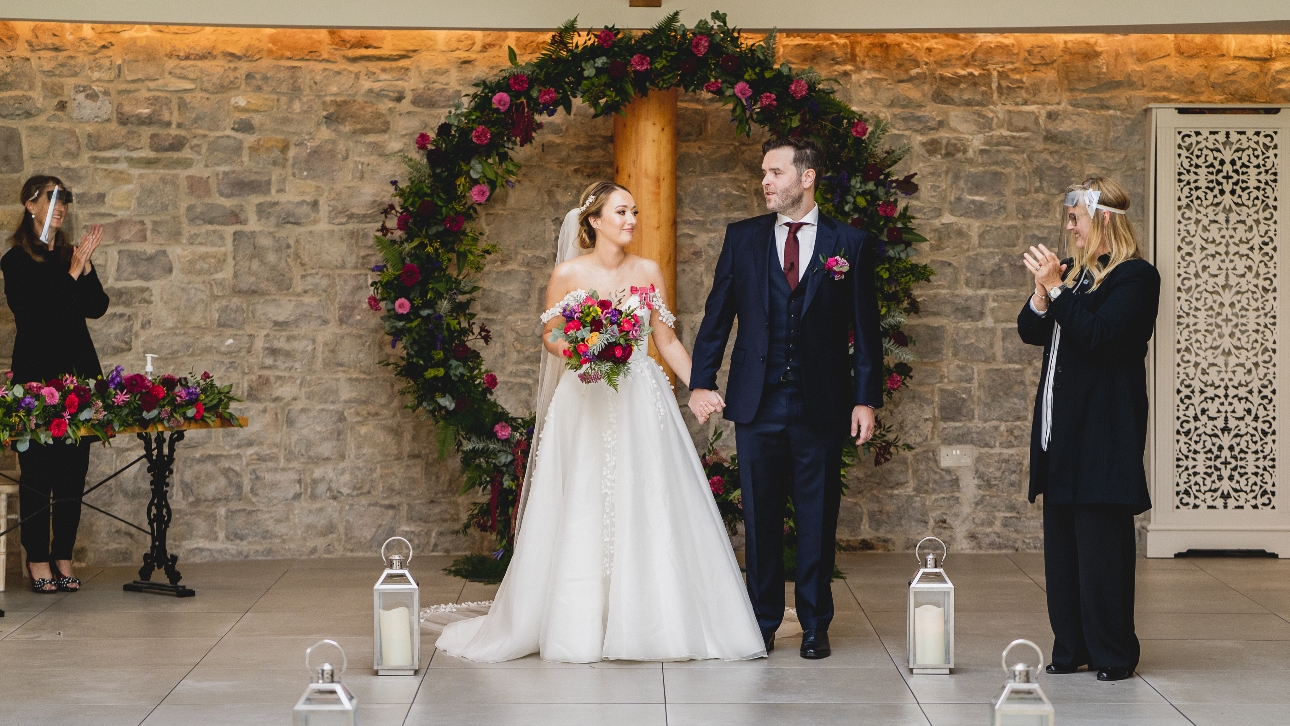 "We were astounded by the understanding and empathy shown by all of our suppliers and guests," adds Annabel. "This past year has been tough on everyone, but people went out of their way to make our day special. Our suppliers had few or no weddings that year but put our needs above their own. They listened to us moan, cry and rant and supported us through all of it! We were forced into so many last-minute changes and cancellations, and they navigated the practicalities and legalities with compassion. We knew they were suffering too, but they never shared that burden with us.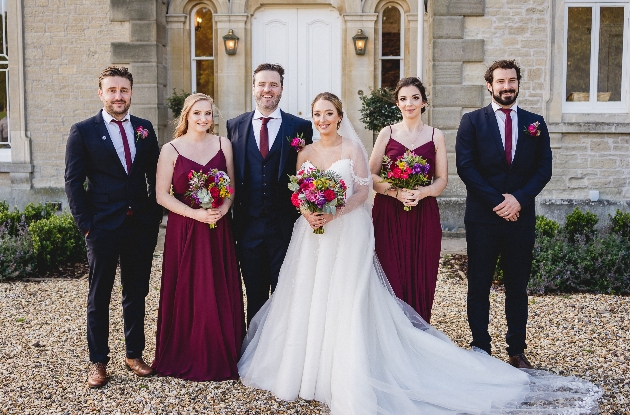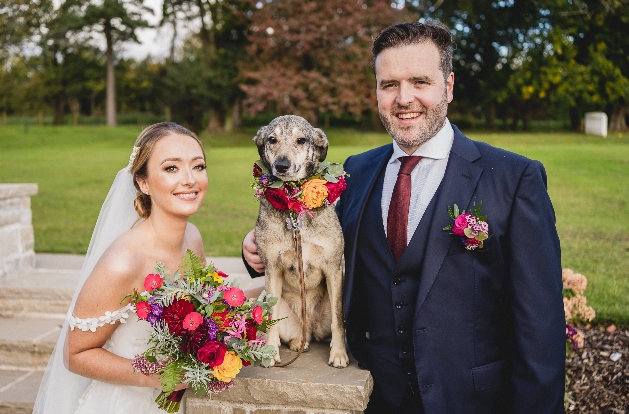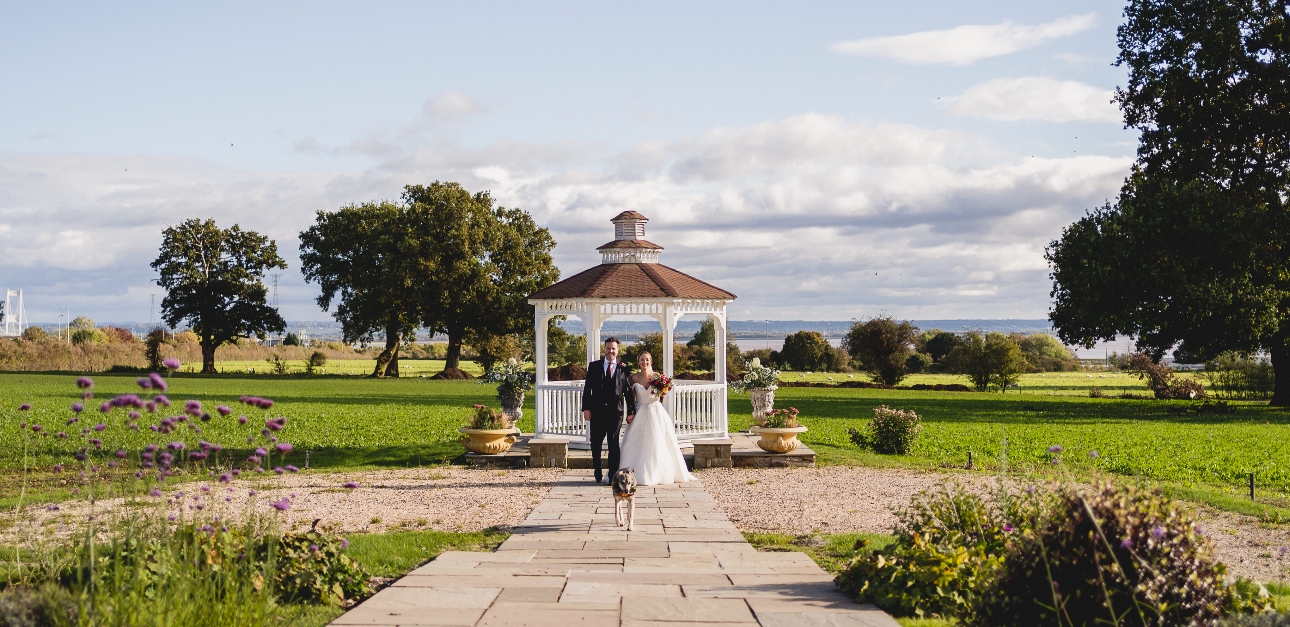 Every single supplier far exceeded our expectations, and we couldn't have been happier. Some of our guests travelled hundreds of miles to attend our 30 minute ceremony with all of the enthusiasm and excitement we'd imagine for an all-day event. They encouraged us in a way that gave us the strength and certainty to get married in a pandemic and reminded us of what was really important. We assumed people would think we were wrong to get married, that we were being reckless or selfish, but on the contrary, the absolute joy and love we felt was overwhelming."
Annabel and Gavin's contact book