Rhian and Rory met on Tinder in 2014. "Rory was attracted to my smile, and I thought he looked cheeky and loved his curly hair," says Rhian. "We spoke via WhatsApp for a few weeks and eventually went on our first date. We knew from that first meet up that we had something special."
Rory proposed during a holiday to Venice. "It was the day before my 27th birthday, and it was a complete surprise," shares the bride. "I'm in charge of packing when we go on holiday, so I was shocked he had managed to keep the ring from me. He had asked my dad's permission before the trip, so my parents knew it was going to happen, however, they started to get a bit worried when days had passed, and there was no news. Rory wanted to find the perfect moment. He tried on a gondola but got told off for moving seats and making the weight uneven! He eventually found a lovely quiet spot on a bridge with no people around and asked me to be his wife."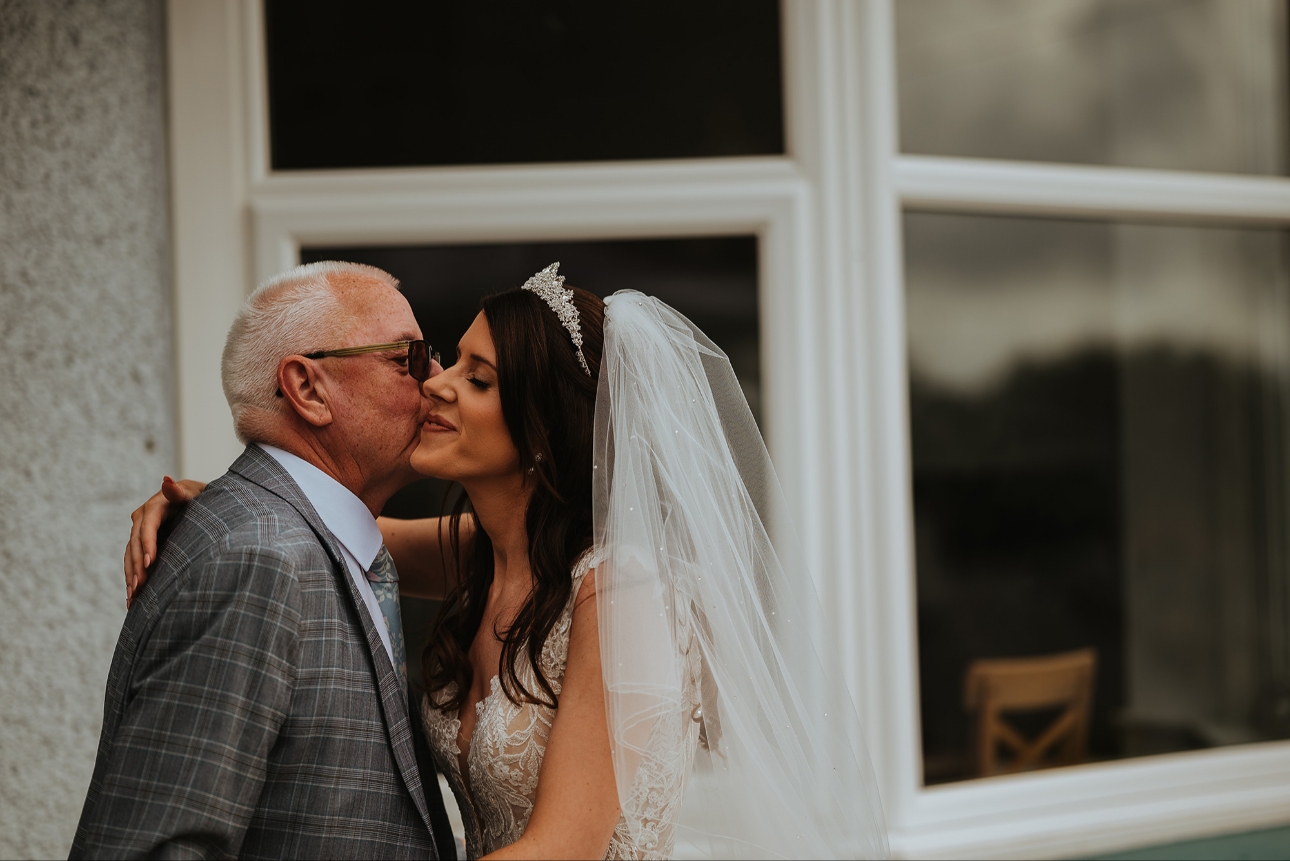 "Aberdyfi is my hometown and favourite place in the world," explains Rhian. "I left for university in 2010 but go back to visit. Aberdyfi is also special to Rory's family as his nanny had visited since she was a little girl. Funnily enough, she knew my dad before Rory and I had even met! I grew up going to St Peter's Church and knew I wanted to get married there one day. We have large families, and there aren't many places nearby to host a reception, so we decided to book Neuadd Dyfi. We've hosted many family events there, and it's a great space that can be transformed into a stunning venue. As Aberdyfi is a seaside village, it was an easy decision to go for a seaside theme."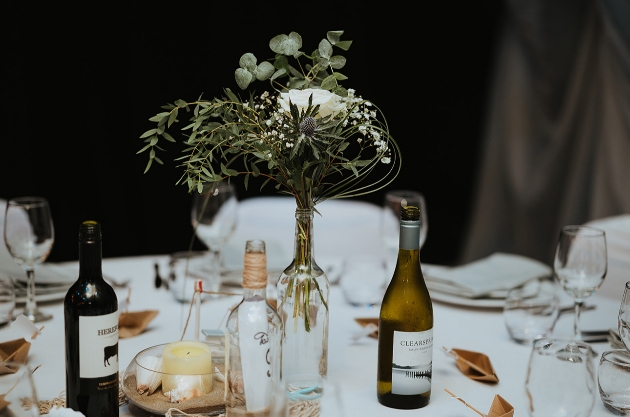 For their favours, the couple gave their guests handmade paper boats with flags that doubled up as place names."I acquired a little wooden surfboard and contacted Charlee Bee Creates and asked them to decorate it," reveals the bride. "They painted it white and drew seaside illustrations on it. It now lives on our staircase."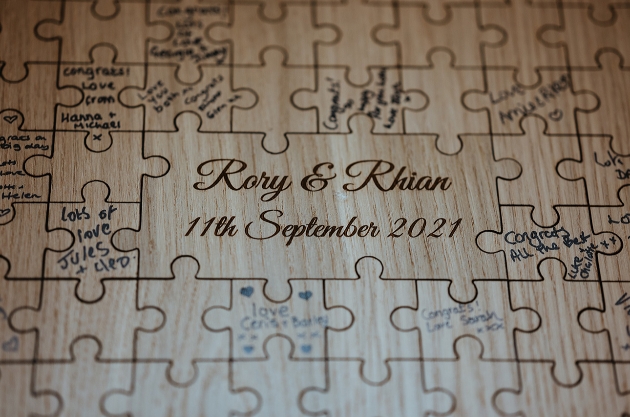 For their centrepieces, Rhian's dad sourced local driftwood, and her mum made table numbers. "I found decorations online, and my aunty Lynn arranged these for us the day before," recalls Rhian. "The flowers were created by a local florist who we gave free rein. She has known me since I was a little girl, so I knew it would be stunning. She produced all the bouquets, buttonholes and centrepieces."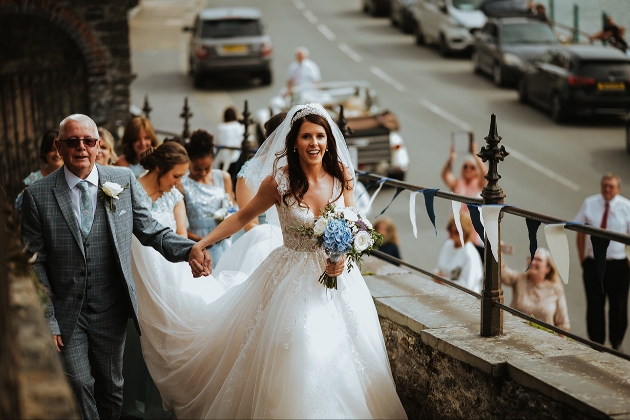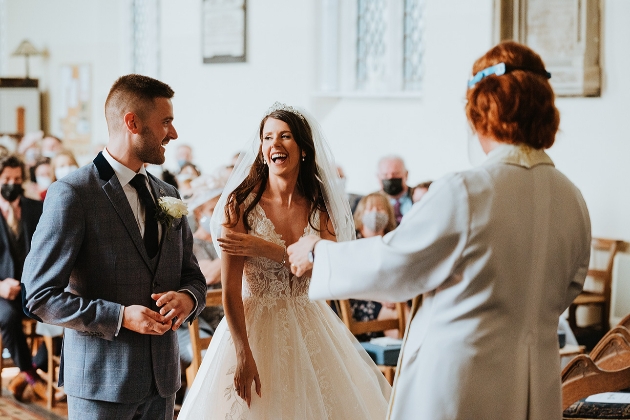 "Our cake was made by Dee Dee's," adds the bride. "We knew we didn't want a traditional design, so we asked her to make ice cream cupcakes that looked like Mr Whippy's. They had white cream and a fake stick in the top."

To decorate the rest of the space, Rhian's aunty made seaside-themed bunting. "We also used Entertainment 12 for the freestanding balloons and arch," says Rhian. "We put packets of sweets in little buckets, chocolates in a picnic hamper and cards from guests in baskets."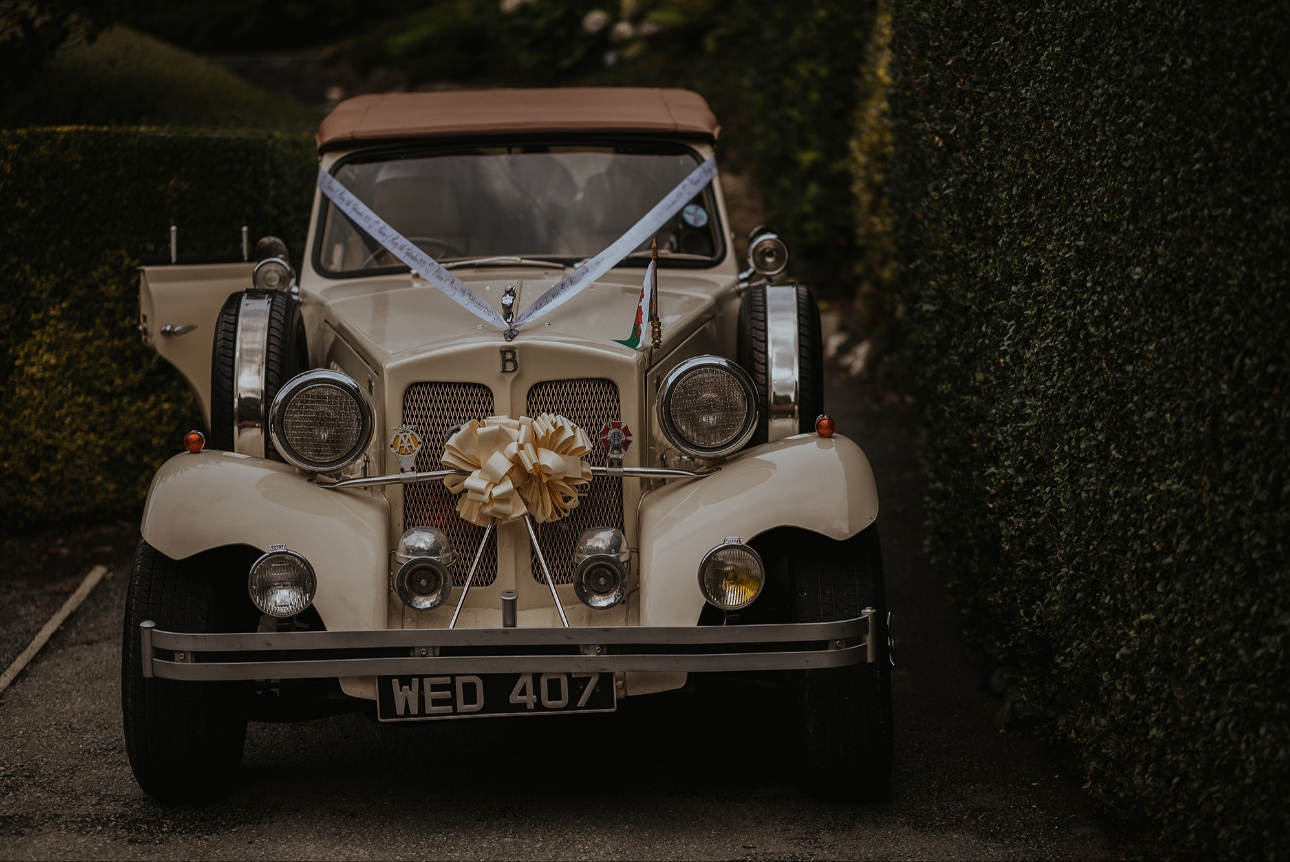 "My parents hired two Bentleys from Ceir y Cardi," shares the bride. "It was our wedding present and was a lovely surprise."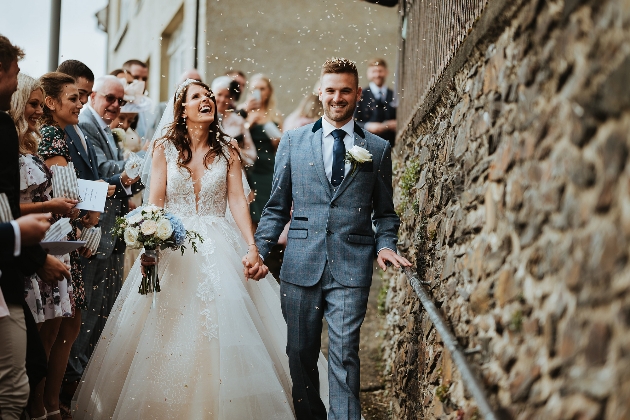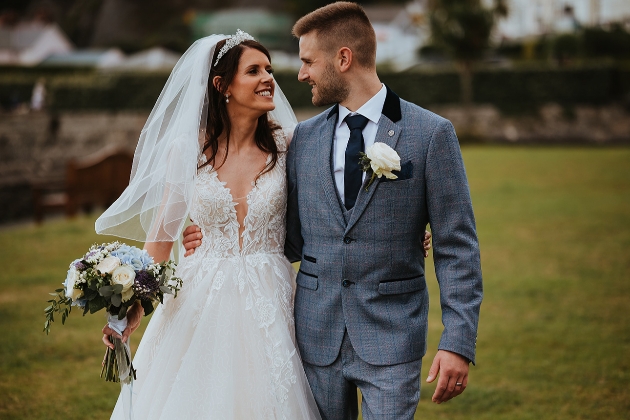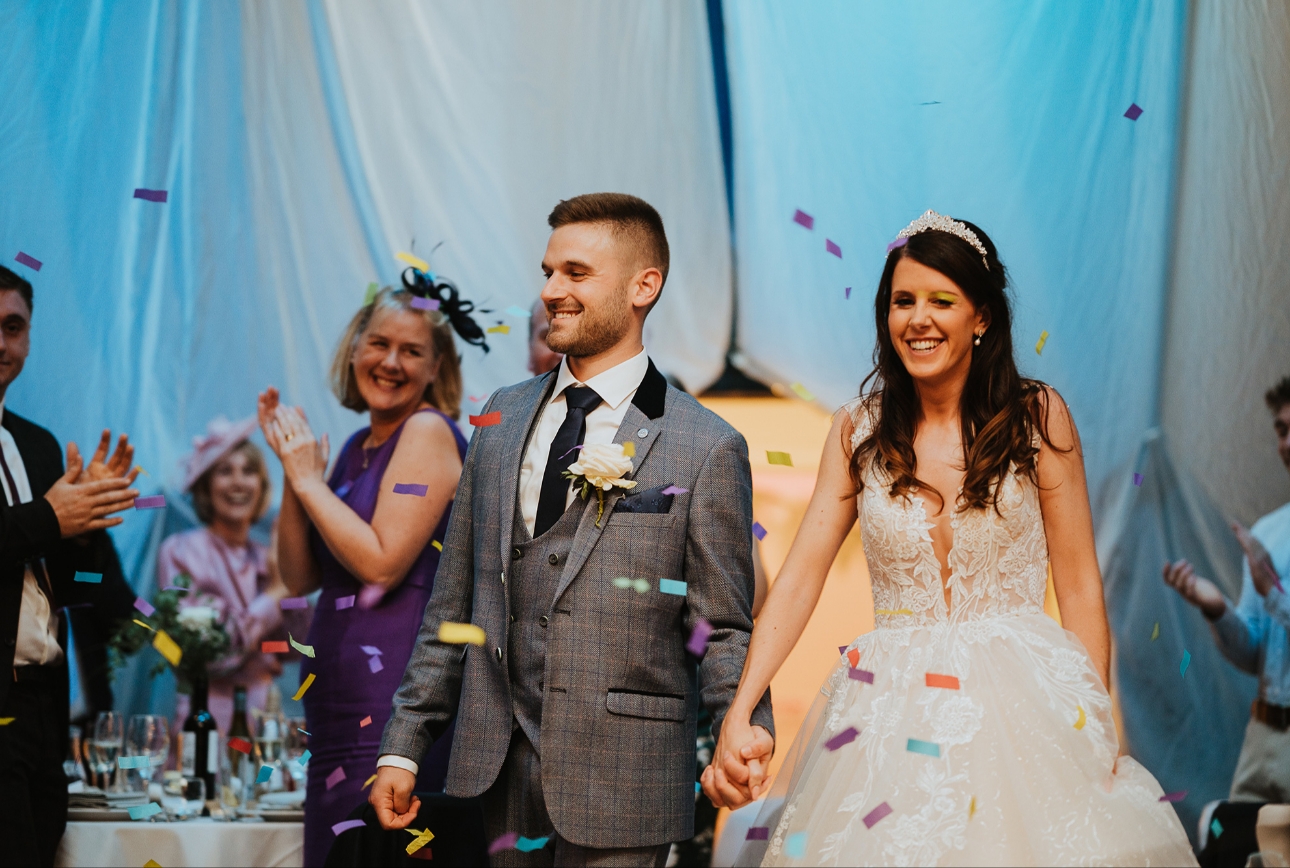 Caviar & Chips provided the catering. "They were incredible," explains Rhian. "They did the food and drink for the whole day. We had cones of fish and chips as canapés and Indian food for the wedding breakfast. We had samosas and bhajis and poppadoms to start and then a choice of three curries and rice and naan for the mains. Brave choice for a white dress, but it was delicious! For the dessert, Aberdyfi Ice Cream Company served homemade ice cream either in a cone or a tub. I worked there from the age of 12 to 21 in the holidays. They make all of their ice cream, and it's the best! In the evening, Caviar & Chips provided a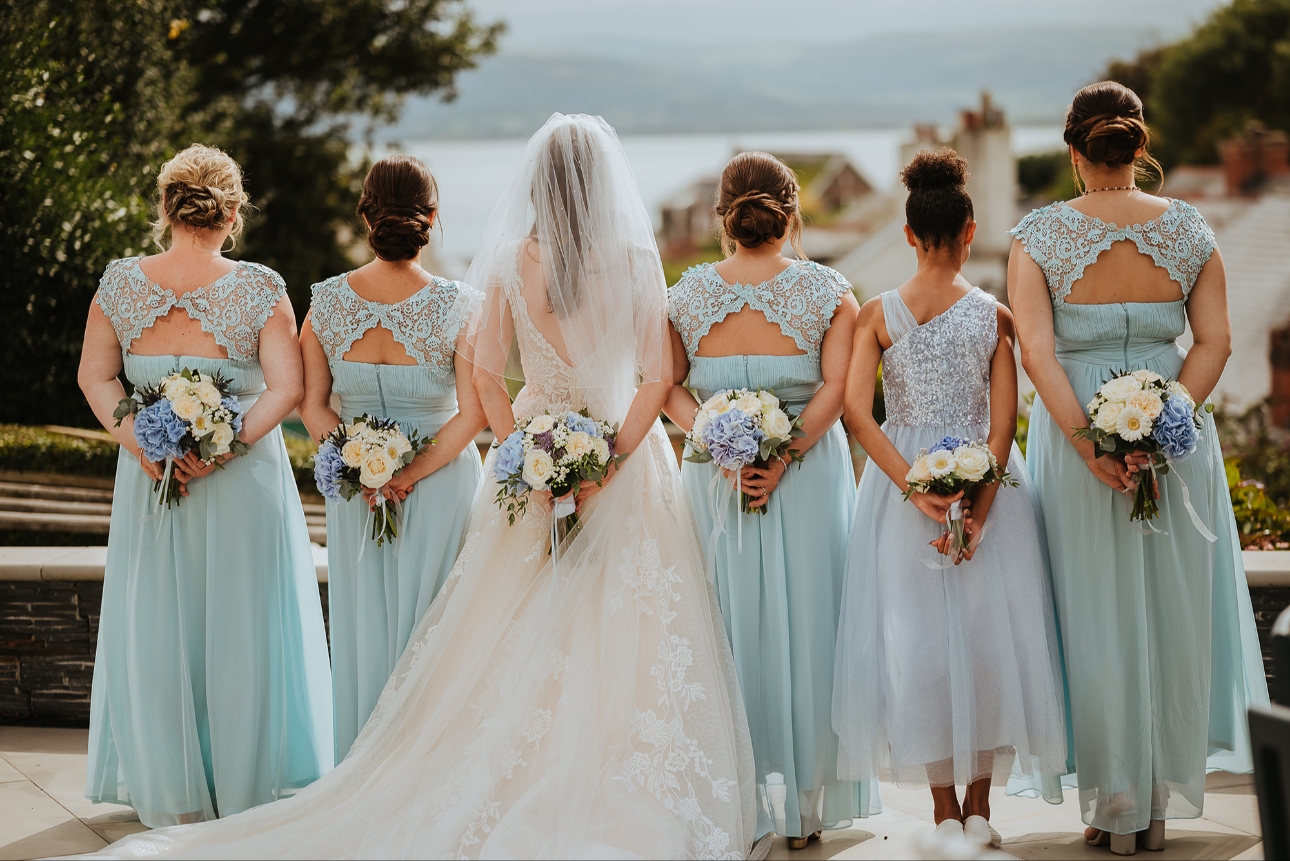 "I wore a dress by June Peony Bridal Couture," reveals the bride. "I live in Solihull, so I went to dress shops in Birmingham. June Peony Bridal Couture was the second store we went to, and there was no need to go anywhere else! We were blown away by the stunning dresses and the service we received there. The staff were so knowledgeable, and they listened to everything I liked about each one and suggested other designs based on my likes and dislikes. I decided to go all out and wear a once in a lifetime dress! Just when I thought I was wearing the one, the staff pulled out one more. My mum and I didn't think it would be possible, but the staff were right, and that dress was perfect. I adored all the different layers, it was off white, and it sparkled beautifully. I wanted to look like a princess, so I tried on a long veil and tiara and was sold."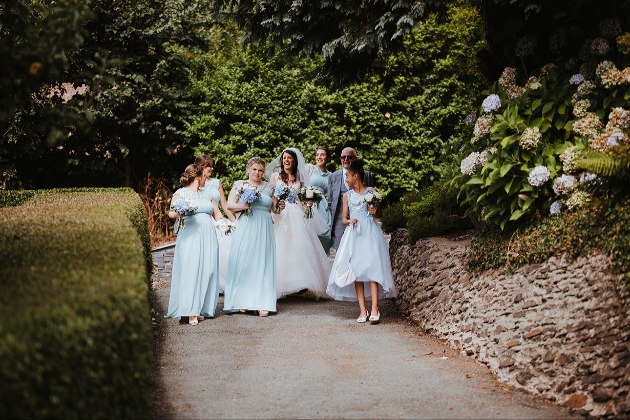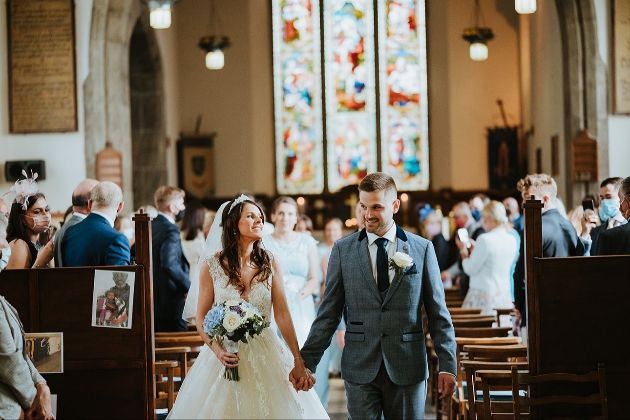 Rory chose a Marc Darcy suit. "He's an engineer, so I'm used to seeing him in work trousers but he looked amazing," recalls Rhian. "Rory opted for a three-piece option while his best man wore a two-piece version."

The bridesmaids chose baby blue long dresses with lace detailing from Ever Pretty.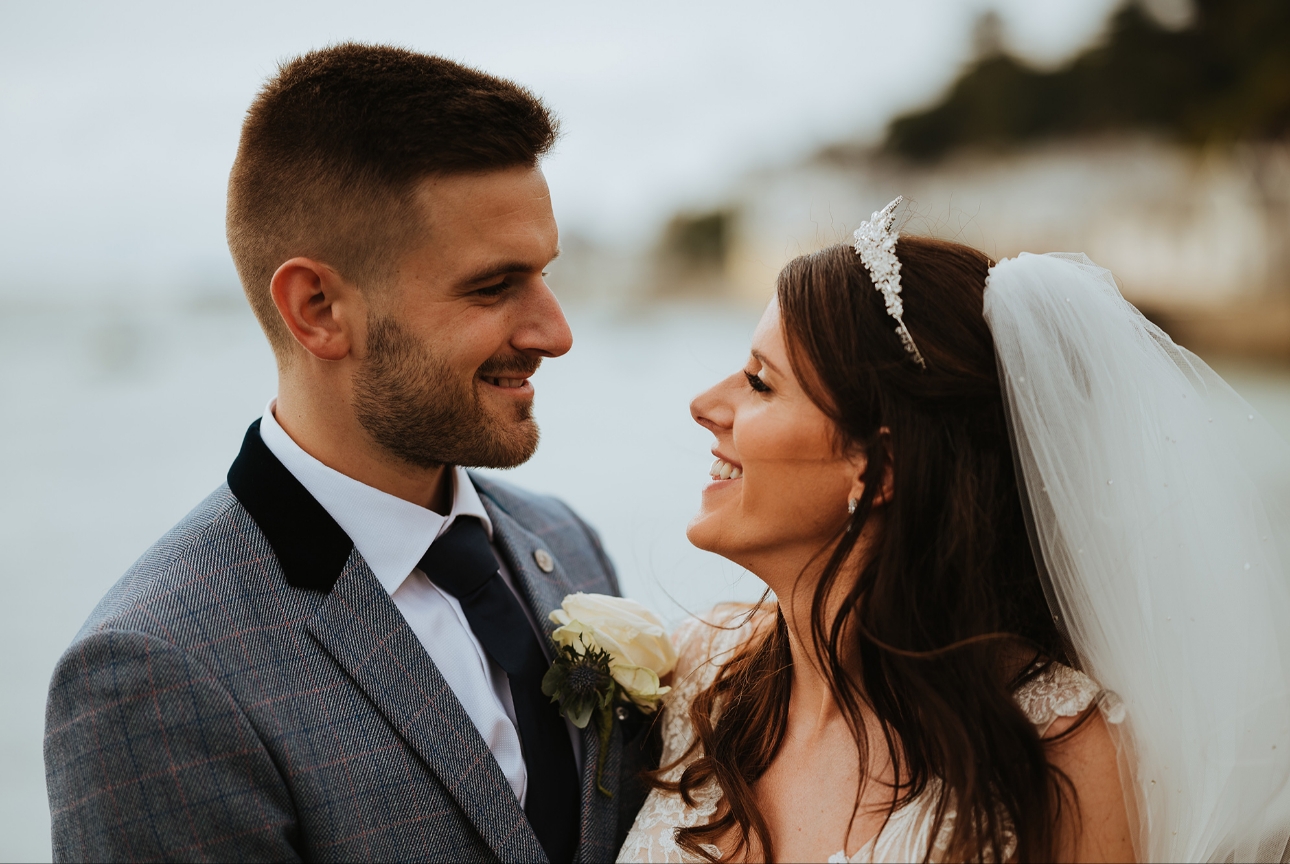 "We had a five-piece band called The Heights booked through Tailored Entertainment," adds the bride. "They played two-hour sets and even learnt our first dance song. Their repertoire was great, and the dancefloor was always packed. They really interacted with the crowd, and everyone commented on how fantastic they were. They organised for guests to play a drinking game that I used to play at university, which was great fun."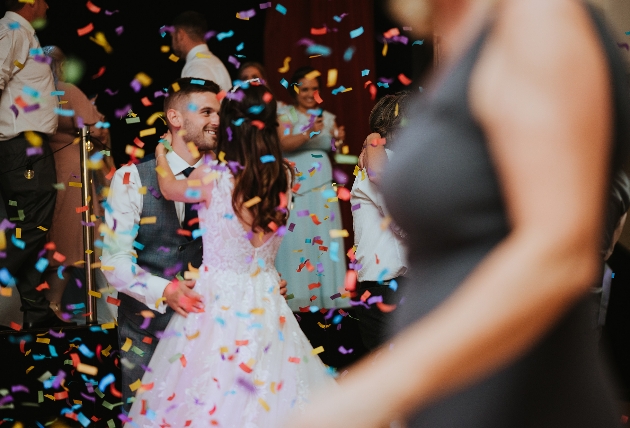 "I think the photos show that we didn't stop laughing or smiling all day," says Rhian. "The standout moment overall was having the wedding go ahead just the way we wanted with all of our friends and family in attendance without any major restrictions. It was well worth the wait!"

The couple's big day was made perfect by their friends and family. "My dad did a reading about Aberdyfi that was written by Rory's nan, which was very special," shares the bride. "Having my 93-year-old nana there and seeing her smiling so much was also amazing to see. Our loved ones were so helpful in decorating the venue the day before and taking it all down the day after. Des George, who manages Neuadd Dyfi, was so wonderful. I tried to use local suppliers in Aberdyfi and the surrounding areas as much as I could. The feedback from our guests regarding Caviar & Chips and The Heights was great and highly deserved! We also had our guests film our day using the services of Edit Your Wedding, which was a lot of fun."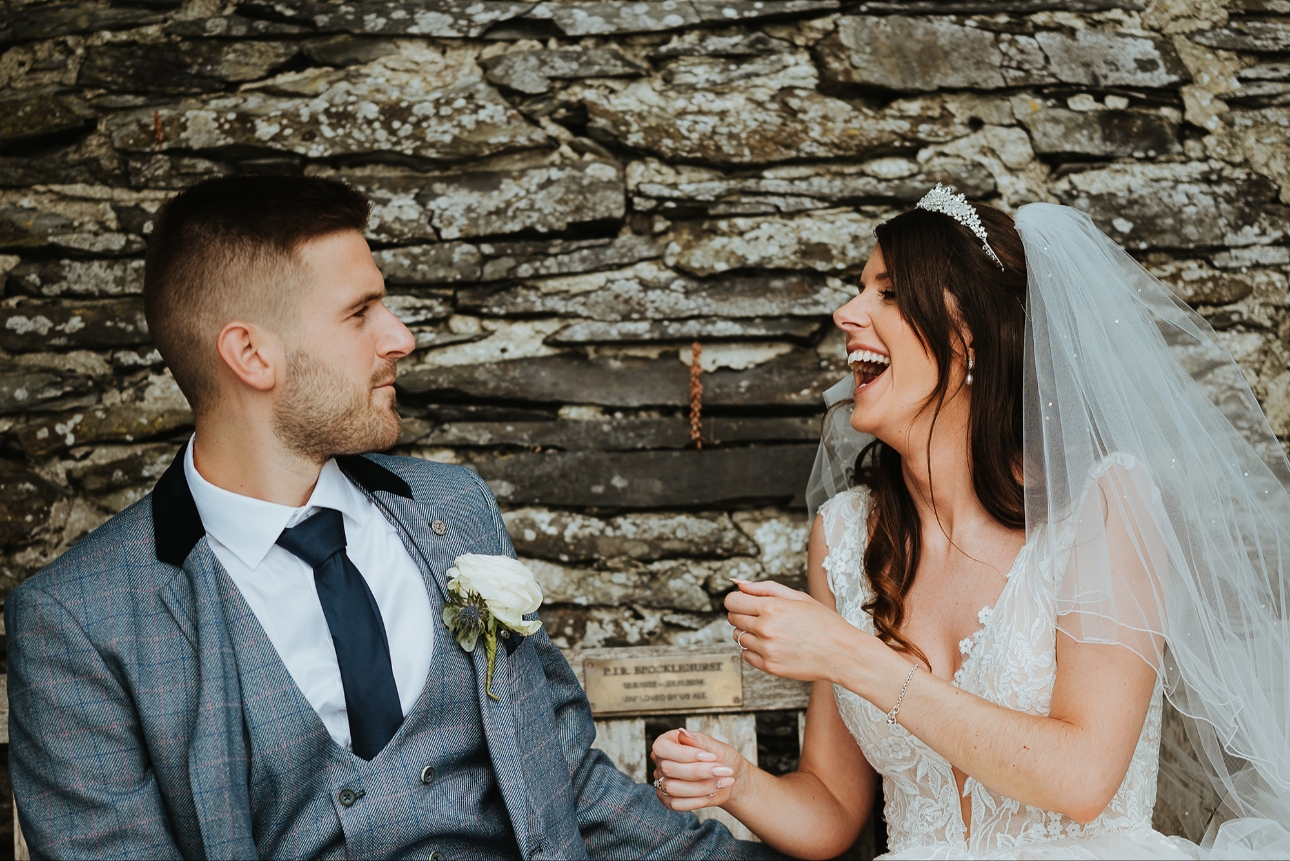 "We didn't know what to expect from the best man's speech," explains Rhian. "Rory was nervous as all grooms are, I expect. His speech was the closest I came to crying. He said such lovely and kind words. We couldn't have asked for a better day. It really was spectacular and we wish we could do it allover again!"
Rhian and Rory's contact book