Katie and Shaun met online six years ago. "We had our first date at Ystradfellte Waterfalls in the Brecon Beacons and quickly became inseparable," says Katie.
"Shaun is a very loving and kind person who puts me first, which was something I hadn't felt before and knew it was special. We moved in together after a year, which some may say was quick, but to us, it was so natural. We were on the same page, and I'm pretty sure I mentioned getting engaged within a few months of being together! Shaun put the reins on that for some time, but good things come to those who wait."

Shaun proposed in May 2018 while the couple were on holiday in Rhodes, Greece. "It was our first real holiday together as a couple," shares the bride. "I had a feeling that Shaun was going to propose as he is terrible at keeping secrets. He smirked the whole plane journey and was very particular about keeping his bag on him at all times. We arrived at the hotel late at night, so I was tired and grumpy. I started unpacking, and when I turned around, Shaun was on one knee in the middle of the room. It was perfect as I always wanted the proposal to be just us. I asked him later on why he did it so urgently, and he explained that he was worried I would find the ring and he couldn't keep it a secret any longer."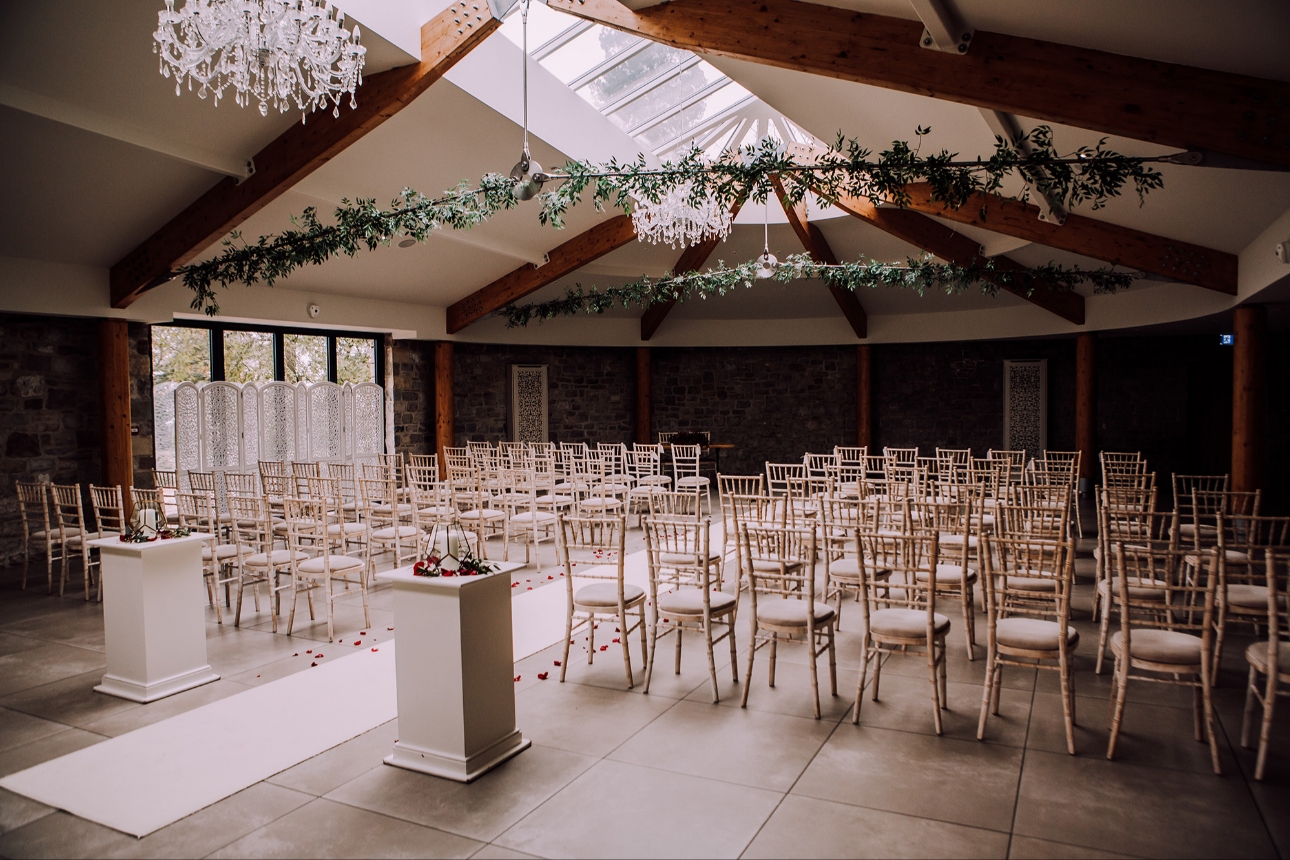 "We chose St Tewdrics House for numerous reasons," explains Katie. "We loved the house, courtyard, its character and the fact we could have the ceremony and reception all in one place. The grounds were beautiful, and the wildflower meadow was the perfect setting for us. The customer service we received from our wedding coordinator, Charlotte, was outstanding! She was amazing and made sure the day was flawless. When we did have a hiccup, Charlotte was there to take care of it. All the staff at St Tewdrics House were superb, from Valentino, the bar manager, to the service staff and chefs."
Katie and Shaun's contact book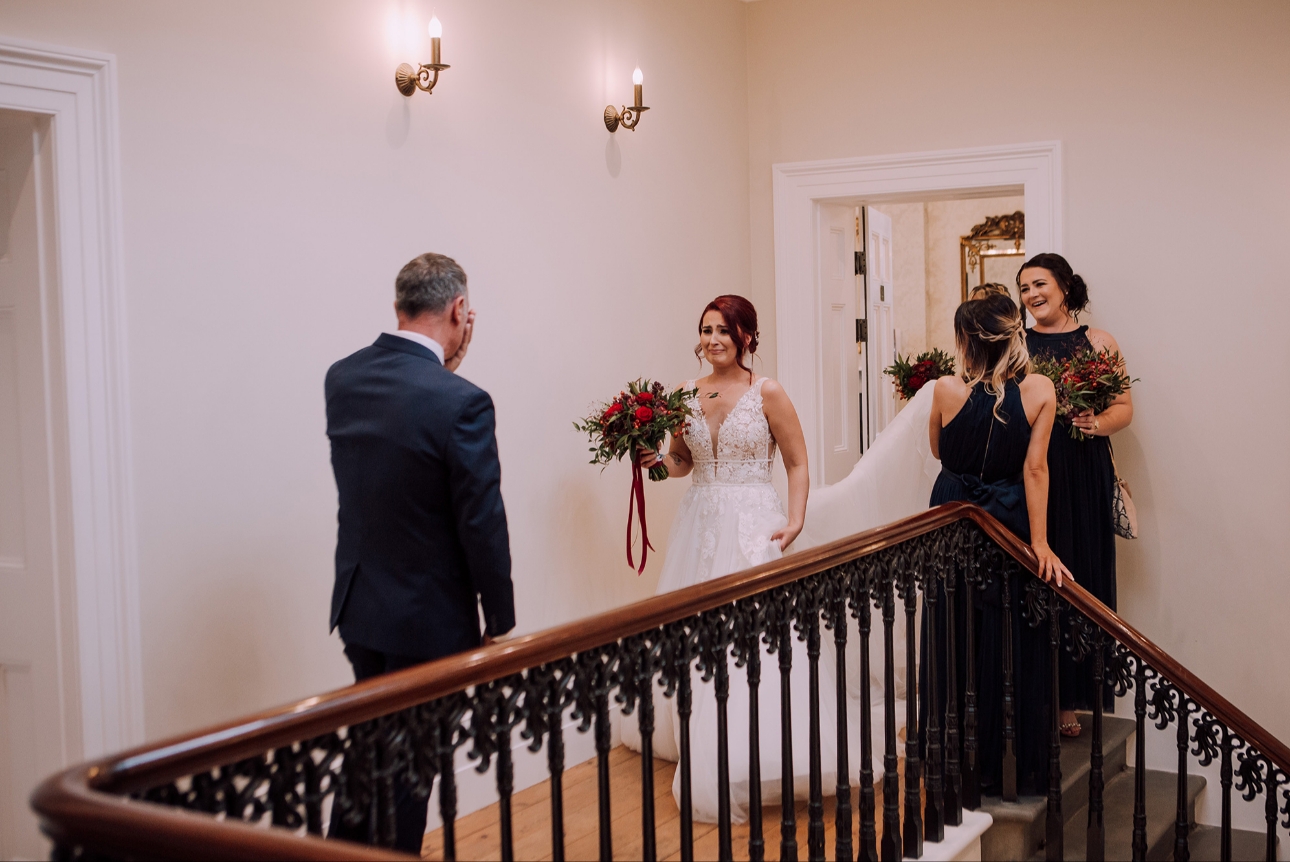 Instead of favours, the couple donated money to two different cat charities, Forgotten Felines Cat Rescue and ARC – Anna's Rescue Centre."

The table plan was made by my maid-of-honour," recalls the bride. "The card used for the numbers was the same as the menu cards on the tables. We featured my cat, Otis, in the middle of the table plan as I'm a bit obsessed with him."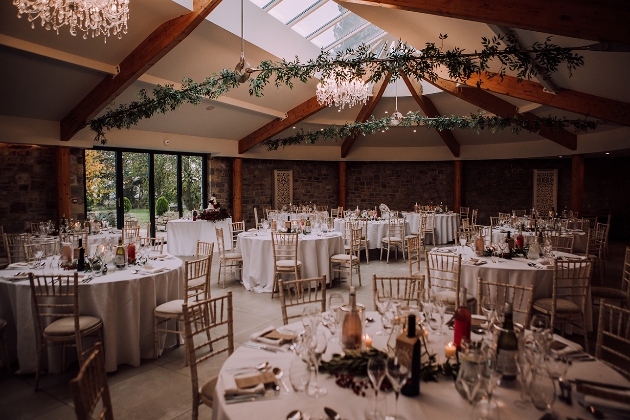 For the centrepieces, Katie and Shaun opted for geometric glass lanterns with gold lining, small tea lights and greenery. "We felt the candles made the venue feel warm and cosy," adds Katie. "We wanted to keep the centrepieces simple and practical so that everyone could see and interact with each other."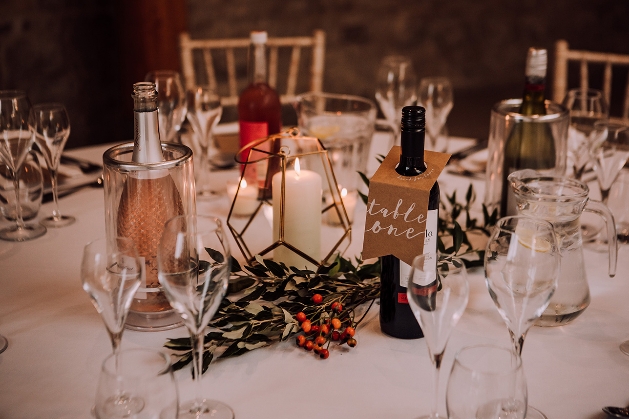 "When I first discussed my flowers with Hayley from Misselthwaite Flowers Ltd, I requested lots of burgundy and deep reds with a Gothic/moody twist," says the bride. "I gave all creative freedom to Hayley in terms of what flowers to use and the design, and she did not disappoint! I had no clue what the arrangements were going to look like and when I saw my bouquet I cried (a lot). All the flowers were everything I wanted, and so many people mentioned them on the day. I've now had my bouquet preserved using resin."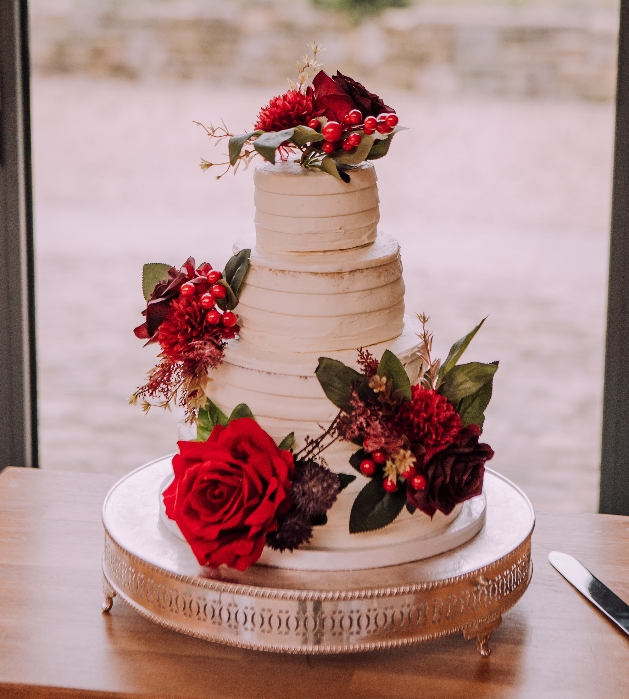 The cake was a four-tier design made of jam, buttercream and lemon from Onecake Ortwo. "The artificial flowers for the cake provided by Misselthwaite Flowers Ltd were perfect," shares Katie. "The blooms matched our colour scheme perfectly, and you would never believe that they were artificial."

"In the venue's entrance, we had a letter board stating the order-of-the-day, a card box and artificial rose petals," explains the bride. "We had pictures of our animals dotted around the venue, which gave me comfort knowing they weren't forgotten on our big day. We also had two photo frames, one with a picture of my late grancha and another with a poem about remembering loved ones who couldn't be present. We wanted to make sure that our wedding was very personal to us and sentimental."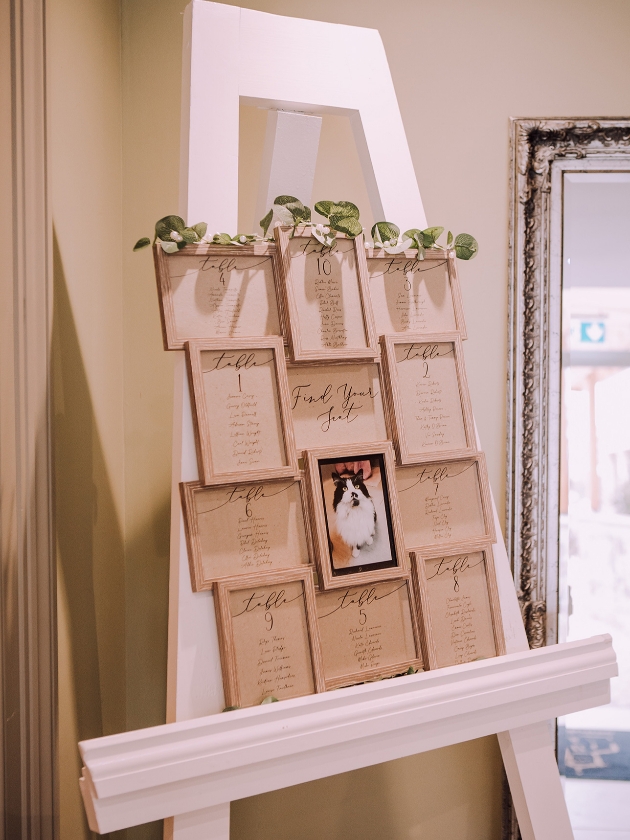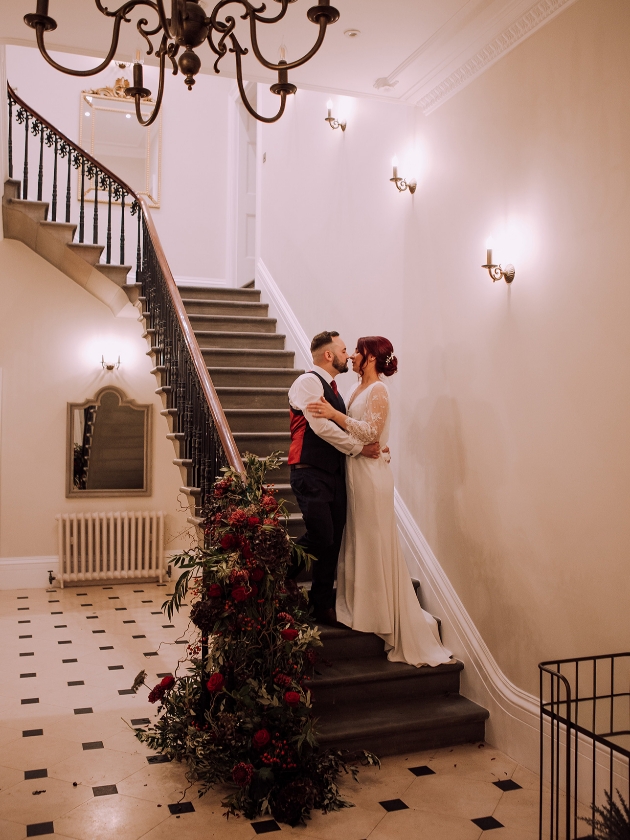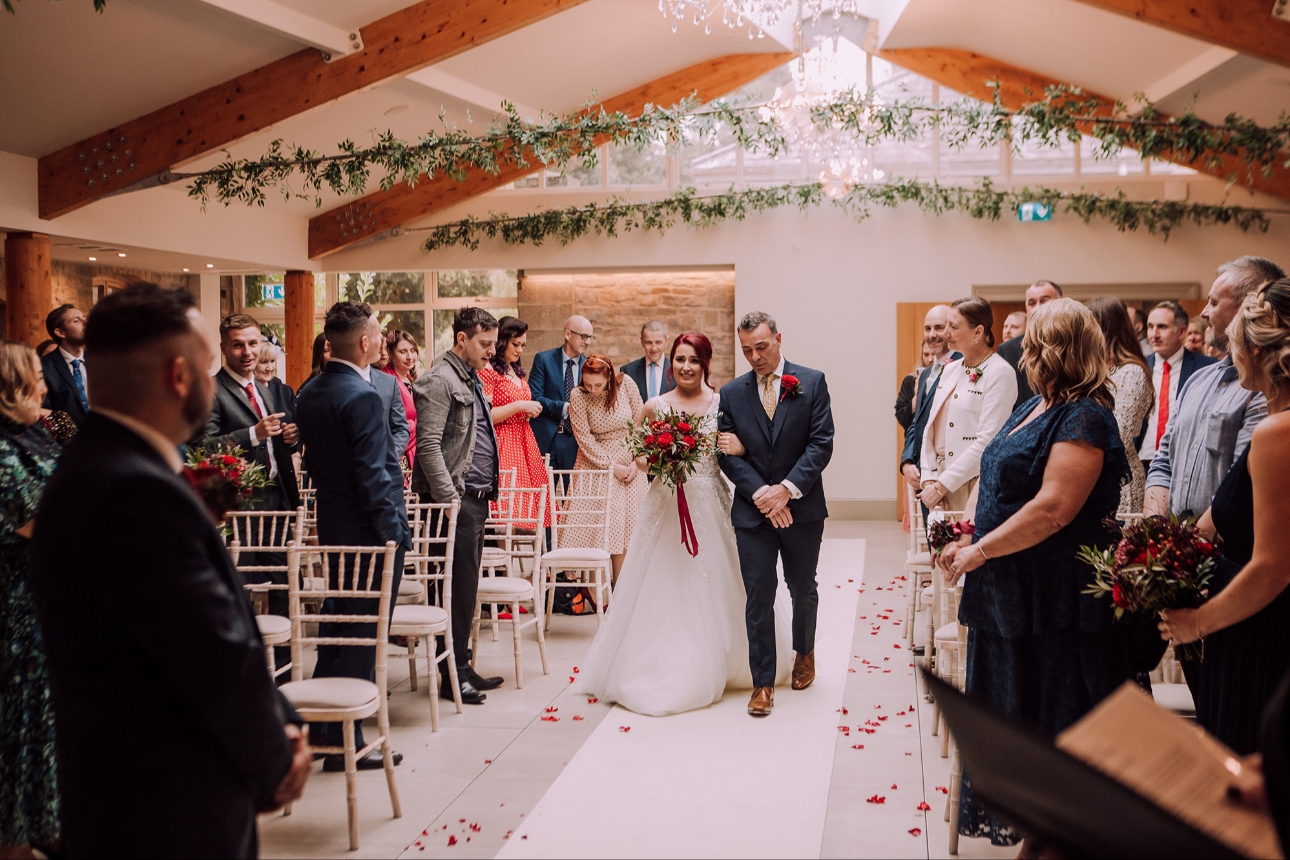 "I wore a Morilee gown called Rosa from Willow in White Bridal Co," recalls Katie. "The dress was the opposite to what I thought I wanted, but as soon as I put it on, I felt so special and emotional. From the detailed lace to the long, intricate train, it felt like it was made for me. To accessorise, I purchased a veil with clusters of pearls that matched my hairpin from VsFilipchenko on Etsy. I was also given a Clogau bracelet from Shaun as a wedding present. It was part of the Princess Diana Collection, and I wore it on the day as my something blue as it had a sapphire on the pendant. I also had a second dress in the evening, which I purchased many years ago. It was perfect for dancing and was light and comfortable."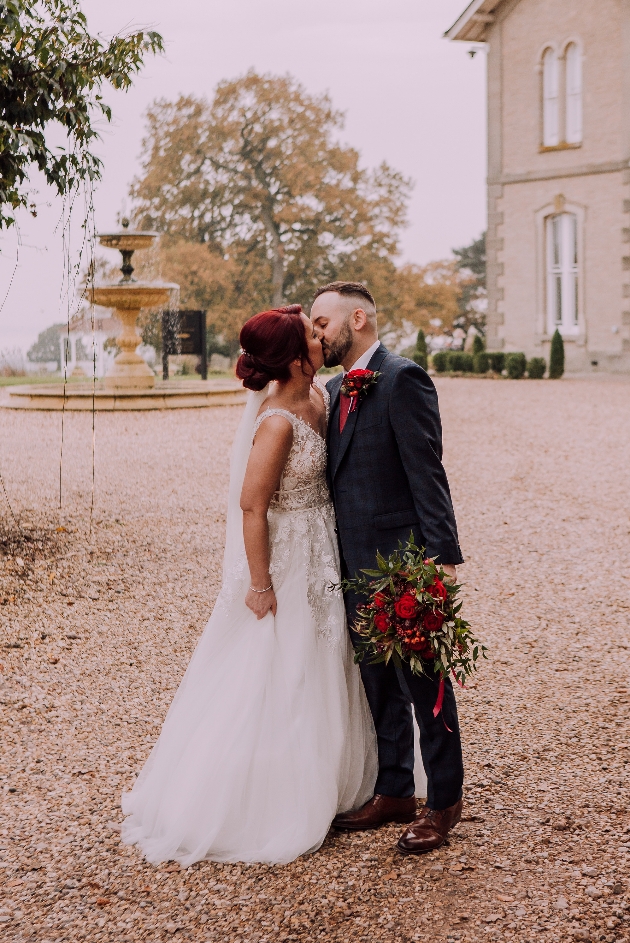 Shaun chose a three-piece navy Ted Baker suit from Slater Menswear in Cardiff. "We chose a design with a brown check running through it to help him stand out," adds the bride. "He also had a rose buttonhole to match his tie."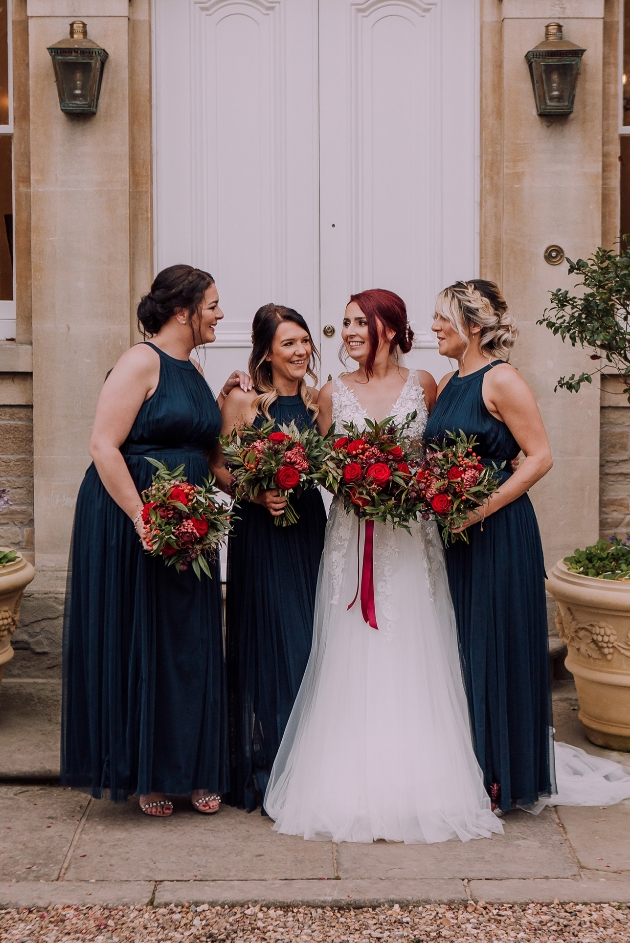 "The bridesmaids opted for navy halterneck dresses from Next," says Katie. "My dad got married three weeks prior, and this is the dress I wore to his wedding. I loved it so much that I decided to put all my bridesmaids in them. It turned out great because the navy went so well with the flowers."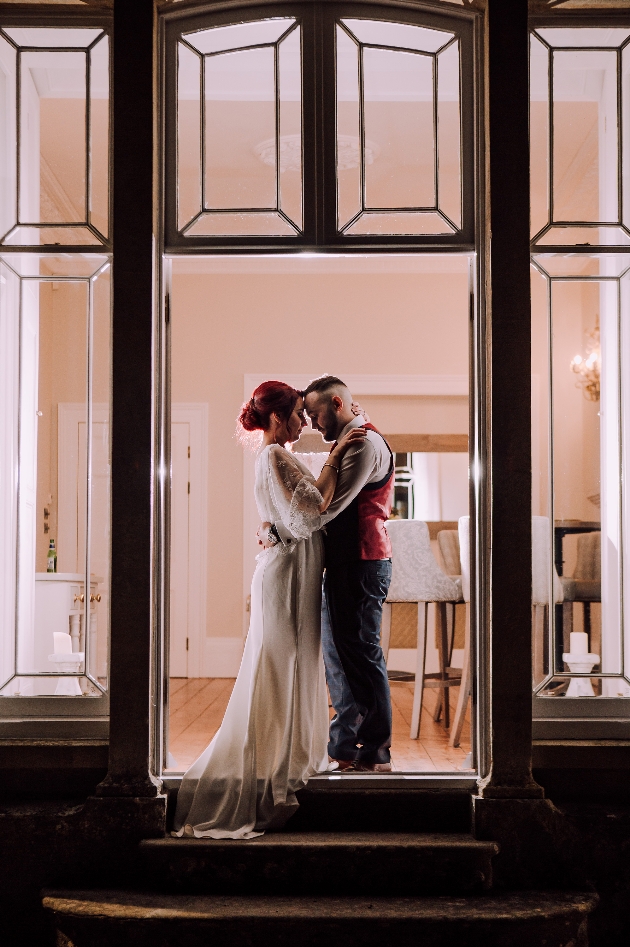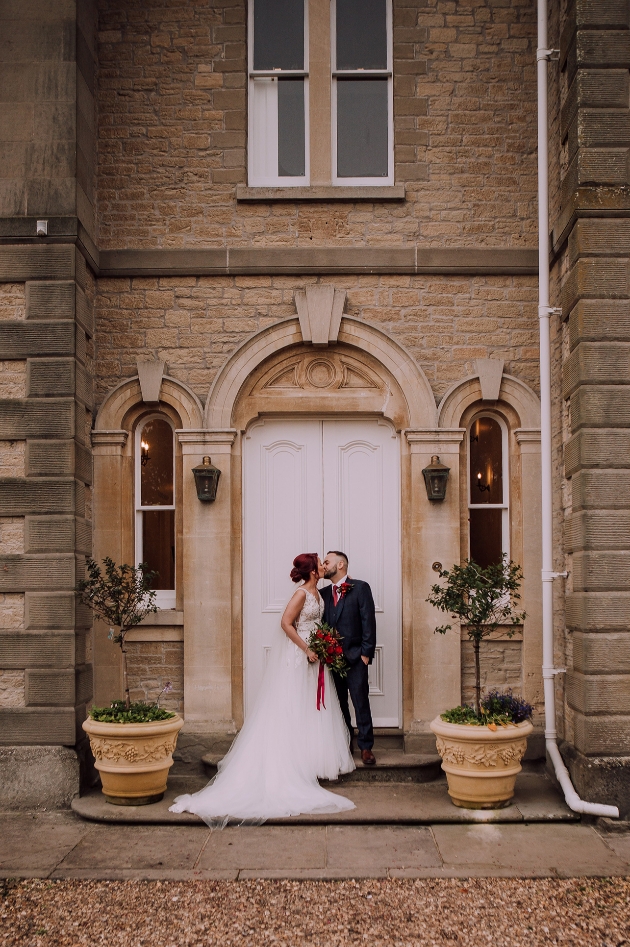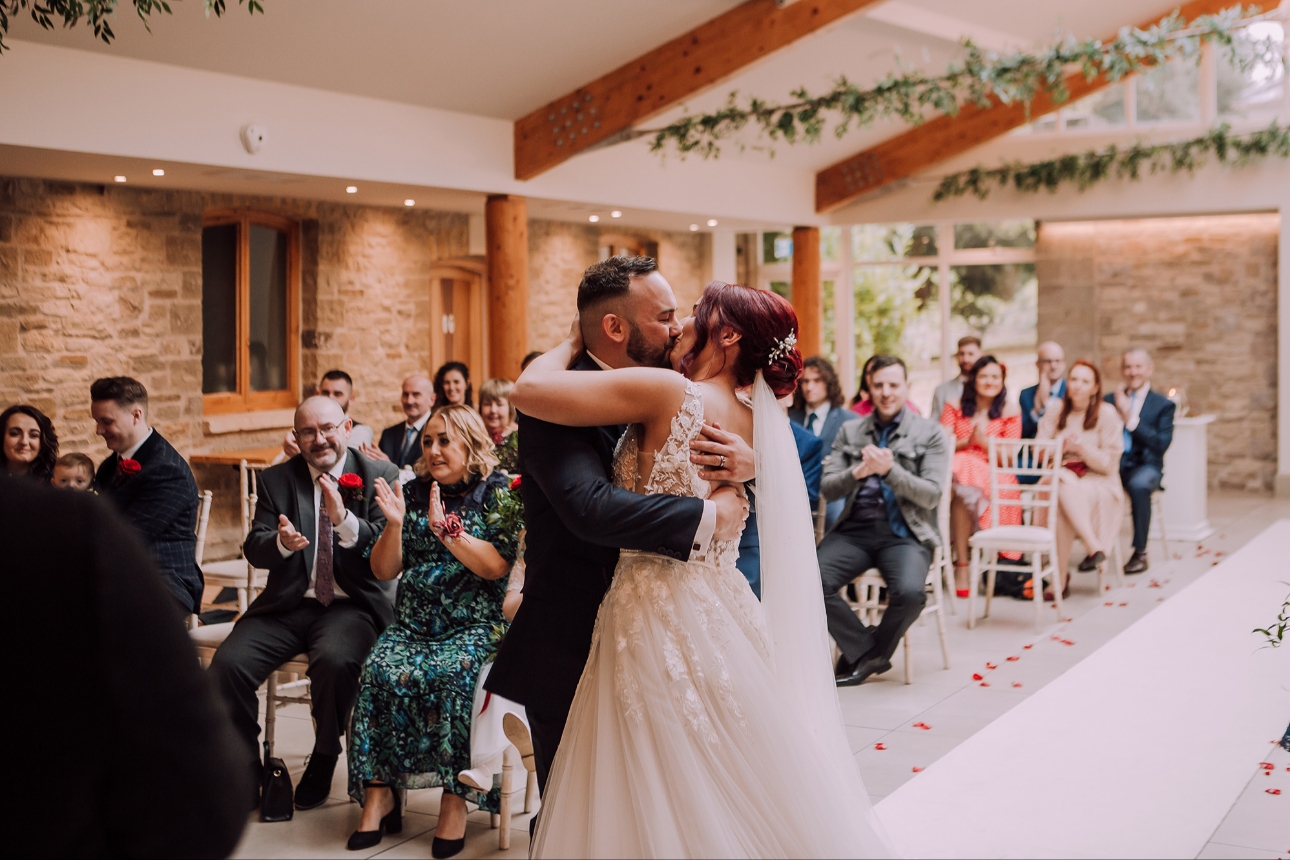 "We decided not to have entertainment at the drinks reception or wedding breakfast, purely to be cost-effective," shares the bride. "There were lots of people mingling and chatting that it worked out great. We did have a Spotify playlist playing throughout, and then Boutique Disco kept everyone entertained in the evening. Our friends and family loved them, and they played music that got our guests up and dancing."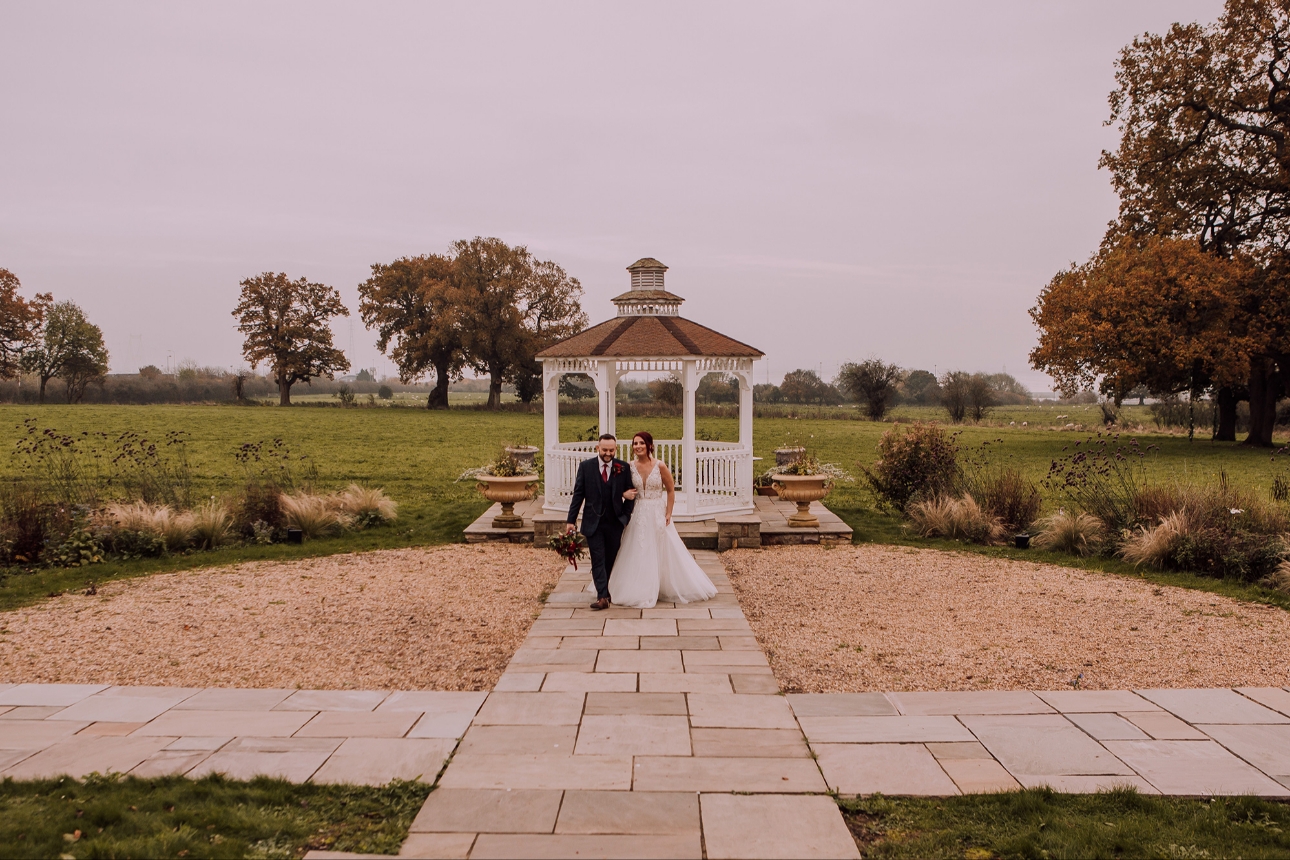 "I remember feeling quite calm in the morning, however when my make-up was complete, I wanted to cry," explains Katie. "When my mum had her make-up done, I wanted to cry again. I cried a lot, but it was because I was extremely happy. I have never felt so proud of my friends and family. It's a feeling I can't describe, and I wish I could have bottled it and kept it forever. I think by the evening, everyone was so tired from all the tears shed!"The happy couple had the perfect ceremony. "When I started walking down the aisle, Shaun and my dad couldn't hold back the tears," recalls the bride. "I just remember seeing my mum and Shaun, it was as if I had blinders on and couldn't see anyone else in the room, and it was a special moment for us all."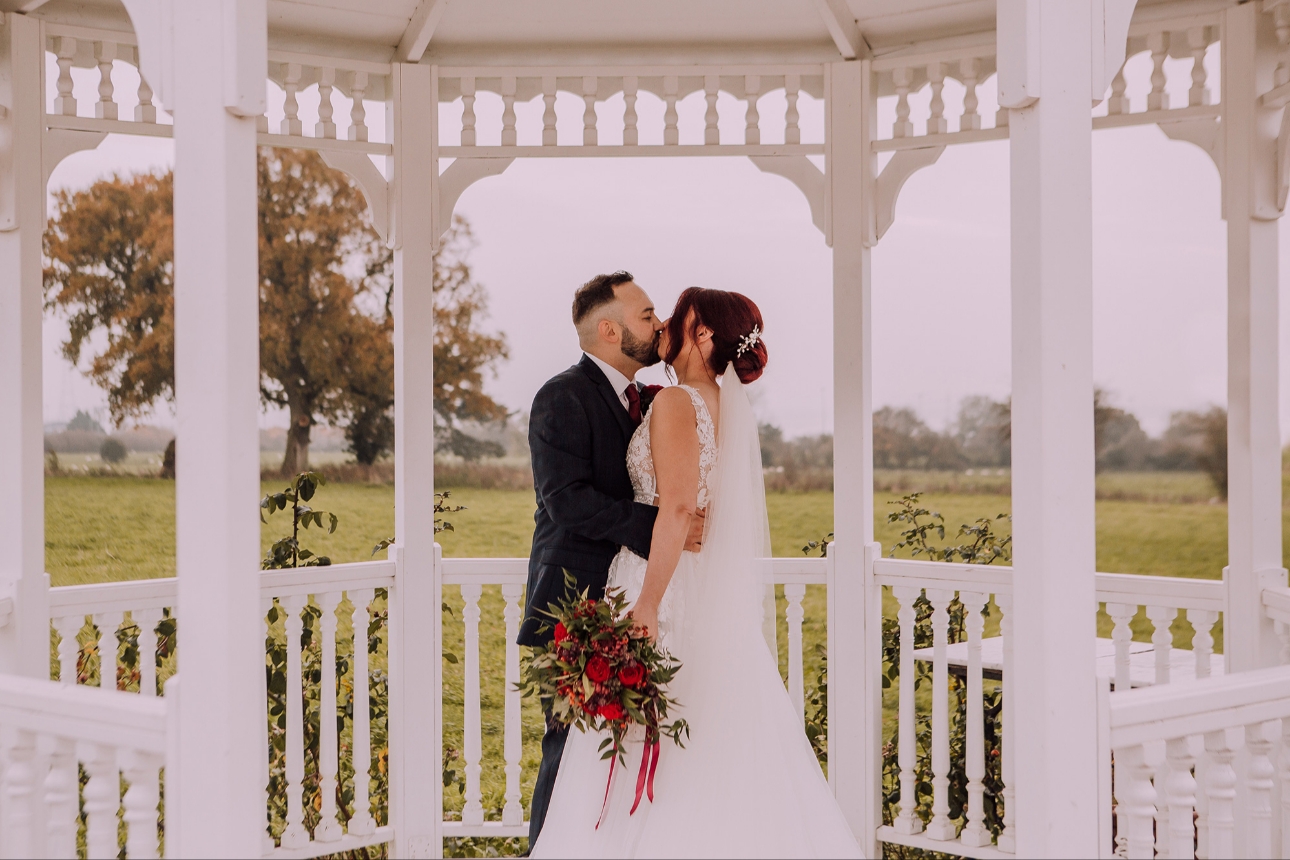 "The speeches were a highlight for me," adds Katie. "I don't think there was a dry eye in the room. I also loved the 15 minutes in the evening where Shaun and I had some time to ourselves. We had a glass of champagne, a cwtch and a chat. It gave us a moment to reflect on what we had just accomplished."

The day didn't go quite according to plan. "The best man, Nathan, got extremely nervous about his speech and started drinking quite early to calm his nerves," says the bride. "When it came to doing his speech, many people commented how it was the funniest speech ever as everyone knew how intoxicated he was. He never got to finish and repeated his lines quite a few times. The master of ceremonies, Rhys, asked the crowd to give a round of applause halfway through and sat him down. It ended up being one of the highlights of the wedding."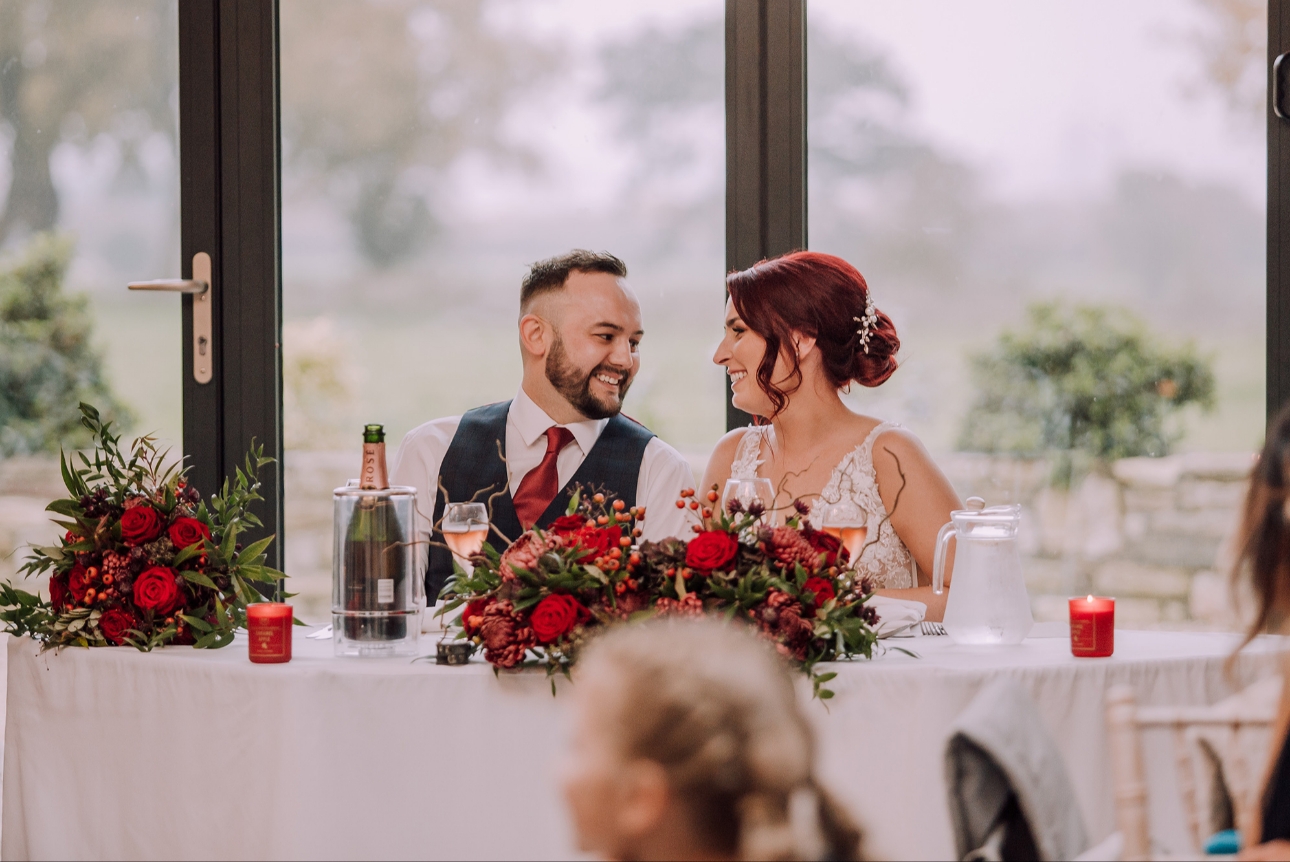 "All our suppliers made the day so easy and special," shares Katie. "Kirsty Rowlands Make Up Artist made the bridal party, and I feel so beautiful and was so easy to talk to. Anna Williams Bridal Hair Specialist and Lauren Owens Photography helped get me into my dress and it allowed us to have a much-needed breather. Our videographers, James and Cory from Posh Bear, helped Shaun in the morning, running into the bridal suite with him when I wasn't there and directing us both throughout the day. Hayley from Misselthwaite Flowers Ltd went above and beyond, answering any questions late in the evening and going through the wedding journey with us. Everyone made us feel so special on the day."