Amrit and Ash met during their second year of university. "We were put into a group together in one of our seminars and slowly got to know each other," says Amrit. "We eventually started dating the following summer. We have the same sense of humour and connected through music. We would often give each other recommendations, and when I had a radio show at university, Ash would send requests in. Once we graduated, we saved up and went travelling around the world for four months. We knew we wanted to be with each other forever, so we decided to move in together. Ash is from North Wales and I'm from the Midlands, so we agreed that wherever one of us got a job, we would move there. Ash got a job in Cardiff, and the rest is history."

Ash proposed in 2019. "We had not long bought our own house, and everything felt settled," shares the bride. "He took me back to our university, where there is a beautiful manor house in the grounds. We walked for about an hour in the freezing February wind. I love trees, and Ash kept stopping to admire them. I was on tenterhooks thinking, 'is this it?' but he didn't ask! We walked back to the manor, and I was admiring the view of the fields when I felt a tap on my shoulder. I turned around and there he was on one knee with the most beautiful ring! He quickly asked me to marry him, and I laughed and said 'yes'. It wasn't exactly a surprise as we'd been together for seven years and I was highly suspicious when we arrived for the walk, but it was wonderful. I couldn't stop staring at the ring and didn't stop smiling for weeks!"
The happy couple booked their wedding for July 2020. "Due to the pandemic, our big day was postponed, and we were in limbo," explains Amrit. "The whole country went into another full lockdown in January 2021, and when wedding venues opened with a limited capacity, we both decided we'd had enough of waiting. We booked to get married at Castell Coch in April 2021 with just two of my bridesmaids as witnesses. We surprised everyone by telling them we had gotten married! It was a magical, romantic way to do it, but we were really excited to have a big party with our friends and family in the summer."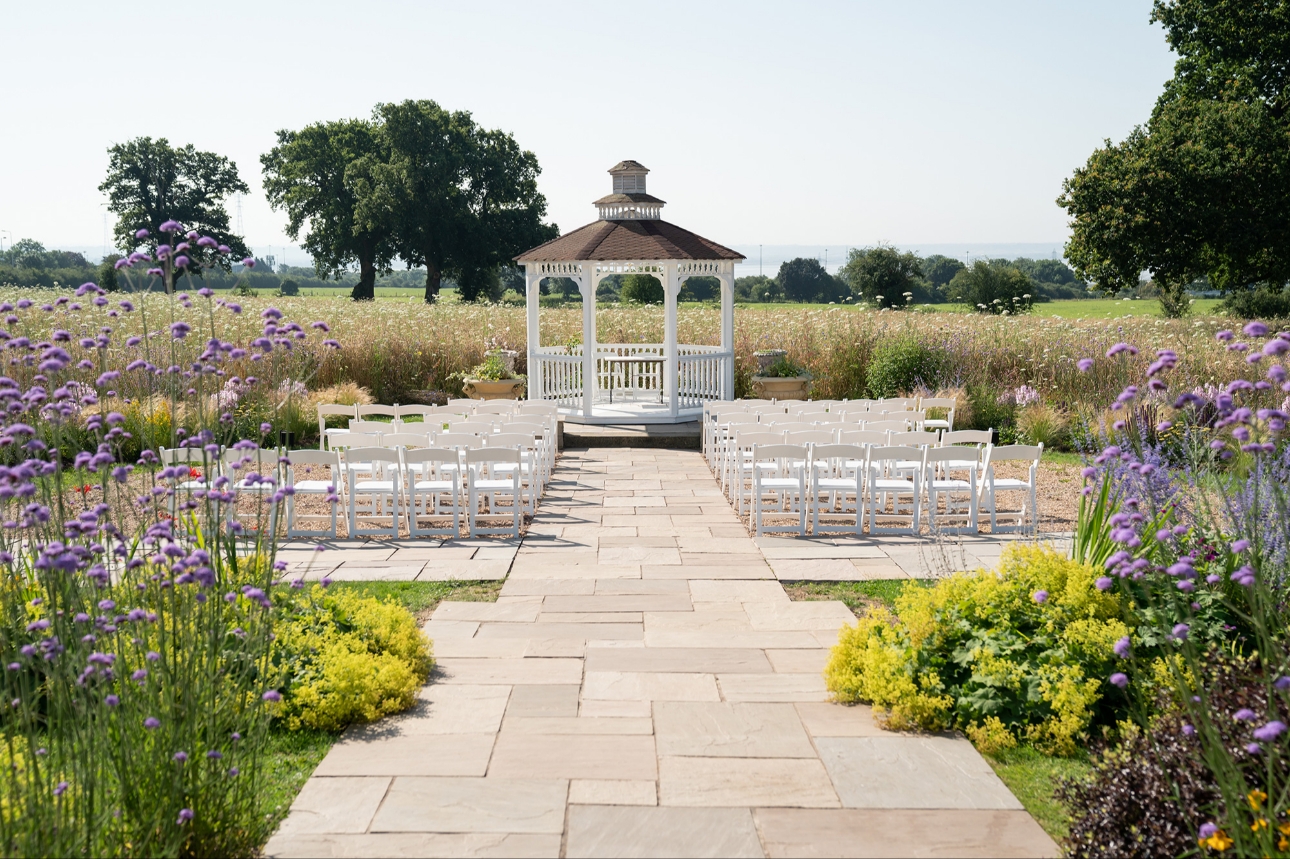 "St Tewdrics House is absolutely stunning, and we loved that it could be decorated to suit any theme," recalls the bride. "As we drew closer to the big day, it became clear that it was going to be one of the hottest days of the year! Last-minute, I ordered a large number of white fans from eBay to help keep everyone cool."

Amrit and Ash gave their guests wildflower seeds as favours. "It was really important to us that our wedding was as environmentally friendly as possible," adds Amrit. "I know from talking to friends that many people leave bulky wedding favours, so I wanted something that would be useful. Many of our guests have planted their seeds and have already told us the joy they feel at seeing their flowers grow. These also doubled up as our place names which saved us from having to order more items or waste card."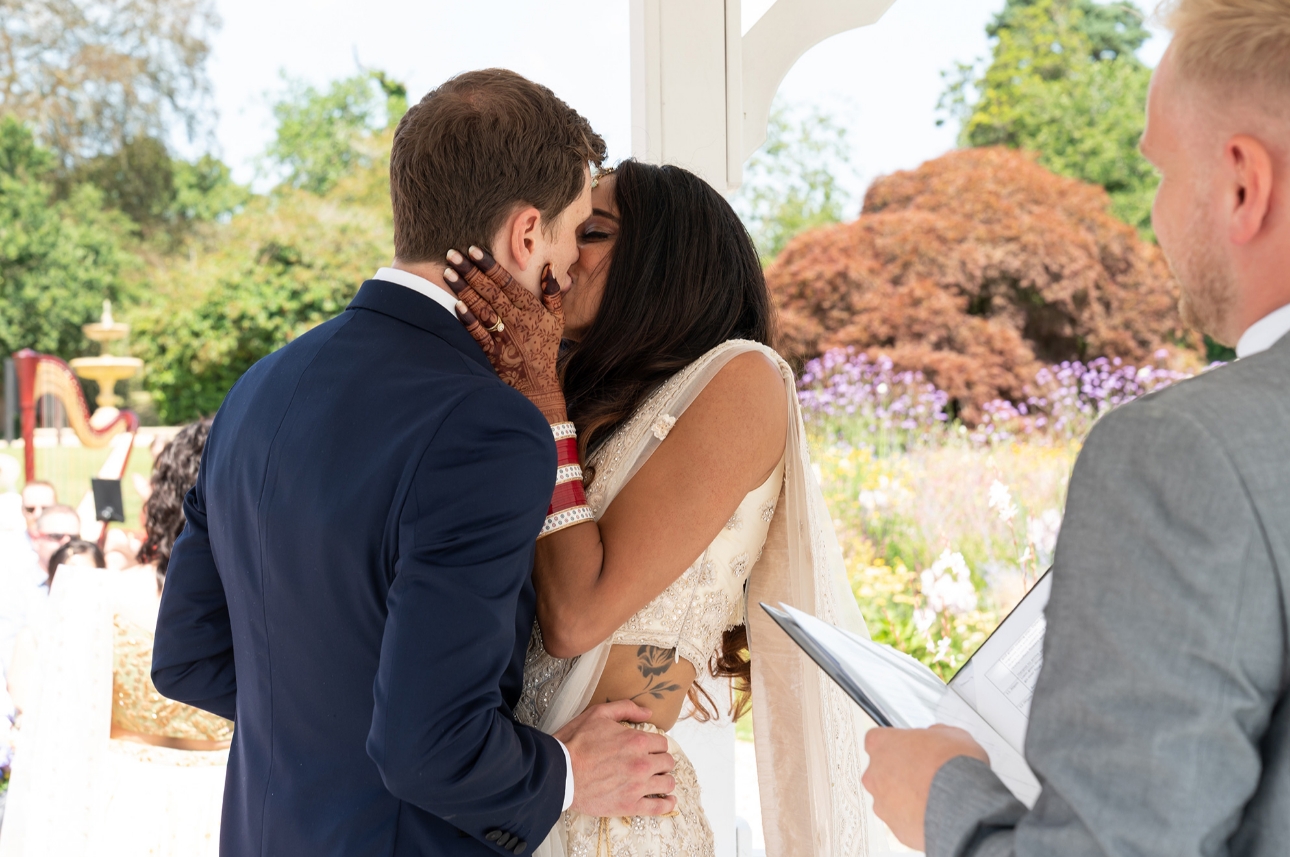 "Our table plan was a custom-made map of the world with a quote from Lord of the Rings on," says the bride. "This allowed us to make the most of the travel theme in a meaningful way. Our tables were named after some of our favourite places we have visited. I purchased some kraft card tags and asked one of my bridesmaids to use her calligraphy skills to write the guests' names. These were then pinned to each country on the map. As we wanted our items to be multi-purpose, this doubled up as our guest book. I used chalk pens to write guidance onto a pretty mirror we had lying around, asking for guests to write bucket list ideas for us to complete throughout our lives. It worked well, and we've kept the tags safe in our wedding scrapbook."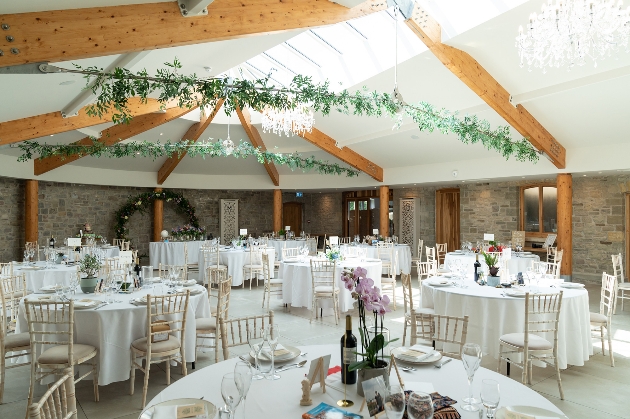 For their centrepieces, Amrit and Ash used souvenirs. "We wanted to avoid buying things that would end up in the bin, so we used items we had bought from different countries and asked our guests to supply some," shares Amrit. "We also left guide books on most of the tables for guests to peruse as we wanted them to leave with a new interest in a place they may have never thought about visiting."

"Instead of flowers, we asked our florist, Catherine Gray Flowers, to source plants from each of the countries that our tables were named after," explains the bride. "Each was placed in a pretty pot and were used as gifts for the wedding party. I was keen to inject as much colour into the wedding as possible, as traditional Indian weddings are such colourful affairs, so we went for bouquets that had lots of variety. We wanted them to be as environmentally friendly as possible, so we opted for locally-sourced, seasonal blooms. I had a gorgeous trailing bouquet, and the bridesmaids had smaller matching versions. In addition, we had a moonring covered in matching flowers which was the backdrop for our sweetheart table during the wedding breakfast. For the confetti, I went with traditionally Indian colours of yellow and pink from Shropshire Petals."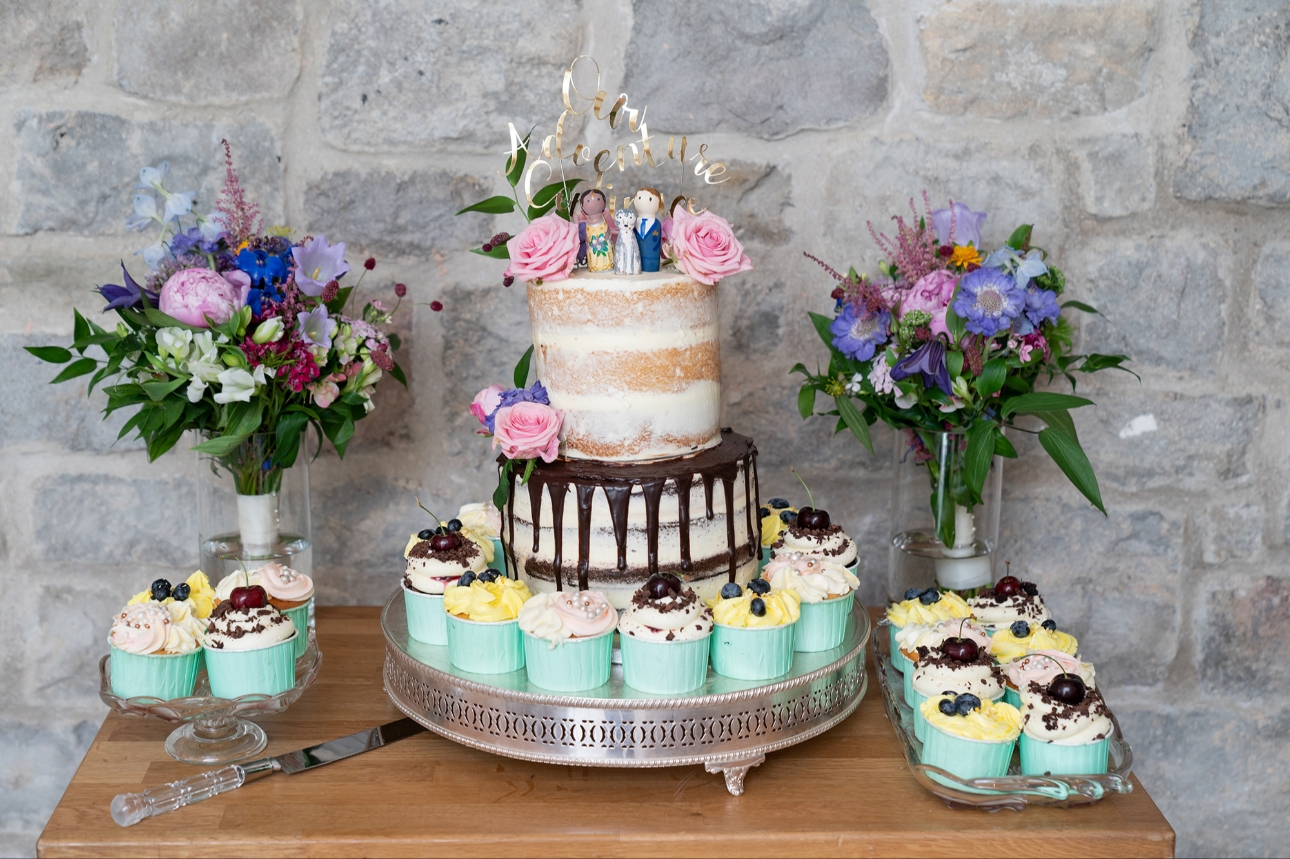 Their two-tiered cake was provided by Llwy Pren. "We love sweet treats, so we wanted lots of different flavours," recalls Amrit. "We opted for individual cupcakes in four different flavours, and the main cake was made up of rose and vanilla and chocolate. The decorations were really beautiful, and one of my bridesmaids had made tiny figures of us and our dog, Gelert, as a surprise gift."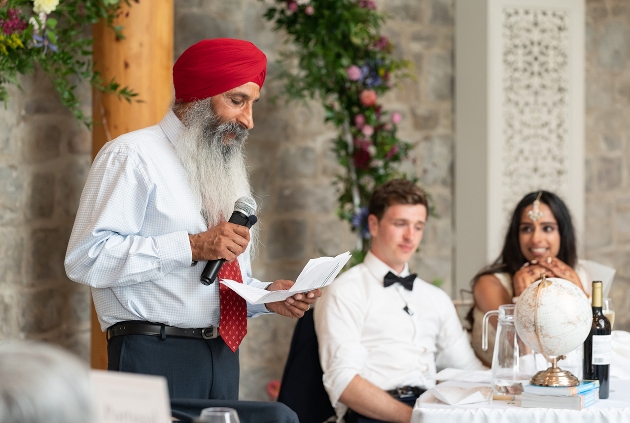 "It was really important to us to remember all of the people who couldn't be at our wedding for various reasons," adds the bride. "I asked both of our families to supply framed photographs of family members who had passed away or couldn't be there. We wanted to do this for our parents too as we knew that they would be missing these key figures on our special day. I used some white candles and some of the confetti to give the memory table a special celebratory and memorial look."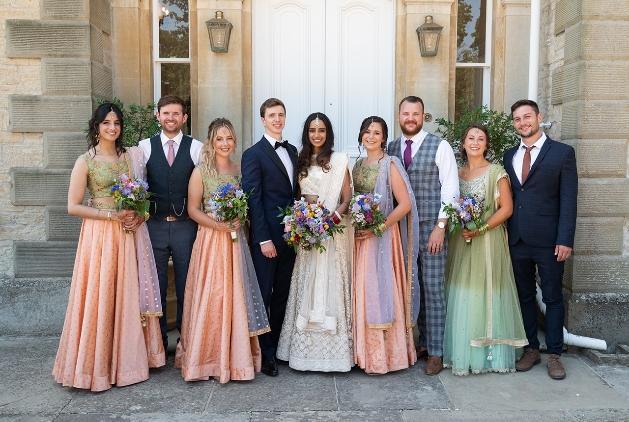 Rather than giving their guests food options, the lovebirds wanted to provide their friends and family with an exciting food experience. "We worked closely with our caterers, Cleverchefs, to create an East meets West family-style feast," says Amrit. "Our guests shared their food and got to know one another, and it was phenomenal."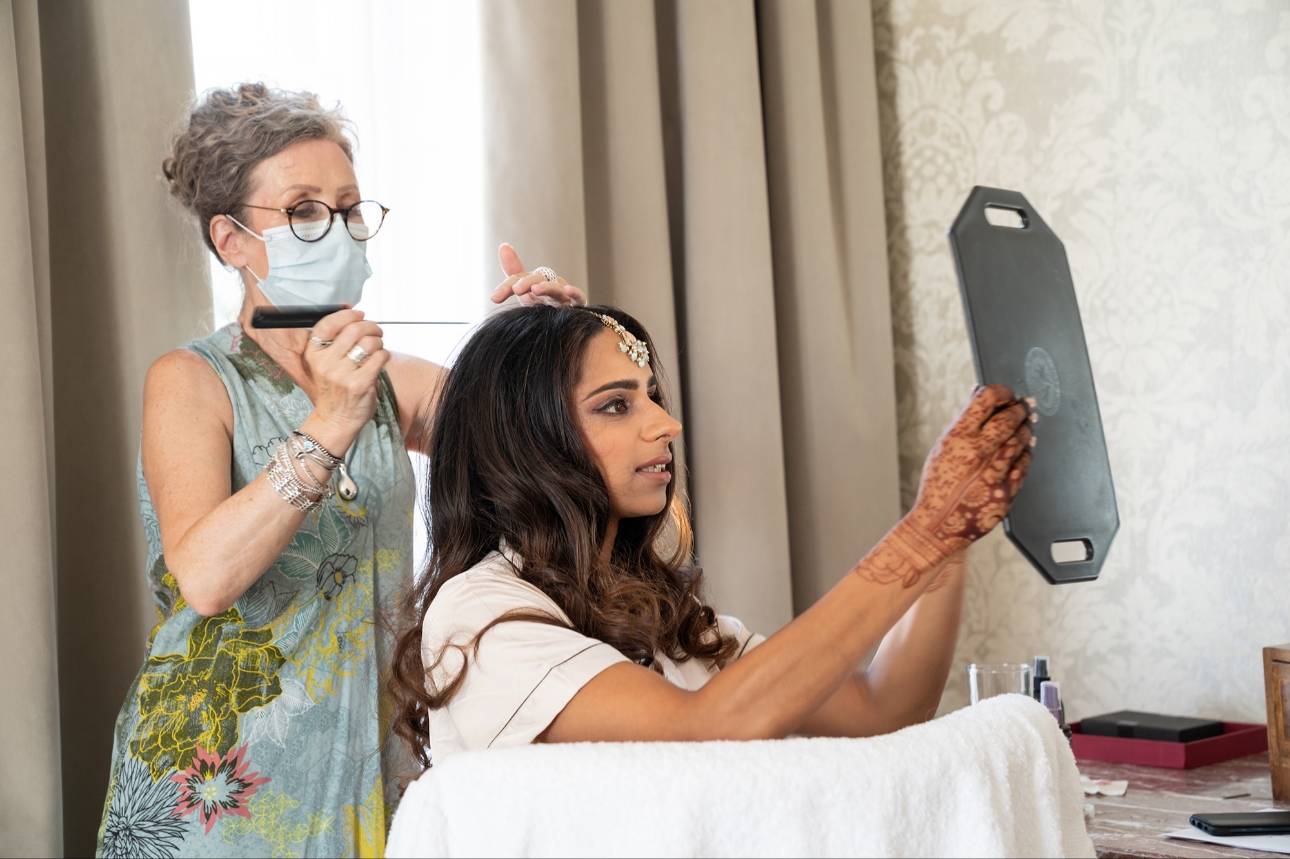 "I wore a lehenga, which I purchased in Birmingham," shares the bride. "I knew I didn't want a traditional white dress as that's not what weddings looked like for me growing up. However, I also didn't want to wear the traditional red. I wanted something fairly simple that would complement my figure and skin tone. I ended up going for the third outfit that I tried on, which was perfect for me. It had beautiful intricate details and was relatively light. I wore it for our wedding in April and during the day in July. However, for the evening I splashed out on a stunning gold-studded outfit, which was much more glamorous – I felt like a Bollywood star in it!"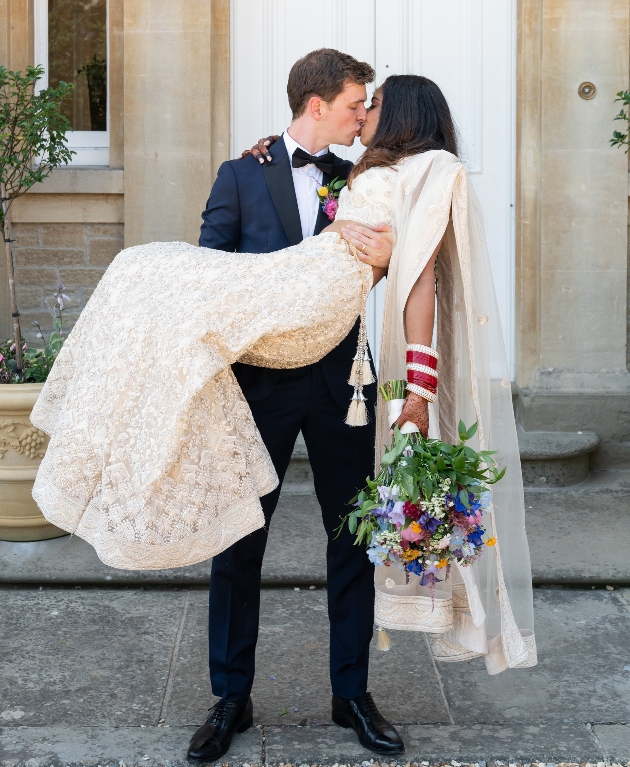 Amrit invested in some beautiful jewellery for the big day. "I found a necklace, earrings and tikka set with peach and green stones which matched the bridesmaids' outfits," Amrit explains. "I teamed it with traditional bridal choora, red and white wedding bangles, which are the mark of a new bride. When our wedding got postponed in 2020, I already had my outfit ready and had splashed out on my dream shoes from Harriet Wilde, which I had my eye on from the moment Ash proposed. I wore those for our secret wedding and again for the party in July before changing into more comfortable gold heels for the evening. I also had a custom-made clutch bag from Atiya Choudhury, which matched my shoes. I plan to use the shoes and bag on our wedding anniversaries for the rest of our lives. I finished my look with hair and make-up styled by the talented Janet White-Ashby & Co."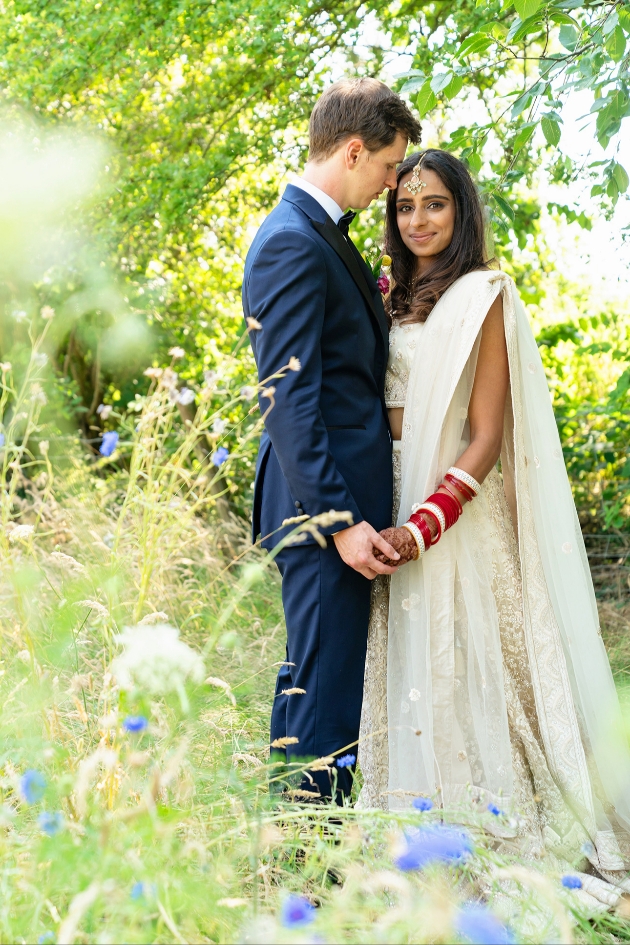 "Ash chose a navy tuxedo with a black lapel, and his groomsmen opted for black tuxedos," recalls the bride. "He wanted a different kind of suit to his everyday work attire, so a tuxedo felt really special."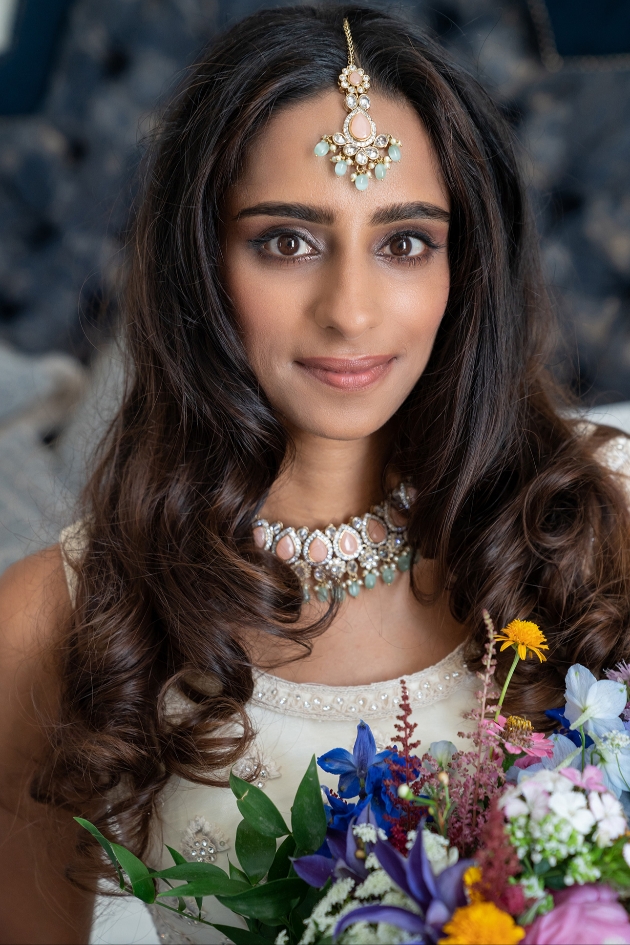 The bridesmaids wore lehengas. "Three had green tops with gold embroidery and peach skirts while my maid-of-honour wore a different style," adds Amrit. "It was lovely to have some variety and to have her stand out, especially as it was her birthday on our July wedding day!"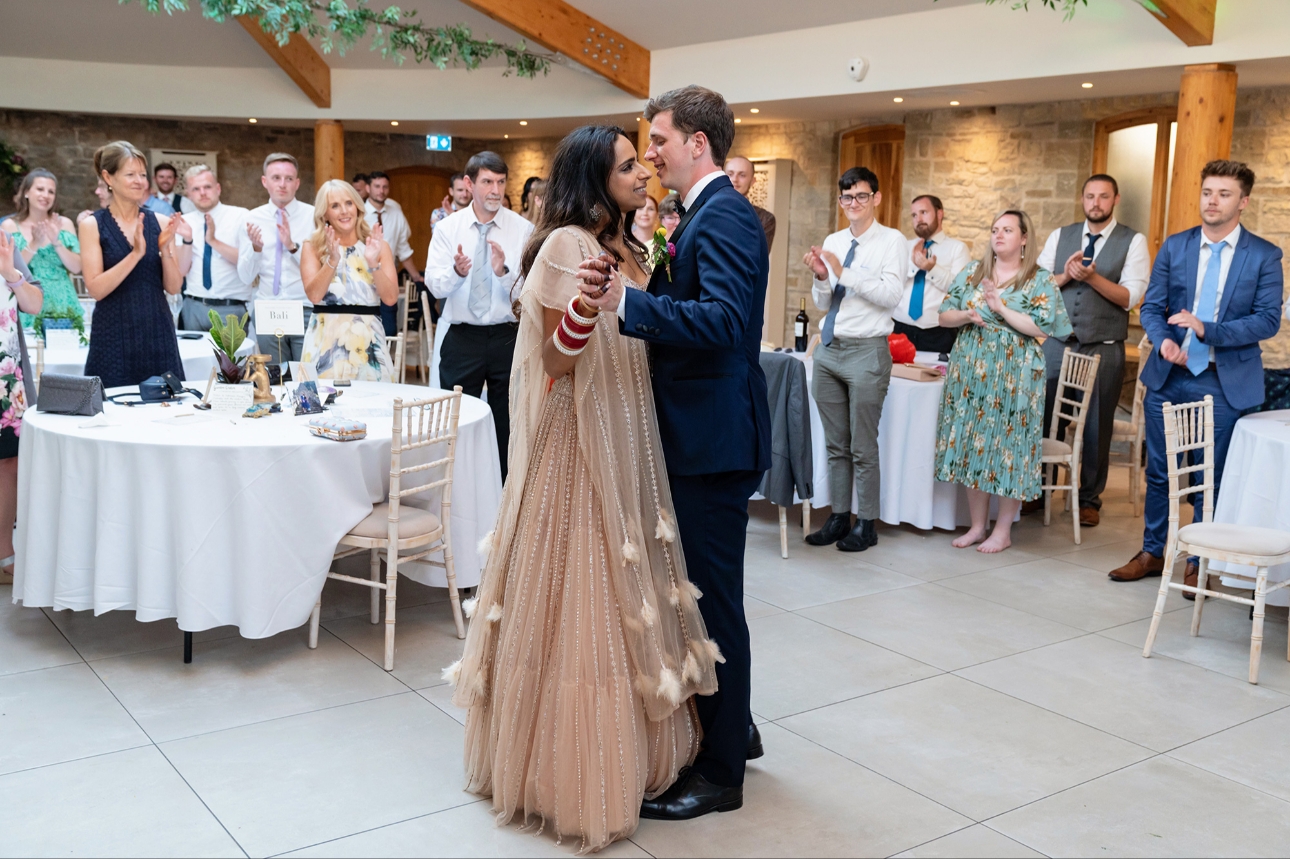 "Music is really important to us, so we curated a playlist of songs that have been central to our time together, which played from after the ceremony until the speeches," says the bride. "We hired Silver Trailer Photo Booth, which was an incredible addition. Our guests loved going into the retro trailer and having their photos taken with the props."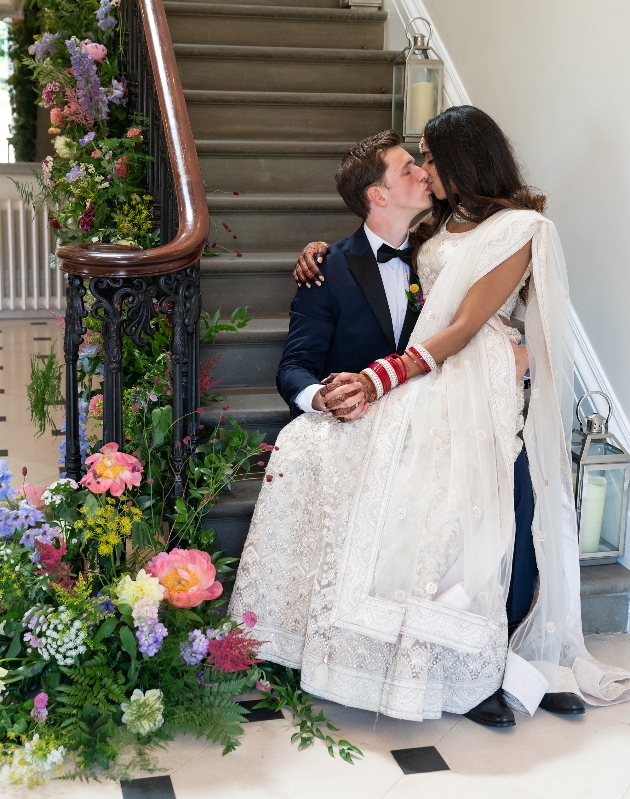 Amrit and Ash had Elite Drummers perform their first dance. "A dhol is a drum that you wear across your body, and it's played with metal sticks," shares Amrit. "They feature at every Indian wedding, often being used to announce the bridal or groom party and to announce the newlywed couple into the evening reception. This was the highlight of the day for both of us. It was such an amazing feeling to have them play us into the venue and to perform their incredible talent for our guests. This was even more important as it was mostly Ash's family and our friends; only three members of my own family were able to attend due to travel restrictions and the pandemic. This gave our wedding guests a real taste of a Punjabi wedding, and they loved it. I also chose my favourite song from the famous Bollywood film, Kabhi Khushi Kabhie Gham, to be played while we cut the cake. It was something I had visualised for years and just made the moment feel more dramatic and special."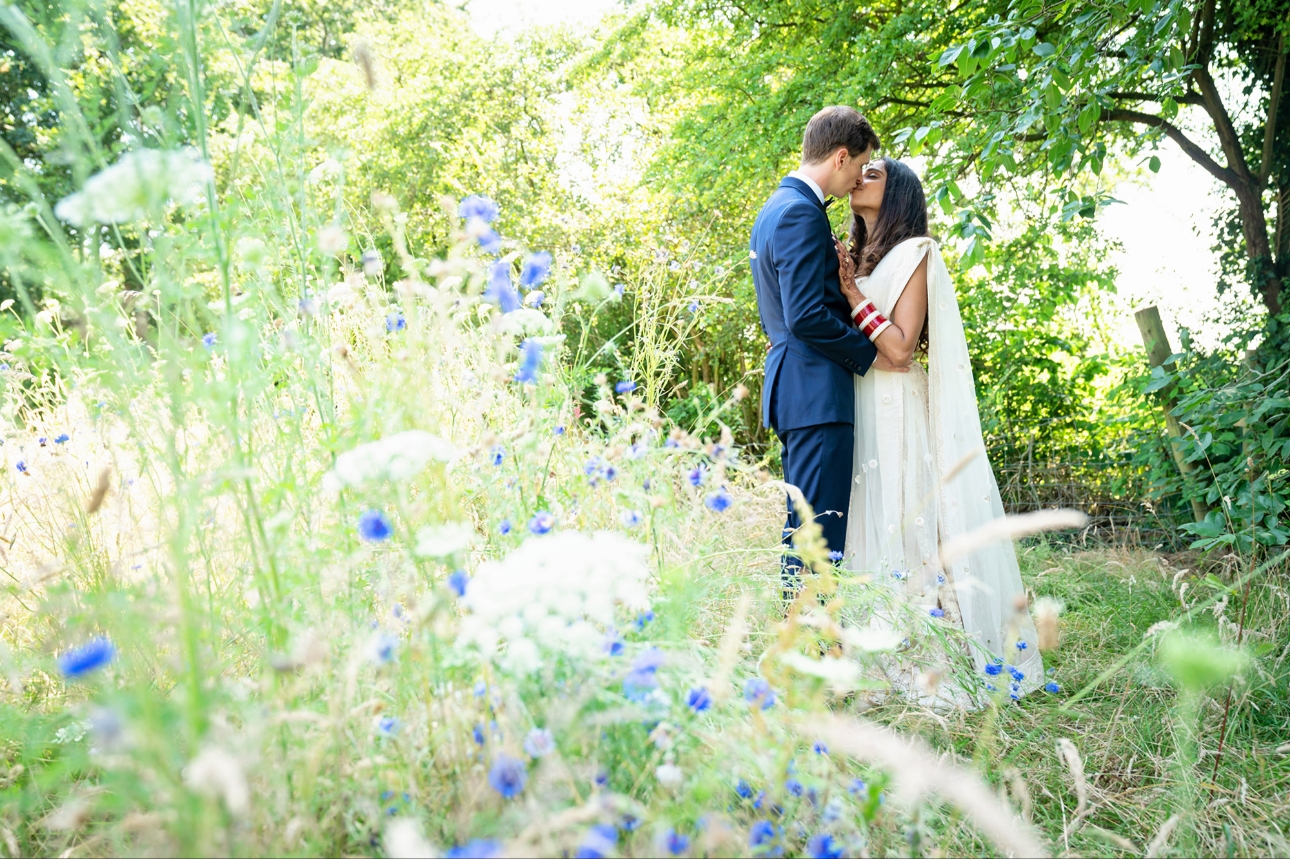 "Even though we were legally married, it was such an exciting day that felt very important and emotional," explains the bride. "Having a ceremony in front of our friends and family was the most incredible experience. As we were already legally married, we asked our close friend Liam to lead our ceremony. He did such a fantastic job and even managed to work some Lord of the Rings quotes into it. He wrote the ceremony himself, which meant that it was really personal and unique to us. There were some nerves, mostly from me worrying about tripping down the very long aisle, but it was so lovely as the legal aspect of things had been done. We could just sit back and enjoy the day."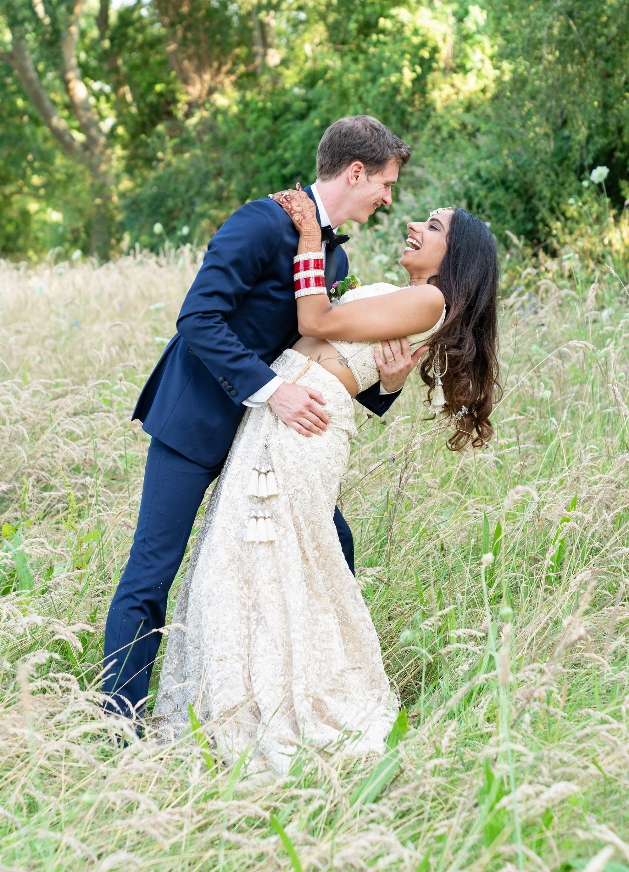 The couple hired Katie Bayliss Harpist. "She also played at our secret wedding at Castell Coch, which was a lovely touch," recalls Amrit. "Having everyone sit outside in the shade of the gorgeous trees, in the summer heat, so relaxed while our favourite songs played, was just perfect."

"Ash thought he had lost his shoes," laughs the bride. "When we arrived at the venue the previous day, I handed him a bag with his shoes in and said: 'Take these to your room.' On the morning of the wedding, he was getting dressed and realised he couldn't find them; he looked around the entire venue, the grounds, the cars and was about to drive back to our home in Cardiff (40 minutes away) when my maid-of-honour came to gently ask me if I might have seen them. I told her that I'd given them to him in the kitchen, and lo and behold, there they were."

Amrit and Ash's friends and family made the day perfect. "My dad's speech was phenomenal, and all of the guests commented on how wonderful it was," adds Amrit. "He used a really unique concept, and it was so lovely to hear him talk about us from his own perspective. There wasn't a dry eye in the room!"
Amrit and Ash's contact book