Lauren and Gaz met in the summer of 2017. "Gaz was volunteering at my cattle ranch in Wyoming," says Lauren. "We were just friends until he went to leave, and sparks began to fly. When Gaz returned to the UK, we stayed in touch and after a few days, he had already booked his flight back to the ranch. His second stay was a little more romantic, and by the end of it, I had decided to follow him over to Wales for the winter season while he got his degree."
Gaz proposed in Clyne Woods near where he grew up in Swansea on New Year's Day. "It was such a lovely spot, and it was so special that it was just us and our dog in the beautiful forest," shares the bride. "The proposal itself wasn't a surprise as we had talked about it for a long time, but it was a really special moment, and I loved the ring that he picked out."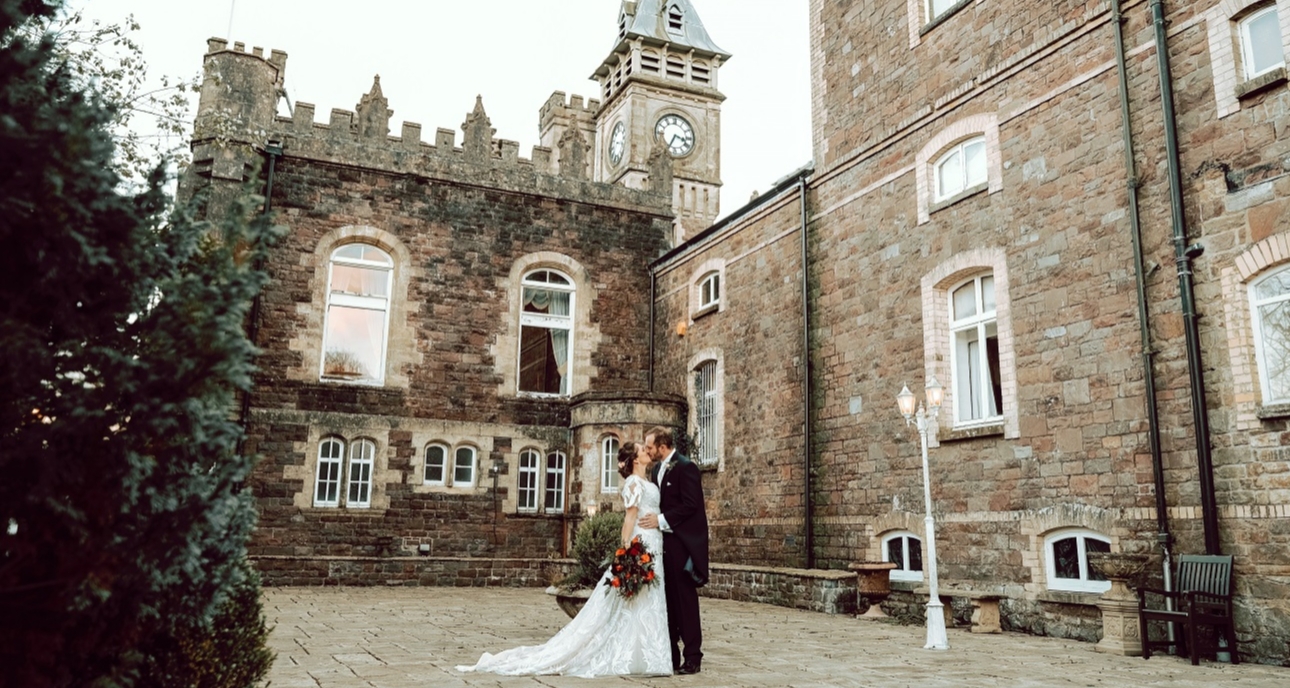 SETTING THE SCENE - "I had been eyeing Craig Y Nos Castle before Gaz officially proposed," recalls Lauren. "It was the perfect place for so many reasons! There was plenty of room to accommodate all my international guests, and we had the venue to ourselves, which meant we could set up a whole room for board games and even bring laser tag for the kids. For an American, getting married in a castle was huge! I suspect it was a big draw for our guests to book such an expensive trip. For our original wedding, that was supposed to happen in 2020, we had more than 40 guests coming from the US, New Zealand and Bali. Many of my American friends had never travelled outside of the US and while I'd like to think that they were all just really keen to celebrate with us, I think most of them were just really excited to have a massive party in a castle. While I didn't know it at the time of booking, looking back there was one thing that made our day more special than everything else combined and that was the staff! Everyone at the castle was so warm, accommodating and overall terrific! From the very start, they went out of their way to make our day special and did such a fantastic job pulling the whole thing off exactly to our specifications. Nicola was absolutely phenomenal, and did so much to bring all of my ridiculously elaborate dreams to life! Craig Y Nos Castle handled all the catering for the wedding weekend, and it would be the understatement of the century to say it was delicious. Everything from the spectacular full English breakfast to the delicious canapés and elaborate sit-down meals was beyond any expectation I could have invented in my wildest dreams. Having lived several years in San Francisco, I've become fairly spoiled with delicious cuisine, so when they served up the foodie heaven that they did, we were absolutely blown away! In the run-up to the wedding, we also ate at the Ancient Briton and the Pen Y Cae Inn, and both were spectacular as well."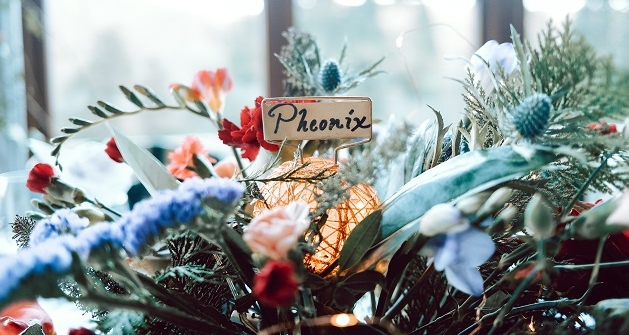 Lauren and Gaz created care bags for their guests as favours. "These included a tote bag with our custom logo, water bottles, snacks, earplugs, Welsh cakes and custom-made coasters for guests to identify their seats," explains the bride. "We love astronomy, so we named each table after a different constellation."

"The centrepieces were floral arrangements done mostly by my dear friend and florist, Samantha Shorts from Heide's Fresh Cut Flowers, who flew over from the US," reveals Lauren. "The flowers were by far the most elaborate aspect of our wedding.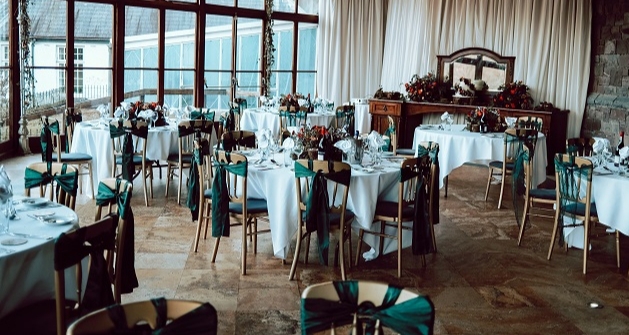 All arrangements were overseen by Samantha and bought in Swansea. Samantha worked with me and several of my friends to build two massive flower walls, 10 table arrangements, four mantelpiece arrangements, a floral garland for the cake, six bouquets and 17 buttonholes and fascinators. I cannot express enough how accommodating, and helpful the Craig Y Nos Castle staff were in helping us to realise our vision for the space. Not only did they allow us to gather foliage and ivy from their grounds, but they moved arrangements from one room to the next to maximize the use of the arrangements."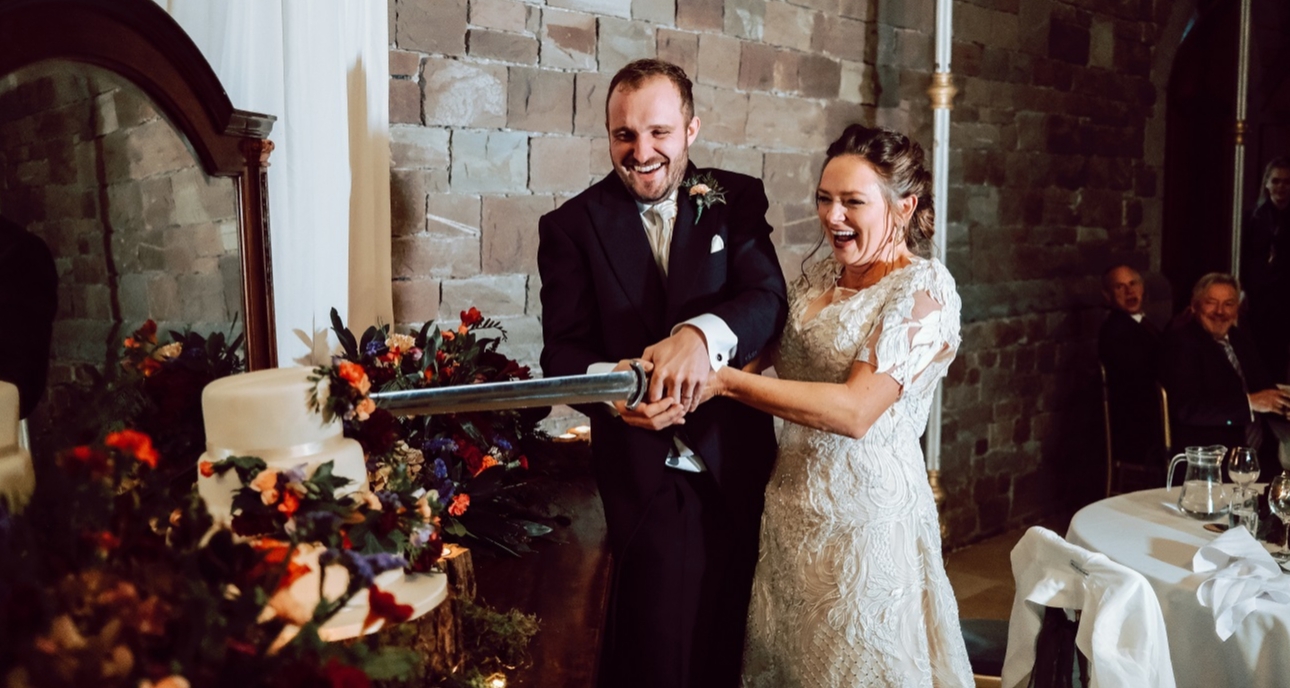 The couple's cake was decorated with a floral garland. "We were lucky enough to be lent a sword by a friend of mine who is a historian," adds the bride. "It meant we could cut it in style."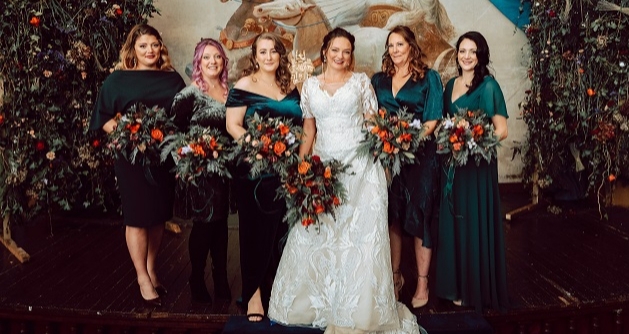 DRESSED TO IMPRESS "My dress was designed by Lili Butler, a close friend of the family who happens to be a high-end American fashion designer," says Lauren. "When she found out I was engaged and had picked Craig Y Nos Castle as a venue, she started planning the dress. We picked out the fabrics in New York, and she painstakingly set her team to work on the elaborate gown, which was quite literally made to be worn in a castle. The whole dress is made out of various types of silk and was made with well over 50 yards of material. It was accessorised with borrowed diamond and pearl earrings and shoes that I had dyed to match the aisle in the castle's theatre. It's also worth noting that Julie Holmes Make up Artist did a fantastic job of styling the bridesmaids to their exact specifications. I looked like the absolute best version of myself in a truly understated way and it stayed place all day. Our hair was done by Calon Bridal Hair, who was fantastic too, and not a single style looked tired by the end of the night, and we were all so delighted with how we looked!"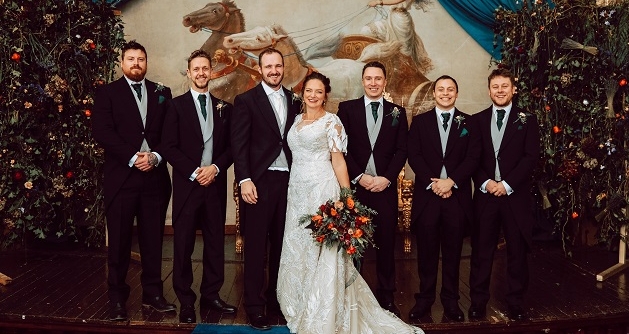 The groom and groomsmen wore morning suits from Slater Menswear. "Gaz was different in that his cravat matched my dress, while the groomsmen's matched the green that the bridesmaids wore," shares the bride. "With so many wonderful women coming from different backgrounds, it was important to me that they each wore something that reflected their style, so I just gave the guideline of picking something in dark green. I absolutely loved the mismatched result as it really highlighted them each as individuals and allowed them to pick a dress they truly loved and might wear again."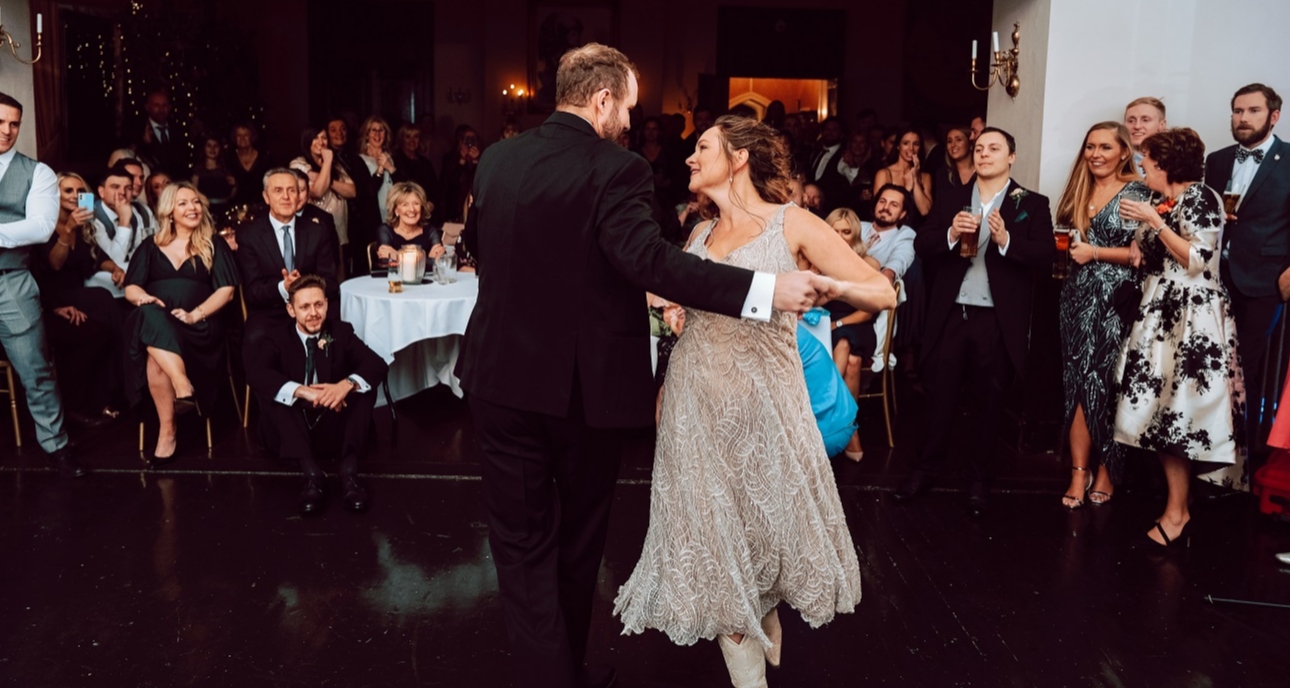 TIME TO CELEBRATE - "Pure Wedding DJ's was our only entertainer, and he did a fantastic job," recalls Lauren. "He quickly gauged the vibe in the room, took recommendations and played hit after hit. The dancefloor was still absolutely packed when he finished at 1am."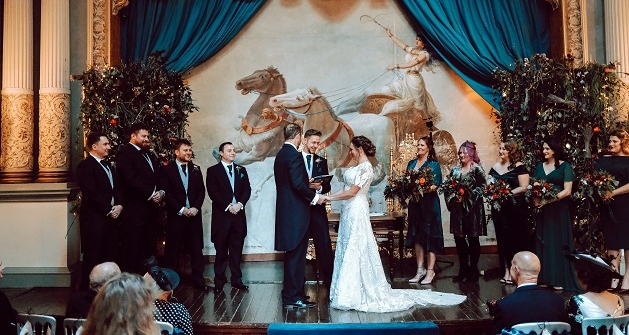 MEMORABLE MOMENTS - "As we had planned the wedding to happen a year-and-a-half before and had a small ceremony in 2020, there was very little pressure on the festivities and we just wanted it to be as beautiful as possible," explains the bride. "This helped in a big way for us to let go on the day. We planned all that we could, but the things that went differently on the day felt more serendipitous than difficult, and from start to end, it was more fun than I ever would have expected.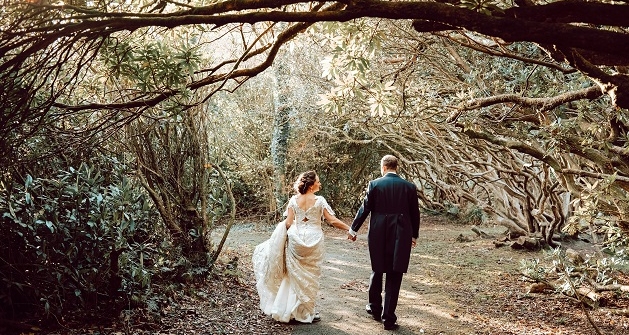 Something about our day being just after restrictions were lifted, the level of fantasy and whimsy in the décor and the overall joy radiating from the staff was just magical. So many of us were ready to pretend the past two years were a figment of our imagination and the magical wonderland of the castle and staff were spectacular at bringing that fantasy to life."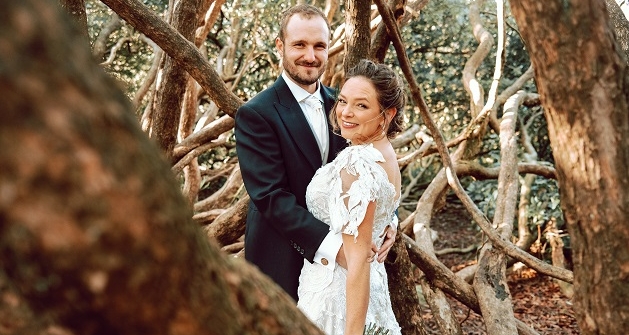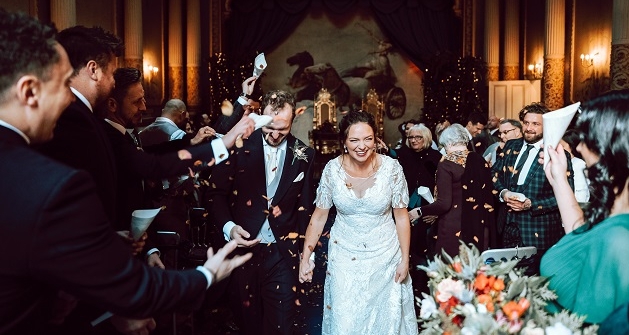 Lauren and Gaz's contact book