Meet Claire Batten from Teacups and Cupcakes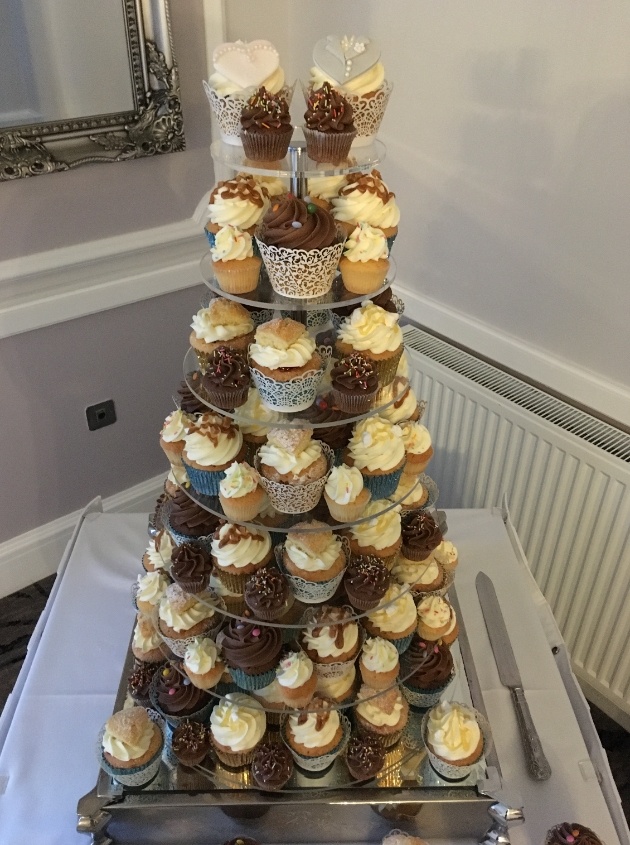 Meet Claire Batten from Teacups and Cupcakes
02920 220 848 | claire@teacupsandcupcakescardiff.co.uk | www.teacupsandcupcakescardiff.co.uk
Tell us about your background – how did you become a cake maker?
My name is Claire, and I'm the owner and baker at Teacups and Cupcakes in Cardiff. I've always wanted to have my teashop ever since I was a young girl and have been lucky enough to bake in Cardiff for the last five years. I specialise in cupcakes in 30 flavours, to be exact! These are fantastic for weddings as you can offer a variety of different options for your guests and cater for various dietary requirements, so no one is left out. Colours and decorations can match your theme and are a great way of letting your creative side flow. They are often displayed on one of my hireable stands with a top cutting cake so you can still have the cutting picture, giving you that traditional moment but with a modern twist.
What should couples expect when booking your services?
The joy of booking with Teacups and Cupcakes is that when you meet with me for a free consultation, we can talk about your ideas in my teashop with a brew, and I will have cupcakes to show you on the shelf. We will discuss your design and flavours before I bake your cakes and then set up, if needed, on the day. It's a real privilege to see the whole job through from consultation to displaying the finished result.
What's your favourite wedding that you've worked on and why?
I have created some fabulous cupcake towers, including a monkey bride and groom and stacks on books. Anything that shows your personality is right up my street. I'm currently making plans for my very own wedding cake!
How long before the wedding should couples book?
I like to discuss your ideas around eight to 12 months before the big day. I try to be flexible as possible and have had bookings a month before the wedding, so it's always worth getting in touch to see what my availability is. My website is fantastic at giving couples ideas, so have a good look through the flavours and page dedicated to weddings. I'm just a call or email away and am always happy to answer any questions and provide quotes. I recommend booking a consultation, so I can get create a bespoke price for your big day.
What's your favourite part of the job?
Meeting couples is one of the best parts of the job. I feel honoured to be asked to bake their cake and to be such an integral part of their day. It's a privilege, and I get so excited hearing all about it.
Do you have any top tips for couples looking for a cake maker?
Remember to think about what you would enjoy and what flavours are suitable for your guests. I like to ensure that the top cake or personalised bride and groom cupcakes are for them to enjoy. It's your day, after all.