5 ways to get your pooch involved in your wedding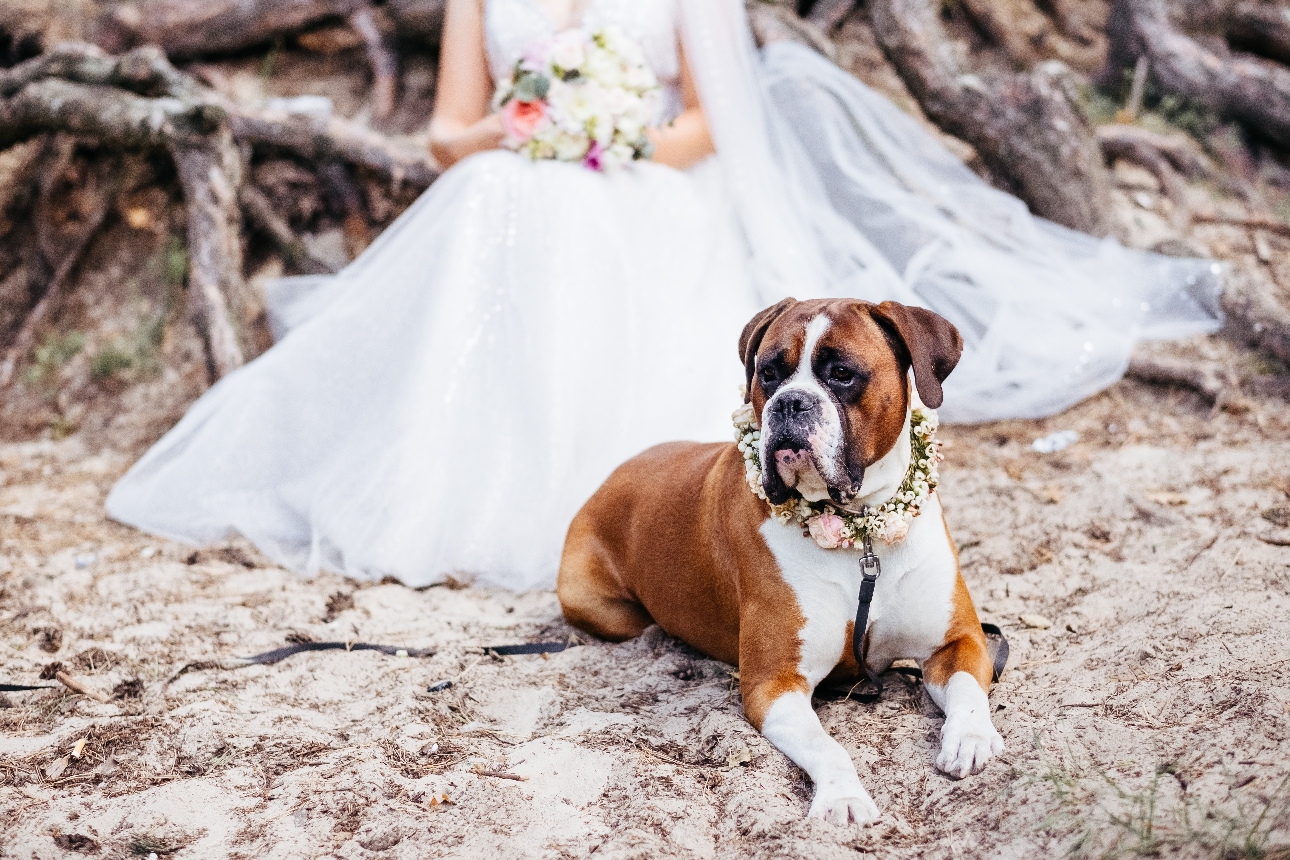 Planning a wedding is a whirlwind of nerves and excitement, and if you have a dog, you might want to get them involved in the event too. But how? Here, Lisa Melvin from Webbox offer some ideas.

Organising a wedding can be as overwhelming as it is exciting. If you have a dog, you might be wondering if you can involve them in the event too — your pooch is most definitely part of your family, and it's natural to want them to be a part of your special day. Read on to find out some ideas for how you can bring your pooch to the wedding.

Have your dog be the ring bearer
One of the most popular ways to have your pooch attend your wedding is to have the dog be the ring bearer for the ceremony. This is an adorable way to bring the dog into the proceedings, and it can go smoothly as long as you make time to prepare your dog for their big part. You'll need to make sure that you take the time to train your dog for their starring role; you can do this by procuring a basket or box of a similar size to the one you'll need on the day, and practising by getting your dog to carry it longer and longer distances. Make sure to build up the distance slowly so that your dog can get used to things gradually.

It's also a good idea to appoint someone as the dog handler during your wedding so that if your pooch needs attention or guidance, they have someone there to work with them. This is not only helpful for the ring bearer role, but also for when your dog needs to sit quietly during the rest of the ceremony. Many dogs find this tricky, and a dedicated person can help them settle better.

Include your pooch in photos
Your wedding photos will be your enduring memory of the event and give you a beautiful portrait of what happened and who was there. Including your dog in the photos can make them a part of these memories and give you that perfect picture to put on your mantlepiece. Have them be a part of the photos, and employ a photographer who has experience with animals to ensure that they will know how to get the best out of your pooch for the perfect shot.

Consider photo set-ups, backgrounds, and poses in advance as this will make it easier to fit your dog into the photoshoot. Even if your dog is very well trained, you might also want to plan in some extra time to your schedule to allow for when you need to calm, settle, or rearrange your dog. This should also be communicated to the photographer in advance.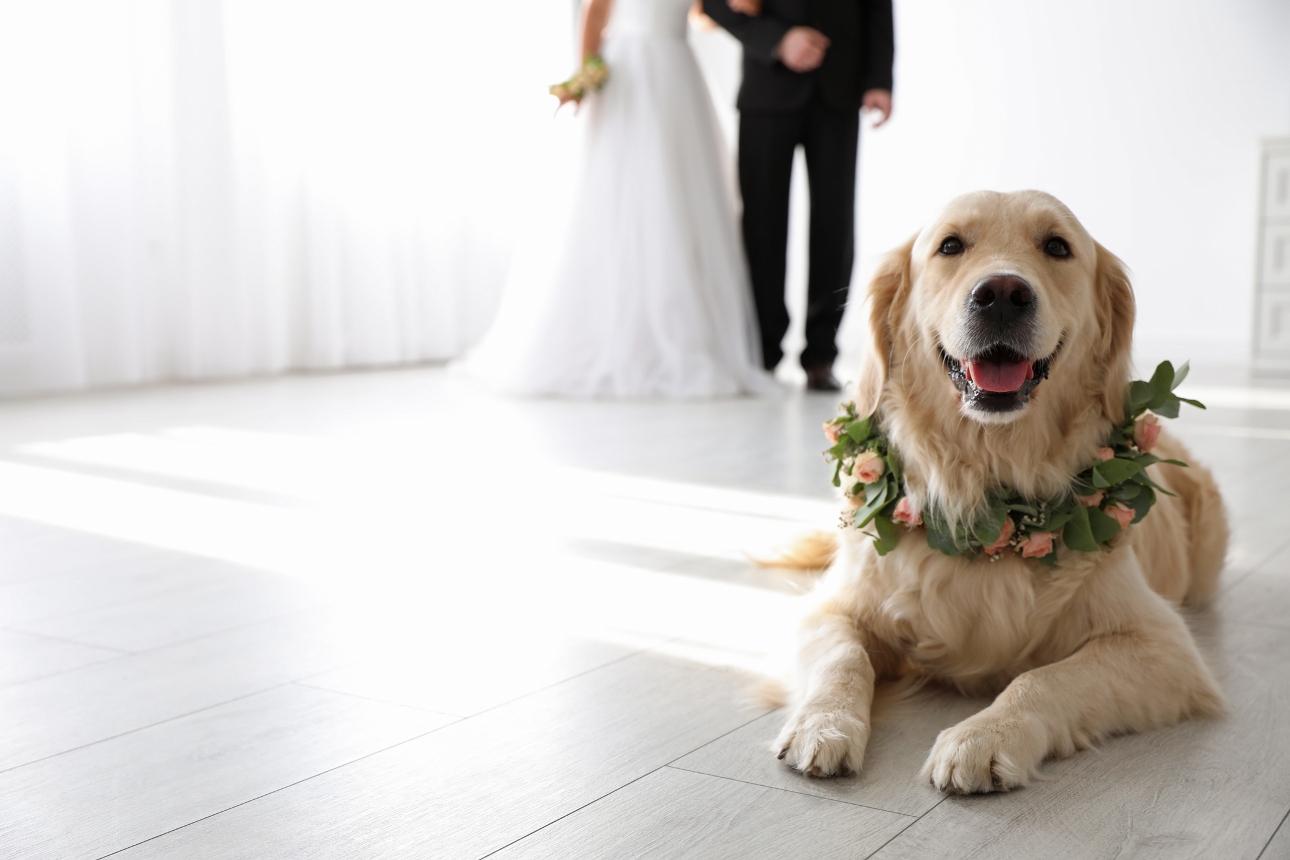 Match the pup's collar to your outfits
Using the same colour scheme for your pup as you do for your own outfits will add a cute touch that will look ideal in the wedding photos, and make them look like an official member of the wedding party as they deliver the ring during the ceremony or just sit with their handler. A particularly good option is to have your dog's collar be the same colour as the accent colour used in your outfits, such as lilac, blue, pink, or yellow.

There are also ways that you can add some extra glitz to your dog's attire with flowers in their collar matching to the wedding flower displays. Real flowers are quite delicate, so if your dog has a tendency to be clumsy (or you suspect they might try to eat real flowers!) you can sew fake ones to your pooch's collar as an alternative.

Have your dog's portrait on show
As well as having your dog present at your wedding, you can include their picture throughout various components of your event. Even before your wedding day, try having your pooch pictured on the invitations you send out; these pet portraits can look sweet on the menus and place cards at your special day as well. Any small gifts that you hand out to your guests can also be in little party bags with your pooch pictured on them. Having your pet subtly added into the wedding's décor can make for a cute extra touch and bring some personality to the day too. You might even want to name a personalised cocktail after your pooch as well.

Make your wedding dog-friendly
Having a dog-friendly wedding is crucial to making sure that your dog feels comfortable and welcome throughout the whole day — and even include their friends! It can be really fun to let your friends bring their pups along to the event.

If you decide to go for this approach, set aside a corner or room as a cool-down space for dogs and their owners, as wedding days are frequently long, and pups can become a bit overwhelmed with all the excitement and new people. Adding a space to rest when tired will make a world of difference. You should also check in with your dog-owning guests prior to the event about what they will need to be comfortable and relaxed. Plus, you can have some dog snacks on-hand to ensure that none of the guest dogs get hungry throughout the day.

Including your dog in your wedding can make it that bit more special, and having them in the photos will make sure you have these memories captured for the years to come. Use these tips to choose how to include your pooch in your event in a way that both you and they will enjoy.

Check out webbox.co.uk