Find out more about Glyndwr Vineyard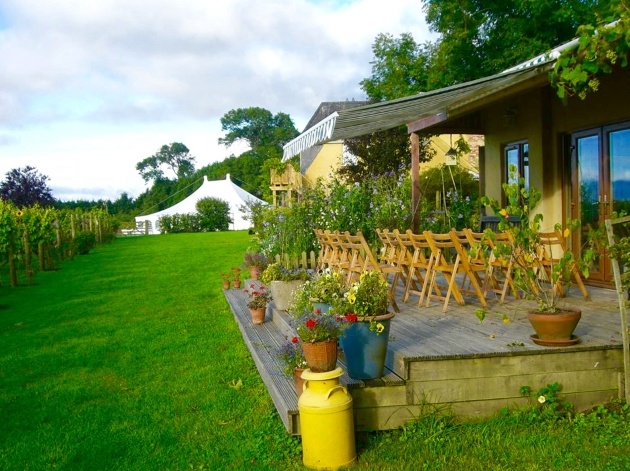 Glyndwr Vineyard, CF71 7JF
01446 624 759 | www.glyndwrvineyard.co.uk

Glyndwr Vineyard is one of Wales' oldest and largest vineyards that specialises in hosting individually planned weddings. The family-run property offers exclusive access to the gardens, vineyard, picturesque barn and terrace throughout the day. The venue produces a range of fine, award-winning wines which have been carefully blended and fermented by a skilled winemaker for well over a quarter of a century.
The team are particularly proud of their rural and environmentally-friendly surroundings, where chickens, ducks and wild pheasants roam, and hedges are left to grow to encourage birdlife. Couples are welcome to explore the ponds, woodland area and orchards, with British apple trees that are used to make Glyndwr Vineyard's delicious cider.

Celebrate in style
Weddings take place in the Barn, which overlooks the vineyard and can seat 50 people.

A Marquee can be erected for larger celebrations with picture windows facing the vineyard.

We love...
The vineyard offers a charming bed and breakfast that overlooks ponds and the six-acre vineyard. This self-contained cottage has free parking on-site, as well as some friendly llamas, chickens and ducks.