Tie the knot at The Royal Welsh College of Music and Drama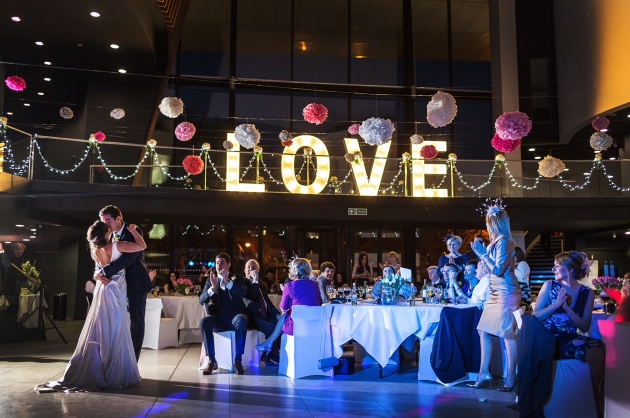 Credit: www.sachamiller.co.ukRoyal Welsh College of Music and Drama, CF10 3ER
02920 391 440 | www.rwcmd.ac.uk

The Royal Welsh College of Music and Drama sits in the heart of Cardiff's city centre and is surrounded by white Portland-stone 19th century civic buildings on one side and the grounds of the magnificent Cardiff Castle on the other. Situated at the end of an impressive tree-lined avenue, guests will arrive from within Bute Park with the castle in view. This entrance can accommodate traditional wedding cars, tuk tuks or horses and carts. The park is situated on the river, which runs down to Cardiff Bay, so it's possible to have a water taxi bring the bride and groom to and from the wedding.

The college is made up of two buildings encompassing both historic and contemporary styles. The Anthony Hopkins centre is the original Cardiff Castle Stables and boasts a historic open-air courtyard. In addition, the contemporary glass-walled entrance hall and open-air terrace overlooking the Grade I listed Bute Park, create a stunning backdrop for those all- important photographs.

Celebrate in style
The Anthony Hopkins Centre has two elegant rooms that are available for ceremonies, one can seat 85 guests, and the other can hold 60.

The World-Class Concert Hall can accommodate up to 250 loved ones, and the Richard Burton Theatre has room for 130.

Intimate receptions take place in the stables with 50 nearest and dearest, and large celebrations are held in the glass-walled entrance hall and open- air terrace with 200 friends and family.

Up to 300 people can dance the night away in the glass-wall atrium, which has a fully-stocked and licensed bar as well as a dancing area, cloakroom and bridge decorated with fairylights.

We love...
The venue offers a Hire a Performer Scheme where the staff will help you find the perfect musicians for your evening entertainment.