Discover what makes Tall John's Weddings such a popular venue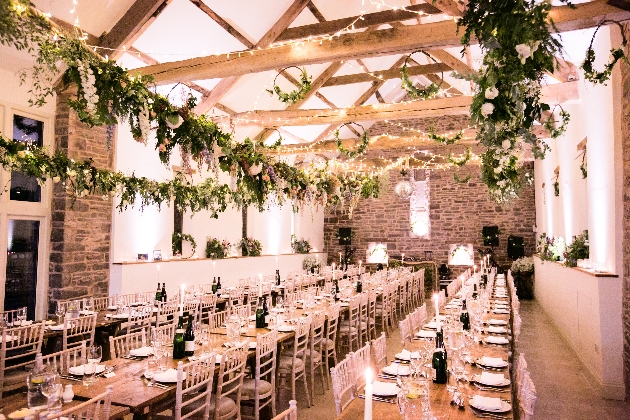 Tall John's Weddings, LD3 7PX
01239 821 143 | www.talljohns.wedding

The manor house is set within exquisite private grounds with fine lawns, mature trees and exceptional views across the valley. The working walled garden is complete with a lovers rose bower, a silver birch bower, a double swing hanging from a beech tree and rose climbers.
The restored Welsh barn looks across the Black Mountains with an enchanting courtyard and a wooden gazebo that can be decorated with flowers and covered in Perspex if the weather is unkind. There are also wooden benches, stone seating and olive trees in barrels that look beautiful in photographs. Inside the barn are plentiful electric points, underfloor heating, insulation, hard floors, integral toilets and a catering area.

Guests will love the on-site accommodation. Included in the venue hire is two nights in the Honeysuckle Cottage, which sleeps eight people on a self- catering basis, and the couple will be able to spend the wedding night in The Coachmans. The house is also available for up to 20 guests on a staffed 20 basis, with breakfast included.

Celebrate in style
Civil or humanist ceremonies take place in the wooden gazebo in the garden with optional steps to the natural grassed stage where the bride and groom are in full view of the guests.

The barn is licensed for 160 people and is ideal for a big reception with a bar and dancing.

Alternatively, the gorgeous split level Granary with its canopied beams and light stone floor can hold 80 guests downstairs, but some friends and family can also stand in the gallery above.

Intimate services are held in the Drawing Room, inside the manor house, with up to 20 nearest and dearest.

We love...
The happy couple will receive a special breakfast basket on the morning after the wedding.