The Vale Resort is home to 143 on-site bedrooms and two championship golf courses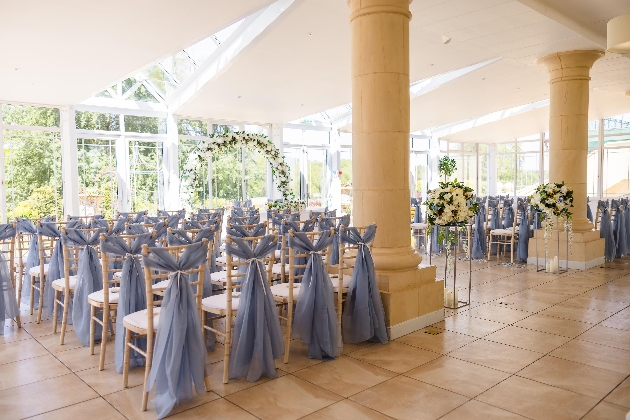 Credit: Philip Warren PhotographyVale Resort, CF72 8JY
01443 665 803 | www.valeresort.com

The Vale Resort is home to 143 on-site bedrooms, two championship golf courses, an award-winning restaurant, sports facilities and Wales' largest spa. Located within 650 acres of countryside, the resort boasts landscaped gardens, perfect for your wedding day photographs, as well as gorgeous greenery and well-kept seasonal plants.

Celebrate in style
There are nine deluxe suites available for weddings at this glorious garden venue. The Castle Suite is perfect for large celebrations, with high ceilings, grand windows, a private bar and space for 400 of your loved ones throughout the special day.

Alternatively, the Morgannwg Suite is available for up to 130 of your nearest and dearest for the wedding breakfast and 200 for the reception. This popular space is on the first floor and provides stunning views of the golf course and spiral staircase.

Likewise, the conservatory is a beautiful room for civil ceremonies, with natural sunlight, pillars throughout and doors which open onto the terrace overlooking the golf course. The space can hold 120 guests during the ceremony and 70 for the wedding breakfast and evening reception.

We love...
Those of you who choose to get married in this fantastic venue will receive a free bedroom on the night of the wedding, an anniversary dinner, a month's membership to the health club, a round of golf for you and three friends and a 20 per cent discount at the Vale Spa.