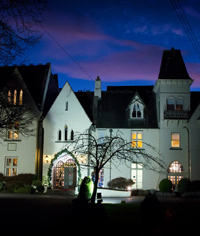 Let it snow
Q. We're getting married near Christmas and want to decorate our venue with festive elements without going overboard. Do you have any suggestions of how we can incorporate our theme into our big day?
A. Carol Knight says: Here are some simple ideas that will help you transform your venue into a winter wonderland.

- Decorate your cake with a pearlescent finish topped with frosted fruits, berries and foliage.

- Consider incorporating a small sprig of mistletoe or holly into the ties on your chair covers.

- Try using fir cones as place holders.

- Line the aisle with white twigs and decorate it with silver accessories, shiny pearls, crystals and twinkling lights.

- Instead of a guest book give your loved ones a Christmas-themed gift tag and ask them to write a message.

- For your wedding favours consider using gingerbread men or sparklers.

- Make sure you ask your venue's wedding coordinator about the decorations they're planning to use at Christmas to ensure it doesn't clash with your chosen colour scheme.