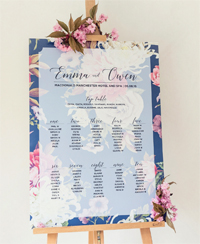 The paper chase
Q. I'm trying to find a wow-factor table plan that will be a real focal point at our wedding. How would you suggest I achieve this?
A. Jo Shaddick says: Your table plan is something you can experiment and have fun with.

- A beautifully designed and presented board or mirror is the classic choice that most brides opt for.

- If you want something a bit different you could hang cards from a tree, a reclaimed door, or even some quirky bicycle wheels. Try and pick something that relates to your theme and expresses both of your personalities.

- Alternatively, you could lay out picture frames, each containing printed table cards and then accessorise with flowers, succulents, books or candles.

- Have a look for escort cards, a trend making its way over from the United States. This is where each of your guests have their name and table number written or printed on a card, tag or label and laid out in alphabetical order.