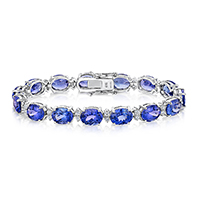 Something blue
Q. We're having a blue colour scheme and I want to incorporate it into my jewellery. Do you have any advice on what I should be looking for?
A. Katie Keefe says: Bridal jewellery can be a great way of incorporating your chosen colour scheme.

- A pendant is the perfect accessory for dresses with a low neckline. This stunning cluster drop pendant features an oval sapphire surrounded by glistening round brilliant-cut diamonds.

- If you're thinking of styling your hair in an up do then a pair of sparkling earrings is a great way of finishing your look. These blue sapphire earrings will incorporate your theme perfectly and the halo of diamonds really helps emphasise the colour.

- A gorgeous tanzanite bracelet will look stunning in those all-important photographs. This luxurious piece has 15 oval-cut tanzanite's interspersed with diamonds to embrace the gemstone.
Katie Keefe
www.laingsuk.com