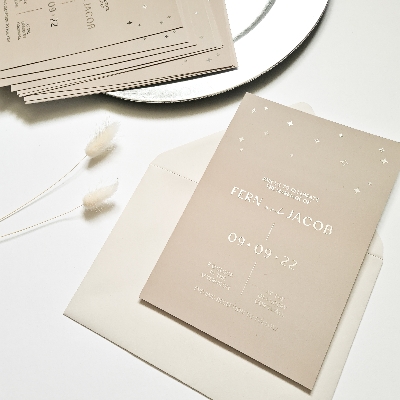 Setting the tone
Q. I'm so excited about our wedding and want to ensure everyone can make it. When should we send our invitations, and what tips can you share when it comes to creating a bespoke design?
A. Amy Jones says: Traditionally, save-the-dates are sent out one year before your wedding. However, I often find that couples want to send them out even earlier, which is perfectly fine too. I always advise people to do things at their own pace, but I would avoid sending them earlier than 18 months beforehand as guests may lose the card or forget!

I recommend you send your main wedding invitations out three to six months before the wedding. It's important to give your guests plenty of time to rsvp and your venue enough notice. Did you know a lot of modern properties have their own rsvp and menu deadlines in place? Be sure to check with your venue, caterer or wedding planner to ensure everyone is in sync.

When it comes to creating a bespoke design, start by collecting pieces of inspiration to share with your stationery supplier. My favourite places to browse are Instagram and Pinterest, or you could even go old-school and create a moodboard with magazine cuttings. We don't just want to see designs that you love, we also want to see colour schemes, flowers, bridesmaids' dresses, venue styling and wedding cakes. This creates a vision in our minds of the style you want to achieve and is the best way to help us design bespoke stationery that fits perfectly into your overall vision.
Amy Jones, Jones & Joy
www.jonesandjoy.co.uk