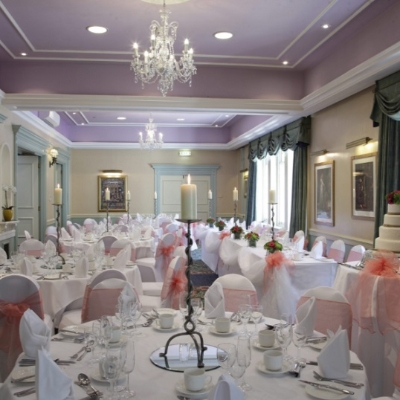 A special touch
Q. How can we personalise our wedding?
A. The team at The Angel Hotel says: It's tradition to marry the person you love; to walk down the aisle in a long, white dress; to celebrate the 'formal' beginning of a new family with friends and relatives. However, it's important to recognise that weddings should reflect your style, your story, and your sentiments. After all, it's you and your partner's big day! While you may want to keep some of the classic rituals, you should not be afraid to give the ceremony your own spin. Here, we explore some quirky and innovative ideas that will allow you to personalise your wedding and make it a celebration to remember.

Modernise the wedding march: As mentioned, walking down the aisle is one of the most pivotal and emblematic moments of a wedding. The bride walks towards the altar and their groom as guests watch in awe and dab a few tears. Whether through a church organ or a string quartet by the sea, it is likely that Wagner or Mendelssohn's renowned wedding marches will accompany the emotional entrance. If you feel that the German composers' music does not represent your personality, don't be shy to pick a different tune.

Reinvent the exit: If you're changing venue after the ceremony, you'll have to find a way to make your way to your reception. Rather than sticking to the nearest taxi service, why not find an alternative means of transport to reach your destination? Depending on how far the place is, you can select the perfect solution out of a variety of options. Is the reception venue not too far? Hop on a tandem bike with your spouse and get pedalling towards your new location. Or would you rather have a classy ride to the banquet and wedding cake? Jump in a fancy, vintage car and temporarily wave off your guests in style.

No phones allowed: Another way to personalise your wedding day is to 'ban' phones. It's easy for guests to get distracted by their devices and fiddle on them all afternoon, rather than leave them in their pockets and properly enjoy the big day. You may want to put up a sign in the entranceway that encourages attendees to go unplugged – especially during the ceremony. With no trilling phones around, you will be able to create a more intimate atmosphere. What is more, they'll not be in the way to ruin your photographer's professional pictures.

Personalised card boxes: A creative, innovative touch you can add to your wedding is to put a personalised card box on the gift table.

Signature cocktails: Do you and your spouse like to sip cocktails from time to time? Do you enjoy experimenting with drinks and flavours? You may want to consider treating your guests with some of your signature beverages, whether on arrival at the reception venue or at the end of the meal.
The team at The Angel Hotel, The Angel Hotel
www.angelhotelcardiffcity.co.uk