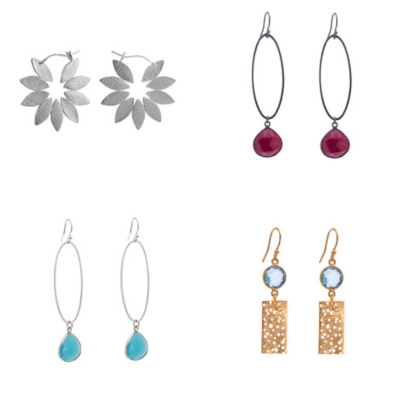 Boho magic
Q. I want to wear beautiful jewellery on my boho-themed wedding day that I can keep for years to come. Do you have any ideas of what I should look for?
A. Anne Morgan says: Here at Anne Morgan Jewellery, we specialise in handmade pieces and exhibit many different jewellers from across the country. This means we have a wide range that we think would fit your boho theme, including pieces from Cara Tonkins Icarus Collection, which layers textured silver feathers that glimmer in the light. Alternatively, you could choose earrings from Anne Morgan's Erosion Range, her oval earrings come in a range of different colour combinations. Diana Greenwood creates natural jewellery where garden flowers become charms on necklaces and earrings, and Yen has a more delicate movement with fluid and tactile silver pieces.

Everything is handmade, which means we can match colour schemes to make a perfect accompaniment for your wedding day.
Anne Morgan, Anne Morgan Jewellery
www.annemorganjewellery.com