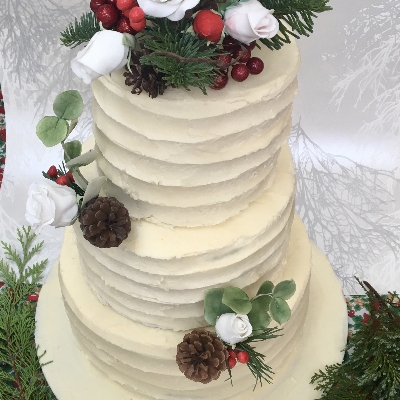 The sweet stuff
Q. What flavours and decorations should we choose for our festive-themed cake?
A. Jenny Leeb-du Toit says: There are several ways of incorporating a winter theme into your cake. A traditional white cake will give you a great base to build upon.

Evergreen foliage in greens and greys mixed with winter berries, fir cones and flowers would make a great addition. Choose between white for the berries and flowers, or winter hues such as reds and golds. Your cake maker will advise you on whether fresh or sugar versions would be better, as some plants are toxic and cannot be used. Lavender, for instance, is both hardy through winter and non-toxic, which makes it safe to put directly onto the cake.

Fruits, nuts and edible berries are great alternatives. They can add colour, style and warmth to a festive cake, grouped with or without some evergreen foliage. Figs, strawberries and blackberries not only look good but also edible. Sugar dipping some of the fruit will also add a frosted look to your design.

Build more on the snow and ice theme by adding silver and blue icicles and snowflakes. If you're going to add flowers, stick to the white and blue theme.

Traditional fruit cakes were the go-to winter cake for centuries in this country. It's spicy and steeped in warming brandy or sherry. Alternatively, you could opt for a ginger cake or passionfruit and orange if you want something a bit different.
Jenny Leeb-du Toit, Cakes Especially For You
www.cakesespecially.com