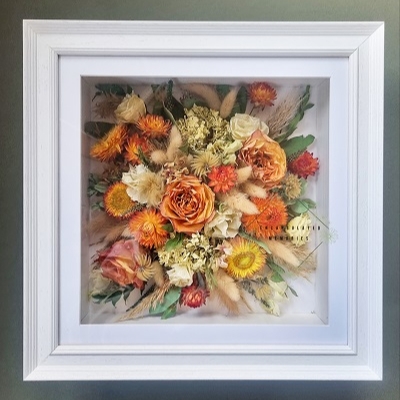 Blooming marvellous
Q. I'd like to have my flowers preserved after my wedding; are there any blooms I should avoid?
A. Emma Cross says: First of all, congratulations on finding and securing your florist for your big day. If you're having your bouquet preserved, it's worth mentioning this to your florist. Depending on the style you're going for, some florists will use wires through the stems of the flowers to create and maintain certain arrangements. Wires can shorten the life of your bouquet, and by the time your preservation artist receives it, some of the flowers may be wilted. The same goes for glue, this is usually only used in cascading handheld bouquets to keep the longer stems in place, but some of these stems don't quite reach the wet oasis and are glued in place instead. If this is the case, some flowers aren't staying hydrated and again will wilt much quicker.

In terms of flower choice, succulents don't preserve well as they hold too much moisture. If you're keen on having succulents within your bouquet, most preservation artists will replace them in your final piece with artificial ones.

If you're going for an all-white look, discuss texture and various flower choices with your florist. It's very hard to design a preservation piece with only one colour and flower choice, so consider adding pampas or foliage to give your preservation piece more depth and interest.

When it comes to white/ ivory or lighter flowers, expect a change in colour during the drying process. Light colours can dry with a yellow hue, but some artists offer colour correction if this happens. White or light flowers are also more likely to show bruising and transparent spots when placed in resin; this is perfectly normal and can vary from flower to flower.

Colourful bouquets retain their colour well, and darker hues can go deeper in colour, for example, red flowers will dry more burgundy. It's always best to discuss drying methods with your preservation artist and to read their T&Cs or FAQs, so you know what to expect from their service.

Chrysanthemums are delicate and, more often than not, will lose most of their petals once dried. Your preservation artist can rebuild them where possible.

Peonies lose their petals, and they don't have a very long life once cut. If you have peonies in your bouquet, ensure they get to your preservation artist straight after your special day. Peonies come in various sizes, so if you're having large peonies in your bouquet, mention this to your artist so they can discuss what preservation options are suitable.

Lilies and orchids hold a lot of moisture and will likely change colour during the drying process.

Dahlias, if received early enough, dry very well. If they arrive starting to wilt, they will likely lose petals during the process. Dahlias can also change colour quite a bit, for example, pinks can turn purple.

Remember, the condition that your flowers arrive in will play a huge part in how they are preserved and what the end result will look like.
Emma Cross, Encapsulated Memories
www.encapsulatedmemories.com