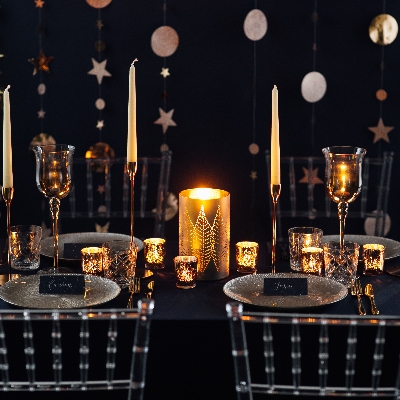 Styled to perfection
Q. Our wedding is fast approaching, and we need to book our venue stylist, but we're a little worried about booking someone online that we've never met. What should we ask before making a decision?
A. Beth Stretton says: Stylists take the space, your ideas for theme, colours and mood and combine them into a vision that works for you. Some stylists, including ourselves, are prop based, meaning we combine physical props, handmade items, tableware and smaller details with your overall vision. Other suppliers don't hold stock and are a decorative administration service, bringing in other elements from the outside. Both options can be very effective. You will know very quickly upon speaking to someone whether they understand what you want to achieve.

When it comes to couples, they fall broadly into two categories. Those for whom the look and feel are very important and have a clear vision and those who rely on the stylists to make suggestions. Before you contact a supplier, know which couple you are and the route you're taking. If you're the former, then send over your moodboard and ask if they have any examples of similar things they've done. If the latter, give them the simple details of the interior at your venue and a vague idea of the colours you like. They are likely to ask you for a few keywords to describe you and your style.

A good stylist will be able to talk about what you know already and then offer you ideas to what they envisage, stock, charge and how it all works. Chat with your supplier, and you will know very quickly if they are for you. As a stylist, there is nothing better than speaking to a bride or groom struggling with this element and leaving the call excited and knowing exactly what they need.
Beth Stretton, Megan and Claude
www.meganandclaude.co.uk