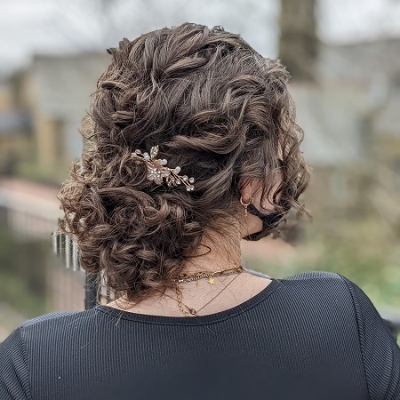 Styled to perfection
Q. I have very curly hair that never seems to behave. Do you have any ideas of how I could style it on my big day?
A. Stacey Williams says: Curls can be unpredictable, unruly, and difficult to control, and there are days when your hair probably feels less than enviable. The difference between fighting with your locks and loving them lies within your routine. Embracing your natural curls to create a gorgeous up do is a great option for your big day. The key to controlling your locks is good products that follow your hair's natural flair. Finding the right products and hairstyles makes managing it so much easier, and makes your hair so much healthier, in turn.

You could create a low romantic style leaving out some natural curls to frame your face, or if a high up do is more your thing, then you could do a high up do using a scrunched technique and loosely pin it to the top of your head.

There is also the option of smoothing some of the hair out to create a more relaxed style, this can be done by straightening certain areas to relax the look, while still keeping your natural curls within the style.

Some of my favourite products are:
- Affinage Kitoko Oil Treatment is an intense nourishing oil for all hair types, leaving it soft and silky but not greasy.
- Bed Head by Tigi is one of my favourite serums for up dos, it smooths cuticles to tame flyaway hair.
- Milk Shake 12 Effects Serum is an intensive treatment, with an amazing 12 effect treatment including heat defence and UV protection.
- Milk Shake Whipped Cream is a leave-in conditioning mousse. It's great for dry hair, but also amazing for curly locks as it has added argan oil which doesn't leave the curls crispy like normal mousse and helps prevent knots and tangles.
- Schwarzkopf Osis Hairspray is a great product as it's fast-drying, non-sticky, and is easy to brush out.
Stacey Williams, Stacey at New Image
www.facebook.com/staceyatnewimage