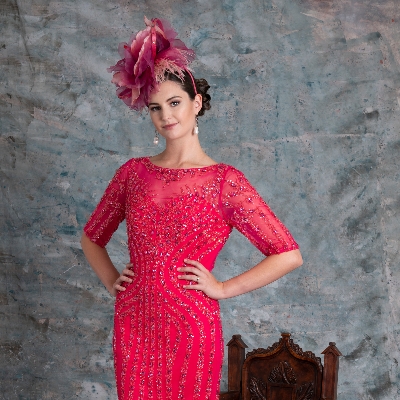 Star of the show
Q. My mother and mother-in-law want to wear spring colours to fit the time of year but don't want to clash or outshine each other. Do you have any suggestions?
A. Coryn Emma says: Traditionally, when it comes to mums choosing their outfits for such a momentous occasion, the mother-of-the-bride gets first dibs. However, here at Baroque Boutique, we like to take a more modern approach – why not make a day of it with both mums involved? The opportunity presents the perfect chance for them to get to know each other, so consider taking them both shopping.

We appreciate it isn't always possible to meet face-to-face, but like many other shops, we've embraced technology and are running virtual shopping experiences. However it's done, the mums need to give themselves time to discuss the wedding theme, style and what one another is looking for in an outfit. Have open, honest discussions to ensure nobody steps on each other's toes.

With regards to colour, focus on complementing and not clashing. One suggestion is to pick up a hue from the corresponding bridal party. The mother-of-the-bride could concentrate on the bridesmaids' dresses while the mother-of-the-groom focuses on the groomsmen's outfits. The most important thing is not to match the bridal party as you don't want them to get lost in the photographs.

Spring offers a beautiful array of pastel shades to work with, so it should be easy to ensure either side is dressed in a different colour – especially when you factor in complexion and what suits. However, we urge mums not to be frightened of brighter, bolder tones that work within the wedding theme.

This year the spring shades set by Pantone inspire happiness and positivity. Pastel pinks and soft beiges are beautiful but also a little safe. Instead, why not experiment with hues like pepper stem and tomatillo? These captivating shades of green are an earthy neutral colour that complements most other tones. Blush beauty is a version of coral pink which offers a warm pop and is equally spellbinding on the right complexion.

Just be wary that each mum is dressing for themselves and what works for them. Comfort is necessary to exert confidence and allow them to enjoy your special day.
Coryn Emma, Baroque Boutique
www.baroqueboutique.co.uk