Ask the experts
Here is a selection of Q&As from Your South Wales Wedding magazine. If you would like your question answered by our experts, please email it to editor@yoursouthwales.wedding.
To view more Q&A's on a different topic, please select one from the list below.
Hot topic: Let it snow
We ask local experts how to make the most of a winter wedding.
---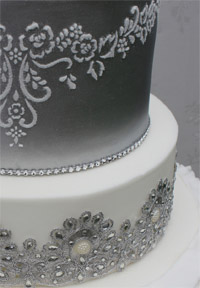 Just a slice
Q. I want our wedding cake to fit in with our winter wonderland theme without spending a fortune. Do you have any tips on how we can stick to a budget without compromising on the theme?
A. Alison Evans says: Winter wonderland is a fabulous theme. The cake would definitely have to sparkle so try and stay clear of ruffles, lots of handmade flowers and intricate icing as these are the elements that take the most time so therefore push the price up.

Consider exchanging flowers for snowflakes, which are simpler to make and would definitely give the impact of a winter wonderland theme. These could be made from sugar paste, wafer paper or even delicate cake lace. Remember to cover the tiers in some sparkle. There are several ways to do this, I'd advise you speak to your cake artist to discuss the different options. You could also add a sequin diamanté ribbon trim to a tier for stunning definition. Think about dressing the cake table with fairylights and baubles, all adding to the overall effect but also minimising the cost.
---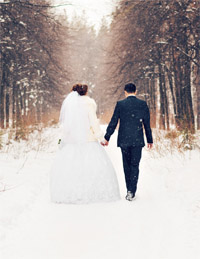 Festive photography
Q. We're having winter nuptials and want gorgeous photos but we're worried about bad weather ruining the day. Do you have any advice on how to get perfect photos regardless of the weather?
A. Andrew Beveridge says: If the weather isn't what you hoped then embrace the situation – if it's raining you're going to get wet, but you'll also get some unique photos. You'll have the same snaps as you would on a sunny day but with raindrops, umbrellas and quirky wellington boots. A word of warning regarding umbrellas, steer clear of solid colours such as red – they throw a colour cast on the images which can make your dress look pink! Remember that bad weather can have consequences so make sure you have wedding insurance, it would be terrible to cancel your wedding due to snow!
---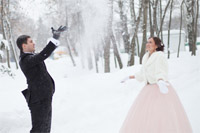 Freeze frame
Q. We're tying the knot in December and want our photographs to reflect our winter wonderland theme. How we can capture this theme in our shots?
A. Chris Francis says: To get those all-important wedding photos it's essential you make the most of the different times of the day. I'd suggest you take some photos in the evening and incorporate sparklers. These make a great addition to any wedding and will add a unique element to your pictures. A great way to create that winter wonderland feeling is to add small fairylights to a dark evening, these can create fantastic images. It's also good to note that as the nights draw in, the light is softer especially during the winter, which can create magical light for portraits. This is what photographers call the 'golden hour' even though it lasts longer than an hour during the winter as the sun is so low in the sky. Make sure you leave 15 minutes for photographs during this period for truly stunning pictures.
---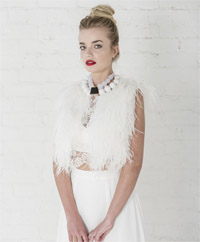 The chill factor
Q. I want a strapless gown but I'm worried I'll be too cold on our January big day. Do you have any advice for how I can wrap up warm while still looking stylish?
A. Keira Holmes says: To keep snug on your big day while still looking edgy you could opt for a Marabou feather jacket such as this gorgeous number from Charlotte Balbier. Not only does it keep you warm and looking spectacular, but you can even re-style the jacket after the wedding with a pair of jeans and heels – genius!

For a more classic look, our Spanish designer Rosa Clara creates beautiful lace toppers and jackets that can be styled with many different gowns. A sleeved option adds beautiful detail to a strapless gown while also giving you some coverage. You can then remove the lace top for your reception giving you two different looks from your dream gown.
---
Contact our experts...

Alison Evans
Cake maker

Andrew Beveridge
Photographer

Chris Francis
Photographer

Keira Holmes
Bridal boutique owner
---