Ask the experts
Here is a selection of Q&As from Your South Wales Wedding magazine. If you would like your question answered by our experts, please email it to editor@yoursouthwales.wedding.
To view more Q&A's on a different topic, please select one from the list below.
Hot topic: Let me entertain you
We ask local experts how to keep your guests happy
---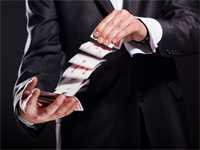 Memories for a lifetime
Q. We're getting married quite early in the day, so there's quite a lot of time during the afternoon when our guests will need entertaining. What would you suggest to create lots of fun and laughter?
A. Bryan Gunton says: For entertainment that's going to please people of all ages I'd suggest hiring a magician. There are many benefits to hiring a close-up magician – firstly it's a flexible option and a magician can spend the day mixing with all of your guests and making sure they're entertained. It's a great way to help people mix and mingle during the photos and between courses at dinner too.

If your wedding is early in the day, then there's often a gap between speeches and the evening guests arriving. This is the perfect time to keep your guests entertained. Not only will a magician provide them with long-lasting memories but they'll also ensure guests of all ages and abilities are catered for.
---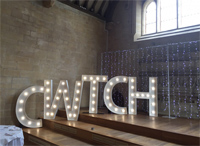 The wow factor
Q. We're having a Hollywood theme and have splashed out on our entertainment. All that's missing is a showstopping centrepiece. What do you think would make our wedding stand out?
A. Lisa Budd says: A Hollywood theme allows you to play with a lot of different ideas. You can choose to have light-up letters to add wow factor to your big day – these will perfectly set the scene for your theme and get all of your guests talking.

We provide letters that have funfair bulbs which give them a real sparkle. We also have a wide range of letters and props so you can personalise them to suit your day. You could opt for your initials or even your new surname spelled out in bright letters.

For something extra special you could choose to have illunminated stars, these will create a stylish atmosphere and are perfect in areas such as the bar or the main entrance.
---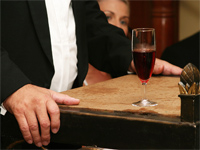 Truly special
Q. We're having a large wedding with a variety of different ages from toddlers to adults. How do we make sure the day goes off without a hitch with so many people to try and please?
A. Iwan Jones says: During my time as a toastmaster I've witnessed many pitfalls that can spoil the fun; here are a few tips to make sure your day runs smoothly:

- Children– having kids of whatever age at your wedding can be a mixed blessing, especially if they get bored during the proceedings. Why not ask the venue if they have a room that can be set aside for little ones and ask a trusted friend or hire a child minder to look after them?

- Elderly guests – they get mobility problems, try to insure that they're travelling with an escort to provide them with assistance when required.

- Speeches – If you don't have a comic timing try to avoid telling jokes! Remember guests may take pleasure witnessing the bride and groom listening to embarrassing stories but don't go overboard and keep offensive language to a minimum. Finally, if you're a nervous speaker, remember that the guests are all your friends and love to hear a bit of emotion in a speech.
---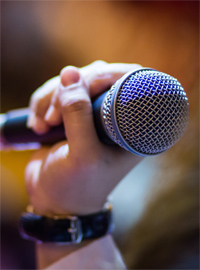 Wow that's entertainment
Q. My husband-to-be and I would love to hire a wedding singer for our big day, however we're a little dubious about booking someone online. How can we make the best choice?
A. Lynsey Pugh says: My advice to anyone is to do your research first! Perhaps go to a wedding fair to meet the singer or even a local gig that they're performing at. This will provide you with the opportunity to have a face-to-face chat and see what they have to offer.

You can also read their online feedback, as well as reviews from places such as Facebook and yell.com. This is a great way to gain other people's views on how well they've performed and you can see what their level of customer service is like.

It's not just about the day, it's also about the booking process, and the service you get during the months leading up it. Get to know your supplier and you'll feel more relaxed about having them perform on your big day.

Just remember a good singer isn't always the cheapest, so do your homework first!
---
Contact our experts...
Bryan Gunton
Magician

Iwan Jones
Toastmaster

Lisa Budd
Owner of Written in Lights

Lynsey Pugh
Singer
---